Where to have an aperitif in Rome
Would you like to have an aperitif in Rome like a real Italian? Don't miss these suggestions!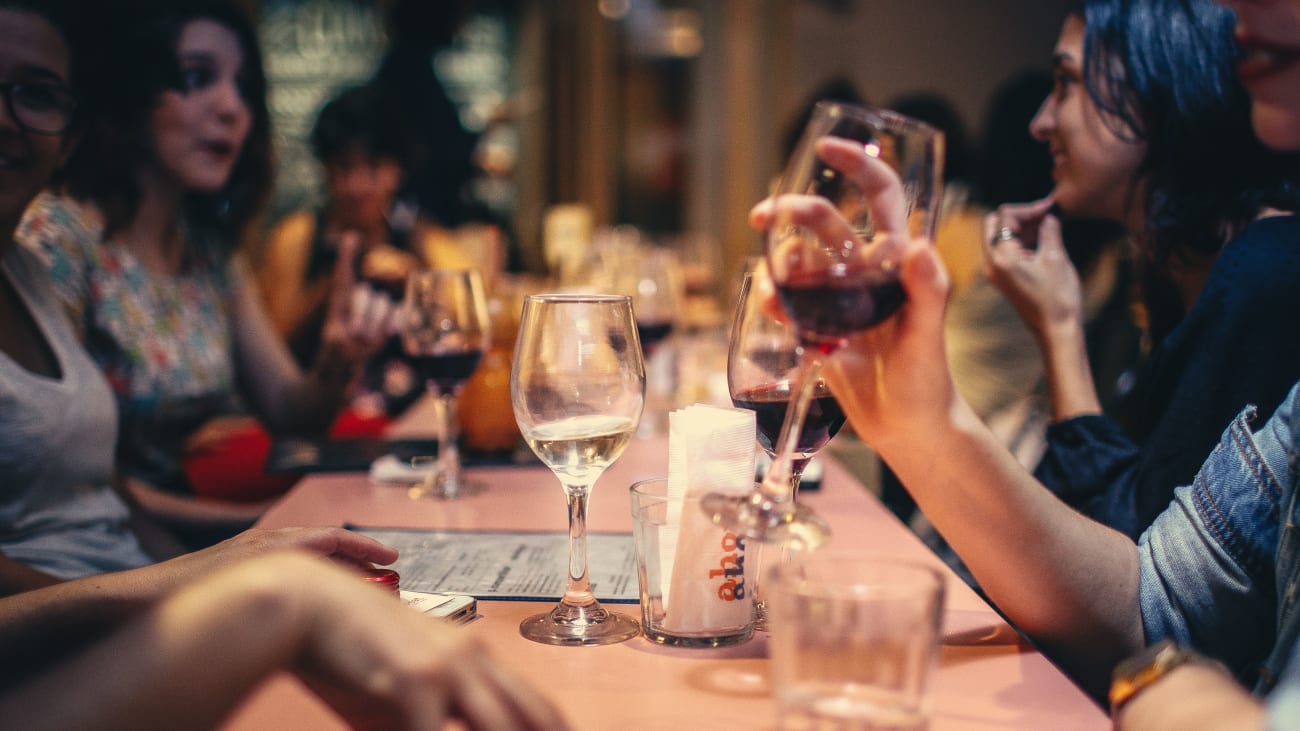 As the saying goes, "where you go, do as you please" and in Rome it is customary to have an aperitivo before dinner. That is, a small snack accompanied by some drinks that sometimes is so abundant can even serve as dinner. If you want to enjoy like a true Roman, there is no doubt that try the appetizer is one of the essential things to do on your trip to Rome, but not just anywhere. In this post I show you 10 places where having an aperitivo in Rome is a real pleasure.## 1. Freni e Frizioni
Located in the Trastevere neighborhood, near the Tiber River, you will find Freni e Frizioni. A cocktail bar with a very friendly atmosphere that has a terrace where you feel like going out when the weather is nice to enjoy an aperitif in Rome. Did you know that Freni e Frizioni is inside an old car workshop? Hence its name which in Italian means brakes and clutches. Ordering a drink (I recommend the Copacabana or Bastille cocktails) you can enjoy its varied buffet where everything is vegetarian (rice, pasta, cous cous, ratatouille...) It's great! - Address: Via Della Politeama, 4. - Recommended appetizer: Pasta
2. Bar San Calisto
Maybe the Bar San Calisto is not the most beautiful in the Trastevere district, but it has a special charm as it is one of those places that have not lost their essence over time and where you can enjoy a good aperitif in Rome. In fact, if you like beer it is a great place to have a few beers because the prices are very cheap compared to other bars (about 2 €). You will find Bar San Calisto very close to Piazza Santa Maria in Trastevere and you can find it with some tramenzzini, stuffed sandwiches that are delicious. If you can get a place on the terrace because in the area there are usually street musicians who will entertain you in the afternoon and you will have a good time. - Address: Via Della Politeama, 4. - Recommended appetizer: Tramenzzini
3. Black Market
If after your visit to the Colosseum you get hungry and feel like having an aperitif in Rome, I recommend you to go to the Black Market bar in the Monti neighborhood. The atmosphere is fantastic to relax after a day of sightseeing. It has comfortable leather sofas where you can stretch out and relax while sipping on a glass of wine accompanied by fish and chips that tastes homemade. In the evenings there are live jazz concerts, so Black Market is a great place to go to close out a perfect day in Rome. Also, in this area you will find more places to eat near the Colosseum if you get hungry - Address: Via Dei Ciancaleoni 31, 00184 Roma Italy - Recommended appetizer: Fish & Chips
4. Materia Café
Also in the Monti neighborhood, very close to the Basilica of St. John Lateran, you will find Materia Café, a quiet and comfortable place to go for an aperitif in Rome. It is a charming place to go with friends and where to make a stop on the tourist route to recharge your batteries. Whether for brunch or a snack at sunset,Materia Café is a simply decorated and cozy cafe to make you feel at home. If you have the opportunity to visit it, I recommend you to order the ratatouille di verdure with a glass of wine as an appetizer - Delicious! - Address: Via Andrea Provana, 7. - Recommended appetizer: Ratatouille di verdure## 5. Pane e Salame
If you pass near the Trevi Fountain you have to go to Pane e Salame for an aperitif in Rome. It is not a very big place and neither is its menu, but it is the right place to taste good Italian sausages at a reasonable price.
If you want to escape from the routine of pasta and pizza in Rome, it's time to try the rich cheeses, mortadellas or hams of Italian gastronomy at Pane e Salame, either in the form of panninis or tagliere, wooden boards on which the cold meats and cheeses are served with a bit of jam. But why choose? I recommend you try a little bit of everything! - Address: Via Santa Maria in Via, 19, 00187 Roma, Italy - Recommended appetizer: The panninis## 6. Salotto 42
Also in the center, next to Hadrian's Temple and a few minutes from the Pantheon of Agrippa, is Salotto 42, a cocktail bar where you can have an aperitif in Rome and the last one before going to sleep. It is a fantastic bar to go to have an aperitif in Rome and disconnect for a while listening to jazz music. Among the dishes you can choose at Salotto 42 there is a great variety such as quinoa salad, cous cous, hummus, rice noodles, sushi and a long etcetera. Accompany it with a delicious cocktail or a glass of wine and toast with that special someone for the next trip to Rome - Address: Piazza di Pietra 42 - Recommended appetizer: Sushi## 7. Micca Club
Near Termini station and close to the Basilica Santa Maria Maggiore (one of the oldest churches in Rome ) you will find this nightclub where you can have an aperitif in Rome while you go out to burn the night away on the dance floors. Ordering a cocktail you can choose from a buffet of assorted appetizers. It's not too cheap but the whole experience is worth it. Especially for the music played by the DJ and the live performances of jazz, soul or funky,Micca Club is a great place to go with friends or as a couple to enjoy a different night out in Rome - Address: Via Pietro Micca 7a Roma - Recommended appetizer: Rice Salad## 8. Momart Café
Another of the cafes where you can have a delicious appetizer in Rome is Momart Café. A place with a youthful and fun atmosphere where you can relax in the evening before dinner with some of the best cocktails of the Italian capital with your friends or your partner. At Momart Café you can enjoy an aperitif with an open buffet. The menu is so diverse that you can choose from pizzas, chicken, quiches, pasta, salads and much more. You'll be able to eat until you're full, so you probably won't want to eat any more, or will you? There's always room in your stomach for dessert! You will definitely want to go for an ice cream at one of the best ice cream parlors in Rome- Address: Viale XXI Aprile, 19 | 00162 Roma RM - Recommended appetizer: Wood-fired Pizza## 9. Oasi della Birra
Before discovering the Trastevere neighborhood at night, a great plan that I recommend you to do to close a fun day of sightseeing, you have to go to Oasi della Birra (in the lively neighborhood of Testaccio) to have an aperitif in Rome. It is a nice tavern with terrace where you can relax on sunny days to have a few beers or wines accompanied by a delicious appetizer based on cous cous, pasta, rice, vegetables and, best of all, delicious cheeses, cold meats and Italian desserts. As its name says, a "beer oasis" that will seem like a paradise to lovers of good food and drink. For very little money, in Oasi della Birra you can get your boots on and you don't need to book a table for dinner later. Anyway, in the post Where to eat in Trastevere I leave you some ideas if you are one of those who do not forgive going to bed without having dinner and dinner - Address: Piazza Testaccio, 39, 00153 Roma - Recommended appetizer: Sausages and cheeses## 10. Doppiozeroo
Doppiozeroo is a great place to go for an aperitivo in Rome after visiting the Basilica of St. Paul Outside the Walls, one of the four Major Basilicas of the city which is only a 15 minute walk from the bar. The atmosphere at Doppiozeroo is lively. Many Italians stop by after work for an aperitivo, so it's a great place to mingle with the locals. As for what to order as an aperitif at the bar, try the Spritz for a drink and the pizza as a side dish, although you can choose any dish from the buffet (pasta, salads, vegetables, rice, etc.) because the dishes are quite tasty and the menu is constantly renewed. - Address: Via Ostiense, 68, 00154 Roma - Recommended appetizer: Pizza ---## What is the Italian aperitivo?
The Italian aperitivo consists of going to a bar or tavern to have a good drink and some snacks as a side dish while you spend a good time with friends chatting and enjoying life. It is a deeply rooted Italian custom that emerged in the eighteenth century in the area of Turin by the hand of Antonio Benedetto Carpano (the creator of vermouth) and liked so much that quickly spread from the north to the rest of the country.### What time is the Italian aperitivo?
Normally, the Italian aperitivo takes place from 5 PM to 8 PM although in some restaurants it extends beyond this time and becomes an open buffet with a closed price. The Italian aperitivo is an excellent option for a snack-dinner without spending a lot of money. It is an ideal gastronomic proposal for low cost travelers!### How much does the Italian aperitivo cost?
Generally, the Italian aperitif costs around 10 € although the price varies depending on the city and the bar you are visiting. The offer of places to have an aperitif is as varied as the number of restaurants to eat in Rome.### What is the Italian aperitivo?
To drink you usually have beer or wine but also classic cocktails such as Spritz, Campari or Negroni. In fact, in recent times the drinks menu has expanded a lot and within the Italian aperitif you can also find other more popular proposals such as the Mojito, Bloody Mary, Gintonic, Caipirinha, Manhattan or Margarita, among many others. As for the food there is plenty of variety to choose from. You will not stay hungry! The most typical are cheeses, cold meats, nuts, olives or chips presented on a board called "tagliere" although most restaurants usually offer more elaborate options ranging from pizza, panninis, quiches or sushi to cous cous, salads, pasta or rice dishes. Even desserts!