Rome's Piazza Campo dei Fiori: all you need to know before you visit it
When visiting Rome, you should not overlook the popular Piazza Campo dei Fiori which is full of tourist and local charm. Its daytime and nighttime attractions are somewhat different, but the atmosphere is always lively and there are plenty of things to do, just go ahead and try them out!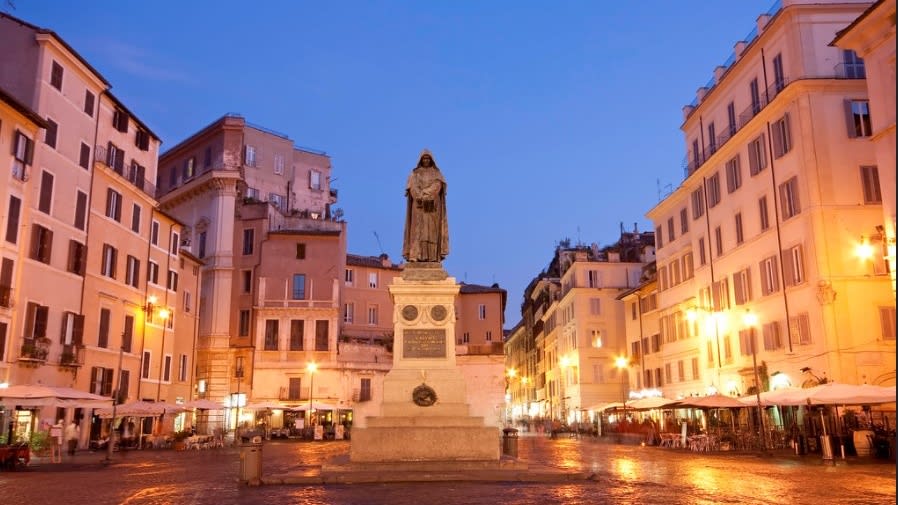 Italy's capital is famous for its piazzas filled with fountains, statues and monuments with beautiful architecture and plenty of history in the background. Rome's Piazza Campo dei Fiori is among the top squares in Rome because of its past and its interesting current features.
If you visit it, you will encounter many locals and tourists; especially when its daytime market is open. Strolling through the square, and its adjacent streets, you will discover significant works of art and excellent places. In them you can spend a pleasant time and/or taste the Italian food. So that you already know which ones to go to once you make your trip, here I recommend several.
Enjoy a stroll through its lively and varied market
Without a doubt, the most outstanding attraction of Rome's Piazza Campo dei Fiori is its lively market. This is the most central and largest of the capital's open-air markets. There you will find fresh produce of various kinds, such as fruits, cheeses, meats, vegetables and other high quality foods.
In some cases, they will even give you free samples to taste them. You will also find various items that you can buy as souvenirs to take home when you return. Naturally admission is free and you are free to go any day of the week to visit this market.
The hours during which most of the stalls are open are from 7:00 am to 2:00 pm. Although there are stalls that continue working until later, the entire market closes between 4:00 pm and 5:00 pm. If you want to have the best experience of all, I recommend going at approximately 9:00 am and walking around.
See the Giordano Bruno monument
The Giordano Bruno monument is one of the things that will catch your attention in Rome's Piazza Campo dei Fiori. Around it you will find several places where you can enjoy the pleasures of life. But this impressive sculpture is a reminder of the dark events that took place there.
The story surrounding this statue, located in the square, will intrigue you with the teaching it conveys. Giordano, was a cosmologist and mathematician who was against certain dogmas. For example, a Catholic dogma said that the planet earth represented the center of the universe.
It pointed out that everything else revolved around it, something that Bruno rejected, saying that there was no center. Because of that, he was imprisoned, tried and killed where his statue stands today. Therefore, that monument is a representation or a reminder of the right to freedom of oppression and expression, something that will be explained to you on any of the tours of Rome that include this square in their itinerary.
Spend a nice time in a cafe
Having a drink in a cafe with an Italian flair is a quiet but pleasant way to pass the time. Before or after making your way through the market or the surrounding streets, you could pop into a café. There are several options that serve as a haven to take a break from your busy tour of the square.
It is preferable that you choose one of the places that have a terrace, so that you are outside. That way, you'll have good views of Rome's Piazza Campo dei Fiori, and you won't miss anything going on. There are 2 very popular places in the area that you might consider choosing when you go there:
Taba Café: It is right across the street from the square and its rocker atmosphere is top notch, very cozy. They have a terrace, their staff is very friendly and they are open from 8:00 to 2:00. There you can order craft beer, cappuccino, cocktail, macchiato or any other drink.
Roma Beer Company: Located on the other side of the square, its prices are more affordable and its terrace is cool. They offer different types of coffees, drinks, snacks and even food with good treatment. The opening hours are from 10:00 to 3:00.
Take a photo at the beautiful Campo de' Fiori Fountain
The memories you make at the Fontana di campo de' Fiori are sure to be treasured. For this, it is good that you take your camera and take some pictures where you appear in this beautiful place. Its attraction is such that many foreign tourists visit it and admire it for being one of the most important fountains in Rome.
The original was built in 1590, with that basin figure that gives it a unique style. The current one is a copy of the one designed at that time by the artist Giacomo Della Porta. So it still retains its attractive details and is placed on the west side of the square.
Watch a movie at the Cinema Farnese
The Cinema Farnese offers you a high quality cinema billboard, in which you will find didactic works that transmit a lot of teaching. To select what to see, you can easily consult their website. There you will also find an excellent organization of film festivals in different languages.
The films are available in their original languages. Since the selection of what will be shown is generally excellent, I recommend you to go. You will be able to see mostly films that are classics, evoking memories of some very interesting eras.
Likewise, it is a very comfortable place with enough space, quite elegant and beautiful. Their seats will allow you to sit comfortably, with an excellent view of the screen. Even their tickets introduce you to what you will get, by using the phrase "Enjoy it" on them.
Have fun at a bar with good drinks
Want to know how to spend your evening in Rome's Piazza Campo dei Fiori? The best way to do it is to spend your time in an entertaining bar with good drinks. I assure you that having a drink in the Italian capital is not the same as having a drink anywhere else.
Besides, if you want to experience what the great nightlife in Rome is like, there is no place more perfect than that. In fact, this sector is famous for its wide variety of bars and pubs that offer multiple creative alcoholic drinks. In them you will taste exotic drinks that will be prepared to your liking. An essential stop on a night tour of Rome.
Whatever the case may be, just make sure to include one of these places on your list:
The Drunken Ship: Their prices are not too high, they have a variety of beers, good music and there are usually a lot of people. You will be well treated by their smiling and helpful staff, at the little tables outside if you prefer. Also, if you are a student, you will receive a discount.
Gastone A Kampo: A nice bartender who knows how to mix good drinks in a fun atmosphere. The rest of the staff is just as gracious, making it a pleasure to be there. Besides, the views are unbeatable, thanks to the outdoor seating.
Take a walk in the surrounding streets
Rome's Piazza Campo dei Fiori is surrounded by several beautiful streets. If you take the time to take a few strolls through them, you will relax, see interesting scenes and shop for things. That's because the area around the piazza is an area with several stores.
Therefore, walking through them is an answer to the question what to see and do in Rome. These streets hold stories and the names they have are representative of what was done in these streets. Some examples are the following:
-Key Makers - Via dei Chiavari -Coffer Makers - Via dei Baullari -Hat Makers - Via dei Cappellari -Crossbow Makers - Via dei Balestrari.
Delight your palate with an authentic Italian ice cream
Being part of the privileged list of the best squares in Rome, near Piazza Campo de' Fiori there are several places of interest. Among these some of the best gelato shops in Rome where you will love to be** to order your favorite flavor or one you have never tried before.
If you go to the Italian capital during its hot summer, eating a gelato will be refreshing and delightful. In fact, if you're like me, even if you go during the cold days you'll be craving gelato. Satisfy your craving for such a treat in Rome's Piazza Campo dei Fiori by going to:
Maravé Gelateria: Located on a corner facing the square, it offers its customers more than just vanilla. The place is bright, tidy, clean and has courteous and efficient workers. Going there, more than a visit, will be a new experience of rich tastes.
Sweet Gelato Roma: 1 block from the square, it offers a lot of freedom to customize and combine flavors with decorations. Among the outstanding flavors are hazelnut, mango, pistachio and lemon meringue. The prices are good, as they are calculated according to weight and the atmosphere is nice.
Visit a well-known bookstore with a cozy atmosphere
If you are a lover of reading, and want to get some interesting books, be sure to visit the bookstore. Fahrenheit 451 Di Kaos Di Gabrielli Catia is in front of Piazza campo dei Fiori in Rome. Its cozy and beautiful atmosphere, combined with reading, will take you to different places and events.
I recommend you to visit it so that, like me and many other people, you can immerse yourself in a deep reading. When you start reading the books it has, you will get lost in time and have a good time. However, if you want to buy literary works to read them later at home, you can still do so.
This library, which is independent, is like an open door that gives you access to imaginative freedom. On the other hand, the decoration, organization and distribution of the books makes it easy for you to locate them. The diversity of used and antique books also gives the place that particular and characteristic touch.
Have a delicious dinner at a quality restaurant
There are many restaurants where you can taste the Roman gastronomy, as they offer various culinary dishes that will please your exquisite palate. That is because Piazza Campo dei Fiori in Rome is a tourist area. You can have a dinner with your partner, as there are several romantic places in Rome
Of course, not all of them can guarantee the same quality of service and food. In the same way, the atmosphere that prevails in the place and the prices vary from one place to another. So that you are not overwhelmed by so many alternatives to choose from, here are 3 recommendations to compare and I recommend this post on where to eat in Rome.
Antica Hostaria Romanesca: Exceptional service from the staff in a traditional, historic and original setting. Most importantly, their food is really good and they don't limit themselves to the typical pizzas and pastas. If you go, you will be able to order and taste little known Italian dishes.
La Carbonara: Its name indicates the most famous dish of the place, but it also stands out for its ravioli, tiramisu, cannelloni and pasta all'amatriciana. The place is elegant, centrally located, classic and discreet, with reasonable prices and waiters who have a friendly personality.
Giordi Ristorante: Large terrace with a nice and informal ambience with tasteful music in the background. Its menu has a variety of drinks and traditionally Roman dishes, worth trying, and delicious desserts. These are served by polite, friendly and efficient waiters.