10 travel tips for New York
If it's your first time in the Big Apple, take note of these basic tips to be well prepared and avoid falling into tourist traps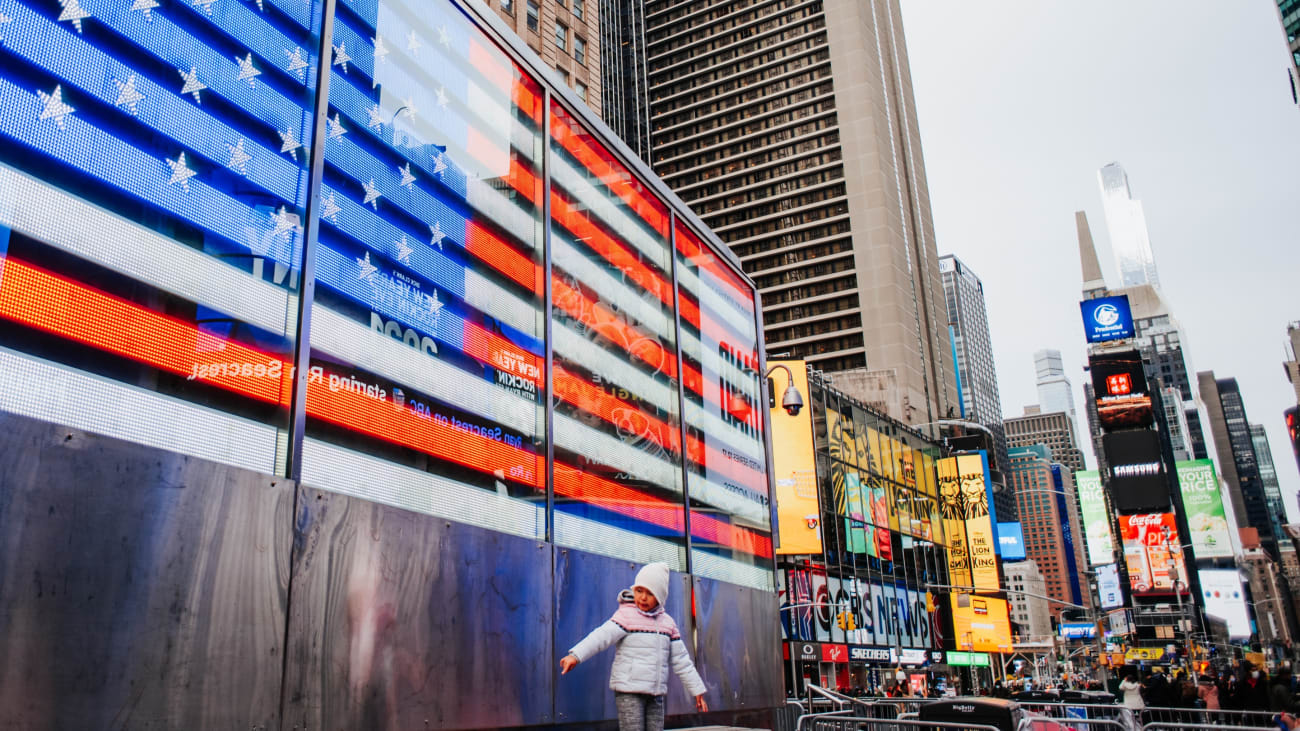 The Big Apple is the dream destination for many travelers and a city to be enjoyed in a thousand different ways. So many that it is almost impossible to put in words: you just have to experience it yourself!
1. When to travel to New York?
If New York is your favorite city, any time of the year is perfect as each season brings a unique charm to the Big Apple.
Spring
The days are longer and temperatures are milder, which invites you to walk around and explore the city in outdoor activities. In addition, the city is full of flowers and looks stunningly beautiful.
Summer
During this season, the heat can sometimes be overwhelming. However, New Yorkers take the opportunity to enjoy the festive atmosphere at Coney Island, the beaches of Staten Island, and outdoor activities such as drive-in movies, kayaking, or drinks on rooftop bars. However, it's the peak season for flights and hotels and prices are at their highest.
Autumn
New York's landscape looks very colorful during this season, perfect for taking pictures. In addition, it rarely rains and temperatures are mild which is perfect for touring the city on foot. In autumn, Halloween and Thanksgiving give the city a very special atmosphere.
I visited New York for the first time in autumn, and it was lovely. Read about everything you can do in New York during this wonderful time of the year: Things to do in New York City in the Fall.
Winter
If you are not afraid of the cold, visiting New York during this season is a good idea, particularly during Christmas when the city has delightful decorations and lights. On the other hand, during January and February, the city has the least amount of tourists and you will feel like a local during your trip.
In fact, Christmas in this city is a world apart. I have written a detailed guide about 11 Christmas things to do in New York City, so if you are lucky enough to visit the city at the most magical time of the year, make sure you enjoy it to its fullest!
2. How much time do I need in New York?
Well, obviously, the more the better! I'm sorry to tell you that you could spend years in New York and you would still need more time to discover all it has to offer. But as time and budget are usually not infinite, I recommend you to visit New York between 5 and 7 days as a minimum, especially if it is your first time. With fewer days, you will miss a lot of things and most likely you won't enjoy yourself, feeling that the trip is too short and not worth the stress.
If the circumstances and budget of your trip allow it, 10 days in New York is the perfect measure, as this will allow you to see a lot of the city's must-sees and get the most out of your trip.
For longer trips
If you are lucky enough to stay several days in New York and you want to get out of the big city to discover its surroundings, you open the door to a world of possibilities: Washington, Boston or Niagara Falls are just some of the excursions that can be done in one day from New York. I 100% recommend you add a bit of contrast to your trip by exploring some of the most amazing places on the East Coast. (You can check all the options here: Day Trips from New York).
3. Travel medical insurance and vaccinations
Make sure your insurance has coverage when traveling
The chances of requiring medical attention during your trip are very low. But to prevent these unexpected surprises, it is best to make sure you have travel insurance when visiting New York.
4. New York airport tips
On the plane or in the customs control area of the airport you will be given a form that you have to fill in with your flight information and then show it together with your passport (valid for at least 6 months) at the security checkpoint.
My recommendation is that you have the details of your accommodation (hotel or apartment) on the ready and the reservation of your return flight (if you have it).
How to get from the airport to New York?
Once you land in New York, you will have to choose the way to get to the center of the city from the airport. The Big Apple is quite well-connected, thanks to its public transport network (bus, subway, cab...) which is quite efficient and allows you to move from one end to another of the Big Apple to explore all its corners quickly.
However, from my experience, after landing from a long flight that leaves you exhausted, the last thing you want to do is to walk around the terminal looking for a free cab or make multiple transfers carrying suitcases through the subway or bus network until you reach your hotel. Therefore, the most comfortable option is to book a shared or private transfer to your hotel in Manhattan where you will travel aboard modern vehicles fully equipped with all the comforts.
Difference between shared and private transfers
The main difference between shared and private transfers is that in private transfers the driver will be at your disposal and the VIP vehicle will be only for you and your group, you will not have to wait for other passengers. Take a look at my article about airport transfers to and from the airport if you want to know more about how to get from the airport to your hotel and vice versa in the most comfortable way saving on every trip...
5. Is New York safe?
When it comes to safety, New York is one of the safest cities in the United States despite the bad reputation it may have had in the past. In the last decade, the crime rate has dropped a lot and only some troubled areas like East Harlem, the South Bronx, or Brownsville in Brooklyn are worth avoiding, especially at night.
I have written an article explaining the ins and outs of each neighborhood in New York, which I recommend you if you are thinking of organizing a visit to any particular area: 20 best New York City Neighborhoods.
As in other touristy cities, you are sure to find pickpockets waiting for their chance to get their hands on someone else's belongings, either in the subway or on the street while you are admiring a monument. Be careful! The best way to avoid this is to be alert to your surroundings, don't carry too much money on you, and pay attention to your cell phone or camera. If you take certain precautions and apply common sense, you will have nothing to worry about in New York.
6. Tipping in New York City
:
An unwritten law in New York (that sometimes brings tourists head over heels) is to tip after enjoying a service, especially in restaurants, cafes, cab transfers, cleaning rooms in the hotel, etc...
Where to tip and how much should I leave?
Restaurants: A tip of 15% to 20% of the total is usually given, depending on how happy you are with the service.
Cabs: Many cabs now have screens on the back of the seats where the default tip is calculated and the options for the customer to choose from are 20%, 25%, and 30%. In this case, a 20% tip would be sufficient for cabs.
Hotels: If in your hotel the bellboy helps you carry your bags, it is correct to tip him $ 2 or $ 3 for each one. As for floor maids, the tip is $ 2 to $ 5 per day.
Tour guide: If the group is large and it is a short visit, a tip of $5 per person is fine. On the other hand, if the group is smaller and it is a visit of many hours, about $10 per person is usually left.
What happens if I don't leave a tip?
It is true that they cannot require the customer to leave a tip but as you know not doing so is interpreted as a very rude and inconsiderate gesture. Thus, after taxes and tipping the prices will be 15-20% higher than indicated.
7. What should I pack for my trip to New York?
The clothes you wear will depend (and a lot) on the time of the year you travel to New York. If you travel in the summer, keep in mind that temperatures are very high in the street and the air conditioning in stores, hotels, and malls is very very strong. I recommend that you bring a scarf for your neck and a jacket to protect you from the air conditioners.
In winter, gloves, hat, and scarf are a must but don't forget to also take some thermal clothing (temperatures easily reach below zero and you will be spending a lot of time in the street) as well as several extra socks in case it snows. (Keep in mind that footwear in winter should be comfortable and if possible, waterproof to rain and snow).
In fall and spring it is best to wear several layers of clothing during the day, as temperatures are warm but there can be a big difference between morning and evening with the central hours of the day.
Regarding rain, do not worry because it does not usually rain too much and when it does, there are hundreds of street vendors where you can buy an umbrella on the street at a good price.
Take the opportunity to shop in New York
In New York, you can find bargains in clothing, electronics, or accessories, so be sure to leave enough room in your suitcase to bring all your purchases. In fact, I recommend that in addition to visiting the typical Manhattan stores on the street, do not forget to visit the vintage markets that you can find in areas such as Brooklyn.
Also, be sure to visit the famous outlets. There you can find luxury brand clothes from other seasons at very good prices. If you are interested in knowing more details, here's my guide: Premium Outlet Day Trips from New York.
8. Tips for saving on travel arrangements
To make the most of your trip to New York, have you thought about buying a New York Pass? It is a tourist card that gives access to the main tourist attractions of the city and has several advantages. If used correctly, you will save:
Money: as it allows you to enter popular attractions at a flat or reduced rate
Time: as most of these sights have a special queue for holders of these passes
And it's also super convenient to have all your tickets in one place!
What do the passes usually include?
Access to a sightseeing bus around the main areas of New York
A ferry to Liberty Island, where the Statue of Liberty is located
Tickets to the Top of the Rock, Empire State Building or One World Observatory
Tickets to the 9/11 Memorial and the 9/11 Museum
Tickets for the Natural History Museum
MoMA tickets
Intrepid Sea, Air & Space Museum tickets
Metropolitan Museum of Art Tickets
Madame Tussauds New York Tickets
Which pass to buy?
The million-dollar question we've all asked ourselves at one time or another. In this sense, the fundamental thing is to keep in mind that there are two kinds of New York Pass: by the number of days and by the number of attractions.
Finding the perfect pass depends on the type of trip you are going to make in New York and your budget. In our article about New York tourist cards we help you choose the right one for you. Check it out!
Isabel's Traveler Tip

It will be easier to choose a pass if you first make a list of the tourist attractions you want to see in New York.
9. And once there... How do I get around?
The subway will be your great ally once you settle in the Big Apple. At first, you will feel like walking for hours and hours (and I recommend it, as it is the best way to enjoy New York), but sometimes the distances will make it impossible and fatigue will start to act. But don't worry, because wherever you are, you will have a subway stop nearby that will take you where you need to go, in no time and for little money.
Although there are many lines (some are express and some are not), don't feel overwhelmed because it's simpler than it seems. I tell you everything you need to know (main stops, schedules, express lines, ticket prices, and vouchers) in my article on Guide to the New York City Subway.
The tourist bus
If you prefer to make your life easier and still enjoy the sights of New York while moving from one place to another, the tourist bus is always a good option. With several routes, it connects the most emblematic points of the city and allows you to get on and off as many times as you want. It runs day and night and its operation is simpler than that of the metro, as it is designed exclusively for the traveler. I'll tell you all the details here: Hop on Hop off Bus Tours.
A cruise on the Hudson
Another way to move (while relaxing) around Manhattan is to take a cruise on the Hudson (or take one of the ferries to cross to Brooklyn or the Statue of Liberty). The views of the Manhattan skyline from the water are spectacular and you can relax, even for a while, while crossing the river quietly. Here are all the options that exist on Best Manhattan Cruises.
10. And what do you eat in New York?
I can already tell you that eating well in New York and at a good price is not impossible, but it requires choosing carefuly a restaurant or a place to stop for a break.
About prices
This city has a gastronomic offer that is hard to beat, but you will have to be attentive to the menus so as not to wreck your wallet. Important: remember that menus usually do not include taxes and tips, so the price you see on the menu is not the final price.
My advice is to set a daily budget to spend on food. Unless you are traveling with no budget limit, I advise you to combine a daily fast food meal (probably at noon, when you are touring the city) and a more quiet dinner in one of the coolest neighborhoods (the West Village or SoHo area has very cool restaurants where you can treat yourself while you rest from a long day of sightseeing.
Don't rule out picnics
Especially in times when the weather permits, I personally love to picnic in one of its parks or squares (you won't be alone, you're sure to see dozens of executives, tourists, and New Yorkers doing the same as you). Throughout the city, you will see fast-food chains (more or less healthy) such as Pret-À-Manger where you can buy a sandwich or a hot soup to go.
What to eat
New Yorkers don't live by burgers alone (although you will obviously have to try more than one during your days there). In New York, you will find every kind of food, from the most elaborate menus to street-bought hot dogs and delicious hamburgers. I have written a guide about 20 places to eat in New York City with all my recommendations so you don't fall into any tourist traps. Oh, and don't forget the typical cheesecake for dessert either. Delicious!
11. Beware of ticket resale on the street
Do you dream of seeing a musical on Broadway or an NBA game at Madison Square Garden? Catching a game of basketball at an iconic venue or sitting in a velvet seat waiting for the curtain to rise and the show to start is one of the most exciting things to experience in New York.
Seeing a Broadway show or watching an NBA game (both Knicks and Brooklyn Nets) in New York is a highly recommended experience. But being activities in high demand, especially at times like Christmas, my recommendation is that you buy tickets online and in advance so you don't run out of seats at the theater or stadium.
But the most important thing is to be wary of the scammers that you will see on the street (especially in Times Square or around stadiums and theaters): the tickets they will try to sell you offer no guarantee of being real and in the case that they are, the seats will probably not be the ones promised.
How to get good tickets without spending a lot of money?
That's why I recommend that you buy tickets online as far in advance of your trip as possible, if you are sure of the date and the show you want to see. Otherwise, if you wait to buy them at the box office, you run the risk of running out of tickets for the day you would like to see the show due to high demand.
In addition, by booking online you will be able to choose the place you like and in some cases, the prices are cheaper than at the theater box office. The same goes for NBA tickets for the New York Knicks at Madison Square Garden and for the Brooklyn Nets at the Barclays Center.
12. Discover New York City by taking a tour
If you want to discover the most interesting places in New York with a guided tour, my favorite tours are the Contrasts Tour and the Upper and Lower Manhattan Tour. Here are the details of both tours: New York Contrasts Tour and The Best Upper and Lower Manhattan Tour.