Things to do in New York City in the Fall
The ocher colors and warm autumn light will make you fall in love with New York. Here's a list of the best things to do during the most beautiful time of the year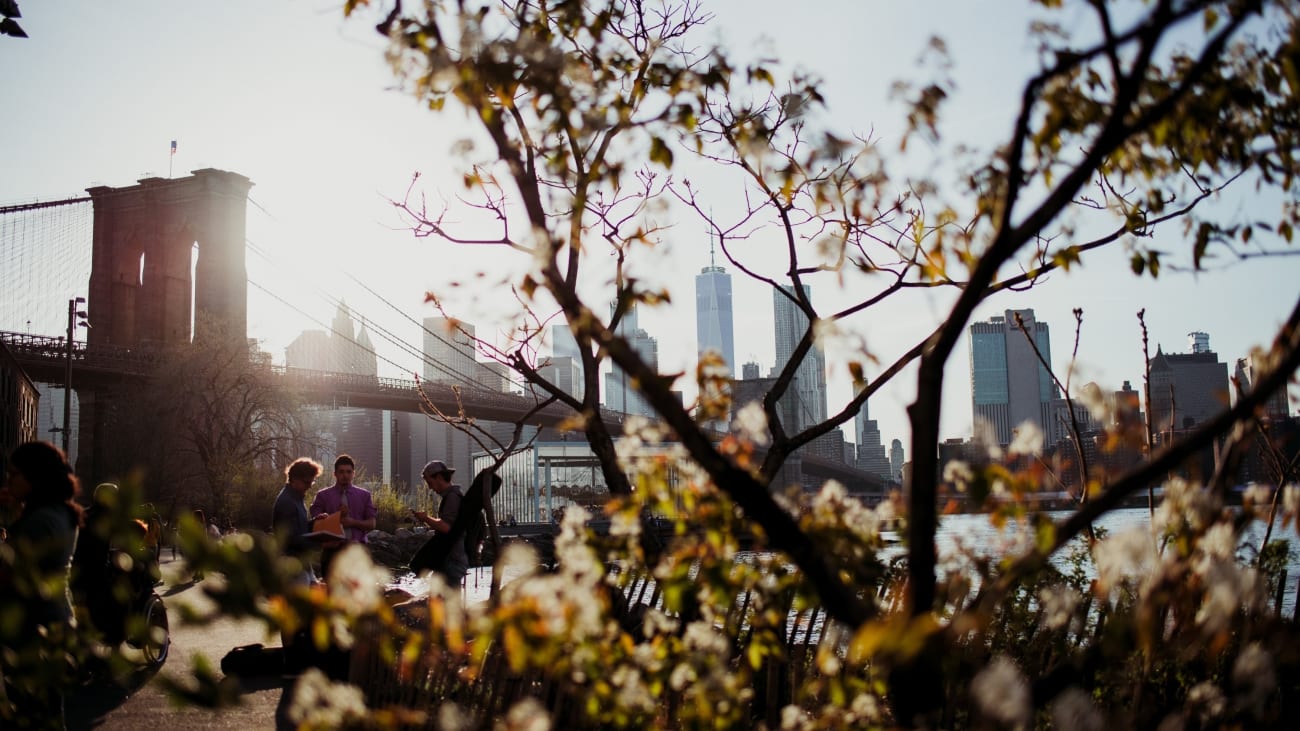 One of the most beautiful times of the year to travel to New York is autumn. The city shines with a special light and the temperatures are still pleasant for outdoor activities. In this article, I tell you everything you can do in New York in autumn to live a unique experience.
1. Catch a football game in New York!
Tickets for NFL games sell out months in advance so attending an event is one of the most unique and exciting experiences you can have during a trip to New York in the fall.
If you want to include a football game during your vacation, either because you are passionate about the sport or because you want to experience the craziness and atmosphere that football brings to New York, you are in luck because the regular season runs from September through December.
Who plays football in New York?
The NFL teams in the city are the New York Giants and the New York Jets. Interestingly, both share the same stadium as they play at MetLife Stadium, in East Rutherford (New Jersey) located just 30 minutes west of Manhattan.
How to buy NFL tickets in New York?
To buy football tickets you have two options: at the stadium box office or through the Internet. Since there is a great demand to go see the NFL, in my experience, I recommend you buy tickets online before traveling because it is normal that they sell out quickly.
The key is to buy them as soon as possible so they don't sell out and get the best seat in the stadium at a cheaper price. In my opinion, this is the easiest, safest and fastest option.
If you want to know more about this sport, in my article How to watch a football game in New York I tell you everything you need to know to get your football tickets at the best price, which place to choose in the stadium, how the league works and much more. Don't miss it!
2. Stroll through New York's parks in the autumn light
Watching urban nature and the changing leaves on the trees is one of my favorite things to do in New York in the fall. As soon as the landscape begins to be tinged with ochre, orange, and reddish tones, the streets of the Big Apple acquire a special charm.
In addition, in autumn the temperatures are still warm, and it is so pleasant to take long walks looking for the most beautiful side of nature to immortalize this explosion of colors in a unique reportage.
If there is something I like about autumn in New York is that this city has more than fifty parks where native species abound that cannot be seen in other parts of the world. Taking a tour through the urban forests you can find true natural treasures. Here are some of them:
Central Park
In this season the most popular park in the city fancies a special beauty. You can lose yourself in its colorful leaf-covered paths taking pictures, rent a bike or take a private bike cab tour with a professional guide to explore the park's most iconic spots in the autumn light.
Battery Park
Located south of Manhattan, Battery Park is one of the oldest parks in New York. It has the best view of the Statue of Liberty and is a quiet place to go for a stroll surrounded by luxury buildings and food trucks where you can grab a bite to eat outdoors.
Bryant Park
It is one of the most loved parks by New Yorkers created to relax in the middle of nature. From the end of October to December, you can ice skate for free at The Rink. In addition, guided tours are organized here between September and October by the NYC Audubon platform to learn about the incredible diversity of birds in Bryant Park.
Prospect Park
In Brooklyn, you can find this huge park that many travelers overlook and where there are areas with intact native flora. It is a beautiful place to take a walk, play sports or have a picnic. On Sundays between April and October, there is Smorgasburg, a gastronomic event where you can try a wide variety of dishes. A foodie's paradise!
High Line Park
It is a beautiful elevated garden built on old train tracks that run from the Meatpacking District to Hudson Yards. In autumn, the park's vegetation transforms and gives way to a burst of colors. If you want to know more about this modern garden check out my article 10 things to do and see on New York's High Line.
3. Venture into the Brooklyn Botanic Garden
Speaking of nature, another highly recommended visit to make in New York in autumn is the Brooklyn Botanic Garden, which will fill your senses with colors, aromas, and serenity.
Founded in 1910, the Brooklyn Botanic Garden is part of the Prospect Park complex and is located in the historic Park Slope neighborhood just steps away from the Brooklyn Museum.
With such a great location, my advice is to take a morning to tour this area of New York to see the traditional brownstones of this neighborhood, the art deco Brooklyn Public Library, Prospect Park and the Brooklyn Museum, one of New York's finest museums with its priceless collections of antiques and American art.
The Brooklyn Botanic Garden is a space crowded with lawns to rest on the grass, paint, read a book, or get lost in a placid environment watching the different species of plants and flowers that are grown here such as peonies, tulips, orchids, cherry trees or cactus, among others.
What to see in the Brooklyn Botanic Garden?
It has different ecosystems that vary with the changing seasons, but there are permanent displays that can be visited all year round. Some of the highlights include:
The Japanese garden: it was the first of its style created in the United States. It has beautiful waterfalls and fish-filled ponds.
The Shakespeare Garden: it has dozens of poisonous species taken from the palace intrigues of the writer's work.
The Orangery: houses the Bonsai Museum, the Tropical Pavilion, and the Desert Pavilion.
Cherry Esplanade: a large meadow overflowing with cherry trees. It is in spring when this area looks at its best with the cherry blossoms in full bloom.
Is there free admission to the Brooklyn Botanic Garden?
Yes, on Fridays, entry is free before noon. In winter (December through February), admission is free every weekday.
4. Experience the real Halloween in New York City
With permission from the 4th of July and Thanksgiving, Halloween is one of the celebrations that Americans experience with the most excitement. You can feel it if you spend a fall vacation in New York.
This holiday is celebrated in a big way in the city and from mid-September through October 31, the Big Apple is decked out with typical decorations such as ghosts, witches, cobwebs, and skeletons for New Yorkers and tourists to experience a frightfully fun experience.
If your trip to New York coincides with Halloween prepare your costume because you will want to walk the streets to soak up the authentic Halloween spirit. In addition, there are many activities related to this holiday. Some examples are:
Night of the 1000 Jack O'Lanterns
Super fun! During the nights of October, Governors Island organizes a typical jack-o'lantern tour in which you will walk among hundreds of illuminated pumpkins that have been carved with animals, faces of well-known characters, and objects to create a spooky and unique effect in the dark.
Spooky Garden Pumpkin at the New York Botanical Garden
On October 31, visitors can enjoy the spectral makeover of the garden decorated with pumpkins, scarecrows, skeletons, and other typical characters. There is also special programming for families such as evening activities and costume parties.
Boo at the Zoo
From September 28 through the weekend after Halloween at the Bronx Zoo, there's a full schedule of activities for a frightful time, from costume parades and craft fairs for kids to a Halloween-themed Bootoberfest beer festival for grown-ups.
Coney Island Halloween Parade
Although the beach season is over in Coney Island, Halloween takes over with a parade and costume contest, traditional trick-or-treating, face-painting workshops for kids, and much more.
Halloween decorations
Most businesses and homes begin decorating in late September or early October. It's fascinating to take a walk through the streets of New York and see how carefully New Yorkers decorate everything. Some cool places to see are the West Village and the Upper West Side as well as Chelsea Market or Rockefeller Center.
Village Halloween Parade
This parade is a party! Thousands of people dressed in fun and clever costumes gather on the night of October 31st to march down Sixth Avenue, while bands liven up the atmosphere. The parade is free, but costumes are mandatory. It starts at 7 PM and ends at 16th Street around 11 PM.
5. Feel the magic of Broadway!
Whatever time of year you visit New York, you can never miss a Broadway musical, the mecca of New York theater.
Towards the end of October, coinciding with Halloween, you can take advantage of the spooky atmosphere in which the city is immersed to attend a performance of The Phantom of the Opera or Wicked, two titles on the bill that for its thematic full of mystery and intrigue and supernatural staging are very appropriate for these dates.
Both are two of the most successful Broadway musicals in terms of critics and audiences, so tickets are usually sold out quickly. If you want to attend a Broadway musical during your fall getaway to New York, my advice is to buy tickets online before you travel because there are shows in high demand, the theaters fill up and the box offices immediately hang the Sold Out sign.
How to buy tickets for a Broadway musical?
From experience I advise you to buy tickets online as far in advance as possible to ensure the best seats on the date you want and at a better price than at the box office, where you will also save having to wait in endless lines. For me, this is the easiest, fastest and safest option.
If you are passionate about theater and want to know more about Broadway musicals, I recommend you to read my article The 10 best Broadway musicals in New York where I review the best musicals of the season and solve the most frequently asked questions to get tickets, among other questions.
6. Take a day trip to Boston
While planning your fall New York trip agenda at first you may not have thought to add an out-of-town excursion to see other parts of the United States, as there is so much to see and do in the Big Apple.
However, dedicating a day of your vacation to a trip to Boston is a great idea in my opinion because you will have the opportunity to see the birthplace of the American Revolution and one of the oldest cities in the country founded in 1630 by British settlers.
In addition, during this season the temperatures are mild with sunny days so the weather is ideal to go on excursions and enjoy all its tourist sites with fewer crowds and more tranquility than in other months of the year.
What is the Boston day trip like?
The great thing about this organized tour to Boston is that it gets you to and from downtown New York on the same day, so you don't have to worry about how to get there, which can be an odyssey.
Boston is about 217 miles from New York and ahead of you lies an approximately 4-hour drive along the Connecticut coastline, which with the Wi-Fi in the minivan and the beautiful scenery along the way, makes it all the shorter.
What to see in Boston in the fall?
During this time of year, the entire state of Massachusetts offers beautiful sights and its capital city is a prime example. Autumn colors transform the landscape of Boston's avenues and squares, giving it a romantic look perfect for a beautiful photoshoot.
In this day trip to Boston from New York you will visit MIT and Harvard University with a guide, you will take a guided tour of downtown, walk the Freedom Trail and live a gastronomic experience in Quincy Market, the oldest market in the city (1800).
What I like about this tour is that the group also has free time to have lunch and visit some sites at their own pace such as Harvard Yard, Widener Library, or Trinity Church, among others.
7. Take a gourmet tour of New York's food halls
It may happen that during your fall getaway to New York City the day rises a bit cool or unseasonably warm and your body asks you to spend less time outdoors than usual. In these cases, a good idea might be to take a gastronomic tour of the city's food halls.
New York is known for its endless gastronomic possibilities but finding a place to eat can be a bit overwhelming for a newcomer, especially if you are traveling in a group and everyone wants to go somewhere different. All of New York's most touristy spots have a food hall nearby.
Canal Street Market
Located in Chinatown (265 Canal Street), this food hall specializes in Asian food and has several food stalls offering a wide variety of food for less than $ 15. You can sample the dishes right there or order a takeaway for a picnic in Columbus Park. I recommend you to visit Boba Guys, a coffee shop where they prepare a fantastic bubble tea with very original flavors.
Chelsea Market
This is the most famous food hall in the city located in the Meatpacking District next to High Line Park (75 9th Ave). In this former cookie factory where the Oreo was born, there are plenty of options to eat: noodles, sushi, tacos, pasta, or seafood (the specialty of the market).
Plaza Food Hall
Located on the subway floor of the Plaza Hotel (1 W 59th St.) with bakery, pastry shop, and bar/restaurant where you can buy different products (noodles, dim dum, pizza, crepes, cupcakes ...). You can eat here at one of their tables or bars or order a takeaway to go for a picnic in nearby Central Park.
Eataly
Located in Madison Square Park (200 5th Ave), the temple of Italian cuisine in New York. Here you can try all kinds of cheeses, sausages, pizzas, pasta, and meats of good quality at a reasonable price. My advice is to go early to this market to get a table as it is in high demand.
Hudson Eats
It is located in the World Financial Center, inside the Brookfield Place Mall (230 Vesey St). It is a huge food hall with a very varied culinary offer adapted to these times: sushi, bagels, tuna burgers, tacos, sandwiches, and if you still have an appetite, some handmade cupcakes.
Little Spain Market
Located in Hudson Yards (10 Hudson Yards), the trendy new neighborhood in Midtown along the Hudson River. It is a gastronomic space dedicated to the flavors of traditional Spanish cuisine by renowned chef José Andrés and the Adriá brothers. The best of Spanish cuisine outside of Spain is here!
8. Enjoy Thanksgiving like a New Yorker!
In case your trip to New York in autumn coincides with this national holiday, you are probably wondering what activities you will be able to do that day if most establishments remain closed.
Don't worry, because New York is known as "the city that never sleeps" and even if it's a holiday there is always something entertaining for tourists to do even on Thanksgiving. Here are some suggestions:
Attend the Macy's Day Parade
To start, in the morning takes place the classic Macy's Day Parade, a great three-hour parade that this famous department store has been organizing since 1924. It starts at 9 AM next to the Museum of Natural History and runs through downtown to Macy's in Herald Square.
It is a perfect plan to do with the family and kids will love it since there are many floats, orchestras, dancers, and giant balloons. In addition, some Broadway musicals are performed in Herald Square before the parade arrives at Macy's. Thousands of people flock to see it every year.
Thousands of people come to see it every year so if you want to find a good spot you'll have to get up early. At 6 AM many New Yorkers begin to take positions to not miss a single detail of the show. Although there are seats and bleachers along the tour, these are reserved for Macy's employees and the rest of the spectators have to watch it standing.
Other Thanksgiving Day Activities
Since on this day most establishments are closed, my advice is that for Thanksgiving you should book those activities that do not depend on a schedule such as strolling through Central Park, walking across the Brooklyn Bridge, walking along Fifth Avenue, visiting Central Station...
Enjoy a Thanksgiving feast
On a day as special as this you can't miss the traditional Thanksgiving dinner. Surely you have seen it a thousand times in movies and series but now you have the opportunity to experience it on American soil.
Dinner starts around 6 PM. Although many stores are closed, some restaurants are open so you can enjoy a delicious feast.
To book a table as soon as possible, my advice is to do a quick search on the Internet and if you are interested in a particular restaurant, check on their website whether or not they are open on Thanksgiving Day and what menu they will be serving.
Thanksgiving menus are usually prix fixe and are a bit more expensive than the usual menus but being on vacation in New York in the fall you won't want to miss this celebration.
Take advantage of the Black Friday sales!
The day after Thanksgiving is Black Friday, one of the most awaited events of the year where stores make spectacular sales. It's definitely a great time to go shopping in New York and bring home those souvenirs you've been craving.
Black Friday is a day of big discounts, lines, and crowds. Many take advantage of this date to get Christmas gifts so I recommend you to go for it and buy that gift you've been waiting for for a long time.
Shopping in New York is a great plan. If the shop windows are a magnet for you and you are a bargain hunter, do not miss the articles The best outlets in New York and The 10 best things to buy in New York where you will find ideas for shopping and gifts to buy.
9. Be amazed by the New York Wax Museum
If during your trip to New York in autumn you feel like having a different and fun time, do not hesitate to stop by the museum Madame Tussauds, one of the most visited attractions in Times Square that has deservedly earned its fame thanks to its hyper-realistic wax figures.
Madame Tussauds may not be the first museum you want to visit in your list of museums in New York but I assure you that it will be one of the places where you will have the most fun. It happened to me! Plus, it's a place where the kids will have a blast which is a plus if you're traveling to the city as a family.
I never thought that the New York Wax Museum would surprise me so much but I have to say that its fame is justified. Not only because of how much the sculptures at Madame Tussauds resemble the celebrities they represent, but also because you can interact with them in the different sets and even take a sensational souvenir album of your visit back home.
In case you want to visit the wax museum in New York, I recommend you to take a look at my article Tickets for Madame Tussauds in New York where I tell you how to get tickets, everything you can see in their facilities and several curiosities about the wax figures.
10. See New York City from above
Exploring New York on foot in the fall is always a pleasure but getting a bird's eye view of the immensity of this city is one of the experiences you should have at least once in your life.
We all know that the Big Apple skyline is a spectacle in itself. There are several ways to see New York from above and all of them show a different side of the city.
Stroll through the New York skyline
Can you imagine crossing the sky in a helicopter at over 120 miles per hour? Taking a helicopter ride over New York is one of the must-do experiences during your trip to New York in the fall. Get ready to fly over the Big Apple and admire the city's splendorous skyscrapers from the same height - breathtaking!
I have made a comparison chart of the different itineraries so you can choose the one you like best.
Essential Itinerary: Statue of Liberty to Central Park
From

$ 159

15 minutes
Downtown Heliport
Ellis Island
Statue of Liberty
Governors Island
Ground Zero and One World Observatory
Brooklyn Bridge
Empire State Building
Madison Square Garden
Chrysler Building and Rockefeller Building
Times Square and MetLife Building
Intrepid Sea, Air & Space Museum
Central Park
Washington Bridge
NYC Helicopter Tour: Statue of Liberty to Madison Square Garden
From

$ 249

20 minutes
Downtown Heliport
Ellis Island
Statue of Liberty
Governors Island
Ground Zero and One World Observatory
Brooklyn Bridge
Empire State Building
Madison Square Garden
Chrysler Building and Rockefeller Building
Times Square and MetLife Building
Intrepid Sea, Air & Space Museum
Central Park
Washington Bridge
VIP Itinerary: Staten Island to Washington Bridge
From

$ 289

30 minutes
Downtown Heliport
Ellis Island
Statue of Liberty
Governors Island
Ground Zero and One World Observatory
Brooklyn Bridge
Empire State Building
Madison Square Garden
Chrysler Building and Rockefeller Building
Times Square and MetLife Building
Intrepid Sea, Air & Space Museum
Central Park
Washington Bridge
Verrazano-Narrows Bridge
Manhattan Bridge
Williamsburg Bridge
South Street Seaport
Queensboro Bridge
Ride the Roosevelt Cable Car
The Roosevelt Cable Car is not one of the most popular tourist attractions among travelers visiting New York but it has a lot of charm and offers magnificent views of the city. In addition, it is a very economical ride because you only need a Metrocard to get on, the same card to travel by bus or subway.
If you want to know more about the New York cable car, I advise you to read the article How to ride the Roosevelt Island cable car where I tell you all about this great unknown for mass tourism and everything you can do on Roosevelt Island.
Lookouts and observatories
Many of New York's iconic buildings have observation decks and observatories for the delight of its visitors. I've also made a comparison chart so that at a glance you can know the major differences between these portents of engineering: