8 Best Bike Tours in NYC
If you want to get to know New York on a bike and with the best itineraries, stay to read and discover this guide with everything you need to know.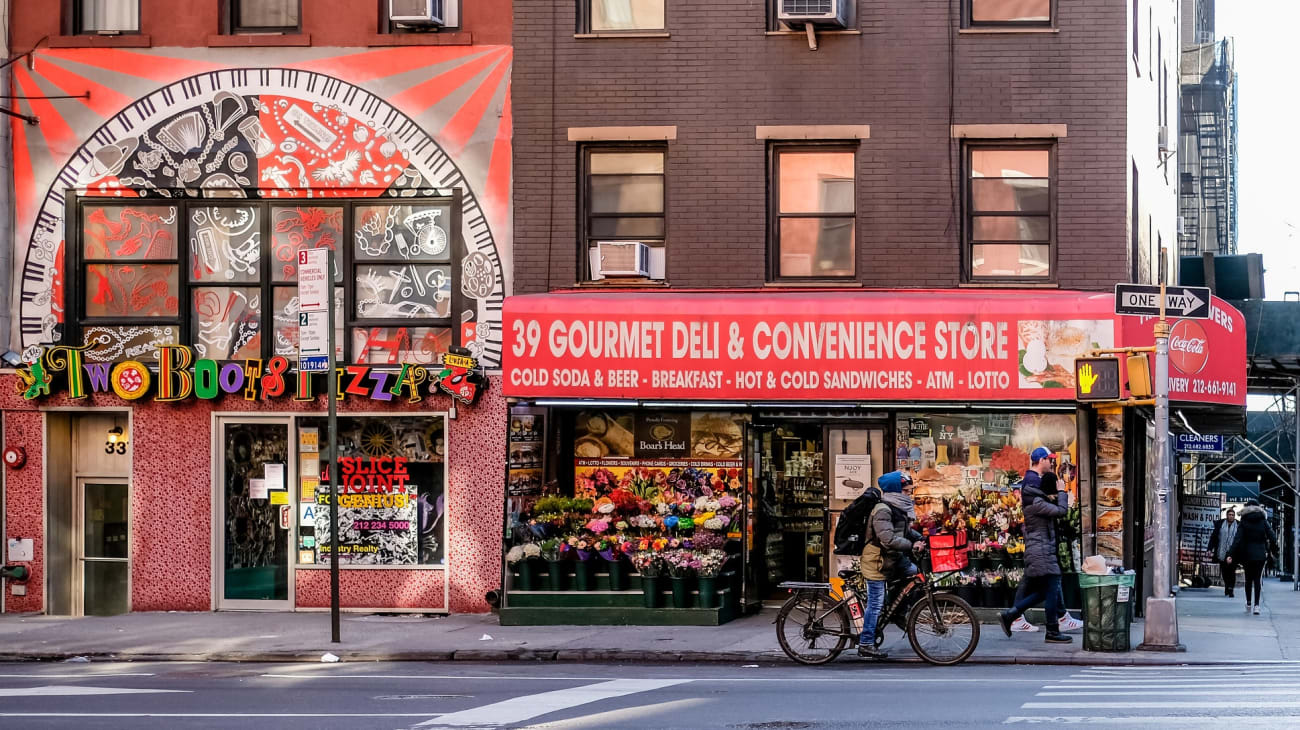 A guided bike tour of New York City is a great way to get to know the city if you are short on time or looking for a more entertaining experience than walking the streets. Riding a bike you will see much more than walking, so it is an ideal option if you do not have much time for sightseeing in New York.
You can choose the route you want according to the sites you want to know and according to your physical capabilities, although all routes are friendly in pace and distances traveled. If you want to discover what to see and do in New York, book your bike tour before you travel and secure your spot.
1. Central Park Bike Tour
A bike tour of Central Park is the best way to get to know this iconic New York City park.
Due to its large size and different areas, it is common that organizing a visit to this emblematic site located in the heart of the city is a bit confusing and you can't find a way to optimize your time.
Booking a 2-hour bike tour of Central Park will allow you to discover its most popular destinations along with a licensed professional tour guide.
Your guide will make sure you get to know the most precious treasures of one of New York's best parks, such as its historical monuments, the most famous and beautiful sights, and its lush greenery.
There are usually 4 daily departure times so you can choose the one that is most convenient for you. You can choose between 09:00hs, 10:00hs, 13:00hs and 16:00hs.
The tour usually includes all the necessary equipment to enjoy a day's cycling and ensure your safety, such as map, helmet, lock and basket on the bike.
The distance covered is 8 kilometers and it is a tour suitable for all ages and without great physical demands. In addition, you will be able to make many stops to take pictures, ask questions about the park or New York in general, and learn more about the history of Central Park in New York.
Keep in mind that the tours are conducted in small groups, so you will ensure your comfort throughout the duration of the tour.
On the other hand, if you prefer, you can tour Central Park with all the comfort of a bicycle cab, a transport that consists of a bicycle driven by your guide, where you just sit and enjoy the ride.
These tours are ideal for people who do not feel comfortable riding a bicycle, but want an open-air ride through the beautiful areas of this emblematic park.
Interesting facts
Price: from 30 €
Duration: From 1 to 12 hours
2. Half day bike tour in Manhattan
A half-day tour of Manhattan will allow you to learn about the history of the shipping industry, visit iconic parks and enjoy breathtaking views of the Statue of Liberty and Ellis Island, and Long Island.
This 5-hour tour typically takes you from under the Manhattan Bridge, then follows the East River Esplanade to the Southport Seaport.
Discover the sights of New York City by bike on an epic itinerary, which you can choose to do either in the morning or afternoon. While the ride is at a medium speed and comfortable for everyone on the tour, keep in mind that it is a 15-kilometer distance ride .
Also, it usually includes a 30-minute stop for a bite to eat at the Time Warnero buildingat one of the many street vendors in the area, where some of the best places to eat in New York are located.
Facts and figures of interest
Price: from 85 €
Duration: 3-4 hours
3. 3-hour guided bike tour of New York City's highlights
New York is a city where you have something to see around every corner, and probably more than in any other city in the world. That's why a walking tour can be a bit exhausting.
This 3-hour tour is a good alternative to cover the most important and essential sites on your visit to New York, pedaling through the city like a local.
The itinerary of this tour is designed by a professional local guide, who will take you on an unforgettable bike tour and provide you with a unique perspective. It usually starts in Midtown Manhattan and ends downtown at the South Street Seaport, the historic neighborhood that stretches under the Brooklyn Bridge.
The tour is designed to be leisurely p aced to allow you to enjoy the city and admire the sights, so you don't have to worry about the physical demands of the tour.
Facts and Figures
Price: from 23 €
Duration: From 1 to 12 hours
4. Full day bike tour of New York
This New York City tour is an exciting bike ride from the lively and artistic Greenwich Village to the bustling streets of the Financial District. The tour lasts 4 hours, where you will experience the New York atmosphere and tour the most important sites of the city.
Strolling across the Brooklyn Bridge, you will enjoy the beautiful architecture in Brooklyn Heights and New York's famous Chinatown.
This neighborhood is full of stories of Chinese dynasties and gang eras that you will learn about from your professional guide, and there are great places to eat in Chinatown. He will also tell you all about the gay rights movement of the 1960s and 1970s, a historical landmark of this area of the city.
On Wall Street, you will experience the daily hustle and bustle where bankers, tourists and brokers share the same streets.
Finally, you will be transported to Italian lands through the streets of Little Italy as waiters serve pasta in outdoor cafes.
The tour is done on a hybrid bike, so you can manage your energy. You will also have a helmet and basket on your bike, for all the comfort and safety this New York City tour requires.
Useful information
Price: from 8 €
Duration: 4 hours
5. Electric Bike Tour of New York City through Midtown, Central Park and Times Square
If pedaling isn't your thing, there's no problem or excuse for touring New York by bike. This tour is done in the comfort of an electric bike, allowing you to concentrate solely on this adventure through the streets of the city.
This tour goes from Central Park to Hudson Greenway, a 4-hour itinerary that will allow you to enjoy many monuments and interesting information about the city.
Everything you can't miss on a New York City vacation you will see on this tour, such as the Broadway district, known for the best musicals and shows, and Harlem, famous for New York's Gospel Masses.
If you want to explore some of the most emblematic sites of the city, don't hesitate to book your place on this tour, one of the best Spanish tours in New York.
The price of this tour usually includes unlimited water so you can stay hydrated throughout the tour and a helmet for the safety of the participants.
Useful information
Price: from 9€
Duration: 1 day
6. Bike Tour and Big Bus Uptown Loop Tour
This tour is a combination of a bike rental and a Big Bus Uptown pass, a unique package that will allow you to visit the city and exercise, but also enjoy the comfort of one of the best sightseeing buses in New York.
This itinerary is designed for those who want to visit the most famous monuments and attractions of New York, as well as get breathtaking views in this full day experience.
In addition, you will be able to learn interesting facts and the history of different sites thanks to the pre-recorded commentary provided by the bus tour.
The bus pass is usually available from 10:00 am until the last bus at 4:00 pm. It usually leaves every 60 minutes and you will be able to visit the entire circuit and all the stops in 75 minutes.
The bike rental is also available during the entire time of the bus pass, so be sure to organize your activities to make the most of it.
I recommend starting the day with a walk through the largest park in the city. There is a lot to see and do in Central Park, and then continue with the bus tour, but of course you can do it according to your preferences and time available.
Facts and figures of interest
Price: from 70€
Duration: full day
7. Guided bike tour of Harlem
If you want to explore all there is to see and do in the Harlem neighborhood, book a spot on this tour of one of New York's most historically rich neighborhoods.
On this 2-hour guided bike tour, you will visit iconic churches to see a Gospel Mass, the Columbia campus, Strivers Row and other famous and representative landmarks of this area of the city
The tour price normally includes everything you need to ride, including a map of the neighborhood with all the important landmarks, a chain lock, a helmet and a basket on your bike, for all your comfort and safety throughout this tour.
This itinerary is a great opportunity for those who wish to get to know this culturally rich neighborhood, where you can visit one of the most prestigious universities in the United States and many of Harlem's historic buildings.
This neighborhood has been home to great artists and important figures in different fields such as Eubie Blake inthe world of jazz, boxer Harry Willsand actor and singer Bill "Bojangles" Robinson, among others. All of them have left as a legacy architectural jewels that are worth knowing.
Interesting facts
Price: from 55€
Duration: 2 hours
8. Bicycle tour to the Brooklyn Bridge
This option is ideal for those who want to explore the best of Manhattan by bike on a guided tour. On this Brooklyn Bridge tour, you will take a bike ride along the new path along the Hudson River.
This tour is designed so you can get to know the most popular and emblematic places in Manhattan, and enjoy a unique ride over the Brooklyn Bridge.
In addition to living this amazing experience on the largest suspension bridge in the world and learn about its history, you will be able to see the Statue of Liberty, Ellis Island, the Seaport District, Wall Street, SeaGlass Carousel, Dumbo and Hudson River Park, among others.
So now you know. If you want to get to know New York by bike and be amazed by the best attractions in Manhattan, book a place on this type of tour of the Brooklyn Bridge and take with you the best pictures of the city.
Interesting facts
Price: from 37€
Duration: 2 hours