London with kids, tips and things to do
Have you thought about what to do in London with the kids during your vacation? Don't miss all these ideas and tips to make your trip go smoothly!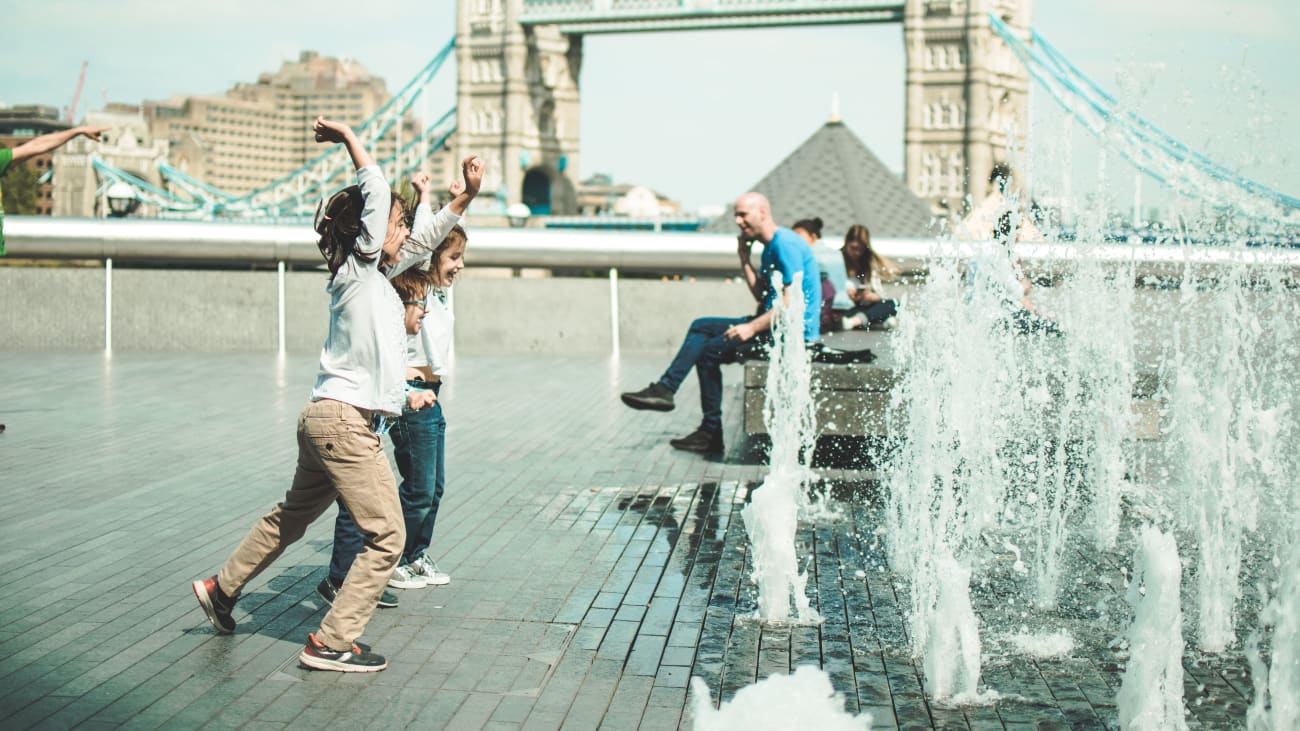 If you are planning to travel to London as a family soon, you will want to schedule some activities during your stay so that the children can also have fun and get the most out of the experience.
The leisure offer in the British capital is huge and there are many things to see and do there. To help you choose, in this post you will find several suggestions and tips to enjoy London with the kids to the fullest. We are sure that when you return home you will have lots of fantastic anecdotes and memories to tell!
1. Ride the sightseeing bus with the kids to explore London
London is one of the largest cities in Europe and between its different tourist attractions there is usually a great distance.
Walking up and down the city sightseeing to get to each of them can be a very appealing plan for adults with an explorer soul but for children it can be tremendously exhausting. Especially for the little ones.
So that they can also enjoy the most touristy side of London without tiring quickly and can reserve their energies to make visits to the various museums and monuments of the city, I recommend you to get tickets for the London sightseeing bus.
It will allow you to discover the main sites of interest of the British capital while you travel comfortably seated during the route, being able to get on and off at the stop you want to visit a certain area.
Plus the kids will love riding on a huge red double-decker bus! It will be like a little adventure for them. If you would like to use this transport during your trip to London, I advise you to read the post The best tourist buses where you will find all the details about this activity.
2. Book your tickets to West End musicals in advance
Attending one of the West End musicals is a must do in London with children one afternoon during a vacation in the city. After spending the whole day among museums, monuments and stores, the little ones also need some time to have fun during the trip.
The best end to a day of sightseeing with parents is to immerse for a few hours in the fantasy worlds that musicals transport them to with their fabulous stories, staging and musical numbers full of lights, magic and color.
West End musicals are some of the best in the world (with permission of Broadway!) so many people want to attend a performance during their stay in London. If you plan to do the same to give the kids a surprise, my advice is to get tickets in advance to secure your seats at a particular show on the date you want.
And how can you do that? The best way is to buy tickets online as it will allow you to book them from home before traveling. This way you will avoid queuing forever with the kids at the theater box office and spend time making other plans with them around London.
Don't be afraid if you don't speak English. Many of the musicals on the billboard have their film version (Mary Poppins, The Lion King, Cinderella, The Prince of Egypt, etc.) so that even if you do not speak the language you can easily follow the plot. It will be an experience that the kids will not forget!
3. Take them to see the Changing of the Guard at Buckingham to learn about local culture
Children have probably seen a picture in a book or brochure about the "Foot Guards" and have asked you who are those people wearing red coats and big black fur hats.
If these soldiers catch their attention, take them to meet them at Buckingham Palace during the famous Changing of the Guard, they will be amazed!
What is the experience like?
It is a very colorful military parade of about 45 minutes that takes place at the main entrance of Buckingham Palace to relieve the Queen's Guards who are in charge of the security of the residence of Queen Elizabeth II.
During the ceremony you will see regiments of guards on horseback and on foot who are accompanied by a military orchestra that plays the most curious music to liven up the display (The Lion King, The Beatles, Star Wars, etc.) It's super fun! And free, as no ticket is required for the Changing of the Guard.
For the kids, this will be a very original and entertaining way to get closer to British culture. They are sure to love the experience.
4. Visit Hamleys, London's oldest toy shop
Surely the kids will be very excited if you buy them a souvenir of your trip to London, but where to find the ideal souvenir for children? If you want to get the gift right, I advise you to go to Hamleys, one of the oldest toy shops in London with more than 250 years old, that's nothing!
If you've ever been to New York, Hamleys probably reminds you of the famous FAO Schwarz but in a British way. It's a multi-story store divided by areas: outdoor toys, teddy bears, video games, board games, candy and much more.
The curious thing about Hamleys is that in addition to being able to admire thousands of toys on their shelves, the store employees also perform live demonstrations and even organize games with the children. This is something you don't see very often and the kids will surely love the idea of being able to have fun with so many toys - they won't want to leave!
If you want to take a tour of the toy store, you will find it at 188-196 Regent Street, one of the most commercial streets in central London.
5. Avoid night cruises with children
Night cruises on the Thames are ideal to enjoy the illuminated monuments of London and see the city from another perspective. There are even dinner cruises with live music but they are designed for a romantic and intimate evening (an anniversary, Valentine's Day or birthday) rather than a family activity.
In fact, they usually take place late in the day when children are already more tired after an exhaustive day of sightseeing and also some of these night cruises do not allow access to children under 12 years old so they are not the best choice when you go with children.
Which cruises are best suited to children?
For that there are daytime cruises on the Thames, where there are special prices or rates on children's tickets and whose duration is less than that of night cruises.
In this way, children can feel the thrill of riding a boat and navigate the waters of the river while having fun seeing the monuments posted on the banks and imagining that they are intrepid explorers.
If you are interested in taking a cruise in London with the kids, I recommend you to take a look at the post The best cruises on the Thames where you will find some very cool proposals to do with the family.
6. Go and play in London's playgrounds
London is a city that has a dizzying pace and where there are always a thousand plans to do, even if you decide to visit the British capital with your family. But in the midst of so many activities, it is always nice to take a break and find a moment to disconnect from all the tourist hustle and bustle.
One place I love to enjoy a quiet atmosphere are the parks of London. If it's a sunny day and the temperatures are nice, a very fun plan to do with the family is to go for a picnic in one of the many gardens and parks that exist in the city.
Besides having a snack on the grass or sunbathing, you can also enjoy the views of the landscape and vegetation while listening to the chirping of birds. And, of course, you can have a great time playing with the kids. They will love to have some free time between sightseeing to jump, run and play at their own pace.
Here are some of the coolest playgrounds you can take the kids to:
7. Be amazed by the wax figures at Madame Tussauds
If after touring some of the museums in London making cultural visits you feel like spending a different time in a museum, you can not miss the Madame Tussauds Wax Museum, one of the most popular tourist attractions in the city since it opened back in the nineteenth century.
This is an experience where children will have a great time and will always remember because, unlike other museums, at Madame Tussauds all visitors can interact with the wax figures that are part of the exhibits. There they will find their favorite artists and fictional characters such as Taylor Swift, Little Mix, One Direction, Spiderman, Captain America or the Hulk, among many others, with whom they can take all the pictures they want in the museum's sets.
And not only that! Inside Madame Tussauds there are also several "interactive experiences" that will make your visit much more fun. On the one hand, in Alien Escape you can climb aboard the Covenant ship to face the fearsome Alien and in 'Kong: The Skull Island' you will come face to face with the gigantic King Kong.
On the other hand, if they like superheroes, children will be amazed by the 'Marvel 4-D Cinema Experience', a movie with amazing special effects that will make you feel as if you were fighting side by side with these characters in a battle.
8. Step onto the HMS Belfast
If you decide to take a cruise on the Thames with the kids, in one part of the river tour you will see anchored on one of the banks the HMS Belfast, a huge destroyer ship that during World War II and the Korean War participated in numerous naval operations. If the kids like ships, this will be a visit they will really enjoy, so don't hesitate to add it to your agenda.
The outside of the ship is impressive and the inside is really cool! The trip to London is a great opportunity to see an attraction as different as this one.
The HMS Belfast is currently a ship-museum of the British Royal Navy that opens its doors to show what life on the high seas was like on a ship of this kind in the past.
The tour is more entertaining than it seems at first because in addition to learning the history of the ship you can also enter the rooms where soldiers and sailors spent much of the time during the missions as the control room, cabins, the infirmary, the kitchen or the cellar, among others. You will not have seen anything like it!
9. Walk among the sharks at Sea Life Aquarium
All children love animals and spending some time with them is sure to be a plan that they will really enjoy. That's why one attraction you can't miss during your trip to London is the Sea Life Aquarium, the largest aquarium in England.
It is located in the heart of the city and is the perfect place to spend an afternoon with the family enjoying the underwater nature. There live more than 500 different species of animals, including sharks, seahorses, octopuses, penguins and manta rays, to name a few.
They are divided into themed areas where you can learn a lot of curiosities about their habitat and way of life although, in my opinion, the most impressive part of the visit is the glass tunnel of the Sea Life Aquarium, a corridor submerged in the water where you can walk while accompanied by fierce sharks and other aquatic creatures. It's an amazing experience!
10. Experience the magic of Harry Potter at Warner Bros. Studios
While on vacation in London, the kids will be thrilled to visit the Harry Potter Studios Park, the place where all the films of the saga were filmed - it's a magical place!
They will have a great time touring the original sets of the movies (the Gryffindor Common Room, the Great Dining Room, the corridors of Hogwarts, etc.), learning how the movies were made and the special effects that were used to recreate this fantasy world. For a moment you will feel part of the story as if you were a student of the famous school of wizardry.
In fact, you do not have to visit the Harry Potter Studios Park dressed as Muggles, but you can dress up as witches and wizards to immerse yourself in this special atmosphere even more. I'm sure the kids will think it's a fun idea and you'll get some great photos.
Of course, plan this tour well in advance because it is one of the most popular attractions in London and tickets sell out. If you want to know how and where you can buy them, do not miss the post Harry Potter Studios London Park Tickets.
Other fun activities to do with kids
Your children can't miss the incredible experience of Kidzania's interactive city in London, where they can enjoy endless activities in which they can imagine what they will be when they grow up: they can dress up as their favorite professions.
Culture is not at odds with fun either. That is why the National Gallery has a guided tour exclusively for children, where they will be shown the impressive works of the collection in an educational but very entertaining way.
Finally, go and learn about the incredible story of Paddington Bear with your family with this tour of the places that this endearing little bear has visited. Relive his adventures by taking a tour of London's neighborhoods and see the statue dedicated in Paddington to this icon of British children's literature.
---
Take advantage of discounted prices for children on tours and tickets
London is not exactly a cheap city. So if you're traveling there as a family, you'll probably want to know how you can save a little money during your vacation.
A good way is to take advantage of the reduced rates on children's tickets to the different tourist attractions. Normally babies up to 3 years old get free admission but it depends on the activity and age range. In any case you can find very interesting prices for children. Here are some examples:
London Eye: From 35 € in the tickets with reduced child rate (between 3 and 15 years).
Sea Life Aquarium: From 28 € for tickets with reduced child rate (between 3 and 15 years).
Madame Tussauds Museum: From 32 € for children's reduced price tickets (between 3 and 15 years).
Harry Potter Studios Park: From 46 € for reduced child rate tickets (between 5 and 15 years).
HMS Belfast: From 14 € for children's reduced price tickets (between 5 and 15 years).
For example, when booking your tickets online and in advance on pages like Hellotickets, you have the possibility to select the age range of the children, so that the reduced rate that you will have to pay for each of them is calculated instantly.
As for babies, although they can access a multitude of activities for free, it is advisable that you also select their free admission because this will avoid confusion in access to monuments, museums or other sites of interest.
Get London Sightseeing Passes to get the most out of your trip
If you are planning to visit a lot of places during your vacation in the British capital, London tourist cards can help you to fulfill your plans without going broke trying.
They will give you access to a multitude of attractions while saving you money by not having to pay for each ticket separately and by having a reduced price for children's passes.
London Pass: From 48 € the child pass.
London Explorer Pass: From 22 € the children's pass.
Merlin's Magical London Pass: From 47 € the children's pass.
It is also a fantastic option to consider when traveling with children because they have special offers in many theaters, restaurants, stores and other entertainment venues, something that always comes in handy. In addition, with these tourist cards you can avoid the queues that form at the entrance gates. As you can see, they are all advantages!
If you visit London with children I recommend you to choose the London Explorer Pass, the Merlin's Magical London Pass or the Magic London Pass, although if you want to know in detail about these tourist passes do not miss the post The best tourist card in London where all of them are analyzed in depth.
Schedule visits better in the morning and give them time to play
When it comes to sightseeing with the family, the best time of day to schedule an outing is early in the morning because children tend to be early risers and wake up with a lot of energy. This way they will be more awake and active to go on excursions or cultural visits.
In addition, early in the morning there are usually not so many visitors or large groups at London's tourist attractions so you will avoid the crowds that usually form at peak times and that can test the patience of the kids when they have to wait in line.
Finally, I suggest that in the afternoons, when they are more tired, plan some activity where the children can have fun before you go to the hotel to rest to regain strength for the next day. For example, go for a trip to the toy shops in London, to the Madame Tussauds Museum or to the Sea Life Aquarium.
Organize meals in plenty of time
If during your vacation in London you plan to spend the whole day out sightseeing, it is advisable to plan ahead for the kids' meals.
It is not a trivial matter because although the city has a great gastronomic offer, it is also a very touristy place and in the central hours of the day (especially on holidays or in high season) it is not easy to find a free table in certain areas if you do not have a reservation.
This could be a problem if you don't know much about London and at the end of an activity you have to walk around the center looking for an available place because everything is full. The children could end up losing patience and have a tantrum if they are very hungry!
That's why it's always a good idea to carry some snacks in your bag and, of course, to know beforehand some good restaurants where to go to eat near some tourist attractions like the London Eye, The Shard or the Tower of London. It will help you a lot when the time comes!