Best things to do in Maui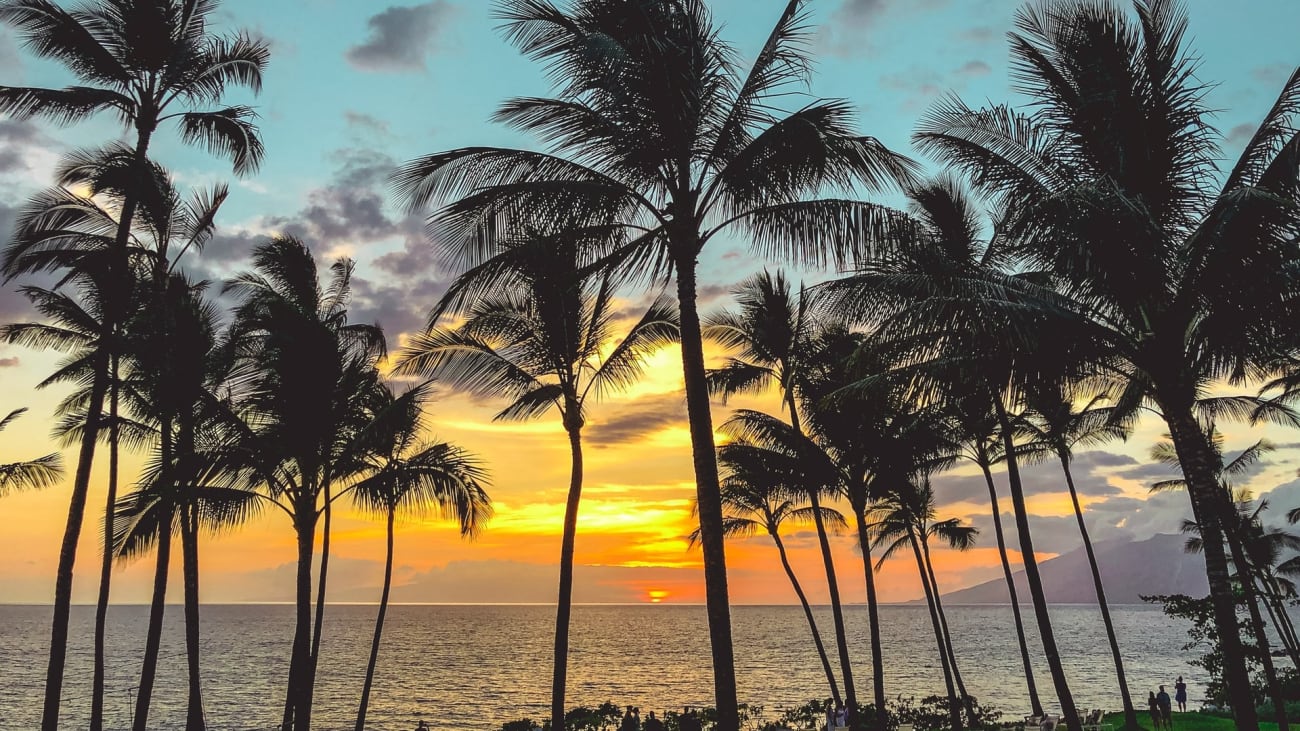 Maui, Hawaii's second-largest island, is a fascinating place that has it all for a memorable vacation: paradisiacal beaches, quaint villages, party nights, and dreamy landscapes to escape to for hiking and sightseeing adventures. Want to know everything you can do in Maui? I'll tell you all about it!
1. Snorkel in Maui and swim with fish and turtles
With more than a thousand miles of coral reefs surrounding the Hawaiian coastline, snorkeling is one of the most popular activities to do on Maui during a stay on the island, as its pristine waters hold a natural underwater treasure trove of green turtles, tropical fish, urchins, dolphins, manta rays and whimsical lava and coral formations that will leave you in awe.
One of the best areas for snorkeling in Maui is Molokini Island, located offshore off the southwest coast of Maui. This is a large volcanic cone that is extinct but so full of life that the island was named a State Marine and Birdlife Conservation District.
No matter what, you have to visit this place! You can only get there by boat as is the case with other perfect diving spots like Turtle Town, in Maluaka Beach, the best place to see turtles in Maui away from the crowds. This beach is undoubtedly one of Maui's best-kept secrets and another hidden gem to stand in awe at while snorkeling.
For snorkeling in Maui, there are many boat tours available. If you are interested in diving and want to join a sea excursion during your vacation in Hawaii, I recommend you to take a look at the post Diving and Snorkeling in Maui where you will find very interesting proposals to spend an unforgettable day snorkeling in Polynesia.
2. Visit Pearl Harbor in Oahu
:
The Pearl Harbor naval base is an iconic destination in Hawaii that every tourist is willing to queue up to get into. Although we know all too well what happened here on that fateful morning of December 7, 1941, there is something fascinating and moving about this place that cannot be described in words.
What happened at Pearl Harbor marked a before and after in the course of World War II. It was an episode of great historical significance whose impacts and repercussions you can still contemplate today. You can visit the exhibits at the Visitor Center, the USS Arizona Memorial (where the remains of a battleship sunk at sea and the memorial to the victims are located), the USS Missouri (the ship where the surrender of Japan was signed to end the war) or USS Oklahoma, among other places.
Pearl Harbor is a shocking but also emotional place. This is one of the visits to do in Maui that I recommend the most, whether you are passionate about history or not because it leaves no one indifferent.
How to visit Pearl Harbor?
In case you are staying on the island of Maui and want to know Pearl Harbor (which is located on the neighboring island of Oahu) my advice is to join one of the tours that make the visit to the military base as they usually also include a tour through the center of Honolulu with which you will discover such outstanding tourist attractions as:
Kawaiahao Church
The Iolani Palace
The statue to King Kamehameha
The Mission Houses Museum
Waikiki Beach area
This is a great option to get an overview of the most important things to see on the island of Oahu! If you want to know more, don't miss the post Pearl Harbor tours from Maui where you will find very cool ideas about it.
3. Experience a magical night on Maui with a luau party
During your trip to Hawaii, I'm sure you'll want to attend a traditional luau party on the island - they are tremendously joyful and fun and one of the best things to do on Maui! Considering they are done for the most varied reasons (birthdays, weddings, christenings...), why not celebrate your trip to Hawaii in style and toast to the many more to come?
What are luau parties?
A Hawaiian luau party revolves around the dance, music and food typical of the islands but its meaning goes beyond that as it has quite an interesting origin. King Kamehameha II wanted to eradicate some customs that did not allow women to share a table with men or eat certain foods and changed them for new, more inclusive ones that gave rise to the luau festivities.
These parties are also an expression of Polynesian culture, so put on your best clothes for a magical experience at sunset!
When you arrive at the luau party, you will be welcomed with a flower lei necklace and cocktails to make you comfortable. At the sound of the conch shell, the imu ceremony will begin and the delicious kalua pig will be brought out of the subway oven. From there you will enjoy a spectacular feast of Hawaiian food while you enjoy watching a Samoan fire dance show and other live Hawaiian music shows with lots of hula dancing.
In Maui, there are several places where you can enjoy an authentic and unforgettable luau party. Check out the post Experiences and Tours in Mauai Luau in Maui to discover the best!
4. Take to the skies of Maui by helicopter
Maui is another island of the Hawaiian archipelago that with its beautiful landscapes does its bit to feed that fame of earthly paradise for which this state is known worldwide.
During your stay on the island, one of the most exciting and fun things to do in Maui is to ride a helicopter to fly over it and get a bird's eye view of spectacular sites such as the beautiful green valley of Halawa, Maui's Honokohau Falls, Iao Valley State Park, Haleakala Volcano or Molokai's Kahiwa Falls, among many other places of captivating beauty.
Take advantage of this experience to take some of the most stunningly beautiful photographs you will take during your vacation. It's really worth it to ride the helicopter over Maui, even if you have a little bit of vertigo because when you're up there, the precious views of Hawaii and the Pacific Ocean will make you forget about everything. You'll feel like you're floating in the air... (literally!).
If you are curious and want to know more about this activity, check out the article about Helicopter tours in Maui where you will find detailed information.
5. Go on a Maui tour to explore the island
Traveling to Hawaii is an experience that every traveler should experience at least once in a lifetime. Despite being a small archipelago in the middle of the ocean, the enormous diversity, beauty, and grandeur of each of the islands that compose it is impressive.
In the case of Maui, the second largest of Hawaii after Big Island, the island is known for its fantastic beaches for surfing and other water sports, for the beautiful waterfalls of Waimoku Falls, for its wonderful national parks such as the historic Iao Valley State Park or Haleakala (a volcano from whose summit you will see the most beautiful sunrise in the Pacific) without forgetting the legendary road to Hana, a route to this picturesque town in East Maui that goes through all kinds of tropical forests, ponds, waterfalls, and fascinating seascapes.
To explore the beauty of the island and these precious enclaves, the best thing to do in Maui is to join a tour that will allow you to experience the magic of this place to the fullest - take out your camera because you will be amazed at the variety of landscapes that fit in such a small space!
If you would like to take a tour in Maui and want to know more about these activities, don't miss the article Tours in Maui.
6. Get a tan and surf on the beaches of Maui
One of Hawaii's biggest tourist attractions is its paradise beaches. They come in all colors (with white, red, black sand...) and all have crystal clear waters that invite not only to take a dip but also to practice all kinds of water activities such as surfing, snorkeling, windsurfing, or kayaking.
Maui's beaches are the ideal place to relax and disconnect from everything. If you were to ask me which are the coolest of this island to go sunbathing and have a great time I would tell you that you can not miss:
Makena Beach: the largest in South Maui and with great views of the islands of Molokini and Kahoolawe.
Wailea Beach: considered the best beach in the United States.
Polo Beach: ideal for snorkeling and swimming.
Kaanapali Beach: in West Maui where you can attend the Puu Kekaa ceremony at sunset that commemorates the feat of King Kahekili.
Puamana Beach County Park: a beach with waves perfect for beginner surfers.
7. Get to know Maui's small towns
With all there is to do in Maui it is sometimes difficult to plan your agenda so you don't miss anything on the island. That's why you can't forget to include among the activities of your trip to Hawaii some excursion to see the picturesque towns of Maui.
There are many interesting places to explore but I recommend you to go to three:
Lahaina
This port city was once the most important city on Maui and the capital of Hawaii as it was the center of government for the Hawaiian monarchy until the mid-19th century and a prominent whaling settlement.
The best way to get to know Lahaina is by taking the Lahaina Historic Trail that runs through its main historical and cultural attractions.
Hana
Visiting Hana in East Maui is like taking a trip back in time to a place where you can sense that traditional Hawaiian atmosphere and the true aloha spirit of Hawaii.
Just making the drive to town (known as the "Road to Hana") is worth it in itself because you'll pass through spectacular scenery, but once there, you will find incredible sites to see such as Wailua Falls, Waiʻanapanapa State Park, or Honokalani Black Sand Beach.
Wailuku
Located at the foot of the West Maui Mountains and surrounded by the rainforests of the sacred valley of Iao is Wailuku, the capital of Maui County. A quiet town full of history and fantastic sites to see as the Kaahumanu Church (the oldest on the island), the Bailey House Museum, or the Market Street area, where you can lose yourself strolling among its stores, art galleries, and cafes.