London Tours
London is cosmopolitan, dynamic, very lively and very, very big. Discover it all with a guided tour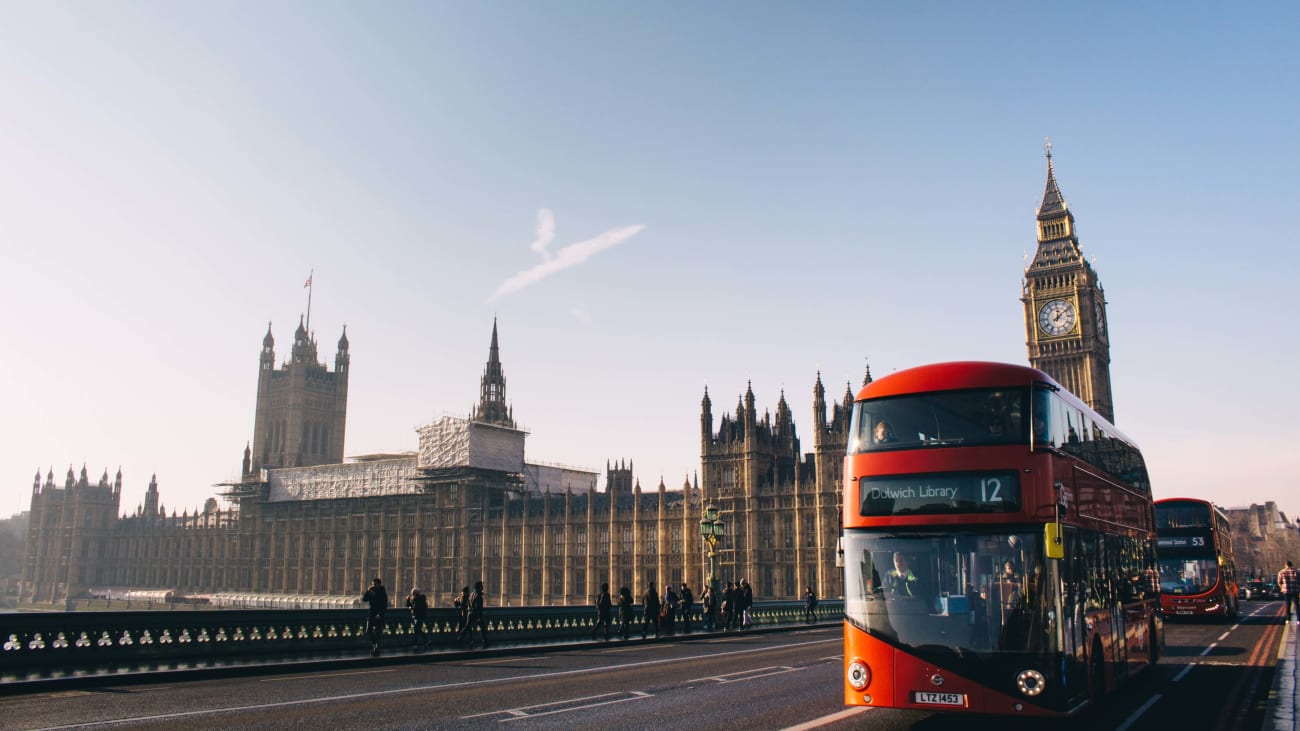 On foot, by bike, by boat or bus, by day and by night. On London's most infamous history or on its splendor reflected in palaces and monuments: there are tours for all tastes, pockets, and travelers.
1. Walking tours through the historic center of London
If you are one of those who love to know a city getting lost in its streets, this walking tour through the center is a great option because it covers several of the wonders that are hidden in the maze of streets that make up one of the most beautiful and most historic parts of London, its old town.
What you will learn
You will discover how Covent Garden was once London's most vibrant red-light district; you will learn all about the great fire that ravaged the city in 1666 in front of the Great Fire of London Monument and how the plague killed a third of its population. You will also see other landmarks such as Tower Bridge or what was for centuries the tallest building in the city, the St. Paul's Cathedral. A true spectacle for the eyes.
Itinerary
Covent Garden
The Monument to the Great Fire of London
London Bridge
Tower Bridge
St. Paul's Cathedral
Bank of England Museum
Tower of London
2. Jack the Ripper Night Tours
I have been to London many times, but this tour took me to places I had never seen before and made me see the city in a different way. I learned a lot about Jack the Ripper and the more terrifying history of London. I will definitely come back to do another one of your tours on my next visit.
Are you easily scared or, on the contrary, you love to hear spooky stories? If you said yes to the latter... Welcome to the Jack the Ripper night tour. Here, your guides will take you back many years to discover the places where the most gruesome scenes in the history of London took place.
What you will learn
In addition to visiting the most infamous place in the city, the Tower of London, you will discover chilling places of black legends, such as the first psychiatric hospital, the Plague Pits, the Traitor's Gate, and the haunted areas of the East End. And also, how and where one of the most famous serial killers in history, Jack the Ripper, whose identity is still unknown to this day, operated. Are you ready to have a... scary time?
Itinerary
Tower Hill tube stop
Tower of London
The Ten Bells Spitalfields
3. London Underground History Tours
Lovers of engineering and train operation, the tour through the history of the world's oldest and most iconic subway awaits you. Travel back 150 years to learn the secrets and history of how the subway network that runs through London was built, virtually by hand, why it was pioneered and how renowned architects designed its system of lines, plus see a ghost station abandoned 50 years ago.
Itinerary
Baker Street Station, Marylebone
Westminster Station, Westminster
4. Central London bike tours
London is a city of intense traffic and crowds, so getting around with a guide will make your bike ride more comfortable by showing you the best areas to cycle, such as the Thames banks, while telling you the details of everything you see. In addition, and contrary to what it might seem, the bike tour is not hard, even children from 10 years old can do it.
With this tour of central London by bike you will learn about the history of the city and more than 12 of its main attractions: Big Ben and the Houses of Parliament, Westminster Abbey, the changing of the guard at Buckingham Palace, the street performers of Covent Garden, Trafalgar Square and the colorful markets of Leather Lane Market and Smithfield's Market. Exercise, fun, and sights to feast your eyes on, what more could you ask for?
Itinerary
Big Ben
Houses of Parliament
Westminster Abbey
St. James's Park
Buckingham Palace (and if you're lucky enough, you'll see the changing of the guard)
Trafalgar Square
Covent Garden
Lincoln's Inn Fields
Smithfield Market
St. Paul's Cathedral
Cleopatra's Needle
London Eye
Leake Street Arches
5. Thames Cruises
Thames cruises are a really nice way to see the London skyline on the banks of this mighty river and take a break from the intense sightseeing on foot that this great city demands. With departures every half hour, the thames cruise from Westminster to Greenwich is a very affordable boat tour with which you will admire up to 13 of London's greatest attractions.
What you will see on this tour
Departing from Westminster Pier, you can relax on the deck or inside the boat to take pictures, while a specialized guide explains the history of wonderful monuments such as the Houses of Parliament, St. Paul's Cathedral, Tower Bridge, and the Tower of London.
The tour ends at Greenwich, where you can get off the ship to see this area and visit on your own places such as the Cutty Sark exhibition ship, Greenwich Park, the National Maritime Museum or the Royal Observatory of Greenwich. Also, if you wish, you can return to the starting point, Westminster, on board the same cruise ship. I have written an article on Thames River Cruises that may interest you.
Itinerary
Houses of Parliament
London Eye
Royal Festival Hall
Tate Modern
St. Paul's Cathedral
Shakespeare's Globe Theatre
HMS Belfast
Tower of London
Tower Bridge
Cutty Sark
Royal Observatory Greenwich
Greenwich Park
Old Royal Naval College
Greenwich Market
National Maritime Museum
6. Sightseeing Bus Tours
Unlimited comfort and mobility. These are two of the advantages that make the iconic tourist buses have become a 'must' that you will see touring the city at all hours.
They allow you to admire London from the heights and comfortably seated, while a guide explains the history of the different places, avoid daily dependence on its crowded public transport network and, most importantly, have the ability to make their full tours or get on and off (its famous "Hop on-Hop off") as many times as you want in each of its dozens of stops.
The routes of the Original Tour
Several companies offer these tours, but The Original Tour has more variety of routes, up to 6, and more stops, almost 80, plus it is the best to go with children, as they have activities on board and explanations specially designed for them.
Its routes depend on the geographical area or the theme of the attractions included, from some with all the must-see attractions in London to others with stops at the main leisure experiences for the whole family, including an exclusive route through the neighborhood of Notting Hill and another early in the morning to see how this great city dawns.
This tour also includes a free walking tour of the city, a cruise on the River Thames, and some local discounts. Their buses are fully adapted for baby carriages and people in wheelchairs or who need guide animals.
In my guide on :::link|element=sc-2-1723:
:: you can read all the details of each company, all their routes and the attractions you will find at each stop.
7. Night tours by tour bus
Personally, big cities fascinate me even more if possible at night. When the natural light disappears and the neon lights, street lamps, and spotlights begin to wake up to illuminate the imposing monuments, streets, and shopping areas, it seems as if only you are left alone with the city.
Why I like this night tour
Touring the city at night and doing it comfortably seated on a tour bus is a great idea, especially after walking around all day. This night tour bus tour is from the same company as the previous one, The Original Tour, only that departs at dusk, and with it, you can see illuminated, among others, the Tower of London, Buckingham Palace, St. Paul's Cathedral, or the Millennium Bridge.
Their buses leave every 5-12 minutes in summer and every 15-30 minutes in winter, with a unique route for more than 20 free stops where you can get on and off whenever you want. In addition, this tour also includes a Sightseeing Cruise on the River Thames and three Walking Tours of the city.
Itinerary
Tower of London
Buckingham Palace
Tower Bridge
SEA LIFE London Aquarium
Tate Modern
Shakespeare's Globe Theatre
St. James's Palace
St. Paul's Cathedral
Millennium Bridge
National Gallery
Royal Academy of Arts
Trafalgar Square
The London Dungeon
Hyde Park
Westminster Abbey
Leicester Square
Oxford Street
Horse Guards
Whitehall
Southbank Centre
Houses of Parliament
Big Ben
Changing of the Guard
Downing Street
Westminster
The Original London Sightseeing Tour
Thames River
London Eye
London Bridge
8. Shakespeare's Globe tours, with afternoon tea included
Here's a tour that no literature lover can miss. Can you imagine seeing in person what the theater where Shakespeare's most famous plays were performed was like? If you have seen the famous movie 'Shakespeare in love' you can get an idea of this tour of Shakespeare's Globe Theater, a reconstruction of the original Elizabethan theater.
With this tour of Shakespeare's Globe you will learn about playwriting in 16th century London, how sound effects were created 400 years ago, scripts, costumes, and even music through his Globe Exhibition. If you want to round off your visit and feel like a real 'British' you can include the experience of having an afternoon tea with sweets, inspired by the great play "A Midsummer Night's Dream".
Itinerary
Shakespeare's Globe Theatre, 21 New Globe Walk, London
Admission to the theater included
9. Buckingham Palace Tours
Feel part of royalty for a day with this tour of Buckingham Palace, complete with tea at the end of your visit, a rare opportunity that can only be enjoyed for eight weeks of the year.
What this tour consists of
A guide will take you to the gates of what has been the official London residence of the British Royal Family since the 19th century and is today inhabited by Elizabeth II and will give you your ticket to visit the interior at your own pace and with the explanations of an audio guide.
You will be able to marvel at the lavish decoration of the palace rooms and their chandeliers, elegant furnishings, and treasures from the royal collection and enter the Throne Room, where photographs are usually taken at royal weddings.
After the visit, you will enjoy with your guide a stroll through the most beloved park by the British, the beautiful St. James's Park, to finish your experience enjoying a typical afternoon tea with an exquisite display of sandwiches, homemade scones served with thick cream and jam, and freshly baked cakes. A delicious tour fit for a king.
10. Tours of Westminster Abbey and Houses of Parliament
If you want to really understand British history, a guided tour of two of its most iconic and influential sites is a good place to start. This :guided tour of Westminster Abbey and the Houses of Parliament is a great option to learn in a brief summary the history of the British Royal family and their traditions, which are still so present in the lives of the English today.
What you will learn
From the place that saw all the great monarchs crowned since 1066 and celebrated great royal weddings, such as that of Prince William and Kate Middleton in 2011, in the essential Westminster Abbey, to the place where today the politics and future of the country is still decided, in the Houses of Parliament, which houses the House of Commons and the Lords.
In addition, at the Palace of Westminster, a World Heritage Site, you can visit the Elizabeth Tower, which houses the greatest symbol of London, Big Ben, the bell that strikes the great clock. For more details on how to visit Westminster Abbey, you can consult my guide on Westminster Abbey Tickets.
Itinerary
Westminster Abbey
Houses of Parliament
Big Ben
Other interesting tours in London
If you love history and feel like enjoying another must-see historical site on your trip to London, this guide on Tower of London Tickets and Tours can help you organize your visit to the Tower of London. If on the other hand, you feel like trying a more relaxed visit, Madame Tussauds will be a great contrast in your trip. I leave here an article I wrote about Madame Tussauds Tickets in case you are interested in knowing more.
Frequently asked questions
What is the best City Tour to do in London?

There are plenty of City Tours in London that are well worth it, but if you had to pick one it would have to be the one that includes a visit to St Paul's Cathedral, entry to the Tower of London, the Thames River cruise and an optional London Eye ride, covering a good deal of the city's landmarks and attractions.

What else can I do around London?

While London has enough things to do to leave you breathless, you might want to try some alternative plans such as exploring the city's street art, watch a sing-along film at the Prince Charles Cinema, have a cocktail at the hidden bar The Mayor of Scaredy Cat Town, or visit the urban Hackney City Farm.

What is the best way to move around London?

Hands down, the best way to move around London is by underground. For this, your best option is to get an Oyster Card for a short visit. Also, a good way to go around the city at ease is to ride a Hop-on Hop-off bus, since you will be able to stop at the most relevant areas of interest. As a general rule, you want to avoid getting a taxi if you can avoid it.