9 Best Day Trips from London
London has a lot to offer, but its surroundings are also worth spending at least one day of your trip to enjoy them.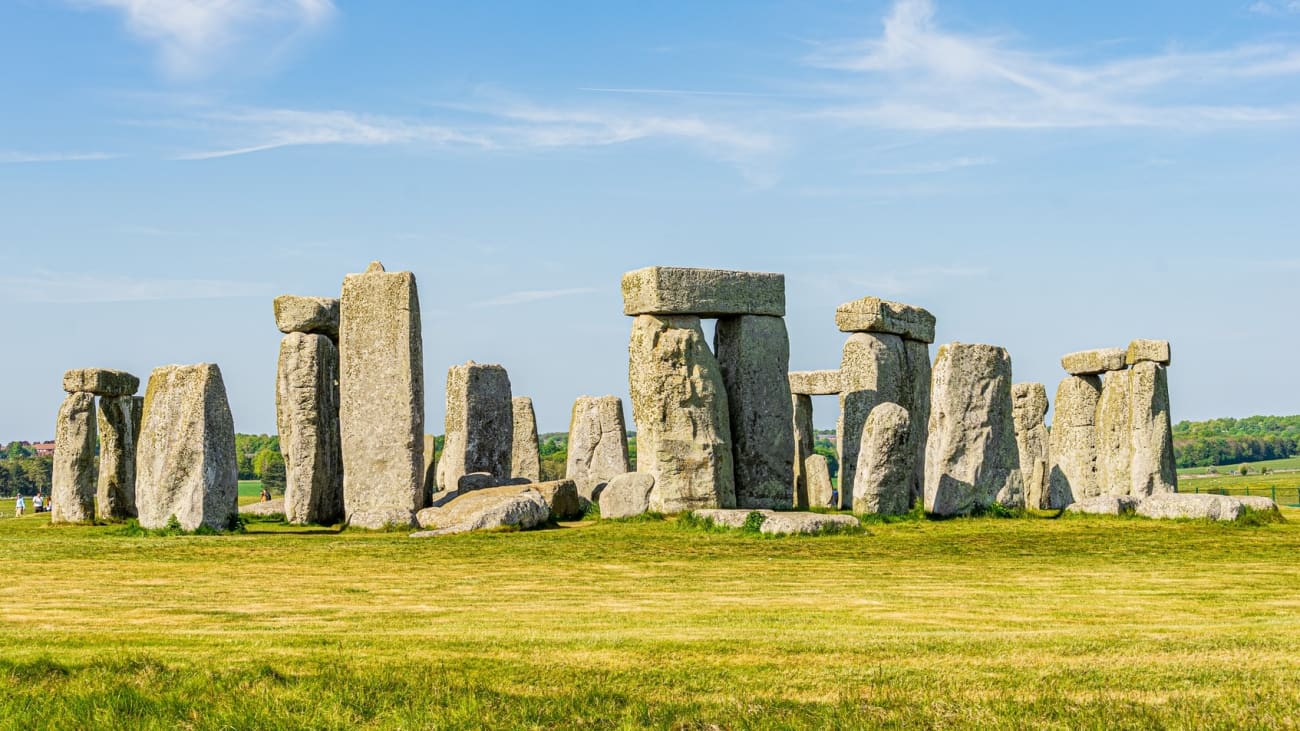 If during your visit to London you have enough time or you have already visited the British capital on previous occasions, go and discover the wonders that await you just a few hours away from the city.
1. Excursions to Stonehenge
I will never forget when my parents, during a stay in England, took me to see Stonehenge. I was quite small, but seeing this immense stone monument of more than 5,000 years old is something that really impresses and is not forgotten because of the mysterious stories surrounding its construction.
To make this excursion to Stonehenge you should schedule a full day since its total duration is 6 hours 30 minutes (it is almost 2 hours away), with 3 hours to visit the monument, its museum and its visitor center, where they exhibit a replica of a stone age settlement. The tour includes an audio guide in 9 languages, including Spanish, and a round trip bus from London.
Why I like this tour
To this day, it remains incomprehensible how, in an era with little engineering knowledge or tools, these 30 stone blocks of more than 4 meters and 25 tons could be erected to form a circle of 30 meters in diameter. It is understood that it had a funerary use and was related to the movement of the sun during the solstices. That is why Stonehenge is a World Heritage Site and a place you should not miss.
In this organized tour, you can come and go in the same day with total comfort and without having to be aware of public transport schedules. For me, it is a super different day, which makes you forget the traffic and chaos of the big city and makes your trip to London much more complete.
What is included in the Stonehenge tour?
Entrance to the visitor center and the Stonehenge circle
Bottled water
Air-conditioned vehicle
Toilet available on board
Audio guide
Stroller accessible
Maximum of 50 passengers on the tour
Stonehenge tour itinerary
Departure point - London Bridge Street and Harrington Gardens, Kensington
Departure time - 7:00 am
Stonehenge
Return -Back to original starting point.
2. Excursions to Stonehenge and Salisbury
If you have time and want to make the most of a day trip out of London, a very good option is to go back hundreds of years in time to visit the impressive and mysterious megalithic complex of Stonehenge and the beautiful gothic cathedral of Salisbury, more than 700 years old.
Salisbury is a place of great importance because it also houses the best existing copy of the Magna Carta, which, signed in 1215 by King John, influenced the Constitution of the United States and still provides the basis for common law around the world.
The total duration of this day trip to Stonehenge and Salisbury Cathedral, with about three hours set aside to see each of these monuments, which are located about two hours from London.
Why I like this tour
This is an excursion that allows you to get the most out of your day out of London. Stonehenge seems to me a must-see for its impressive significance and landscape, but Salisbury certainly seemed to me one of the most charming places in the country (and its cathedral is simply breathtaking). To be able to visit both places in one day and in total comfort, seems to me a perfect combination.
What does the excursion to Stonehenge and Salisbury Cathedral include?
Bottled water
Air-conditioned vehicle
Toilet available on board
Stroller accessible
Tour will have a maximum of 50 passengers
Itinerary of the Stonehenge tour
and Salisbury Cathedral
Departure time - 7:30 am
Starting points - London Bridge Street and Harrington Gardens, Kensington.
Stonehenge - (3 hours including entrance)
Salisbury Cathedral and Magna Carta - (2 hours including admission)
Return -Back to original starting point.
3. Windsor Castle, Stonehenge and Oxford tours
If you prefer to see more sites rather than spend more time at each one and you have a free day to spend outside London, the Windsor Castle, Stonehenge and Oxford tour is a good idea for its convenience and the variety and spectacular monuments included.
Windsor
The visit of this tour to Windsor, Stonehenge and Oxford begins in Windsor, a magnificent medieval town just 45 minutes from London and starring its famous Castle, home of the British royal family for over 900 years and one of the best preserved in the world.
When booking this tour you can choose to include the entrance to Windsor Castle or go at your own pace and see the beautiful streets and surroundings of the building. However, since you are there I recommend you to take the option with entrance and enjoy wonders such as the Royal Apartments, adorned with paintings by Van Dyck and Rubens, and St. George's Chapel, where Prince Harry and Meghan Markle got married and which houses the tombs of prominent monarchs.
Stonehenge
Then you can view from the outside and take photos or access, with the option of admission included, the interesting megalithic complex of more than 5,000 years old Stonehenge.
Oxford
You will continue your journey to Oxford, almost two hours from London and famous for housing the oldest and most prestigious university in Great Britain. There you can take a walking tour of its picturesque cobblestone streets with a professional guide who will take you to places like the Bodleian Library, one of the oldest in Europe, and the Sheldonian Theatre.
Oxford will also delight the little ones when they discover how the most important of its 40 colleges, Christ Church College, was the setting for the Harry Potter films and that several of the city's locations are evoked in the book of "Alice in Wonderland".
Why I like this tour
This tour maximizes the time of the day and takes you on a journey through the history of England, from the ancient Stonehenge to the present-day University of Oxford, passing through the living history of its Royalty in Windsor. On this tour, without a doubt, contrasts, wonderful landscapes and the deep-rooted culture of the university world in England reign. In addition, fun for all ages is assured.
What is included in the tour to Windsor Castle, Stonehenge and Oxford?
Air-conditioned bus transfer
Professional tour guide
Guided tour in Oxford with headphones
Possibility to enter inside Windsor Castle. You can also buy tickets to the Castle separately from the tour without guide or groups.
Possibility to enter Stonehenge
Accessible for strollers
There will be a maximum of 50 travelers on the tour
Windsor Castle, Stonehenge and Oxford Tour Itinerary
Departure point - Victoria Coach Station, at gates 1 to 5, 164 Buckingham Palace Road
Departure time - 8:00 am (boarding at 7:30 am)
Windsor Castle - 1:30 duration with possibility of entry included
Stonehenge - 1 hour with possibility of entry included
Oxford University - 1 hour not including entrance fee
Return - Return to original point of departure
4. Windsor Castle, Stonehenge and Bath Tours
Another option to take advantage of a day out of London and see amazing places less than 2 hours from the capital is the excursion to Windsor Castle, Stonehenge and Bath, very similar to the previous one in operation and duration, but visiting Bath instead of Oxford and being able to choose between the tour that includes tickets to two of these monuments or the one that gives you the possibility to access all of them.
Windsor
You will start the tour in the medieval town of Windsor, where you can see the majesty of its castle, one of the oldest in the world. You may even get lucky and see the royal standard flying from the mast of the castle's Round Tower, which means that Queen Elizabeth II herself is inside. Don't miss her interior tour of the medieval Gothic-style Chapel of St. George.
Salisbury
You will then continue west of London to Salisbury, home of the most popular megalithic monument on the planet, Stonehenge. Its spectacular nature and the mystery surrounding the history of its construction will captivate you.
Bath
Your adventure will end with a visit to one of Britain's most beautiful cities. Bath is famous for its elegant Georgian architecture, as exemplified by its Royal Crescent, a row of 30 terraced houses dating from 1774 and arranged in a crescent, and the famous Pulteney Bridge, one of only four in the world with stores on both sides and along, like the famous Ponte Vecchio in Florence.
It also excels in Gothic architecture with Bath Abbey, an Anglican parish church that in its beginnings in the seventh century was a Benedictine monastery. In addition, you will have the opportunity to explore another World Heritage Site with the best-preserved Roman spa in the ancient world, the Roman Baths of Bath, where the city's unique hot springs are born.
Why I like this tour
Like the previous one, this tour makes the most of the time and takes you to several key points of the country, highlighting as a great difference its passage through Bath. I recommend this option if, like me, you are more into classical history, as you will visit a city founded by the Romans twenty centuries ago and with many reminiscences of their culture.
What is included in the excursion to Windsor Castle, Stonehenge and Bath?
Panoramic tour of Georgian Bath
Professional guide / Audio guide in several languages
Transportation by air-conditioned luxury coach with Wi-Fi
Possibility of entry to the interior of Windsor Castle
Possibility of entrance to Stonehenge
Possibility of entrance to the Roman Baths
Tour will have a maximum of 50 passengers
What is not included in the tour to Windsor Castle, Stonehenge and Bath?
Arrival from and to the hotel
Food and beverages, unless otherwise specified
Itinerary of the tour from London to Windsor Castle, Stonehenge & Bath
Departure point - Victoria Coach Station, at gates 1-5, 164 Buckingham Palace Road, London
Departure time - 8:00 AM (boarding at 7:30)
Windsor Castle (1 hour)
Stonehenge (1 hour)
Bath (1 hour)
Return - Vauxhall Bridge Road, London
5. Excursions to the English countryside from London: Oxford, Cotswolds, Stratford-upon-Avon and Warwick Castle
The day trip to Oxford, Cotswolds, Stratford-upon-Avon and Warwick Castle is one of the most complete and one that I recommend if you are looking for some tranquility and nature after a few intense days in central London, as it includes some of the most beautiful places in the English countryside.
Warwick Castle
During your day you will enjoy a visit to a medieval castle, Warwick Castle, built on 26 hectares of hills and manicured gardens on the banks of the River Avon. There you can learn about its history through a multi-sensory attraction and live performances of medieval sports, such as jousting and archery tournaments, and explore the castle's opulent decor, such as its 17th-century Great Hall.
Stratford-upon-Avon and the Cotswolds
You will visit the birthplace of one of the world's greatest literary figures in Stratford-upon-Avon, birthplace of William Shakespeare, whose house you can visit, and then walk the cobblestone streets of another cradle of learning as the second oldest university in the world, Oxford.
You will end your adventure not before admiring the landscapes of the Cotswolds, a natural hilly area that will show you the most bucolic England.
Why I like this tour
If you are looking to literally escape from the noise and concrete of the city, this is the tour for you. It takes you deep into the photogenic English countryside and the country's most romantic villages, so be prepared for a real day in the countryside and the great outdoors.
What is included in the tour to Oxford, Cotswolds, Stratford-on-Avon and Warwick Castle from London?
Professional guide
Entrance to Warwick Castle
Headphones
Guided walking tour of Oxford
Wi-Fi on the bus
Comfortable air-conditioned vehicle
Tour itinerary to Oxford, Cotswolds, Stratford-on-Avon and Warwick Castle from London
Departure point - Victoria Station Bus Station
Departure time - 8:30 am
Oxford University
Warwick Castle (1 hour 30 minutes)
Stratford-upon-Avon
Return - Vauxhall Bridge Road, London
6. Excursions to Oxford and Cambridge
Getting lost in the cobblestone streets, parks and canals of these cities is like a trip back in time. This day trip to Oxford and Cambridge allows you to see in person the magnificent buildings that house two of the world's longest-running and most notable universities.
Oxford
Oxford is also known for its distinctive architecture, comprising notable examples of every architectural period since Saxon times. There you can enjoy a visit to one of the oldest libraries in Europe, the Bodleian Library, and its most famous college, Christ Church, where some of the scenes of the famous Harry Potter saga were filmed and where famous historical figures such as Lewis Carroll, Bill Clinton or David Cameron studied.
Cambridge
Newton, Stephen Hawking or Sylvia Plath are the names of other distinguished students of the University of Cambridge, a beautiful city that you will visit during the excursion, as well as its impressive library, the Cavendish Laboratory and the King's College Chapel.
What is included in the excursion to Oxford and Cambridge from London?
Walking tour of Oxford and Cambridge
Visit to Christ Church College
Lunch
Visit to King's College
Professional guide
Luxury air-conditioned coach
Itinerary of the excursion to Oxford and Cambridge from London
Departure point - Fountain Square, Colonnade Walk, Buckingham Palace Rd, Victoria, London
Departure time - 8:30 am
University of Oxford
Christ Church
King's College Chapel
Bodleian Library
Cambridge University and its bookshop
Return -Back to original starting point
7. Excursion to Glastonbury and Cheddar Gorge
Southwest of London, about 250 km from the capital, there are two other very interesting cities to visit on an excursion. I'm talking about Glastonbury and Cheddar, two places full of unique landscapes, where you can go on a full day trip from London with transport included.
Glastonbury
Known for its legends about King Arthur among others, the city of Glastonbury will surprise you with its mysticism. It has the famous Glastonbury Abbey, which you can access with the ticket included in the tour, and where you can see the ruins and the huge green meadow that surrounds it. It is a magical place where your tour guide will stop to tell you all the stories of medieval times that surround the town.
Cheddar Gorge
The next stop on this tour is Cheddar Gorge, another spectacle of nature that you won't want to miss. These are prehistoric limestone caves or gorges where the first remains of man were found in Britain. Thanks to the guide, you'll be able to tour this natural wonder, understand its historical significance and enjoy the breathtaking scenery. And yes, the rich cheddar cheese has its origins here...
8. 5 day tour to the Devon and Cornwall region
If you are one of those who have visited London on several occasions and want to take advantage of the trip to escape from the bustling city and enjoy more rural landscapes, perhaps the excursion that takes you for 5 days to the medieval villages of the regions of Devon and Cornwall is your best option.
Take the opportunity to get lost in the nature of beautiful villages such as Exeter, Tintagel, Glastonbury and Dartmoor. Throughout five days you will be able to walk with a guide through their ruins, castles and other monuments while enjoying the fresh air of the landscapes offered by this area of the south of the United Kingdom.
Nor will be left behind Stonehenge, where you will dedicate one of the days to discover its monolithic formations.
Forget about looking for travel between cities and enjoy the comfort of a driver guide to take you to know every corner in an air-conditioned vehicle and with small groups. You can also forget about worrying because it is included in the package four nights hotel with breakfast.
9. Excursion to Paris by high-speed rail from London
What if you take advantage of your trip to London to visit another great European city like Paris? Traveling to the city of light from the British capital is possible thanks to the high-speed train that connects the two great metropolises.
But certainly, to avoid headaches, it is best to sign up for an organized tour for small groups in which you include the round trip train ticket, a bus tour of Paris, a cruise on the Seine, lunch and all accompanied by a tour guide.
After a comfortable train ride of about 4 hours and a half, you will arrive in the beautiful city of Paris, where you will travel by bus to the most emblematic places of the city, such as the Sacré-Coeur district, the Champs Elysées and the Place de la Concorde.
To get you into the purely Parisian atmosphere, this excursion includes a cruise on the Seine, from which you can see must-see monuments such as the Eiffel Tower. During the boat ride you will also enjoy a three-course lunch with champagne. Complete, isn't it?
Other activities in London that may interest you
If you have not yet decided on a particular tour or simply prefer to organize your time in the capital, here are some articles and guides that I have been writing and can help you decide which are the attractions, tours or places you most want to visit. I hope you find them useful! You can start with Top 10 Tours and Excursions in London and also read about London Eye Tickets: how to buy, prices and schedules o London Madame Tussauds Tickets: how to buy and what to see.
If you prefer to visit as many attractions as possible, I recommend you to make your trip more efficient by buying a tourist card (in this article on London Pass I advise you which are the best ones) or book a ticket for the tourist bus, a fast and comfortable way to move around the city. Read more information in this article: Top London Sightseeing Buses.