Best things to do in Edinburgh
Its castle and its medieval streets with pointed roofs, the old facades and its vegetation will immerse you in a magical atmosphere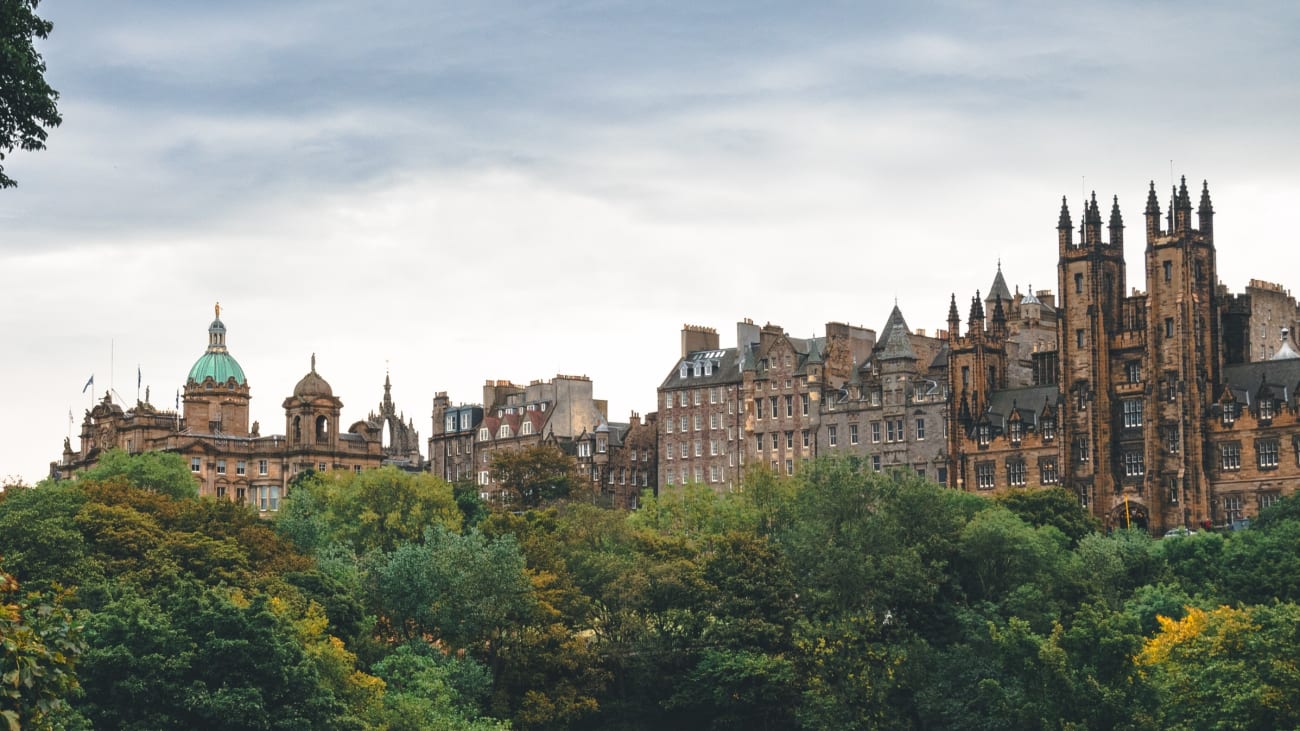 Even with the rain, which is constantly present, Edinburgh is a city that shines as it did in our imagination those landscapes of the stories we were read as children. These are the 10 must-see sights and activities in Edinburgh.
1. Visit Edinburgh Castle
It is undoubtedly the crown jewel of the city. You'll see it from just about anywhere in the center (and I recommend you look for different perspectives to photograph it from below) and it's open to the public for both guided tours and self-guided visits throughout the year.
Edinburgh Castle not only offers wonderful views of the city, but also houses important spaces such as the National War Museum or the Crown Jewels exhibition. You can walk up to the top or take any of the city buses. In this article about Castles and City Tours you have all the information you need to make your visit a success.
2. Learn about the legends and mysteries of the city
Edinburgh is a fairytale city not only for its landscapes, but also for the legends and stories behind each of its corners. Did you know that one of the mayors of the city inspired the story of Dr. Jekyll and Mr. Hyde? That there was a couple of thieves who were dedicated to stealing corpses for medical purposes? All this and much more they will tell you in the different guided tours that go on foot through the different areas of Edinburgh.
If I have to recommend one of these guided tours, my favorite is definitely the one that goes through the old town, but you also have a gastronomic route or a tour of the New Town as options. Leaving Edinburgh without doing at least one of these would be something to regret. Here is a selection of the best ones: Best Tours and Day Trips from Edinburgh.
3. Go the Harry Potter route
Fans of the saga devised by J.K. Rowling are in luck. In this city lived the author during one of her hardest times and in many of its cafes, she wrote a good part of the books. In addition, many of the places in Edinburgh served as an inspiration to choose the names of the characters in the book or to set buildings such as Hogwarts school.
The Harry Potter route through Edinburgh is already a classic in the city and if you want to hear the stories behind it I recommend you to take a guided tour. You can watch a Quidditch match, visit Voldemort's tomb, walk through Diagon Alley or have your picture taken at Hogwarts Castle. Here I tell you all about it: Harry Potter Tour.
4. Discover the Scottish Highlands
The Highlands of Scotland are not only home to the famous Loch Ness Monster, they are also home to some of the country's finest scenery, including mountains, castles, and lochs. During your trip to Edinburgh, you have the opportunity to visit them on a organized day trip or if you have a little more time and want to get a little more lost in these wonderful places, you can enjoy the two-day tour.
In this article about Loch Ness Day Trips and other Lochs from Edinburgh you have all the information you need to decide to visit more corners of this wonderful country during your trip.
5. Enjoy sunset from Calton Hill
When visiting a new city, it seems that all sunsets are special, but few you will have seen like the one you will see from this hill in the center of Edinburgh. The climb will not require much effort and from there you will see on one side the Edinburgh Castle and on the other the fabulous rooftops of the city. A unique postcard.
6. Visit Holyrood Palace
Holyrood Palace was the official residence of the Queen of England in the 12th century and inside you will find antique furniture and tapestries and rooms decorated in baroque style. However, what will really leave you speechless are the open-air ruins of the Augustinian abbey belonging to the palace; an ideal setting to let your imagination run wild and feel like you are in a fairy tale.
7. Taste haggis and scotch whiskey
Haggis is the typical Scottish dish that you can try in Edinburgh. It is a very spicy meal made of pork offal that can be served on a plate with a side dish or in a kind of kebab. As a drink, you can not forget the Scotch whisky, much claimed in the capital; if you are a real fan of this drink you will enjoy the specialized tours that review its production and history.
8. Stroll through Princes Street Gardens
After strolling through the streets of Edinburgh it seems difficult to find areas even greener than those that already come out as you pass through the capital, but there are and one of the most beautiful is Princes Street Gardens. You will find this English-style public park located at the foot of Edinburgh Castle; it houses the monument to Walter Scott and in winter is filled with Christmas stalls. A stroll through these grounds is a restorative balm for any stress.
9. Visit St Giles Cathedral
Halfway down Edinburgh's main avenue, Royal Mile, stands this 12th-century cathedral dedicated to the patron saint of Scotland. One of the most beautiful times to see the interior is at sunset when the sun goes down and passes through its stained glass windows.
10. Go to the village of Dean Village
On the banks of the River Water of Leith, you will find this small village of bridges and stone houses. Today, it is actually a neighborhood as it is located just 15 minutes from Princes Street, but it is easy to forget about it after walking for a while through its streets and get lost in the charm of its vegetation.