Edinburgh in 4 Days: everything you need to know
If you are preparing your trip to this destination of castles and legends, take note of the best itinerary to enjoy Edinburgh in four days, so you don't miss anything!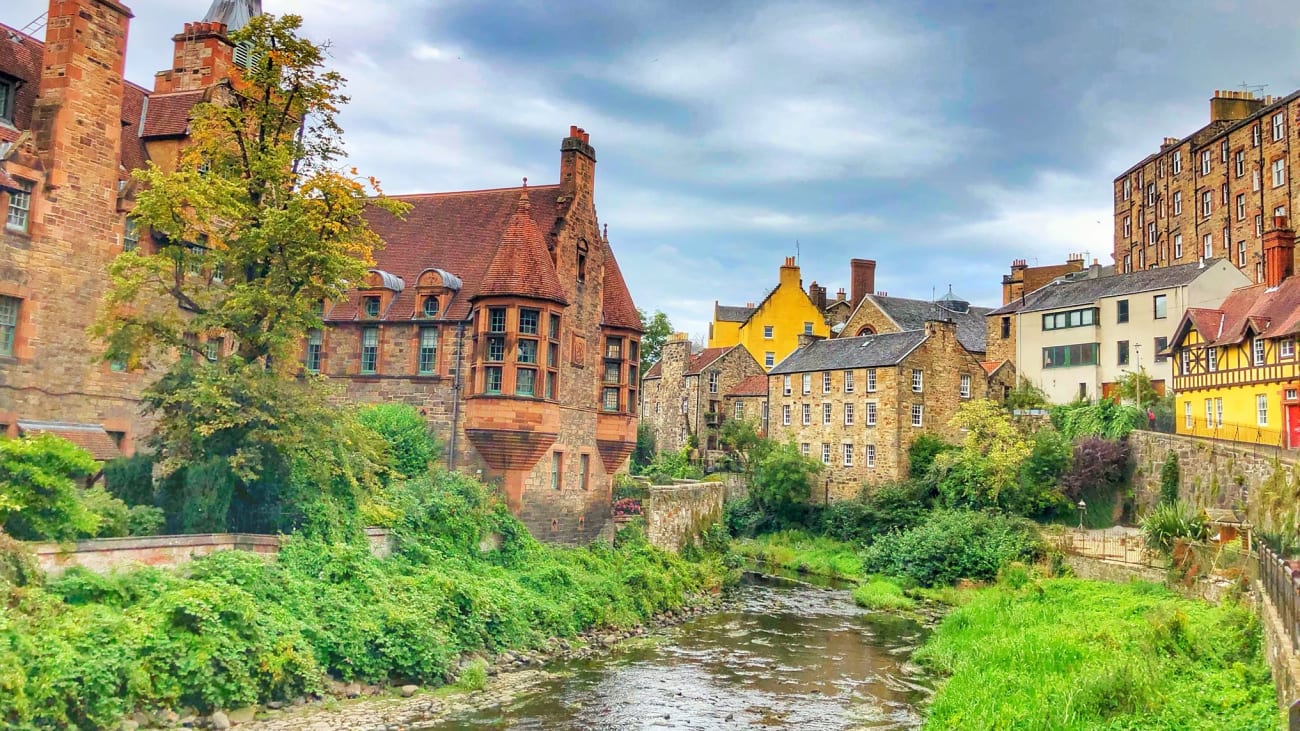 Edinburgh is a magical city and a unique travel destination. If you want to enjoy a city with mystery, full of ancient legends, the most impressive nature, or if you want to follow in the footsteps of Harry Potter, in Edinburgh there is much to see and do.
Of course, I recommend that you go well wrapped up with a Scottish wool scarf and that you don't miss the chance to taste its whiskey. Read on to discover the best four-day itinerary in the city: in the first three days I propose you to visit the must-see places in Edinburgh, and I leave for the last one a visit to Nessie in his Highland lake. Are you looking forward to it?
Day 1: Edinburgh must-see: discover the city's castle
The first day in the city of Edinburgh you can not miss its majestic castle. But in the tour I have prepared for you there is much more to see: from Princes Street Garden to the monument to Walter Scott, through the National Gallery to finish at the legendary pub "The last drop". Come on! This first day in Edinburgh will leave its mark on you.
Start the day with a stroll through Princes Street Garden
Edinburgh is a green city. Nature is everywhere and is as impressive as the monuments and the historic center. I suggest you start this itinerary in the city center, with a walk to take a breath of fresh air in the Princes Street Garden.
And is that in the very center of the city of Edinburgh you can walk as if you were in nature. The Princes Street Garden has an area of 150,000 square meters, with its fountains and lakes. In addition, given its location, it is the perfect starting point for a first contact with the city.
Where: The Princes Street Garden is located on Princess Street.
Price: Admission is free, and is open all day, every day of the year.
Do I need to make a reservation: No, you can arrive whenever you want and walk at your leisure.
Climb the stairs of the Walter Scott Monument
Do not miss this Gothic monument dedicated to a great of Scottish letters: Walter Scott. This writer collected and wrote down the legends of a country full of stories and myths. Inspired by them, he began the tradition of the historical novel.
You can visit the monument for free on the outside, but I recommend that you enter and go up the spiral staircase. Do you recognize those figures? They are statues representing characters from his novels.
Where: The Walter Scott Monument is on the east side of Princes Street Garden.
Price and hours: About 6 euros approximately. The monument is open Monday to Friday between 9:00 and 17:00, and on Saturdays between 10:00 and 16:00.
Do I need to make a reservation: No reservation is necessary.
Don't miss the best paintings at the National Gallery of Scotland
If you are interested in art and history, this museum deserves a visit with time. It is very close to the monument to Walter Scott, you just have to cross the Princes Street Park and you will find it right away.
In this huge neoclassical building you can visit iconic works: from Tintoretto to van Gogh, through Cezanne or Rubens. Impressive. Inside the museum there is also a cafe and a souvenir store where you can rest and have a drink.
Where: The museum is located on the artificial hill The Mound.
Price and opening hours: If you go in a group, the price is about 5 euros per person. The museum is open daily from 10:00 to 17:00
Do I need to make a reservation: Yes, I recommend that you make your reservation before you go.
A view from the heights: Visit Edinburgh Castle
The essential visit that you can not miss if you travel to Edinburgh is its famous Castle: here I tell you everything you need to visit Edinburgh Castle without mishaps.
It can only be reached by Castle Hill and High Street. It is not far from the National Gallery, so you can walk, although I warn you that it is quite a climb. On the esplanade in front of the Castle you can enjoy a spectacular view of the city.
The entrance to the Castle costs about 21 euros. As soon as you enter the enclosure there is an area where the cannons are, pointing to the coast. Stop here for a moment: in addition to seeing these machines, you can surely take a couple of good pictures (the views are amazing).
In the grounds you can also see the chapel of Santa Margareta, one of the oldest buildings in the city, the rooms used by the kings of Scotland and several exhibitions on medieval weaponry.
A tip; do not miss the cellars where prisoners of war were locked up: they are like a pirate movie.
Where: The address of Edinburgh Castle is Castlehill.
Price and opening hours: Approximately 21 euros. Please note that the opening hours change depending on the time of year: between April and September the castle opens its doors to tourists between 9:30 and 18:00, while between October and March it closes a little earlier, at 17:00.
Do I need to make a reservation: Yes, I recommend that you reserve your ticket.
The Grassmarket
On your way out of the Castle and back into the city, you can walk to the Grassmarket area. It's about time to take a break and eat something, don't you think?
The Grassmarket is a rectangular square located in the historic center and is very bustling: there are markets, stores, caricaturists and, especially at night, a lot of life: there you can eat or dine in the best atmosphere in Edinburgh.
Also, if you like old stories and ghost stories, the Grassmarket is the hub of Edinburgh's best ghost and mystery tours. A blast!
Where: The Grassmarket is in the historic center of Edinburgh.
Price: You can enter the square freely.
Do I need to make a reservation: No, it is an open space of stores and bars. You can go whenever you want.
End the day with a whisky at The last drop
The last drop is a mythical pub in Edinburgh (they say that prisoners condemned to death went there to take their last drink, hence the name).
Here you can have a drink surrounded by the living history of Edinburgh, although if you are interested in knowing their exclusive whiskies I recommend you to book a tour of the best distilleries in the area. It is a unique experience.
Where: The Last Drop is at 74-78 Grassmarket.
Price and opening hours: It depends on what you order! You can be there every day between noon and midnight, Fridays and Saturdays until 1 a.m.
Do I need to make a reservation: No need (although it's usually very crowded).
Day 2: Tour the heart of Edinburgh
You already have an idea of Edinburgh, but believe me, the city still holds many surprises for you. Today we tour the Royal Mile area and the Old Town, you'll see St. Giles Cathedral, the People's Museum and Edinburgh's second royal residence (Holyrood House), ending right where Harry Potter began: at The Elephant House. Sounds good, doesn't it?
Walk the Royal Mile
This famous street goes from Edinburgh Castle to another royal residence: the Palace of Holyroodhouse. It is a street with a lot of history and very touristy, so if you want to take a souvenir you have to choose from. You can also see directly in their premises how whiskey is made.
It is a walk worthwhile also because it is said that this street inspired the story of Dr. Jekyll and Mr Hyde and because the street is full of medieval buildings. When you reach the square with a statue of the Duke of Bucceluch, stop for a moment: you have just arrived at St. Giles Cathedral.
Where: The street is called Royal Mile, it is located in the historic center of Edinburgh.
Price: The walk is free, of course: stores and pubs have their own prices.
Do I need to make a reservation: No, go for a walk and follow your instinct.
Stop to see the stained glass windows of St. Giles Cathedral
St. Giles Cathedral (technically a church) is built over an ancient 9th-century sanctuary that burned down in a fire and was rebuilt in the Gothic style. Don't miss the stained glass windows: from inside, the stained glass creates a very beautiful atmosphere.
I especially recommend that you stop for a moment to see the ceiling of the Thistle Chapel, a little chapel a bit hidden at the back of the church. It is decorated in detail and causes a spectacular effect.
Where: on the Royal Mile.
Price and opening hours: Admission is free, although there is a suggested donation of €3.50 and for the guided tour of the roof you do have to pay admission and a photo permit. It is open between 13:00 and 17:00.
Do I need to make a reservation?: No, you don't.
Stroll through the old town
When you leave the cathedral, you will see that this is a neighborhood that deserves a stroll. The cobblestone streets branch off into narrow alleys full of charm. Also, if you feel like shopping, here there are liquor stores and wool garments: scarves, blankets ... Especially if you travel to Edinburgh in February or other cold months, I recommend that you get your Scottish wool products. They are unique.
You will find unique products: gourmet chocolates in The Chocolatarium, fashion, jewelry, coffee and if it is the wake of the boy wizard that brings you to Edinburgh, here you can fully enjoy his world: there are two museums dedicated to Harry Potter and everything related to his magical universe: The Enchanted Galaxy and the Museum Context
Although if you want to have the full Harry Potter experience in Edinburgh, I recommend you book the best tour for fans of the Harry Potter saga.
Where: The Old Town is located in the center of the city.
Price: It's free, a must do tour to enjoy at your leisure. The tour to enjoy the Harry Potter route costs approximately 18 euros.
Do I need to make a reservation: No, enjoy strolling through this special environment.
Take a look at where Harry Potter began: Visit The Elephant House
And a very special place to visit after these museums of magic is a pub that has become famous all over the world: The Elephant House. This is where J.K. Rowling began writing the Harry Potter story, so it's a very special place.
With its interior full of writers typing on their computers and its red facade, The Elephant House is a must for Harry Potter fans or authors looking for inspiration. If that's you, good luck!
Where: 21 George IV Bridge.
Price: Depends on what you drink, of course.
Do I need to make a reservation: No, no need.
Get your mind blown with a trip back in time: the People's Story Museum
If you keep walking along the Royal Mile you will arrive at the People' s Story Museum.
It is a large, grayish, stone building with a huge clock on the facade. What I liked most was to see how the Scots lived centuries ago: along its three floors are recreated scenes of fishing, woodworking or even domestic. Don't miss the kitchen stuff.
Where: 163 Royal Mile.
Price: Admission is free.
Do I need to make a reservation?: No, admission is free.
Be impressed by the Palace of Holyroodhouse
There came a time in the Middle Ages when the kings of Scotland decided to live somewhere a little less cold and windy than Edinburgh Castle. Thus was built on an abbey of the twelfth century this royal residence where you can walk today.
The Palace of Holyroodhouse is an impressive building. Do not miss the baroque rooms: from the ceremonial rooms to the royal bedroom. The furniture, the portraits, the tapestries... everywhere you look, you find something worthwhile.
Even if you look out of the window: next to the palace stretches a 260-hectare park. That's why the view of this palace is included in the most comprehensive bus tour of Edinburgh. You can't miss it.
Where: In Canongate, in the historic center of the city.
Price and hours: Approximately 21.50 euros for adults and 12 for minors. The palace opens its doors to tourists at 9:30 am and closes at 4:30 pm between November and March and at 6:00 pm between April and October.
Do I need to make a reservation: Yes, I recommend that you book your ticket before you go.
Finish the day with a good Scottish dinner
It's about time for a drink, don't you think? In the Royal Mile neighborhood you will pass by many pubs and restaurants: I advise you to take a look before entering and let your instinct guide you.
I really liked a place at 167 Canongate called Talbooth Tavern. Like many places here, it 's full of stories. It's a traditional Scottish pub, quiet and with good food. It is also very well priced and some nights there is live music.
Where: At 167 Canongate, very close to Holyrood House.
Price and opening hours: Prices depend on what you order, of course, although it is not an expensive place. You can have a good dinner for about 20 euros. Open every day between 11:30 and 22:00.
Do I need to make a reservation: No need.
Day 3: See the city from another era
On the third day we continue touring this fairytale city... today you will see why I call it that. Get ready to walk through hills reminiscent of ancient Greece until you reach a village from another era that is still very much alive in the heart of Edinburgh: Dean Village. And much more!
Start the day with a walk on Calton Hill
Calton Hill is a hill with stunning views over the city of Edinburgh. You can get there by taking some stairs directly from Princes Street or through a path that reaches the northern part of the park, from Royal Terrace. On foot is a walk, although I recommend you wear comfortable shoes.
From the top of Calton Hill you can see the whole city. And if you still want to go higher, you can enter the Nelson Monument: a watchtower from which to gain meters for an even more incredible photo.
In the park you will find neoclassical monuments such as the National Monument: columns that commemorate the fallen Scottish soldiers in the Napoleonic Wars. They were inspired to build it by the Parthenon in Athens (but apparently the funds did not arrive to fulfill the original idea).
Where: 32 Greenside Road.
Price: The walk up the hill is free.
Do I need to make a reservation: No, start your day at your own pace.
Eat in a former bank: The Standing Order in Edinburgh
The Standing Order building is the home of the old Union Bank, a former 19th century bank. Now a restaurant and pub, it has a large room and smaller rooms where lunch and dinner are served. The building is impressive: it is worth a visit if only to see it inside.
The food is ordered through an app and has areas equipped to go with children. By the way, I leave you some suggestions that may be useful if you travel to Edinburgh with children.
Where: At 62-66 George Street.
Price: It depends on how hungry you are and what you order, but it is not an expensive place. You can eat for 25 or 30 euros until 22:00 (until 20:00 in the children's area).
Do I need to make a reservation?: They do not offer reservation service: whoever arrives first is seated to eat, and so on until it is full.
Travel through the history of Scotland in its National Museum
This is a very special and extensive museum. Take a look at everything it has to offer before you go, because if you don't you might miss something that really interests you. In its rooms you can discover from natural history, art and culture of other countries to Scottish archaeology and technology exhibitions. The National Museum of Scotland offers a whole world to discover.
It also has a beautiful store where you can find original and typical Scottish gifts. It is a recommended visit to do with children and adults will also enjoy.
Where: In Chambers Street.
Price and opening hours: Admission is free, and the museum is open between 10:00 and 17:00.
Do I need to make a reservation: No need.
Enter a fairytale setting: Water of Leith and Dean Village
You can walk to this village within the city: you have to go through an artificial hill (The Mound) and follow the course of the water of the River Leith that crosses Edinburgh, until you reach this place that seems out of another time or from the pages of a book. Especially if you travel to Edinburgh in summer, with good weather, this walk is a unique experience.
The houses that remain from the seventeenth century and the mills that worked the old factories in the area give this walk a unique charm. It is one of the favorite areas for Edinburgh residents to live. As soon as you see it you will understand why.
Where: On Chambers Street.
Price and opening hours: Admission is free, and the museum is open between 10:00 and 17:00.
Do I need to make a reservation: No need.
Don't leave Edinburgh without visiting its pubs.
Edinburgh is a city with a lot of pub and restaurant culture. To end your third day in the city, I recommend you to visit the most famous pubs in the center: they all have history and atmosphere, and some are founded on authentic legends.
This is the case of Maggie Dickinson, which has a very curious history. Legend has it that Maggie was condemned to death but survived the hanging, so she was acquitted (you could not condemn the same person to death twice) and settled in the place where the pub is today.
The historic center of Edinburgh is full of locals with a lot of hook: You can choose in Victoria Street, the street of colorful facades. There is something for all tastes and in all forms: terraces, restaurants and small bars.
Where: In the historic center: the coolest places are in The Royal Mile or The Grassmarket.
Price and opening hours: It depends on the place.
Do I need to make a reservation: In general, no need: the culture of the bars is to simply enter the one that catches your attention. However, the most famous ones are usually very crowded and you will not always find a table.
Day 4: Live the legend: visit Loch Ness
If the city of Edinburgh takes you to another era, the surrounding nature is not to be missed. For your last day in the area, I recommend a trip to Loch Ness, Glencoe and the Highlands. There are several tours that make different stops in the area, I tell you the ones I would not miss. The approximate price is 60 euros per person, although it depends on the tour you choose.
These tours usually last all day and make several stops. The visits I like the most in the surroundings are Fort Augustus, on the shores of Loch Ness, the Cairngorms National Park and the historic town of Pitlochry.
There are several options to go from Edinburgh to Loch Ness. Organized tours are good options because they are very comfortable because they have a private vehicle and driver, plus a guide who tells you all the historical anecdotes so you can enjoy the most and do not miss anything. Are you in?
First stop: Loch Ness
Loch Ness has a special place for all mystery and travel lovers. And no wonder: it is said that a sea monster has lived under its waters since the beginning of time.
The legends surrounding this figure have never stopped talking, but whether you are lucky enough to spot Nessie or not, a visit to his home is a must for anyone who travels to the area. The lake is framed by green hills and the softness of the water reaches as far as the eye can see.
If you are curious and want to know all the details, there is also a museum dedicated to this magical place. An excursion you won't soon forget.
Second Stop: Cairngorms National Park
The Cairngorms National Park is full of trails, mountains, rivers and lochs. It's a stunning backdrop for a hike, and even if you don't get to see it all in one day, it's well worth a look.
Here you'll find five of the highest mountains in the UK, and a wealth of wildlife. It is a natural beauty perfect for walking. Although the weather changes throughout the year, it is generally freezing cold. Wear warm clothes and remember to bring comfortable walking shoes.
Third stop: Pitlochry
Pitlochry is a small Victorian village at the beginning of the Highlands. It has fantastic scenery, the Tummel River, forests, castles and some distilleries that are worth a visit.
With this tour you can walk along Atholl Road (reminiscent of the streets of the villages of the Alps), get to the salmon ladder: the slopes in the Tummel riverbed allow these fish to go up the river to Loch Faskally on their migration every year and enjoy the views of the Queen's View, a beautiful viewpoint.
Where: The tours usually start from a central point of the city of Edinburgh and last all day. The tour that includes these three stops lasts about 12 hours.
Price: About €60 per person. Lunch is not included.
Do I need to make a reservation?: Yes, reservations are required.
So much for my suggestions for a very special trip: four intense days to get the most out of a magical city. I hope you enjoy it to the fullest and say hello to Nessie for me!