How to Get to Loch Ness from Edinburgh
If you want to visit Loch Ness and you are spending your vacations in Edinburgh, there are many options to get there easily. Below, I tell you all of them so you can choose the one that suits you best.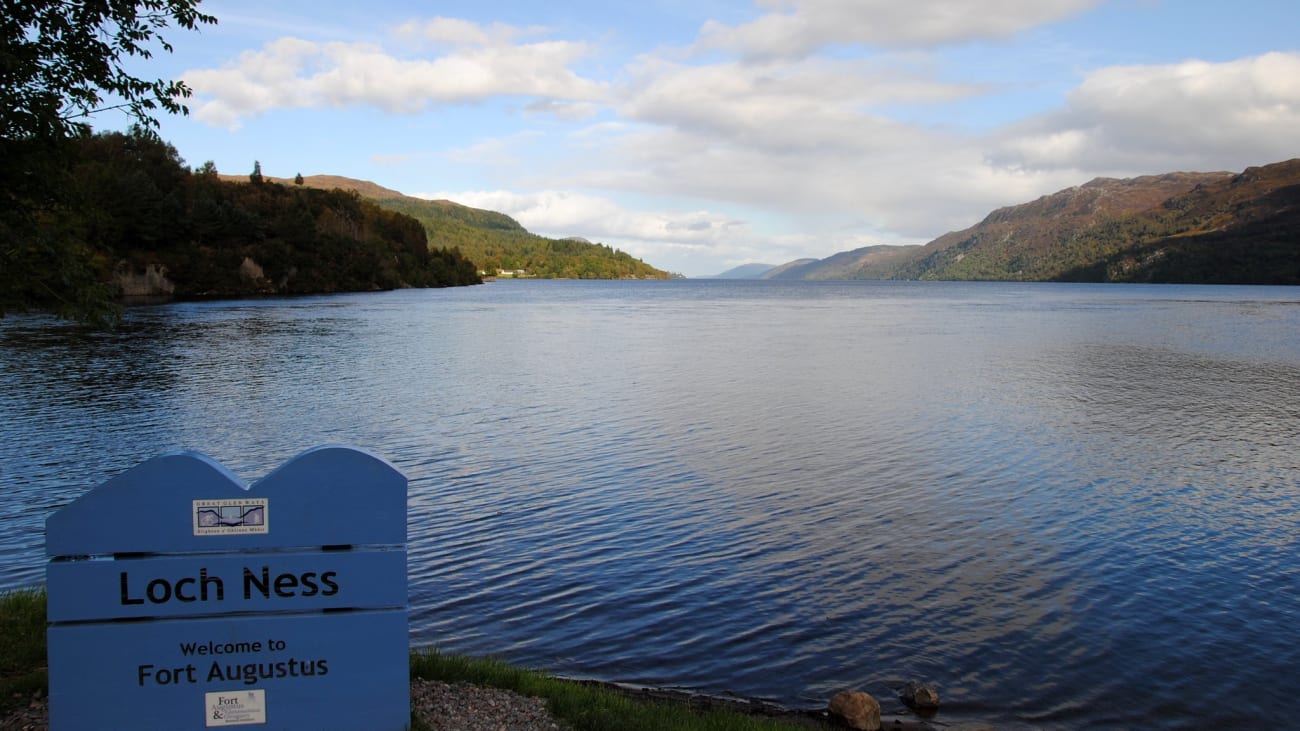 The north of Scotland has an enormous natural wealth that makes it one of the most acclaimed destinations for all tourists. Among all the wonderful places to see, the Loch Ness region is the one that takes much of the limelight.
If you are spending a few days touring all there is to see in Edinburgh, but you do not want to leave the country without knowing closely this famous lake, I'll tell you all the possibilities you have to get to the Highland region and be able to search in first person the mythical monster that inhabits Loch Ness.
1. With an organized tour, the best option
I'm not going to lie to you; Loch Ness is not exactly close to Edinburgh. Specifically, it is located 270 kilometers north of the city, so if you don't know the area, it can be difficult to get there. That's why one of the best recommendations to go to this enigmatic lake is to hire an organized tour.
With this type of activity, you are sure to go with a person who will act as a specialized guide at all times and will be in charge of taking you there and picking you up, showing you all the curiosities and using the most expeditious routes.
Edinburgh has a lot to see, but I assure you that dedicating a part of your vacation to get to know these natural places will be worth it. With this type of excursion, it will take you about 3 hours to arrive and you will have the whole day to explore and discover the area and take the opportunity to visit the famous Highland Mountains.
Day trip to Loch Ness
Among all the tours available to visit Loch Ness, the most popular are those that occupy a whole day, with an extension of between 9 and 12 hours and in which the price includes not only the transfer to the area, but a guided tour and various stops in areas of interest such as the Glencoe Valley or the Highland Mountains.
2 or 3 day trips to the North of Scotland
If you come with more time and, in addition to Edinburgh, you want to know in depth the northern Scottish environment, you can find other types of organized tours in which you will invest between 2 to 3 days to get to know the area.
With this type of excursion, you will be able to take it easy and spend as much time as you wish to get to know the whole area of the lake and Inverness, the capital of the region. In addition, you will be able to visit other areas such as the Isle of Skye.
Practical information about Loch Ness
Price: the average price of a day trip is usually 60 €, while the two or three-day trip is around 200 €.
Time: it takes approximately 3 hours to get to Loch Ness from Edinburgh.
Recommended if... you want to know the area in depth and be guided by a guide.
2. By train, comfort and speed
If you want to go to Loch Ness from Edinburgh in an independent way and without organized tours, one of the fastest options to do it is probably by train, as you will avoid any kind of traffic jams or detours on the road.
However, you must keep in mind that Loch Ness, despite being a tourist attraction, is in a natural environment and the train only reaches the nearest city, which is Inverness, so from there you will have to take a regional bus.
The trains that go to the Highland region are taken at the Edinburgh-Waverley station located in the center of the city and usually have several departures a day so you can choose the schedule that suits you best.
However, if you are planning to spend the day at the loch, I recommend that you go on the first one in the morning and return on the last one in the afternoon, as the journey there is usually 3 hours plus half an hour bus ride between Inverness and the loch, and you should plan to have time to see it all.
Practical information
Price: around 30€ (60€ round trip) plus about 5€ for the bus to the loch
Time: 3 and a half hours between train and bus
Companies: the national company is Scotrail.
Recommended if... you want a fast way to travel and you want to do it independently.
3. The cheapest option: the bus
If you are looking for a cheap way to get to Loch Ness, one of the best options is to go by bus.
I'll tell you that it will not be the fastest as there is no direct line that leads from the center of Edinburgh to Loch Ness, so you will have to make a transfer. However, if you have time and you are willing to spend the night in Inverness, it can be an economical option that allows you to know better the northern part of the country.
To take the buses that take you to Highland you will have to go to New Town, in the central area of Edinburgh, where the bus station of the city is located and which has several departures every day. From here, the journey will take about 5 hours, as you will be making stops along the way and will take regional roads a little slower.
Once you arrive in Inverness, you must go to Queensferry Street, a few steps from the station, to take the second bus that will leave you in less than 30 minutes at the coveted lake.
Practical information
Price: with the two buses it is about 25 euros (50 euros round trip).
Time: in total it will take you about 6 hours to get there.
Companies: the main companies are First, Stagecoach and National Express.
Recommended if... you want to go without haste and spend the night in the capital at a very economical price.
4. Make your trip more flexible by renting a car
If you like adventures and want to visit Scotland in a much freer way and without being tied to schedules or group plans, one of the best options is to rent a car and drive yourself to Loch Ness.
I warn you, however, that this option is not the most economical since, in addition to the rental costs, you will have to pay for gasoline and tolls.
Nevertheless, it is a good option, for example, if you are traveling with friends or family and want to move in a private and flexible way. In this way, you will be able to make as many stops as you want and discover not only the Loch Ness area, but the whole route in general.
In addition, there are several companies that make rentals so you can choose the one that best suits your needs. All you need to do is bring your approved driving license and get behind the wheel.
Practical information
Price: with the car rental and gasoline and tolls included, it can cost approximately 60 € (120 € round trip).
Time: following the fastest routes you can arrive in 4 hours.
Companies: the main car rental companies are Sixt, Europcar and Hertz.
Recommended if... you are looking to travel with your group in a private and flexible way.
5. Other means of transport not so recommended
The best ways to go to Loch Ness from Edinburgh are through an organized tour and then you can choose between train, bus and private car. However, at some point you may have thought about the possibility of going by other means of transport such as plane or private transport.
However, neither of these two options are very convenient due to their routes or their high prices and I will detail below why I do not recommend them.
By cab, too expensive option
On some occasions, if you are traveling in a group, it may be convenient to hire a private car service such as cabs for transfers to other cities. However, in addition to the fact that cabs in Scotland are already expensive, due to the fact that they are more than 200 kilometers, no matter how much you can divide the expenses among the rest of your group, the total cost of the trip will not be less than 400€.
By plane, nothing connected
The plane is not the best option either. Of course a plane can get you to a place before anyone else, however, in the case of Loch Ness, there is no direct combination that can get you close and most flights will have stopovers.
Thus, to get there, you should go from Edinburgh to Inverness airport taking up to 6 hours and, from there, get by bus to the city center and once there, take a bus that will leave you in half an hour at the lake. In total, more than 6 hours spent and almost 300 euros invested.
Best time to visit Loch Ness
Scotland is an incredible place to see and well worth visiting. However, if we head north, where its most spectacular natural parks are, such as Loch Ness and the Highlands, I have to warn you that winter is not one of its best times.
Although it is tempting to see all the snowy landscapes, if you are not well prepared, it can be a very cold weather that will make you not enjoy the experience.
Ideally, you should take advantage of the summer vacations, during the months of June, July and August, when the weather is warmer and there is less chance of rain and strong winds. If you are coming in winter, I recommend that you opt to stay in Edinburgh where, at Christmas, you can find plans much more adapted to the cold.
Transport comparison
You have already had a general idea of all the ways to get to Loch Ness from Edinburgh. However, so that you can decide more clearly which one is the most convenient for your next vacation to Scotland, I leave you below a comparative table with all the transports and their main features:
Organized excursion
Duration: 3 hours
Round trip price: between 60€ and 200€.
Highlight: ideal to get to know and discover without worries.
By train
Duration: 3 hours and a half
Price round trip: approximately 60€.
Highlight: comfortable and fast
By bus
Duration: 6 hours
Price round trip: approximately 50€.
Highlight: the most economical
By rented car
Duration: 4 hours
Price round trip: approximately 120€.
Highlight: exclusive and flexible
By cab
Duration: 4 hours
Price round trip: about 400€.
Highlight: price too high
By plane
Duration: 6 hours
Price round trip: around 300€.
Highlight: there is not much variety of direct flights.
Whichever way you decide to come to the north of Scotland, I assure you that you will not regret it. If Edinburgh has already left you with your mouth open with its impressive castle and its narrow streets out of a medieval movie, knowing a wilder and more natural environment will end up making you fall in love.
From economical and flexible options to fast and comfortable options, to more intimate and exclusive transportation, Scotland offers many ways to enjoy it in depth. If you have the idea of making a trip of this kind in your head, don't think twice and go for the adventure of getting to know unique Scottish landscapes.