10 Things to Do in Edinburgh in May
Edinburgh in May is a spring-like month, with the weather starting to settle in and, in the opinion of some, some of the best weather of the year. Find out how to make the most of your trip to Edinburgh in May.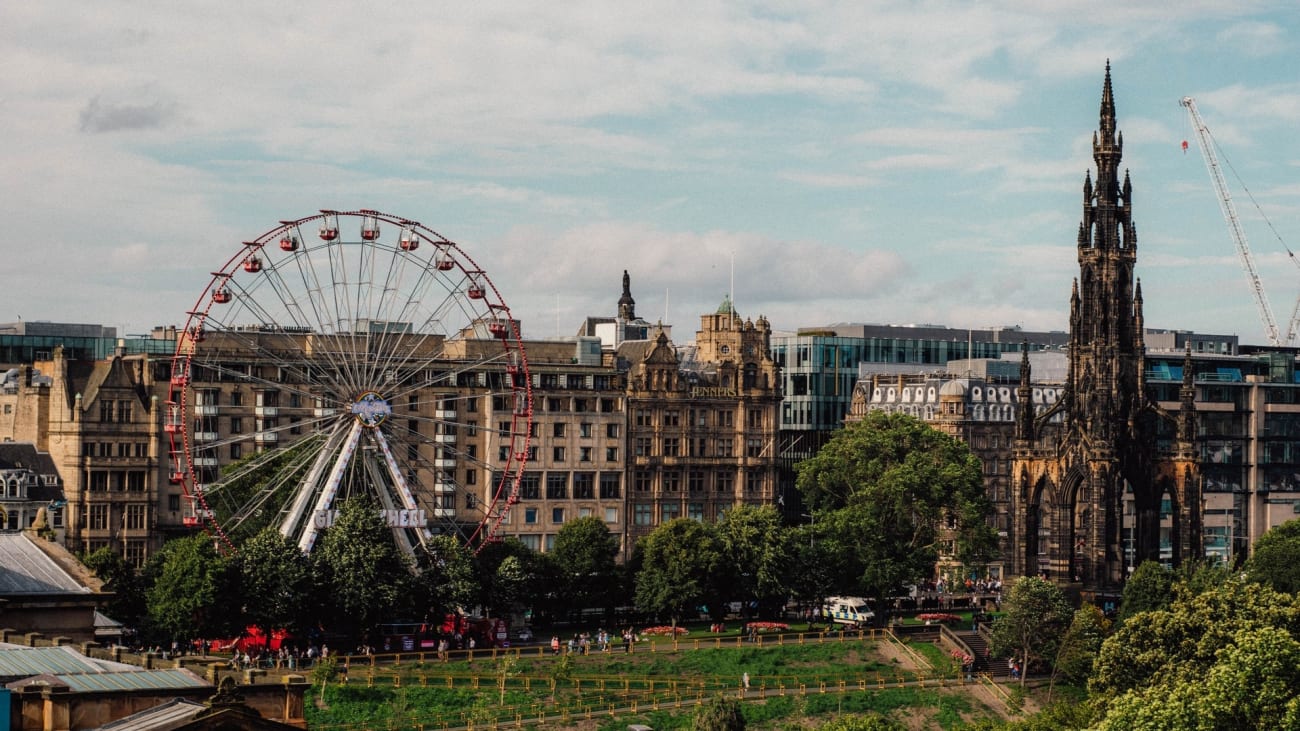 In May in Edinburgh the daylight hours start to last longer. With the longer days, you will be able to squeeze much more out of your trip around the Scottish city. It is not for nothing that May is one of the most recommended months for travelers to visit this region.
The weather in Scotland's capital is always unpredictable, but in this month things seem to have a better sheen. It's an ideal season for touring its breathtaking scenery and taking in all there is to see in Edinburgh and, if you can, in the surrounding area.
1. Shetland Folk Festival and Orkney Folk Festival
In early and late May in Edinburgh, you'll have a great excuse to visit Shetland and Orkney. In this month, the two islands host their local folk festivals, the Shetland Folk Festival and the Orkney Folk Festival.
It's ideal, because during the day you can explore their natural surroundings and at night you can have a great experience surrounded by music. Besides, in my opinion, there is nothing nicer or that brings you closer to a place you are traveling to than knowing this kind of events in first person: you will feel like one of them.
Tickets, along with information on how to buy them and exact prices, are usually available in April on the websites of the two festivals. Approximate prices are usually:
For the Shetland Folk Festival: Between €21 and €30 for non-members for concert tickets. The festival does not offer general admission tickets, so you will need to buy a ticket for each concert you choose separately.
For the Orkney Folk Festival: You must log on to their website during the month of March to find out prices and concerts, as they do not publish this information before. Anyway, you should know that they are managed in the same way as the Shetland Festival, so you will have to buy tickets for each particular event.
2. Highland Games
Highland games are held at venues located throughout the country. The price and location where you should purchase your tickets varies depending on the venue you choose. In May, specifically, you can visit the Gordon Castle Games.
The Gordon Castle Highland Games and Country Fair take place near Inverness, at Gordon Castle, with tickets starting at 12 euros per adult.
The Highland Games are tests of strength, bagpipe competitions and traditional Scottish dancing. In English: the Highland Games. They are competitions held on weekends from May to September in Scotland and, of course, also occasionally in Edinburgh.
Also, in 80 other places in Scotland, so you can even take advantage and spend a weekend in one of its other locations.
The most popular are the Highland Games in Breamar, which are in September, but you should stop by any of them that are within your reach. This is an unmissable occasion, which you should take advantage of if you are lucky enough to travel to Edinburgh from May to September.
3. Visit Edinburgh Castle
If you travel to Edinburgh in May, I recommend a visit to Edinburgh Castle. The good weather is a great ally for this excursion. At the top of Castle Rock, the castle is one of the oldest in the UK, and its history is fascinating while remaining, like almost everything in Edinburgh, terrifying and dark.
If you decide to visit Edinburgh Castle, you can tour it while learning about the history of this iconic site.
Also, if I were you, I wouldn't miss the throne room to see the Scottish Crown Jewels up close.
Don't forget that Edinburgh is full of amazing castles. Here you can read about the best castles in Edinburgh and choose the ones you want to visit during your stay in the city.
4. The best viewpoint in Edinburgh
The most important thing about traveling to Edinburgh in May is the season: spring. Imagine the colors in a city like the Scottish capital. Spring is good news, and from the best viewpoint in Edinburgh you can see it. For this reason, you can not miss a short trip to Arthur's Seat.
It is not a really difficult climb. It is only 251 meters that allow you to enjoy an incredible panoramic view. You will see all of Edinburgh and all the green between the viewpoint and the city itself. In about an hour from the Palace of Holyroodhouse, you will already be taking out your camera to photograph the scenery.
The name of the hill, they say, has to do with King Arthur. Some even believe the hill was once Camelot. It's your choice whether to believe, but you should know that the place is surrounded by an air of pure magic. Also, it is an area where prehistoric remains were found. I am giving you arguments for all tastes.
If you like legends, read our article to know how to get from Edinburgh to Loch Ness.
5. Lauriston Castle Japanese Garden
You can visit the Japanese Garden at Lauriston Castle all year round, but if you travel in May to Edinburgh, I strongly recommend it, as spring will be exploding.
It is a pleasant space, close to Cramond Island, and is ideal to visit early in the morning. As you will see, it is one of the best options for tours and excursions in Edinburgh.
6. Tour Dean Village and escape to another time
Dean Village gives the feeling of being out of time and space. Until some time ago, it was not very visited, but the truth is that nowadays nobody wants to miss the chance to visit this incredible place in Edinburgh. In this case, I recommend it, because it is twice as beautiful if you visit it with good weather.
If you choose to visit it, you will still be in the city, but you won't believe it if they tell you. You will feel like you are in an Eden on earth, with beautiful little houses and old buildings.
Also, the village overlooks the river, which adds to the feeling of not being in a city at all. It feels more like a remote village... in a remote century.
You will see that in Dean Village you can find tranquility, something ideal to recharge energies away from the noise, without having to travel for hours to access this. I especially recommend this plan for a day when you feel you need a break from the tourist pace and walk for a while. The entrance is free and you can walk from there to Stockbridge. You won't regret it.
7. Be dazzled by the amazing Isle of Skye
The Isle of Skye is amazing. Taking advantage of one of the best days you will spend in May in Edinburgh, choose among some of the options to visit the Isle of Skye the one that best suits you.
Of course, you should reserve at least three days to fully enjoy the various attractions you will find on the island.
My recommendation is that you choose among the tours that include the Isle of Skye, to avoid having to take care of everything yourself. You will find different options, such as a three-day trip to Skye and Highlands, or another one that lasts the same time but also includes Loch Ness.
8. Spend a unique day in St. Andrews and the villages of Fife
When you travel to Edinburgh in May and remember this recommendation, you will appreciate it. It is well worth a day trip to this amazing destination. You can take an excursion of almost nine hours, in an air-conditioned car with a guide on board, ideal to take advantage of in spring, as you will spend a lot of time outdoors... if you want to.
I say if you want, because this excursion includes up to three hours of free time for you to spend as you wish, exploring the town of St Andrews.
This destination is unique and travelers who have visited with an excursion comment that the time spent there is magical. It is very likely, because it is a medieval setting, which will make you feel either in another time, or protagonist of a movie about the time of King Arthur.
9. Watch Edinburgh's gardens bloom
In April they begin to bloom, but in May the temperature improves and the colors increase in the gardens of Edinburgh.
Prepare a picnic and have everything you need to spend a morning in one of Edinburgh's gardens. You will reap some wonderful postcard memories.
You can choose Dunbar Close, a lesser-known and less-traveled garden, or take a stroll through Princes Street Gardens. Another favorite of travelers are the gardens of Starbank Park in Newhaven. It's not called New Heaven for nothing: its natural beauty will blow your mind.
10. Walk along the Royal Mile and be dazzled by the pink of the cherry blossoms
Take advantage of the good weather in May in Edinburgh to walk along the Royal Mile. It is a steep street in the old part of the city, and many people who travel for tourism want to know it.
The pink blossoms that begin to be seen in April on Edinburgh's trees come into their fullest bloom in May. The Old Town and New Town are surrounded by these trees.
On the Royal Mile, you will find many of them, voluminous and resplendent, which you can see while touring all the attractions in the area.
Throughout the area, you will find numerous historical monuments. For example, St. Giles Cathedral, the Palace of Holyroodhouse and Edinburgh Castle, which is on top of the hill. In addition, in this street there are many souvenir stores, quaint bars and a lot of constant influx of people.
In the past, this area of the city used to charge a fee to enter or leave it, and this meant that the poorest people were held there. A guided walking tour of Edinburgh's Royal Mile will give you a deeper insight into this fascinating history.
Temperatures in Edinburgh in May
In May, temperatures in Edinburgh usually hover between 5° and 15° degrees. The chance of rainy days is 9 days in the whole month. Although, really, with Edinburgh you never quite know.
In addition, the days start to last longer, the sun is much more visible and the gardens are especially in bloom in May in Edinburgh.
Tourist flow in Edinburgh in May
The truth is that you will not find crowded and impassable streets. Fortunately. But it is also true that many travelers say that Edinburgh in May is fascinating and beautiful.
Thanks to this open secret, many people are already starting to choose to travel to Edinburgh in May. However, although the season is starting to get livelier, the city is not yet full. Because of this, you can still get good prices on accommodation and the demand for places is relatively low.
You won't find crowds of people, but you will meet people, if that's what you want. Of those two things, you can lose care. Also, May in Edinburgh is a beautiful season for bird or dolphin watching. Beautiful.
What to pack for your visit to Edinburgh in May
If you are traveling to Edinburgh in May, you should pack cool, light and comfortable clothes for the cooler days. If I were you, I would also include some evening outfits. Also, take a coat, and if you have one specifically for rain, pack it too. If you don't use it, fine. If you ever need it, you'll thank me.
Also, you can take some entertainment in case you get caught on one of those days when it never stops raining: a board game, cards, books, a diary to make notes. Whatever you can think of. If not, you'll always have the internet.
Can I buy a tourist card for my trip to Edinburgh?
If you travel to Edinburgh, you always have the possibility to buy an Edinburgh City Pass. Thanks to this card, you can save money on some of the activities you want to explore in the city.
The purchase of the card is quite helpful, if you take advantage of it. For example, it covers transportation to the airport, almost a rarity in this type of card. It also covers the tourist bus.
With the Edinburgh City Pass you can also enter some of the most popular attractions in the city. You can buy it for 1, 2 or 3 days, and the price of the plan you hire will depend on that. All you have to do is show it when you want to enter somewhere.