How to Get to St Andrews from Edinburgh
Are you traveling to Edinburgh and want to visit St. Andrews? This city in the county of Fife will not disappoint you, although the first thing is to get there. What is the best option?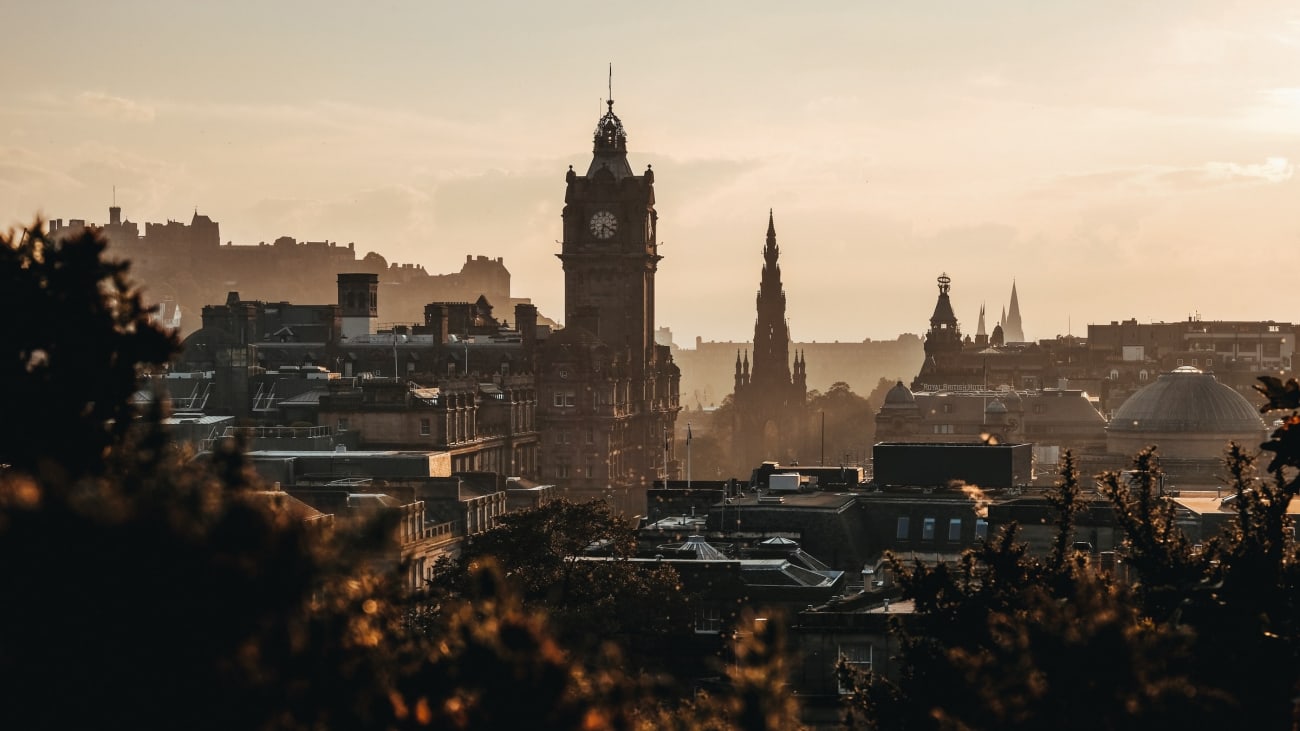 There is no doubt that there is a lot to see and do in Edinburgh, but if you want to see something else besides this great Scottish city, I suggest a visit to St. Andrews. This town on the coast of Fife was not only the scene of the famous scene of Chariots of Fire, but it has incredible scenery and a charming old town. In addition, getting there from Edinburgh is very easy, as both cities are separated by only 50 kilometers.
The only thing you have to do to get from Edinburgh to St. Andrews is to decide the means of transport you will use. There are alternatives for all types of travelers, from those who want to save money to those who are looking for the most exclusive option. Since I know you want to weigh all the options, I've been doing some research to present them to you and help you choose.
1. The best way to get there: an organized tour
Of all the things to do in Edinburgh, few are sure to catch your attention as much as seeing the movie sets of St. Andrews. What you don't want, however, is to have to plan your entire trip.
Although it's close to Edinburgh, the commute can get cumbersome on public transportation. On the other hand, the sometimes unavoidable delays can limit your time to discover this university town. If you do not want this to happen, my advice is always to book an organized tour from Edinburgh. They cost about 50€ and you will make the trip quickly (in about two hours), and without unforeseen events, in a shared coach with other travelers.
Is this really the best option? Yes, it is. The convenience of having a vehicle pick you up and take you directly from the center of Edinburgh, without intermediate stops, is unparalleled.
Plus, in most cases, your driver will act as your guide for the day, so you'll get a much better understanding of the stories that run through St Andrews. Although they do not always include entrance fees to places such as the Cathedral, the largest in Scotland, these tours follow a fairly complete itinerary so you won't miss anything.
The value for money of these tours is very interesting, especially because of the 10 hours that the tour lasts, you will have more or less 3 hours to move at your own pace and not feel that you are all day adapting to the group.
Interesting facts
Price: 50€ approximately
Travel time: about 2 hours
Main disadvantage: you have to adapt to departure times.
Recommended if: you are looking for a comfortable alternative and at a good price
2. The most affordable option: the bus
If your idea is to go from Edinburgh to Saint Andrews by public transport and you want to go directly, you will have to settle for the bus, as there is no train station in this town. Although it is not the fastest way (it takes a little more than two hours), it is quite economical, since its price is approximately 7 € (one way).
The line that makes the route is the X59. The station where you should take this bus in Edinburgh will not be forgotten, because it is the Saint Andrews Bus Station. It is quite big so make sure you are at the corresponding stop (Stance D), get on the bus going towards Dundee and get off at St Andrews Bus Station. Just six minutes away is Market Street, one of the most central and important streets of the town.
My advice is to buy your ticket in advance through the Stage Coach website, which is the company that operates this route. Buses leave approximately every hour, from 7am to 11pm.
Interesting facts
Price: approximately 14€.
Travel time: about 2 hours
Main drawback: the journey takes a long time because of the intermediate stops
Recommended if: you want to save on your trip to St Andrews
3. An alternative with transfers: the train
If you're like me, traveling by train is always one of your first choices. It's usually fast, comfortable and, although more expensive than the bus, affordable. The problem is that St Andrews has no train station.
The intermediate solution is to go from Edinburgh to the town of Leuchars by train (from 7-9€) and then, from there, take a bus (about 5€) or a cab (about 18€) to get to your final destination. In total, the trip takes about an hour and a half.
If you have decided that you prefer to go by train to Leuchars and then change trains to get to St Andrews, you must take the train at Waverley station (Edinburgh). I recommend you to buy your ticket in advance from the Scotrail website, to avoid rushing and haste on the day of travel.
Once you are in Leuchars, exit the station. There you will find the Stagecoach 99 bus stop, which runs every 15 minutes and stops at St Andrews station. There are always cabs at the same exit, in case you prefer this alternative.
You can see that the waits at the transfer are not long and there are many departures, so if you choose this option you can also take advantage to visit Leuchars.
Interesting facts
Price: about 18€ (35€ if instead of train-bus you combine train-taxi)
Travel time: about 2 hours
Main disadvantage: it is not a direct route.
Recommended if: you don't mind transferring at Leuchars
4. An option for the more adventurous: the bicycle.
Do you enjoy cycling and sports? If your answer to both questions was yes, there is an alternative to go from Edinburgh to St Andrews that you will like: cycling. I'm not going to fool you, it's a long route (about five hours) and I don't recommend it if you are only going to St Andrews for one day.
However, if you are going to spend the night there, the weather is nice and you feel like riding through the green fields along the way, you can rent a bike for about 35€ a day (or 60€ for the weekend).
The national route you should take is number 1, called Coasts and Castles North. It connects Edinburgh with Aberdeen and passes through St Andrews. It is a beautiful route through the county of Fife, between its coasts and medieval castles, two of the emblems of Scotland.
The good thing about cycling is that, once in St Andrews, you can move easily. Also, if you have time, you can do some more routes in the area.
Interesting facts
Price: 35€ approximately (one day rental)
Travel time: about 5 hours
Main drawback: the trip is long.
Recommended if: you are going to spend the night in St. Andrews and/or want to do some cycling there
5. The freest option: the car
Are you planning to rent a car during your trip to Edinburgh? It is something that many tourists do precisely to have freedom of movement and to be able to go to the surrounding towns. One of them is St. Andrews, which is only an hour and twenty minutes, approximately, driving from Edinburgh. The rent of a car, per day, is around 35€.
The road you have to take when you leave Edinburgh by car is the A90, which connects with the M90. From there, you should continue driving north to the A91 (several signs will point you in the right direction to St. Andrews).
The problem will be parking; St. Andrews is a small town where you don't usually use your car, so the only parking lots in the center are paid, although you always have the option of using the parking lots on the beaches. In any case, you can check where they are and their availability on the county website.
My recommendation is that you make all the arrangements in advance, so that your rental car is waiting for you as soon as you land in Scotland. This way you will also have time to check that your papers are in order; you will need a driving license from a European Union country and, to avoid surprises, an insurance.
Interesting facts
Price: about 35€ (one day rental)
Travel time: about 1 hour
Main disadvantage: the lack of parking in St. Andrews.
Recommended if: you want to be free to move around Edinburgh, St Andrews and surroundings
6. An expensive alternative: the cab or shuttle
Traveling with a group of people? Maybe there are not enough of you to fill a coach, but a cab or shuttle will do. The total trip takes about an hour, although the price of the trip is high (approximately 45€ one way).
There is a cheaper and similar option: the shuttle from the airport, an option offered by some companies. The price is indeed lower (around 30€) but you will have to make the transfer to Edinburgh airport.
The great advantage of going to St. Andrews by cab is that the driver can tell you some stories but, unlike an organized tour, you will have to listen to them in English or Scottish.
My advice if you order a cab is to try to negotiate a price for the round trip and, if you are interested, also include transfers around St. Andrews and the surrounding towns. If you want to be picked up somewhere in Edinburgh, make sure you contact one of the official companies, such as Central Taxis, and that you have money to pay in cash, otherwise there is a 5% surcharge.
Normal cabs can be booked through an online form in most cases, but if you prefer to order a VTC from an app like Uber, you can do that too. This company operates in Scotland and the rates, although similar, are somewhat lower compared to cabs.
Interesting facts
Price: 45€ approximately
Journey time: about 1 hour
Main disadvantage: the high price
Recommended if: you are traveling with a group of friends and can share expenses
7. We compare all the options to get to St Andrews from Edinburgh
Organized tour by private vehicle
Price: about £450
Duration: about 1 hour
Advantage: 100% personalized service
Organized excursion by shared coach
Price: 50€ approximately
Duration: about 2 hours
Advantage: value for money
Bus
Price: 14€ approximately
Duration: about 2 hours
Advantage: very affordable price
Train
Price: 18€ approximately
Duration: about 2 hours
Advantage: possibility to visit Leuchars
Bicycle
Price: 35€ approximately
Duration: 5 hours
Advantage: get to know the surroundings and the Irish coast.
By car
Price: 35€ approximately
Duration: about 1 hour
Advantage: greater freedom of movement
Cab
Price: about 45€.
Duration: about one hour
Advantage: possibility of sharing the cost among the group.
Have you finished planning your excursion to Saint Andrews from Edinburgh? Now you know which transportation alternative is the best, so you're not missing anything.