10 Best Castles Near Edinburgh
You've probably looked at so many pictures of castles in Scotland that it's hard to choose which ones to visit on your trip to Edinburgh. Don't worry, here is a list of the best castles so you can plan your itinerary without any problems.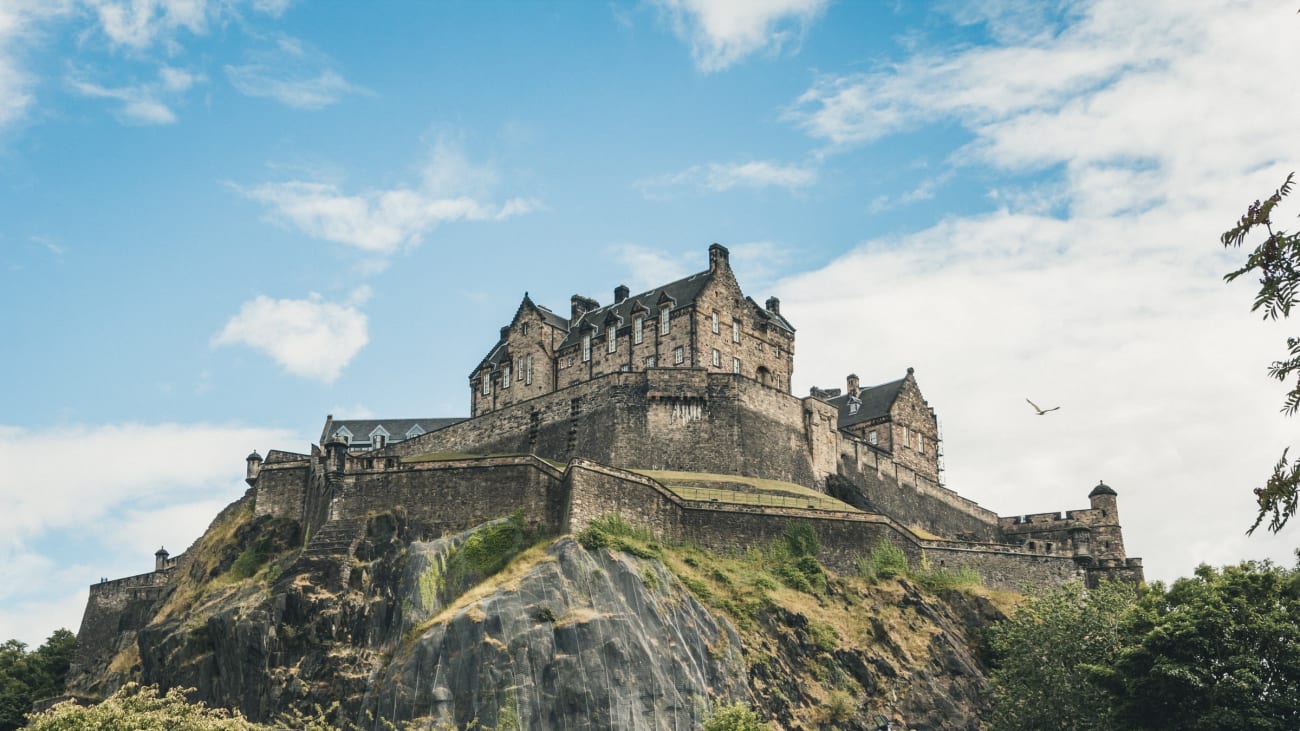 Many times we have watched a film or series set in medieval times and wondered if that place we are seeing on the screen is real, or if it is simply a creation of the special effects. Well, in Scotland you will find many of these types of locations, and now that you are planning your vacation, you can't miss the best ones.
Although some castles still belong to Scottish families of very high and wealthy classes, others have been converted into hotels and museums and you can access them without any problem. If you are wondering what to see and do in Edinburgh, I present this post with the best castles near the city, so you can travel back in time and enjoy these wonderful stone giants. Are you in?
1. Edinburgh Castle, the icon par excellence
This castle has the first place on the podium of the most visited attractions in the country, which is really not a minor fact. It is strange that you visit Edinburgh and are not tempted to climb the hill and enter this almost 1000 year old piece of infrastructure.
Edinburgh Castle stands on a large volcanic rock and dominates the city's skyline. But, in addition to the views, inside it houses numerous buildings and great attractions. When you know everything about how to visit Edinburgh Castle, do not hesitate to book your ticket in advance to ensure your visit.
Interesting facts
Location: Edinburgh Castle, Castlehill, Edinburgh, EH1 2N
Price: adults around 21€ and children 13€.
Hours: April to September, 9.30 am to 6 pm. October to March 10am to 4pm.
2. Stirling Castle, a perfect location
Second on the list of the most visited, I present this immense castle surrounded by cliffs that will take your breath away. Less than an hour by train from Edinburgh, the landscape changes completely and you find the perfectly preserved fortress of Stirling Castle.
If the picture looks a bit familiar and you don't know where it comes from, then mystery solved. The movie Braveheart starring Mel Gilbson, tells the story of the Scottish liberator William Wallace, who also has an imposing monument in his name in this location: a great tower 67 meters high!
If you are already decided to include it in your trip, remember to visit the Argyll and Sutherland Highlanders Regiment prison and museum, where you can see the largest medieval banqueting hall in Scotland. Finally, a characteristic point of this castle are the rooms of the royal palace with the "Stirling Heads", painted wooden rose windows simply majestic.
Interesting facts
Location: Stirling Castle, Castle Esplanade, Stirling, FK8 1EJ
Price: adults around 20€ and children 12€.
Hours: from December 27 to January 4, from 10am to 4pm. From January 5 to March 31 and from October 1 to December 24, from 9.30 am to 5 pm. From April 1 to September 30, from 9.30 am to 6 pm.
3. Eilean Donan Castle, the one everyone wants to photograph
On a small island connected to the mainland by a modest bridge, you find one of the most beautiful castles near Edinburgh, Eilean Donan Castle. So much so, that many directors decided to move here to film scenes for their movies. The Immortals, Braveheart, The World Is Never Enough or My Girlfriend's Wedding are just some of the long list of successes.
This emblem of the famous Scottish Highlands (which you can easily visit on an excursion from Edinburgh), enjoys spectacular views, but its interior is also worth a visit. In fact, today, it is the official residence of Clan McRae. Lucky them, aren't they?
Interesting facts
Location: Dornie, Kyle of Lochalsh IV40 8DX, UK
Price: adults around 12€ and children 6€.
Opening hours: the castle is closed to visitors from December 22nd to March 1st. From March 2nd to March 26th, from 10am to 4pm. From March 27th to June 30th, from 10 am to 6 pm. From July 1st to August 31st, from 9 am to 6 pm and September, from 9.30 am to 6 pm.
4. Dunnottar Castle and cliffs
Of the castle itself only ruins remain. But what is remarkable about Dunnottar Castle is its dramatic and completely strategic location, and all the viewpoints you can explore around it.
It stands right on the edge of some immense cliffs, quite a movie set. In fact, if you dare, you can head down to the beach and see it from another perspective. Having a full view of the North Sea, it served as a control point for maritime trade back in the 15th century, many, many years ago.
Interesting facts
Location: Dunnottar Castle Stonehaven AB39 2TL
Tickets: Adults around 10€ and children 5€.
Opening hours: From April 1st to September 30th, from 9am to 6pm. From October 1st to October 30th, from 10am to 5pm. From October 31 to January 29, from 10 am to 3 pm. From January 30 to February 26, from 10 am to 4 pm. And from February 27 to March 31, from 10hs to 17hs.
5. Urquhart Castle and Loch Ness
Urquhart Castle is part of the Scottish National Heritage and is the third most visited castle in Scotland. It was built in the thirteenth century, and due to its great antiquity there are mostly ruins, but you can imagine how spectacular this fortress was in its glory years. In fact, it was the English who destroyed it to prevent the Jacobites from invading, otherwise it would probably still be standing.
It is very convenient to go to this castle when you visit Loch Ness, as it is right at its foot. When you are in front of one of the most famous lochs in the world, with the particular sound of the bagpipes, and the old castle in front of your eyes, it will undoubtedly be one of the best memories of your stay in Scotland.
And who knows... if you are lucky you might see friend Nessie coming to greet you. I leave you a post about how to go to Loch Ness from Edinburgh so you have all the complete information.
Facts of Interest
Location: Urquhart Castle By Drumnadrochi Near Inverness IV63 6XJ
Admission: Adults around £12 and children £7
Opening hours: From April 1st to September 30th, from 9.30am to 6pm. From October 1st to October 31st, from 9.30 am to 5 pm. From November 1 to December 24 and from January 5 to March 31, from 9:30 am to 4:30 pm. And from December 27 to January 4, from 10:00 am to 4:00 pm.
6. Craigievar Castle and its pink façade
Craigievar Castle 's distinctive and unmistakable color and elegant appearance make it one of the best preserved castles in Scotland - it looks like something out of a fairy tale! And many brides choose to have their wedding photos taken with this medieval fortress in the background.
This work of Scottish stately architecture has two peculiarities that call out to visitors. The first one is a piper figure together with a gargoyle, whose expression shows that she is tired of hearing it, and the second one is its magnificent interior. The state of conservation is really incredible and just by entering the rooms, you are transported to the past. Its furniture, paintings and everyday elements from centuries ago are part of a perfect scenography.
In this visit you can be accompanied by an expert guide who will tell you the history of the castle, details about the period and the objects in the halls. One of them is the Craigievar Table, a table used by the lords to play cards. Highly recommended.
Interesting facts
Location: Craigievar Castle. Alford. Aberdeenshire AB33 8JF
Tickets: around £18
Opening times: the castle is closed from September 27th to March 31st. From April 1 to May 31, from Friday to Monday, from 10.30 am to 4 pm. From June 1 to August 31, every day, from 10.30 am to 4 pm and from September 1 to September 26, from Friday to Monday, from 10.30 am to 4 pm.
7. Castle of Inveraray, the gothic one
Here is a gothic style castle for you to enjoy a different but equally incredible architecture. This fortress is not the castle it was originally, but it is just as spectacular. Currently, Inveraray Castle is the residence of a duke, but guided tours are conducted so that everyone can enjoy it as much as he and his family.
In fact, if you are a lover of the series and you know Downton Abbey, surely you remember Inveraray Castle, as it has been used as a film set for some chapters. Do you remember it?
The most curious fact I've read about it is that not a brick has been moved since it was built. Instead, the entire town has moved to give the castle the privacy and seclusion it deserves. Amazing, isn't it?
Interesting facts
Location: Inveraray Castle, Inveraray PA32 8XE, UK
Tickets: Adults around 18€ and children 13€.
Hours: April 1st to October 31st, 10am to 5pm
8. Blackness Castle, a complete marvel
The town of Blackness is in the vicinity of Edinburgh and you can enjoy the Blackness Castle completely rebuilt. Here you no longer need your imagination, to enter the castle is to feel automatically in medieval times.
This fortress was built to defend the main port of the time and its silhouette will remind you of a very large ship. That is why it is known as "the ship that never sailed". The north and south towers are usually called bow and stern and the central tower, large mast.
Although its rooms are empty, its structure is impressive and so are the views. And for Outlander lovers, you will be able to identify this location in the first season. I recommend the best Outlanders tours in Scotland if you are a fan of the saga.
Interesting facts
Location: Blackness, Linlithgow, West Lothian, EH49 7NH
Tickets: Adults around £8 and children £5
Hours: April 1 to December 23 and December 29 and 30, daily except Fridays, 10am to 4pm. From January 5 to March 31, every day from 10 am to 4 pm.
9. Glamis Castle, protagonist in Macbeth
This fortress was built in the tenth century and is one of the best known in Scotland. Both for being closely linked to the British family (it was the maiden residence of Queen Elizabeth, mother of the famous Elizabeth II) and for being used by Shakespeare in one of his most famous plays: Macbeth.
But if we talk about Glamis Castle itself, you can visit an old tower house where you can see towers and battlements at different heights with beautiful views of the surroundings. But what everyone wants to see is Duncan's Hall, which is where it is said that Macbeth killed King Duncan. I'm sorry to confess that this is a complete lie, but the fame has remained intact.
Interesting facts
Location: Glamis Castle Angus Scotland DD8 1RJ
Admission: adults around 19€ and children 12€.
Hours: From January 18 to March 28 and only on weekends, you can visit only the gardens, from 10 am to 5 pm. From March 28 to October 31, you can also access the interior, at the same time.
10. Cawdor Castle and its gardens
Continuing with Macbeth and the literary connection, I present to you in last place on this list Cawdor Castle. If you are thinking about the book, I have to confess that originally all the events on which the story is based occurred many years before this fortress was built.
You can visit the castle and feast your eyes on the impressive living room. Why is it so striking? On its wall you can see all the portraits of generations of Campbell, the family that lived there in the 15th century.
Also very popular are the perfectly preserved tapestries in the bedrooms, and the kitchen full of antique items, almost as if no time has passed at all. And for nature lovers, the gardens are very extensive and open to the public, and definitely an attraction in itself.
Facts of Interest
Location: Cawdor Castle, Nairn IV12 5RD, UK
Tickets: Adults around 19€ and children 12€.
Hours: Open daily from 10 am to 5.30 pm from May 1 to October 1.
Get your Explorer Pass and save money
In Scotland there are castles for all tastes. If you are planning to visit more than one of them, including the castles of Edinburgh or Stirling, it is best to purchase the Explorer Pass.
Although each castle has its own ticket and price, the Explorer Pass includes 78 of Scotland's main heritage attractions for a single fee. Keep in mind that there are castles that are privately managed and the Explorer Pass will not be useful, such as Eilean Donan Castle or Dunnottar Castle.
The Explorer Pass seems to me an ideal option if, like many tourists, you want to visit more than one city and visit different attractions. In addition, it will allow you to skip the line at each of them, so you will also be saving time, a very valuable resource on your vacation.