10 Things to Do in Edinburgh in April
April in Edinburgh is synonymous with spring, but also with rain. I bring you the best options to visit this city at this time, and I include indoor plans, just in case.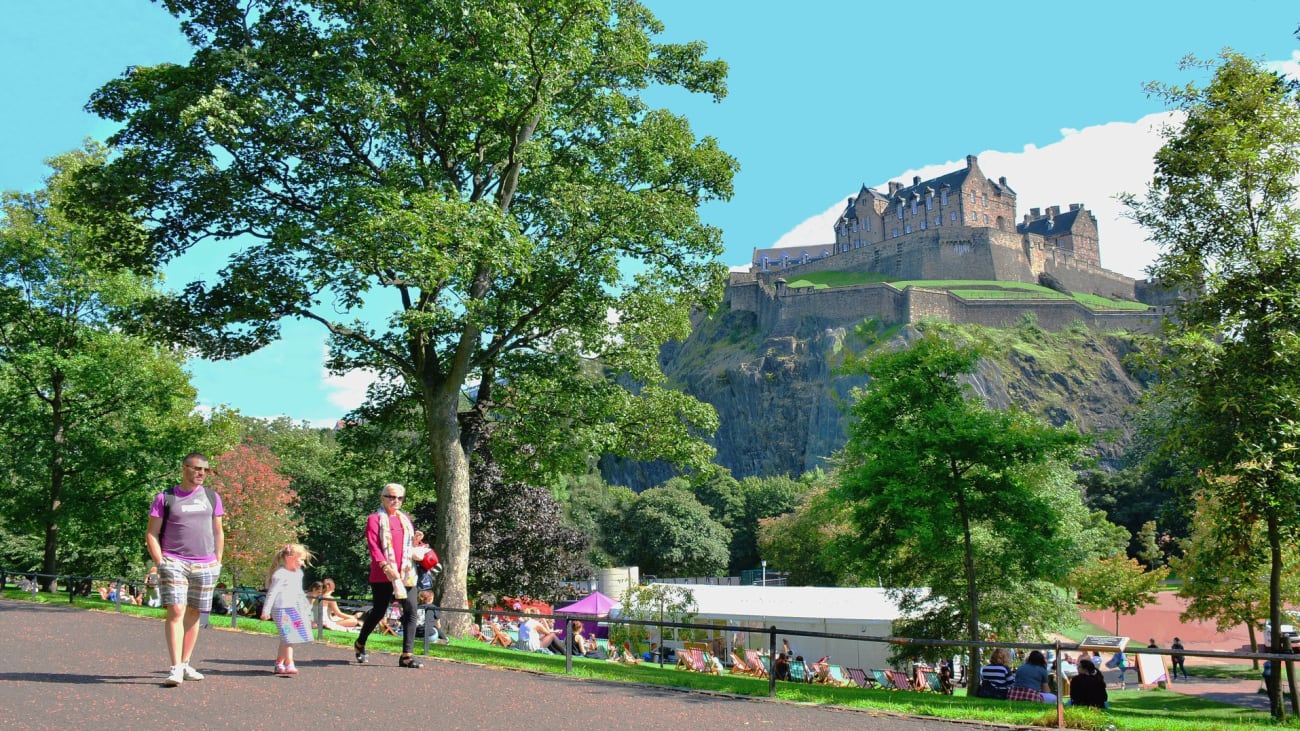 Beyond the rain, April in Edinburgh is spring and the temperatures are getting warmer. The days are also longer, and the city begins to fill with tourist proposals for all tastes.
If you are planning what to see and do in Edinburgh in April you will have to count on the possibility of rain. In this aspect, if you are lucky with the weather, you will probably be able to enjoy some things to do outdoors. However, I will offer you several proposals indoors, lest you don't know how to solve your itinerary if it rains.
1. Edinburgh Science Festival
The first three weeks of April in the city you can visit the activities proposed by the Edinburgh Science Festival, a set of ideal plans if your trip to Edinburgh in April is with children. Here are 10 other activities to do in Edinburgh with children.
As part of the celebrations for science in Edinburgh, you can visit the Ances-tour, every day at the Edinburgh Zoo and free of charge.
In addition to the aforementioned, there are numerous activities for the whole family that you can go to throughout most of the month. From talks given by the experts themselves, to screenings, workshops or interactive exhibitions for all tastes and ages.
2. Easter in Edinburgh
Although not as intensely celebrated as in the rest of the world, due to its largely Protestant religion, Easter still offers some attractions for those traveling to Edinburgh in April. Especially, again, if you are traveling with children.
For starters, you'll find the stores stocked with Easter bunny chocolates. And there are always activities for all families, as the locals themselves will want to enjoy their and their children's vacations.
In addition, the city usually organizes for this time some proposals for children, such as workshops to decorate Easter eggs or hidden egg hunts.
Egg-Rolling or Egg Race
One of the biggest traditions of this time in Edinburgh is the egg-rolling race. On this occasion, the little ones decorate their Easter eggs to let them fall down a gently sloping hill. They watch the eggs roll down the hillside, and compete to see which one goes the longest distance without breaking.
One of the places you can do this is Arthur's Seat Mountain. If you spend Easter Monday there, you can get up close to watch the kids chase their colorful eggs.
3. Lauriston Castle Japanese Garden
You can visit the Japanese Garden at Lauriston Castle all year round, but if you travel in April to Edinburgh, I highly recommend it, because in the middle of the month, it is full of colors.
It is a space where you can enjoy a lot of tranquility, near Cramond Island, and it is ideal to visit early in the morning. As you will see, it is one of the best options for tours and excursions in Edinburgh.
4. A nice picnic in the open air... if the weather is nice
If the rain doesn't stop your plans, in April in Edinburgh you have the great option of having a beautiful picnic out doors somewhere you particularly like.
Just make sure it doesn't rain, prepare some snacks and don't forget to bring a blanket. The rest is taken care of by **Edinburgh'**s amazing nature.
Some of the places I recommend you to take into account are:
Princes Street Gardens: a colorful and wonderfully ideal setting in Edinburgh's Old Town. Plus, you always have an ice cream truck close by, so you won't have to worry about dessert!
The Meadows Park: This setting is so peaceful, you can even take a short nap and enjoy the calmness of the place. Of course, there will be everything: groups of friends, families, people doing sports. The days are in bloom, and one goes straight to look for some green. Nearby, I recommend the homemade ice cream from Luca's store.
There are many more options: Edinburgh is a place full of fresh air and you're sure to find somewhere you'll love.
5. Don't miss a visit to Loch Ness
But who would really think of missing Loch Ness on their trip to Scotland? It could be any time of year, and I bet you'd still go.
April to visit Loch Ness is a nice time, although you should pay special attention to the weather, make sure it doesn't rain, let alone snow. If this is true, it will be ideal, because spring days are very nice to visit the lake.
Although there are several ways to get to Loch Ness from Edinburgh, perhaps the best option is to hire one of the tours to Highlands and Loch Ness from the city.
In the month of April, the opening hours for visiting the Loch Ness Centre and Exhibition also goes up to 17:00. In previous months, you can only visit until 15:30. In addition, Urquhart Castle, one of its main attractions, extends its opening hours until 18:00.
If you are interested in castles, be sure to read this article that gathers the best 10 castles in Edinburgh.
6. Shelter from the rain: subway tour of Edinburgh
If it rains, an ideal plan to take shelter from the bad weather is the subway tour of Edinburgh. In it, you will know the famous crypts hidden under South Bridge, in the old town of Edinburgh.
This tour is guided, and you will be told the most macabre details of antiquity. I'm telling you, it will make your hair stand on end, so see if you're up for it. If you do, by the way, I recommend you to find out about the best ghost and mystery tours in Edinburgh.
7. Choose a film tour
If you like movies, you can't miss any of the film tours in Edinburgh. They are good options because the spring weather, mild and friendly, is a good ally for the walks proposed by these tours, especially in the outdoor sites where these incredible fictions were filmed.
This type of tours are characterized by offering a first-person visit to the locations of several popular series and movies.
You can choose from several options, for example:
Harry Potter tours, which include amazing indoor and outdoor rides, with options to even ride the Hogwarts Express. On these tours, you will learn about the places that inspired J.K Rowling. It's mind-blowing.
Outlanders location tours, for fans of the Netflix series. It includes castles, palaces and mansions.
The Da Vinci Code tours, for fans of the movie or Dan Brown's books, among abbeys and chapels.
In the tours that include Anwic Castle you will be able to know another filming site of Harry Potter and Downton Abbey. There are exhibitions of both fictions available to fans.
8. Galashiels Walking Festival
The Galashiels Walking Festival is an April walking festival in Galashiels, about an hour from the city of Edinburgh.
It's a lovely option to get around a bit and get to know other landscapes, meeting people who, like you, are looking to walk in a group through the lands of Scotland. Details for each year are usually announced in January. The landscapes you will pass through with your group will dazzle you, without a doubt.
9. Edinburgh Hop On Hop Off Tour
This Edinburgh sightseeing bus will be an ideal choice when you travel to Edinburgh in April. It is a double-decker bus, from which you will be able to access incredible views.
The best thing about this bus is that it allows you to get on and off as many times as you want. Therefore, it is an ideal option to take advantage of some of the most beautiful and spring-like days of your days in Edinburgh in April.
There are 14 stops and the whole route takes about half an hour. It departs every 20 minutes from each of these stops, and tickets are valid for 24 hours from the first time you get on. It is ideal if you are still not sure where you want to go: let yourself be guided.
10. Day Trip to St Andrews
If you want, you can use one of your April days in Edinburgh to travel to St. Andrews, a coastal town bordering Edinburgh to the northwest. The two cities are about an hour and twenty minutes apart.
Being a coastal city, it is an option that I recommend for when you travel to Edinburgh in April, or in summer, but not in the other seasons, as you will lose part of its attraction by having to shelter from the low temperatures.
And they are really low.
If you like this option, here you can see how to get from Edinburgh to Saint Andrews and get all the doubts out of your mind.
Temperatures in Edinburgh in April
It's spring in Edinburgh in April. But it's just beginning, so you start to see the first sunny pictures, the first warm weather and quite a bit of blooming in Edinburgh's squares and parks.
There are usually about 8 rainy days in the month, so you'll probably get some. Temperatures in Edinburgh in April range between 4° and 8°.
What to pack to visit Edinburgh in April
Because of the climates I have already told you about, ideally, if you are traveling to Edinburgh in April, you should bring a mix of elements so that you are not taken by surprise by any temperature.
My recommendation is that, whatever you bring, you should bring a change of fresh clothes, a coat, a windbreaker or raincoat, and some comfortable shoes, both for the cold and for the heat.
If you are traveling with your family, you can also take some games to save the day if an insistent rain does not allow them to go for a walk.
Alternative plans to get out of the rain in Edinburgh in April
Within the above plans, there are several you can choose from if it rains and you need to protect yourself from the rain when you travel to Edinburgh in April.
In case you haven't found them enough, here are some others:
Visit the inside of Edinburgh Castle: here you can access all the information you need about visiting Edinburgh Castle.
Take the Edinburgh Ghost and Horror Tour: Old Town, cemetery and subway vaults. It costs 20 euros, lasts 1 hour and 15 minutes and is ideal, as long as you don't get too terrified.
Dinner at the Hard Rock Café in Edinburgh: Includes a two- or three-course dinner with refreshments.