10 Things to Do in Edinburgh in February
Edinburgh is the second most visited city in the United Kingdom, and no wonder. If you have decided to visit it during the month of February, I am going to give you a list of all the things you can do in the Scottish capital.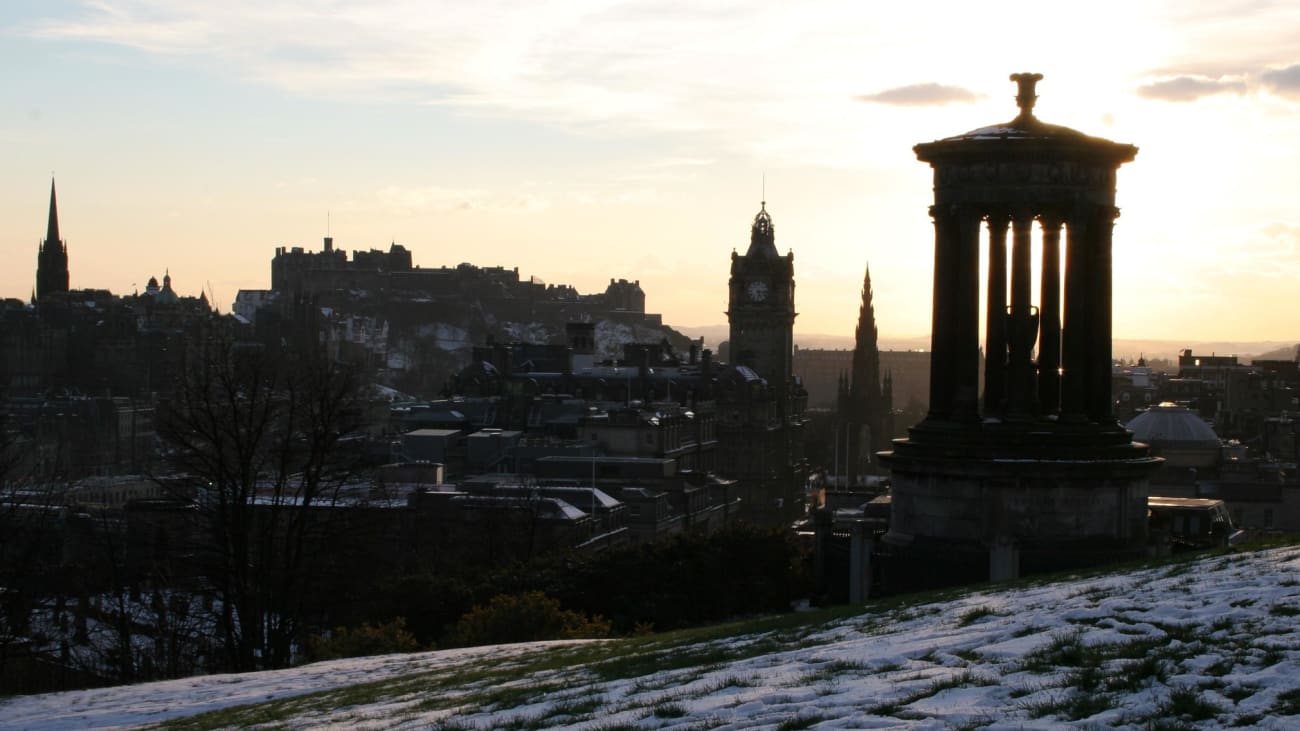 With its famous castle and cobbled lanes, Edinburgh has plenty to see and do. Scotland's capital city is one of the most visited in the whole island and both the city and its surroundings have landscapes that will take your breath away.
If you decide to travel out of season and come on vacation during the month of February, you should know that there are many activities you can do to get to know Edinburgh better. The cold of this month does not slow down the pace; festivals, tournaments, Chinese New Year and beautiful snowy landscapes are some of the things that await you, shall we start?
1. Take advantage of the darkness to go on a ghost tour
Edinburgh is undoubtedly one of the cities that condenses more legends and mysterious stories of the entire continent. It has come to be known as the haunted city because of all the stories about ghosts and witches that are told about its streets. If you like all this atmosphere and you come in February, you will be in luck.
During the winter months it tends to get dark much earlier, becoming completely dark at six in the evening. The whole atmosphere is conducive to be able to make one of the tours about ghosts and mysteries in Edinburgh. You will know the most macabre stories taking advantage of a cold, dark and cloudy weather and atmosphere.
Undoubtedly the best weather to get inside all those stories that will give you goose bumps.
2. Try a whisky tasting to warm you up
I'm not going to kid you. In February in Edinburgh it can get very cold. However, the locals have a product with which you can quickly warm up: whiskey. Originally from Scotland, this liquor has been its standard for generations and, if you come to visit the capital in February, you should know that one of the best plans is to do a whisky tasting.
With the cold weather, tasting different samples of these liquors will make you warm up quickly, but it will also allow you to get to know better a little bit of the culture of this beautiful and bucolic country.
Either with a whisky tasting tour or by going into one of its emblematic pubs yourself, it is undoubtedly an experience with which you will be able to have fun and, at the same time, take shelter from the cold.
3. Take shelter from the cold in a tour bus
Edinburgh is a city that, just walking through its streets and seeing its spectacular architecture, already captivates and impresses. It is clear that, if you come with several days and well sheltered, you should be able to enter all the tourist attractions of Edinburgh.
However, if you feel that in February the cold is too cold to spend all day walking outdoors, one of the best plans is to take a tour bus tour.
This type of transportation easily adapts to the weather. While in summer the roof becomes convertible to deal with the heat, in months like February, when temperatures hover around 7º or 8º degrees, the bus is covered and becomes a shelter with large windows from where you can tour the main tourist attractions and stop to take pictures.
In addition, these sightseeing tours in Edinburgh usually last a couple of hours and make several stops, so you can get a general idea without having to get cold.
4. Attend the Edinburgh Mountain Film Festival
Are you passionate about nature and mountains? If you're coming to Edinburgh in February, it's probably too cold to do any hiking in the stunning countryside. However, there is one option that embraces art and the great outdoors and will keep you under cover for a few hours: the Edinburgh Mountain Film Festival.
Every year, during the first days of February, this festival is held to reward and showcase all the documentary films whose theme is the mountain, nature and outdoor activities. Sometimes you can find fictionalized films and, at other times, real documentaries of overcoming and effort.
The film screenings are in English, but if you don't master the language, don't worry! The most impressive thing is what you see on the screen.
It's definitely an ideal plan if you want to get a closer look at Scotland's beautiful natural environment from the comfort of an armchair. You only have to check the dates of each year and buy tickets for approximately 15€ for the day you want to attend. It is usually held every year at the George Square Lecture Theatre.
5. Celebrate a romantic Valentine's Day
You can not forget that February is the month of love and as in many parts of the world, in Edinburgh it is celebrated in style. If you have come to spend a few days of February with your partner in this beautiful city, you should take the opportunity to make some of the most romantic plans.
In addition to buying flowers and giving the so-called "greeting cards", Edinburgh has several panoramas that you can do to make your partner fall in love.
Watch the sunset at one of its viewpoints
Edinburgh has some of the most striking architecture in the country. Many people travel here just to be able to stroll through its streets and feel in another era. What could be more romantic than climbing to the heights and see it all from above? The city has two beautiful viewpoints, Calton Hill and Arthur's Seat, which you can easily access and from where you will have an unforgettable date.
Take an intimate stroll
The landscapes and surroundings of Edinburgh are those that have inspired many authors to write their fantastic and romantic works. The green and lush nature of these lands is ideal if you want to have a special date with your partner.
Therefore, one of the best things to do during Valentine's Day is to leave the bustle of the city and take an intimate walk in the outskirts of the city through areas such as the beautiful park of Dr Neil's Garden in Duddingston or the route of Water of Leith.
Celebrate a romantic dinner
There is nothing more romantic than dinner in a good restaurant. Edinburgh has several stalls for the occasion and, in addition, during February 14 you can find special menus for couples so that the night ends up being round.
One of the best restaurants in the city is The Witchery by The Castle, which has a spectacular decor and has a great gastronomic offer.
6. Take advantage of the low season to see the museums
If you come to Edinburgh in February, you will notice right away that it is not a date when many tourists want to take a vacation. This, far from being something that will put you off, is one of its great strengths. You can beat the cold by wearing good warm clothes and, with this issue solved, you can enjoy a city practically for you.
During the winter season, many museums and emblematic places are practically empty and you will be able to enjoy them without queues of people.
It is a real luxury to visit Edinburgh Castle without the crowds and in a season that makes it look even spookier.
In addition, many of the museums in the center are free, such as the National Museum, so you have no excuse to give you a good marathon of culture and history.
7. Experience the Scottish Snowdrop Festival, the early herald of spring
February is one of the most awaited moments in nature for all Scots. During this month, the first stems of snowdrops begin to sprout, beautiful and delicate white flowers that announce the coming of spring, being the first to grow of the season.
If you come to Edinburgh in February, you can't miss this natural spectacle by taking a walk through the Botanic Gardens. Throughout the month and part of March, when there are more bluebells, there are scheduled walks of about 3 hours throughout the garden, explaining what are the characteristics of this flower and being able to see the large plantations up close.
In addition, thanks to a specialized guide, you will be able to discover the different species and the strategic points of the place where you can find them. If you want to sign up to see this kind of show, you can do it any morning for an approximate cost of 10 €.
8. Take an excursion to see the winter scenery
If there is one thing Scotland has, it is an unbeatable natural environment. Its vast green moors and valleys have been used as movie sets for decades. In addition, from Edinburgh, you are within walking distance of being able to know them, having to spend the same day to go and return.
Excursions to the Highlands or Loch Ness, for example, can be done all year round, but I can assure you that in February you will be left with your mouth open. Discovering the snowy landscapes with your own eyes will make you feel like you're on another planet. Some of the destinations are completely covered by a blanket of snow that will transport you to a Game of Thrones set or the locations of Outlanders.
There are numerous tours that take you through these spectacular landscapes in one day. In addition, they have a local guide and a vehicle with which they can cross the icy surfaces, getting you to the best locations so you can fall in love with the charm of these lands.
9. Treat yourself to comfort food
Scottish gastronomy boasts of being one of the most abundant and comforting of the whole archipelago. In spite of having several coincidences with the English food, the certain thing is that in Scotland they do not like to remain hungry and it shows in its typical plates. Most of the star recipes have to do with game meat, marinated fish and all kinds of stews that make you warm up.
I can't think of a better plan during one of the cold days of your visit to Edinburgh in February, than to go into one of the typical taverns and try some of the most characteristic dishes of its gastronomy.
There is something for all tastes and flavors but some of the ones that can comfort you the most during your visit in February are:
Haggis: a traditional dish based on entrails and game meat.
Scotch broth: a lamb soup with seasonal vegetables.
Partan bree: a tasty seafood stew.
Cullen Skink: a potent smoked fish stew with onion and potato.
Haddock: a hake-based dish.
10. Celebrate Chinese New Year
On January 1st Edinburgh celebrates like all the countries of the continent the arrival of the new year with a spectacular party. However, in February there is another celebration that you will be able to witness if you come during this month: the Chinese New Year celebration.
The whole city dresses up from the end of January until the end of February to welcome the new oriental year, organizing numerous activities, parades, exhibitions and events.
Undoubtedly, one of the most important takes place in the square of Edinburgh Castle, which dresses in red to witness one of the biggest parades of the festival with dragons, original costumes and lots of music. You can also listen to the Edinburgh Symphony Orchestra play live in the company of oriental artists.
You'll just have to keep an eye out to find out what day Chinese New Year falls on the next time you're in Edinburgh in February to enjoy this display of magic and tradition.
Edinburgh weather in February
As you can imagine, due to its location, Edinburgh is a city where winter hits hard. While if you travel in summer you can find temperatures of up to 20 degrees, in winter it is usually between 2 and 5 degrees all day. This is one of the reasons why many people decide not to travel during this month to visit the city.
However, every cloud has a silver lining and, with good warm clothes and waterproof footwear for possible rain, you can enjoy a beautiful winter atmosphere and a city much less crowded than the "hot" months.