London Pass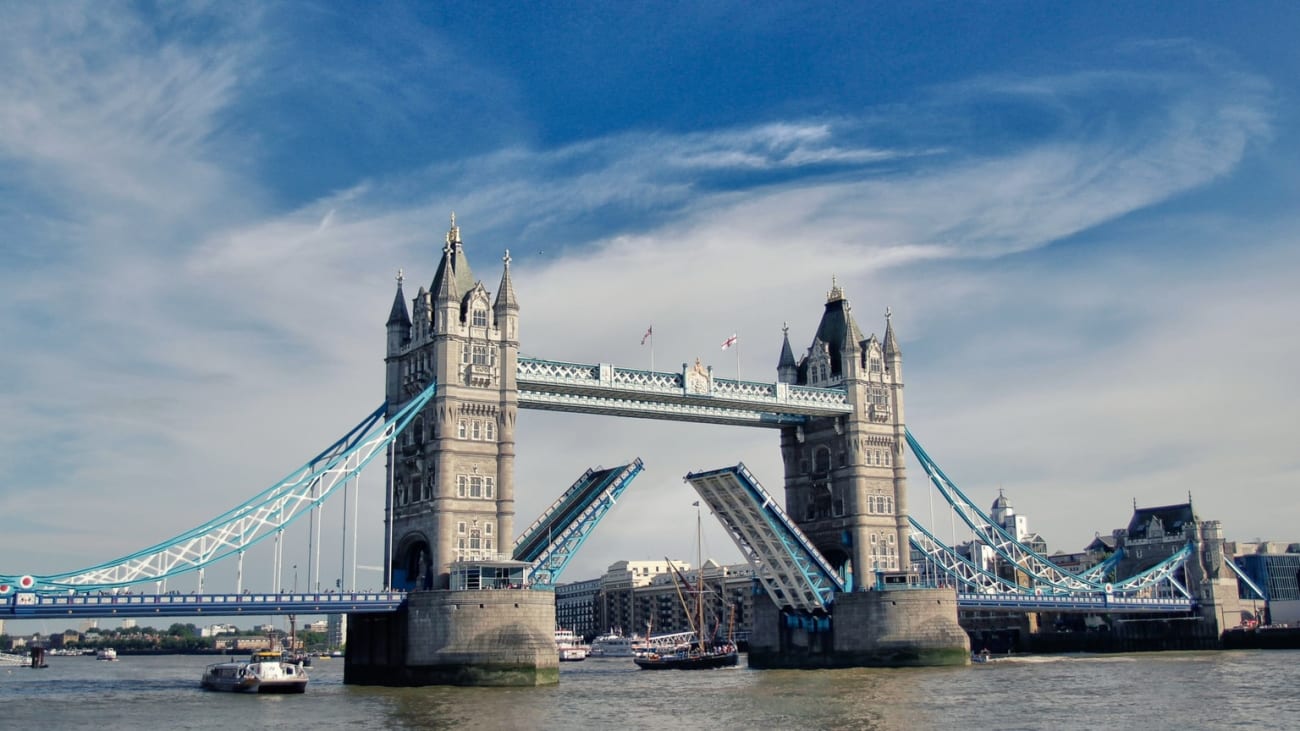 London is a high-priced city, with 35 million tourists a year and a lot to see and do. Tourist passes save you time by avoiding queues and money by not having to pay for each ticket separately.
1. How many London tourist passes are there?
With so many attractions and sightseeing itineraries available, London has a number of different sightseeing cards and choosing which one is the most suitable for your trip can be complex. I tell you their pros and cons, what they include and how they work:
2. London Pass, From
$ 77
:
The price of the London Pass is based on the number of days of use. The maximum duration is 10 days, but if your trip is shorter you can customize it and pay for a smaller number of days (1, 2, 3, 4, 5 or 6 days).
Pay per day** (from 1 to 10) and access to more than 80 tourist attractions.
Includes access to the sightseeing bus and Thames cruises.
Recommended for those who want to visit as much as possible.
You're going to live London. For real. You have up to ten days ahead of you and you are a tireless tourist, one of those who ends up exhausted every day, and who is interested in knowing the most historical and cultural part of a place with an immense range of options to not lose detail of everything that a destination can offer.
Everything you can visit in London in terms of cultural tourism is included in the London Pass:, with access to more than 80 attractions and a day tour bus with nine routes and more than 110 stops (which we recommend you use towards the end of your trip, when fatigue will surely start to set in).
Why do I like this card?
With this card you save, a lot: time, because it puts you at the fast track entrance to the most popular attractions in the capital and money, because you are not paying for each ticket individually. Plus, it gives you access to special offers at a lot of restaurants, stores, theaters and other entertainment venues.
To give you an idea, with a 6-day London Pass for adults, for example, priced at 171 pounds, you can visit a number of attractions that if you paid separately would amount to a total of 625 pounds approximately. It pays off, doesn't it?
What is included in the London Pass?
As we have already mentioned, the London Pass gives you access to the tourist bus and the cruise on the Thames, but also to many of the most popular attractions in the capital. Here is a list of the most relevant ones for me.
Tourist bus
Thames River Cruise
Tower of London
National Gallery
The View from The Shard
Westminster Abbey
Houses of Parliament
Churchill War Rooms
National Maritime Museum
Tower Bridge
St. Paul's Cathedral
Hampton Court Palace
Kensington Palace
The London Bridge Experience
Shakespeare's Globe Theatre
The Cartoon Museum
London Zoo (in Regent's Park)
Tours of movies such as Harry Potter, James Bond, Sherlock Homes or Bridget Jones.
What is not included in the London Pass?
London Eye
Madame Tussauds
London Dungeon
Shrek Adventure
Food and beverages, unless otherwise specified
Gratuities
Transfers to attractions
Vicky's Traveller Tip
Activate your London Pass first thing in the morning for a full day of enjoyment
3. London Explorer Pass, From
$ 49
:
Spending four days in London and want to hit the must-see? The London Explorer Pass is the fastest and most practical way to get to know the must-see London, because it gives you a choice of the best attractions in the city. Unlike the London Pass, which is organized by days, this pass chooses by number of attractions to visit.
Pay only for the number of attractions you want to visit (up to 7)
Includes access to the tour bus and Thames cruises.
Ideal for those who want to visit the essentials at the best price.
With the London Pass Explorer you will have access to places that you must visit and others that, although they are not understood as a "must see", can give a different touch to your trip, especially if you go with children.
You can choose between 3, 4, 5 or 7 attractions from their list of the 31 attractions they offer in total. This can save you up to 35% on the standard ticket price, always without long lines and with a useful digital guide.
What is included in the London Explorer Pass?
London Big Bus sightseeing bus
Thames River Cruise
London Eye
Madame Tussauds London
Westminster Abbey
Tower Bridge
Banqueting House
St. Paul's Cathedral
The London Dungeon
SEA LIFE London Aquarium
Big Bus Tours
Kensington Palace
Thames River
City Cruises Westminster Pier
City Cruises Tower Pier
City Cruises Greenwich Pier
Churchill War Rooms
Emirates Stadium Tour and Museum
Shakespeare's Globe Theatre
Hampton Court Palace
HMS Belfast
Royal Albert Hall
Wembley Stadium
Royal Botanic Gardens
Royal Observatory Greenwich
Planet Hollywood
Chelsea FC Stadium Tour & Museum
Cutty Sark
Bridget Jones and Harry Potter movie tours
Shrek's Adventure
London Dungeon
Florence Nightingale Museum
Museum of Brands
The Kia Oval
What is not included in the London Explorer Pass?
Food and beverages, unless specified.
Gratuities
Transfers to attractions
Royal Palaces Pass: Kensington Palace, Hampton Court and Tower of London, From $ 0
If you are only spending a few days in the English capital or it is the history of the Crown that attracts your attention, this Royal Palaces Pass: is a great option for you.
Recommended for short trips and for lovers of Royal Houses.
You have virtually unlimited time (the pass lasts two years) to visit the three most spectacular palaces in London.
Britain's history is deeply rooted in its monarchical tradition and London is proof of this. The capital has dozens of incredible palaces to visit and just walking around the city and finding hundreds of souvenir stores with images of royalty is an example of its importance in society.
With the Royal Palaces Pass: you can immerse yourself in the stories and intrigues of some of the buildings that witnessed the daily life, the black chronicle and the art collections of some of the most powerful families in the country. Feel like a king or queen for a day.
What does the Royal Palaces Pass include?
London Tower: I recommend you start this palatial day exploring one of the most famous fortresses in the world, the Tower of London. Located in the financial and historical center of the city, its famous 'City', this Tower was a symbol of horror for nearly ten centuries, serving as a prison in subhuman conditions to those accused of treason against the king.

Kensington Palace: towards South Kensington, one of the most elegant and expensive areas of the city, we find the majestic 'Kensington Palace'. This palace attracts much attention because, in addition to its beautiful gardens and halls of the eighteenth century, has been and is a royal residence since the seventeenth century. Currently, the Duke and Duchess of Cambridge (William and Kate) live there.

Hampton Court Palace**: we ended our journey relaxing in the outskirts of London and getting lost in the incredible hedge maze of the 'Hampton Court Palace'. With the air of a fortress, this building is the maximum exponent of Tudor art in England and, although it is in the outskirts of London, it is very easy to reach it on a direct train that leaves every half hour from London Waterloo and whose journey takes 40 minutes.
What is not included in the passage of the Royal Palaces?
Gratuities
Food and beverages, unless otherwise specified
Transfers to attractions
Magic London Pass, From $ 0
London is not only history, architecture and museums. As a great city it also offers countless experiences for all ages to enjoy in a different way, especially if you are traveling with children. If you are traveling to the British capital for a maximum of 4 days and want to experience London as a family, the Magic Pass is for you.
Recommended for family trips.
Inclye access to 5 of London's top attractions, including the London Eye.
Visits to museums, monuments, churches... are exhausting and we know that they are not the best place for the little ones to spend their vacations. For them there is a different London, a very fun one, with 5 dream places to discover. Buying it will save you a lot, considering the high price of these attractions, especially to pay for each member of a family, and even more important if possible, you will save time in endless queues.
What is included in the Magical London Pass?
Madame Tussauds London
The London Eye
The London Dungeon
SEA LIFE London
Shrek's Adventure London
What is not included in the Magical London Pass?
Transfer to attractions
Souvenir photos (to be purchased at each of the attractions)
Is it worth buying a tourist pass in London?
That is a personal answer that will depend, as you have seen, on the type of traveler you are, your budget and your time in the city. But I can give you a very simple tip. Make a list of the attractions you are most interested in visiting and organize them according to the days you have ahead of you and how much they cost separately. That way you will know if it is profitable to take a pass and which of them is the one that includes all of them.
Remember that with the tourist passes you can either have a much cheaper access to more than 80 attractions if you want to get the most out of London, or choose and pay only for a limited number of places because you have fewer travel days and there are some must-see places you can't miss.
Vicky's Traveller Tip
Make a list of the attractions you want to see and how much it would cost to buy their tickets separately to compare their prices with the passes.
How do they work?
The use of each Pass is very simple. When you buy it online, you choose among the available modalities, and when you receive it, you can download it on your mobile and scan it at the entrance of each attraction.
You can purchase it at any time: one month or one day before your trip, because your card will only be activated once you use it on your first visit. In addition, you will receive a complete digital guide in your language, with information about each place you explore, maps and super useful information.
8. Other tips to save money in London
It has always been said that London is an expensive city. And, although the pound has been losing value in recent years, the prices of restaurants, hotels or attractions are quite high compared to other cities. But organizing your trip with time and knowing some tricks, the budget does not have to be a problem.
Use the tourist bus
Whether or not you decide to get a tourist card, the option of taking the tourist bus will save you time and money on transportation, as it takes you directly from one attraction to another without having to pay metro or city bus for each ride. You can read more about how it works in my article on Hop on Hop off Bus Tours:.
Take a cruise on the Thames
The same goes for the Thames cruise: you have several options, from the cheapest to the most premium. The best of all? On the non-stop cruise you can hop on and off as many times as you want to move around the city at your leisure. Read more here: :Thames River Cruises:.
To visit the surroundings, better in a closed tour
If at some point you consider leaving the big city to visit the English countryside, the most charming villages of the island or the well-known universities of Oxford or Cambridge, the pocket will not be a problem if you do it with an organized excursion with a fixed price. The best excursions are listed in this guide: :Best Day Trips from London:.