Thames River Cruises
Cruising the waters of the Thames and enjoying the views of the city while taking a relaxing boat ride will be the highlight of your trip!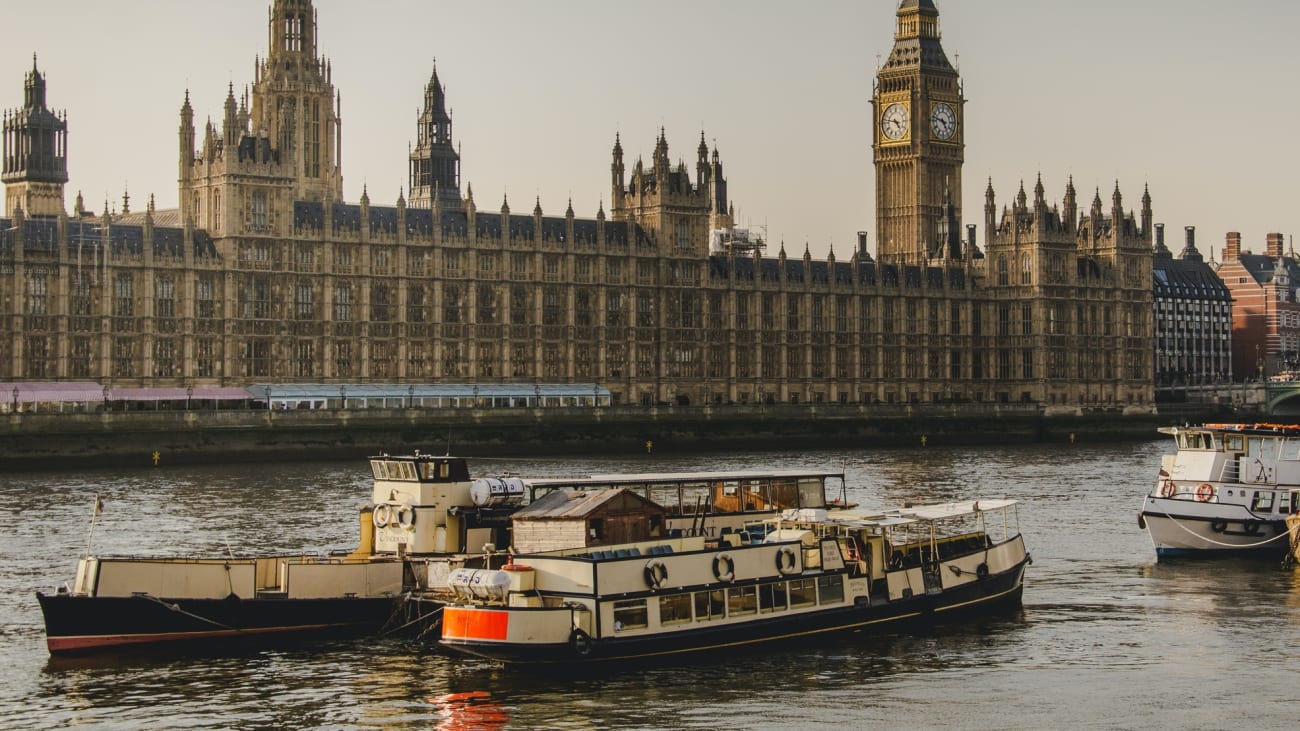 From the water, you will see a different side of London while learning about its history. Cruises on the Thames can be closed tours or operate as a tourist "bus" on the most important river in England.
There are many tours organized on the waters of the Thames River, from the most economical to the most exclusive, with on-board services such as dinners and live shows. These are the most popular ones:
The cheapest
With departures every 30 to 40 minutes, the Thames cruise from Westminster to Greenwich is a one-hour closed boat tour, with a very economical price (it is the cheapest of the three I recommend here) and very practical to know the skyline of London and up to 13 of its major attractions settled on the banks of the river.
Departing from Westminster Pier you can relax on the deck or inside the boat to admire and photograph points of interest of the city such as the Houses of Parliament, St. Paul's Cathedral, Tower Bridge, and the Tower of London, among others, while a guide will give you information about everything you see.
Once you arrive at Greenwich, the endpoint of the cruise, you can disembark and visit, on your own, several of the attractions in the area, such as the Cutty Sark exhibition ship, Greenwich Park, the National Maritime Museum, or the Royal Observatory of Greenwich. In addition, if you wish, you can return to the starting point, Westminster, on board the same cruise ship.
Why I like this option: This is a great way to enjoy the experience at a reduced price and without having to spend too much time either. You'll be able to see London's main attractions from the river while you rest.
Recommended if... you don't have a lot of time or don't want to invest a lot of money in this experience but want to enjoy the highlights of the city as seen from the river.
---
The most flexible
Another way, the most flexible, to take advantage of a cruise on the Thames River, is to use it as if it were a tourist bus. Just as the previous cruise was a closed tour, in this one-day cruise on the River Thames with free stops you buy your ticket to be able to use it in a flexible way for a full day.
That is, you can board at the various docks available in central London and go up and down as many times as you want in any of its 12 stops around points of interest such as the 'Tower of London', the 'Greenwich' district, the 'Old Royal Naval College' or the large business complex 'Canary Wharf'.
Likewise, you can also choose to stay aboard its deck or its glazed interior lounge during the hour-long crossing and quietly enjoy the city's skyline while a guide gives explanations of the areas that you will see.
This option includes a 1-day pass with free stops at up to 12 points of interest and with a total duration of 1 hour. During the tour, there are audio commentaries on board, which will contextualize everything you see.
Why I like this option: first of all, because you can stay on board the boat for as long as you want, getting on and off at different places to see different areas and because it is certainly more enjoyable than traveling.
Recommended if... you want to take advantage of the cruise to move between different areas of the city and also enjoy a relaxing ride on board.
---
The most exclusive option
Thames Dinner Cruise: London Showboat
Enjoy dinner on board with the best views of the city
If you want to make the most of your experience on the Thames, this dinner on board the ship will make you feel like you are in a period movie while enjoying the illuminated city.
Duration: 3 hours
From $ 105 at Hellotickets
This is the most premium cruise of the three and logically, also the highest priced. This dinner cruise on the River Thames is ideal if you want to treat yourself to a romantic evening with your partner or a moment of relaxation while admiring London and its illuminated monuments at dusk. You will enjoy a dinner with live music show on board a luxurious boat.
You will board the River Room, an elegant Scandinavian cruise ship equipped with a dining room and a spacious outdoor terrace, or the newly refurbished Glass Room, with some of the best panoramic views of London and attractions such as Tower Bridge, St. Paul's Cathedral and Big Ben, out of a total of 7 iconic landmarks that you will be able to see. In addition, you can upgrade your cruise by choosing the Premier Dinner option, which includes half a bottle of wine.
Please note that this is not the most recommended cruise for families because, although you can travel with small children, their entry is not allowed for children under 12 years old. Good weather and a minimum number of passengers are mandatory for this cruise, with a maximum of 15 passengers per activity. If the cruise is canceled due to bad weather conditions or not reaching the minimum number of tourists, you will be offered another date to enjoy it or a full refund of the amount paid.
It is recommended to dress casually but elegant for this cruise. Vegetarian and other adapted diets are also available but must be booked at least 48 hours in advance.
Why I like this option: enjoying dinner aboard a luxurious boat while sailing the waters of the Thames watching the city illuminated will undoubtedly be one of the most memorable points of your trip to the capital of England.
Recommended if... you feel like enjoying a totally different and unique romantic evening.
---
Comparing the three options
How to get to the Thames river cruise embarkation areas
Most Thames river cruises depart from central London piers and have public transport nearby and in the case of the flexible cruise, you can access, in addition, from any of its stops at the above attractions.
Embankment Pier
Embankment Underground
Charing Cross train or subway
Westminster Pier
Westminster Underground
Tower Pier
Tower Hill Underground
Tower Gateway DLR light rail
Fenchurch Street train station
Bus lines 15, 15H, N15 and RV1
Greenwich Pier
Cutty Sark Light Railway (DLR)
Greenwich Rail
Bus lines 188, 199 and N1
London Eye Pier
Waterloo and London Waterloo Underground
RV1 bus route
Vicky's Traveller Tip

Try to take the cruise on a day with nice weather. If this is not possible, wear warm clothes so you can enjoy the views outside the ship.
Why it's worth taking a Thames river cruise
For me, one of the great advantages of taking one of the various cruises on the River Thames is that you can get some rest for your exhausted legs after a city with so much to see and do.
In addition, they keep you away from traffic jams and crowded public transport, making up for an experience with a unique vibe.
These cruises are ideal to get a global idea of the city or to see its monuments from another perspective. I recommend them especially if you are traveling with children as it is a fun and comfortable way to get an overall idea of what London is like and visit some of its main points of interest.
In addition, it links two of the main tourist axes of the city: the area of Westminster Abbey, where you'll find the famous Big Ben and London Eye with the areas of the City and St. Paul's Cathedral, and the Tower of London.
Other interesting attractions in London
If you have already decided to take the cruise, my advice is to take the opportunity to see the whole area of Westminster Abbey, from where you can embark to start the boat tour. Right there you will find the London Eye (this is the article I wrote about London Eye Tickets), a few meters away Westminster Abbey (here all the information about Westminster Abbey Tickets) and the Houses of Parliament and Big Ben.
If you are interested in walking around the city and enjoy it understanding what you see, you can take a look at my article about London Tours, which can help you to choose a good guided tour around the city where you can also learn the best-kept secrets of the big city.
Frequently asked questions
How long do Thames River Cruises usually take?

Generally they take about 2 hours, since most of them are return cruises. Dinner cruises and other experiences might take a bit longer, so some good advice is to plan your evening accordingly.

Do Dinner Cruises have vegetarian and gluten free meals?

Yes, but you will have to notify your desired cruise provider for a specific meal at least 24h in advance. Also, it is not guaranteed that products are suitable for all allergies and are free from nuts.

What London landmarks will I see from a Thames River cruise?

You will get the chance to catch a sight of Big Ben, Westminster Abbey, London Eye, the Tower of London and Tower Bridge, along with some other minor landmarks.