10 places to eat near the London Eye
If you've been to visit the London Eye and it's too late for lunch or dinner, you may not feel like looking for the best options. To help you, I have selected some of the best restaurants so you know in advance where to go.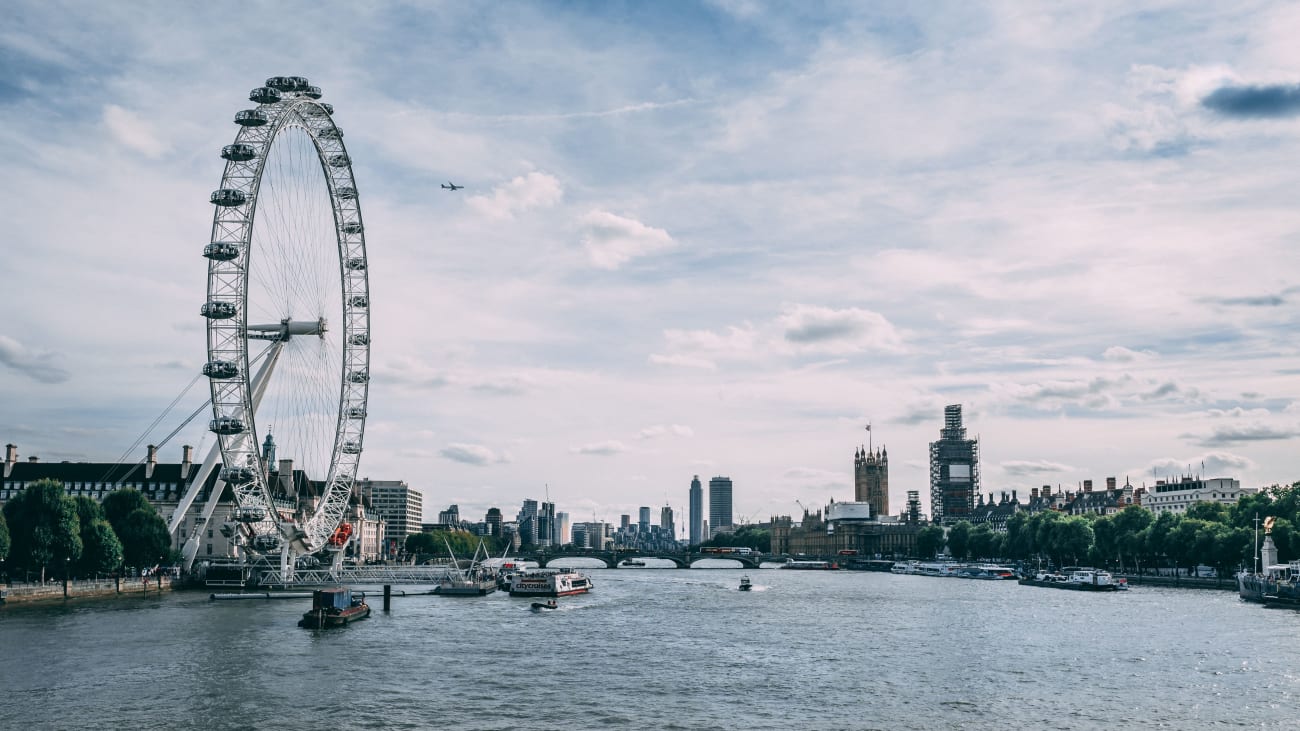 Climbing the impressive London Eye is one of the must-visits when you are in London. Its location is also perfect to take advantage of that day to tour the area, full of attractions and good places to eat.
Although the English gastronomy does not have a good reputation, the truth is that London has a large number of good restaurants offering food from all over the world. The area around the London Eye is no exception, quite the contrary: the wide range of places to eat makes it difficult to decide on one if you do not have prior information. In this article I recommend the best options adapted to all budgets and tastes.
1. The best traditional pub food in St Stephen's Tavern
If you already have tickets to the London Eye and have decided to eat in the area, a good idea might be to combine the modernity of the big wheel with traditional British pub food. For this, there is no better place than St. Stephen's Tavern, which opened its doors as far back as 1875.
This pub is not only going to offer you good food at pretty good prices, especially considering its location in front of Big Ben, but also a good piece of history. This pub, being in the heart of Westminster, not far from Westminster Abbey, has been frequented by a large number of British politicians, including prime ministers such as Churchill and Macmillan. In fact, the pub retains a bell that warned MPs that voting was about to start in a few minutes so that they could arrive.
As for the food, the pub menu is not too extensive and you can only choose from a dozen first courses, plus several snacks. Although the pub offers vegetarian options, its main dishes are the typical fish & chips and a delicious meat pie (on the menu called Steak & Tangle Foot Pie).
Details of interest
Where: 10 Bridge Street, Westminster
Average price per person: 8 € - 21 €.
Dining hours: 12 noon to 9:00pm
Recommended dish: The meat pie is really worth the money.
Why I like this place: The atmosphere, the history of the place and the traditional pub food on offer.
Recommended if... you want to feel like a British Prime Minister eating some fish&chips and tasting a good pint.
2. The best romantic dinner on the Thames on London Showboat
Undoubtedly, there is no better combination than the London Eye and a cruise on the Thames with a delicious dinner included. Precisely the latter is what the London Showboat & Dinner offers, a great experience for those who want to enjoy the incredible night views of many of the most famous attractions of the British capital.
It can be said that these views are an important part of the menu offered by the London Showboat, as well as the entertainment on board offered by musicians and singers.
The dinner does not detract at all from the rest of the experience. Thus, it consists of a four-course menu with half a bottle of red or white wine included. Among the most recommended recipes is the Scottish smoked salmon mousse with mustard and gherkin sauce.
Interesting details
Where: exit Westminster Pier Victoria Embankment
Average price per person: £76 - £93
Meal times: 19:00 - 19:30 depending on the season
Recommended dish: the menu is changing, but if there is lamb you should try it
Why I like this place: the opportunity to spend an evening on a boat cruising the Thames and enjoying a great meal is not something that happens every day and you have to take advantage of it.
Recommended if... you want to enjoy a quiet and romantic stroll along the river after a day of sightseeing in London.
3. A great pizza at La Cucina Di Mamma
If you have already enjoyed the views from the London Eye and are looking for a safe bet for lunch, this Italian restaurant is one of the best options, especially if you go with children. The restaurant is located just 1 minute away from the huge Ferris wheel and very close to Waterloo station.
One of its strong points, besides the food, is the great service provided by its friendly staff. If you are in London in summer, I recommend you to ask for a table on the terrace. Another very favorable element is its good treatment of the little ones, which makes the restaurant one of the best places to eat with the family.
The menu, although not very extensive, is full of good quality dishes at a very competitive price for the British capital. The Pizza Piccante and the four cheeses stand out, but if it is a bit cold you can start by trying their delicious minestrone soup.
Interesting details
Where: 3K Belvedere Rd Lambeth
Average price per person: 9 € - 20 €.
Meal times: from 12:00 to 22:30
Recommended dish: Dessert lovers should try the three chocolates tart.
Why I like this place: for the friendliness of the staff and the character they give to their Italian recipes.
Recommended if... you are looking for good quality food at a good price and you are fond of Italian food, especially pizzas.
4. Breakfast at Pret a Manger
Although I'm not a big fan of fast food chains, the truth is that Pret a Manger is a great option if the schedule chosen to visit the London Eye forces you to have some breakfast before entering.
Pret a Manger specializes in organic food and the preparation of sandwiches and snacks of all kinds. If you want, you can also have lunch or dinner there, but it is best to go early to enjoy breakfast before starting a long day in London.
Everything they prepare can be eaten on the premises or ordered to take away. They have a large menu of coffees of all kinds that you can accompany with their delicious croissants, baguettes with various fillings or sandwiches called Breakfast rolls. Another of their best known (and British) dishes is the porridge they serve at breakfast time.
Of course, they also have in their menu the traditional English Milky Tea, as well as a great hot chocolate that feels great on any London winter day. In short, although it may not be part of any gastronomic tour of London, this place is a great option to recharge your batteries.
Interesting details
Where: Unit 4, Royal Festival Hall
Average price per person: about €7 on average
Dining hours: from 8:00 am to 8:00 pm
Recommended dish: try the special breakfast porridge
Why I like this place: for its organic ingredients and the speed and friendliness when serving you.
Recommended if... you want to have a quick but tasty breakfast to give you the strength you need to face an exhausting day of sightseeing.
5. The best atmosphere near the London Eye at All Bar One Waterloo
Although you can go for lunch at noon, if you want to enjoy the essence of this pub it is best to dine there. This, in addition, will also allow you to go up or, at least, contemplate the London Eye at night, a spectacle that I assure you that you will not forget.
The All Bar One Waterloo has an extensive menu ranging from morning coffee to evening drinks, through a series of dishes and what they call tapas, somewhat removed from the Spanish concept. It is also worth sharing a good bottle of wine, always checking the price beforehand.
This pub, which offers many options for vegetarians, has on its menu everything from great burgers to hummus, smoked avocado, quesadillas or, of course, fish & chips.
Interesting details
Where: 1-3 Chicheley Street
Average price per person: between 10 and 20 €.
Dining hours: from 9am to 11pm
Recommended dish: The 10oz Ribeye, perfect for those who enjoy meat.
Why I like this place: good value for money, the variety of the menu and the cozy decoration.
Recommended if... you want to dine well in a great ambiance
6. Taste the best burger at Honest Burgers Southbank
After spending the morning climbing the London Eye and visiting the Madame Tussauds Museum, for example, few can resist trying one of the best burgers in the city. Do not think that it is the typical one we can find in a fast food restaurant, as those served at Honest Burgers deserve to be considered within a high level cuisine.
The philosophy of Honest Burgers already hints at their commitment to quality. Since they opened their doors, they have been committed to local produce, from meat to vegetables. For them, it is all about offering the best possible ingredients for an optimal result.
This place, moreover, is not only recommended for meat lovers. Its vegan hamburger option is very well considered by customers and the portion of potatoes that accompanies it has a spicy and tasty flavor. All this, accompanied by a great service, a very close treatment and a more than interesting price for the area.
Interesting details
Where: 9 Festival Terrace
Average price per person: between 12 and 18 €.
Dining hours: from 11:30 am to 10:00 pm (weekends closed half an hour later)
Recommended dish: The South Bank Honest beef burger, a real explosion of flavors.
Why I like this place: the only possible answer is for their sensational burgers.
Recommended if... you like quality burgers with a touch of originality.
7. Because Japan is not just sushi: Okan South Bank
When we hear about Japanese food, most of us just name sushi or, at most, ramen. However, Japanese cuisine is much more varied, as the menu at Okan South Bank demonstrates.
This restaurant could easily become one of the places to visit after visiting some of the best museums in London and going up the London Eye. The philosophy of its founder is to bring a little bit of Osaka to the London capital and pay homage to his mother's cuisine (in fact, Okan means mother in Japanese).
The interior has been decorated like a small authentic Japanese restaurant and so has the ambiance of the place. The welcoming service and, of course, the taste of dishes such as gyozas, teppanyaki and, above all, the special okonomiyaki, which is also prepared close to the diner, also stand out.
Details of interest
Where: South Block 1 Belvedere Road
Average price per person: 12 € - 29 €.
Dining hours: opens at 12:00 and you can order food until 22:00
Recommended dish: The okonomiyaki special, which many call the Japanese pizza.
Why I like this place: because when you enter you feel like you have been transported to Osaka itself, besides the quality of the food.
Recommended if... you want to try Japanese food beyond the traditional sushi.
8. In a hurry? Nothing better than a hot dog at Oh My Dog! Hot Dogs Southbank
Whether it's because you're taking in the sights of London neighborhood by neighborhood or because you're in a hurry to get up the Tower of London, sometimes you have to settle for some fast food. Luckily, that doesn't mean that what you eat isn't quality, as is the case at Oh My Dog! Hot Dogs Southbank.
If you're on your way to the London Eye or are in the immediate vicinity, stopping at this stall will be a definite hit. Everything on the menu is delicious, especially their spectacular Hot Dogs. Vegetarians also have their options, as they serve smoked seitan sausages and vegan cheddar cheese.
Details of interest
Where: Riverside Level Southbank Centre, below Hungerford Bridge,
Average price per person: 8 € - 19 €.
Dining hours: between 11:00 a.m. and 11:00 p.m.
Recommended dish: The Baconator, a hot dog topped with crispy bacon and Frazzles.
Why I like this place: The quality of their handmade buns makes the difference with hot dogs from other places.
Recommended if... you want the rush to visit the most interesting places in the city to avoid finding quality fast food.
9. Gillray's Steakhouse & Bar: the authentic British experience
On the banks of the Thames and with truly spectacular views of the London Eye, this restaurant is a great option for dining in the area. At Gillray's you will feel totally immersed in the British atmosphere, both for its menu of dishes and for a decor that aims to recall the former grandeur of the nearby Parliament.
The dishes you will be able to eat are cooked withingredients from English farms, as the restaurant has set out to work only with local and quality products. The friendliness of the staff, always ready to recommend the best dishes, is another of its great plus points.
The menu is mostly carnivorous, although there are some options for vegetarians. For example, its Rib Eye with cheese sauce stands out, as well as its inevitable fish & chips.
The result is a place that allows visitors to spend a few moments of peace and quiet with views, in addition to the Ferris wheel and the river, to Big Ben. If you want to relax, it is not a bad idea to choose one of the hundred types of gin for a drink.
Details of interest
Where: County Hall Westminster Bridge Road
Average price per person: 12 € - 59 €.
Dining hours: between 07:00 in the morning (for breakfast) and 22:00
Recommended dish: The spectacular T - Bone steak at just the right point desired by each customer
Why I like this place: to be able to eat quality products, especially the meat, in a relaxed atmosphere and with the best views of London is priceless.
Recommended if... you want to spend a nice time while eating and crown the after-dinner drink with a good gin.
10. You can't leave London without trying the best fish&chip at Fishcotheque
I'm not going to say that this place can be compared to, for example, the restaurant at The Shard, but I can assure you that its fish&chip is among the best in London. This quality has made it one of the oldest restaurants specializing in this recipe and, in addition, it maintains an interesting retro atmosphere inside.
The fish is of very high quality and the chefs manage to fry it perfectly, without it being oily at all. The large portions are generous and do not present too much difference in price compared to the medium ones.
On the other hand, the restaurant does not only serve fish&chips, this very British dish. In its menu you will also find other specialties such as fish burger and salmon pie.
Details of interest
Where: 79A Waterloo Road
Average price per person: 8 € - 15 €.
Meal times: between 12:00 and 23:00
Recommended dish: Without a doubt, the fish&chip
Why I like this place: for its retro atmosphere and the quality of its fish. Particularly noteworthy is the frying technique that prevents the fish from becoming oily, something common in many places.
Recommended if... you don't want to complicate your meal and you are looking for the most traditional in the city.
How tipping works at restaurants near the London Eye
Although the custom of tipping was born in England, nowadays it is not obligatory to leave a tip. However, in restaurants it is common to do so if the service and the food have been to your liking. The most usual amount is 10% or 15% of the bill.
Lunch, dinner and opening times of restaurants near the London Eye
It is well known that in the United Kingdom (as in the rest of Europe) meal times are very different from those in Spain. London, as a big city, presents a greater flexibility in this aspect, but it will still be necessary to adapt to these customs. Generally speaking, the British eat at these hours:
Breakfast: starts around 7:30 in the morning.
Lunch: on weekdays this would be a small meal taken between 12:00 and 14:00. In restaurants this is the most common time for lunch and many restaurants close their kitchens until late afternoon/evening.
Dinner: the normal English dinner time is between 19:00 and 20:00.
As I have pointed out, London restaurants are much more flexible in their opening hours than those in smaller towns. So, it is quite easy to find places to dine later, at least until 23:00. However, I recommend you to check the night schedule to avoid any surprises.