Food and Pub Tours in London
Beer and fish and chips are part of London's deep-rooted culture. Find how to visit the best pubs in the city during your trip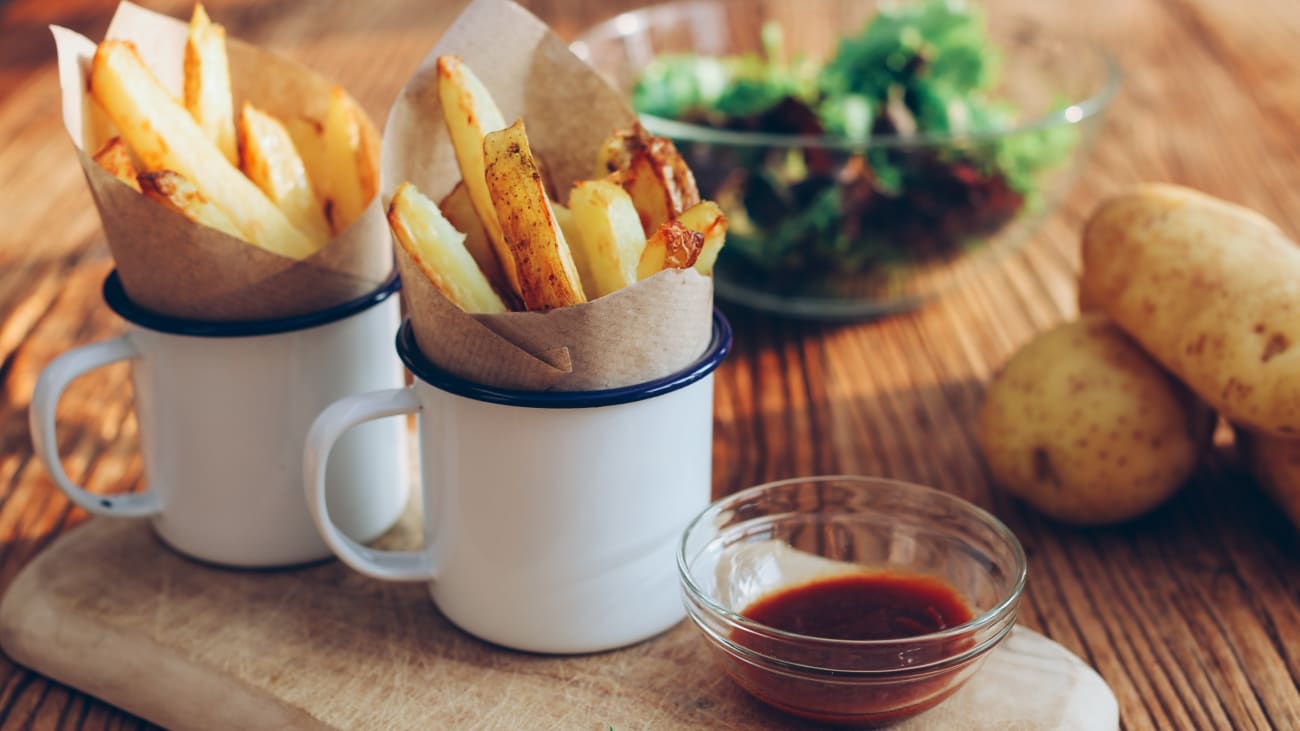 Although it may seem impossible, having a nice meal on a budget in a city as expensive as London is possible. Being one of the most cosmopolitan cities in the world, the gastronomic offer is very wide and there are restaurants accessible to all budgets. I give you a list of my 10 favorite restaurants for you to try a little bit of everything.
1. A classic at Poppie's Fish & Chips
The most typical dish in London is fish & chips. You will have heard of it everywhere because the British consider it a national treasure like Big Ben, even Charles Dickens himself refers to this recipe in his famous novel "Oliver Twist"!
So, if you haven't yet, your next vacation is a good occasion to try it. This fried fish and chips dish is the specialty of Poppie's Fish & Chips, a restaurant with locations in SoHo (W1D 6HW), Spitalfields (E1 6QR), and Camden (NW1 8NP) that is considered the best fish & chips in London.
What should you try?
Without a doubt, you have to order the star dish which is the fish & chips (cod, haddock or pollock), which is accompanied by various sauces such as ketchup, mayonnaise or tartar. They serve it in normal or large size and the portions are abundant, so if you are two people, the large size is enough.
However the menu is extensive so if you are very hungry you can always accompany the main course with a salad or a portion of calamari rings, which are very good.
In Poppie's Fish & Chips there are children's menus and also meat dishes such as chicken, beef and sausages with potatoes. For dessert order the homemade apple pie with ice cream. Yum!
Where
SoHo: 55-59 Old Compton St, London W1D 6HW
Spitalfields: 6-8 Hanbury St, London E1 6QR
Camden: 30 Hawley Cres, London NW1 8NP
Hours
Sunday to Wednesday 11 AM to 10 PM
Thursday through Saturday 11 AM to 11 PM
2. Magic Falafel's Mediterranean delights
Located in the heart of Camden Town, if you are looking for healthy and vegan food Magic Falafel is your place. The food is delicious and the atmosphere of the place is very nice. Ideal to take a break and eat quietly after a day strolling around Camden.
Moreover, I would say that it is a place to go on every trip to London because the service is very attentive and the prices are quite affordable.
What should you get?
As the name suggests, the falafel at this restaurant is magical - it's not just marketing! I love it because it is made with fresh ingredients following an old family recipe of the owners and you can tell at the first bite. It's like eating homemade falafel.
They serve it on a plate, in a salad box, or on a flatbread. I love the fluffy texture of the Magic Falafel so I recommend the falafel pita which is filled with salad, homemade hummus, super crispy falafel, and tahini.
This option is very practical for eating on the go in case you want something to go - and for only £6.5! To top it off you can order vegan ice cream or brownie.
They also sell "Meal Deals" or daily menus that include the falafel pita with a side (sweet potato, hummus, eggplant, chips) and a drink for £11. A very complete menu to get quite stuffed.
Where
Unit 312-313 Camden Market, NW1 8AH
Schedules
Monday through Sunday from 10:30 AM to 8:30 PM
3. Franco Manca's Pizzas
If you work up an appetite after seeing a musical in London's West End I recommend going to Franco Manca Pizzeria, in the Covent Garden area (36-39 Maiden Lane) where you'll find the best Neapolitan pizza in town. They also have gluten-free and vegan options in all their establishments, a positive point to take into account.
What I like about this restaurant is that their pizzas are homemade and simple. Their secret is in the dough: thin and perfectly cooked in a wood-fired oven seasoned with fresh top-qualiy ingredients (organic tomato, British mozzarella, Cantabrian anchovies, Iberian chorizo, cured ham, black olives...). One of the best pizzas you'll eat in London!
What should you order?
Franco Manca's star dish is their pizzas, which are delicious, there are seven on the menu to choose from, plus daily specials and the prices are very affordable! The most expensive pizza costs £8.95 and the cheapest one £5.20.
I recommend ordering an anchovy pizza (which is delicious) and as a side dish the delicious garlic bread with British mozzarella. There are also salads if you want to add a healthy dish to the menu. And if you still have room for dessert, don't hesitate and order the classic tiramisu - it's like tasting a little bit of Italy!
The service of Franco Manca was very attentive at all times and I loved the quiet atmosphere of the place to eat and relax a bit. I would also highlight that we were greeted with a free bottle of water, which is always appreciated.
Where
36-39 Maiden Lane, London WC2E 7LJ
Schedule
Monday to Thursday 12 PM to 10:30 PM
Fridays and Saturdays from 12 PM to 11 PM
Sundays from 12 PM to 10 PM
4. The best sushi at Eat Tokyo
Are you passionate about Asian food? You are in luck because this restaurant is the perfect option to treat yourself to a Japanese food treat. The menu is extensive and has a little bit of everything from sushi, rice, and nigiri to ramen, sashimi, and teriyaki chicken.
Eat Tokyo has several locations scattered around London but the Covent Garden (27 Catherine St) and SoHo (16 Old Compton St) are the two most central. Although there are sometimes queues at the entrance of the restaurants, the service is efficient and they serve quickly in just a few minutes.
What should you try?
The restaurant's menu is varied and includes photos to get an idea of what the dishes look like, which is very useful if you are not an expert in Japanese food or do not master English to order them.
To try a bit of everything, I advise you to order the tasting plates of Eat Tokyo which for example bring several pieces of sushi, sashimi, rice, vegetable tempura, shrimp, and salad. The bento boxes (boxes with small portions of Japanese dishes) are also a very interesting option to value if you like to eat varied.
The portions are plentiful and the quality/price ratio is quite good considering that it is in the center of London. The average price is around £12.95, and don't forget to order a bottle of sake to go with it!
Where
16 Old Compton St, London W1D 4TL
Hours
Monday to Saturday 12 PM to 11:30 PM
Sundays from 12 PM to 10:30 PM
5. The Old Bank of England, a pub with a lot of history
Would you like to visit an authentic English pub where you can try the famous British meat pie? Then you have to go to The Old Bank of England, one of London's historic pubs that keeps a lot of curious anecdotes within its walls. It's like a restaurant and tourist attraction at the same time!
For example, did you know that the Bank of England occupied the building for over eighty years until it was renovated in the 1990s for use as an English pub? In fact, this site boasts of having housed gold bullion and even the magnificent Crown Jewels of the British Royal Household in its subway vaults.
But The Old Bank of England is also known because it is said that in this place of Fleet Street was the barbershop of Sweeney Todd, the famous character of Victorian London that according to legend killed for revenge his customers to make pies with them.
For everyone's peace of mind, no evidence has ever actually been found to confirm the story but with these credentials, maybe it's a good place to have a few pints on Halloween, don't you think?
What should you drink?
In addition to the famous homemade meat pie in different versions, this historic English pub has a varied menu where you can also try the traditional fish & chips, burgers and sandwiches to which you can add the accompaniment of your choice and some BBQ ribs that take your breath away.
Every good meal needs a dessert as a finishing touch. At The Old Bank of England, I recommend you try the cheesecake or the apple crumble, it's delicious!
Where
194 Fleet St, London EC4A 2LT
Hours
Monday to Friday from 12 PM to 11 PM
6. The Real Greek, a little piece of Greece in London
Whenever I travel to London and am in the St. Paul's Cathedral and City area I always try to book a table at this nice Greek restaurant by the Thames. They have a terrace with beautiful views of the river perfect for eating outside on one of those sunny days when you feel like being outside enjoying the light and relaxed atmosphere.
But I recommend The Real Greek not only for its location (Units 1 & 2 Riverside House, 2A Southwark Bridge Road) but also for its tasty food made with fresh produce. It is the ideal place to indulge in a Mediterranean-style feast at quite affordable prices. Plus, the service is fast and competent - what more could you ask for?
What should you order?
If you are not familiar with Greek food I advise you to order a tasting menu to share to try several typical specialties of their gastronomy. You can also opt for one of the menus they offer for lunch (7.95 pounds) or dinner (13.30 pounds) which are very complete and also very well priced.
I remember the last time I was there I chose the so-called "Greek Trio" menu consisting of three dishes to choose from and it had a kind of Greek-style pita bread, hummus and lamb kofta, some delicious lamb kebabs. You end up eating the dish!
The portions are plentiful but if you get hungry you can always order a dessert. In addition to the traditional baklava, I also recommend the mango sorbet and the Turkish delicacies or loukomia (a typical sweet similar to jelly beans).
A highlight of The Real Greek is that they have vegan and children's menu, so if you travel with kids to London is a good place to eat rich, healthy and economical.
Where
Units 1 & 2 Riverside House, 2A Southwark Bridge Road, London SE1 9HA
Hours
Monday to Thursday 12 PM to 10 PM.
Fridays and Saturdays from 12 PM to 10:30 PM.
Sundays from 12 PM to 9:30 PM.
7. The most "british" breakfast at The Knights Templar
This is another historic London pub super-recommendable. It is located on the edge of the famous City of London, on a street built in the 12th century in the Temple Church area, the seat of the Knights Templar after whom the pub is named.
The décor of The Knights Templar is stunning. On the one hand, the exterior facade of the historic building in which it is located is beautiful (it was the headquarters of the Union Bank) and looks very stately. On the other hand, the interior has that old British atmosphere so typical that surely you have seen it in many movies.
The decor is superb and the atmosphere very cozy. Take a look at the elegant decorative columns supporting the ceiling full of chandeliers and paintings about the Templars. fascinating!
What can you try?
If you're staying in a hotel near The Knights Templar, I recommend this pub for a typical English breakfast with fried eggs, sausages, bacon, baked beans, and hash browns. With breakfast as hearty as this, you will be set for a whole day of sightseeing around the city.
Other dishes not to be missed here are the fish & chips, the beef and ale pie with gravy, potatoes, and mashed peas, the eggs Benedictine or the hamburgers. To accompany a salad, chicken nuggets or nachos are a perfect choice.
It is a very popular place among Londoners and tourists because the quality of the dishes is good and the quality/price ratio of The Knights Templar is unbeatable as well as the service, so you have many reasons to drop by during your vacations!
Where
95 Chancery Lane, Off Carey St, Fleet St, London WC2A 1DT
Hours
Monday to Friday 8:30 AM to 11 PM
Saturday from 11 AM to 11 PM
Sunday closed
8. Nando's spicy peri-peri
For fast food lovers who want to get a little out of the beaten path, here's a very surprising alternative that you may not have heard of yet: Nando's (66-68 Chandos Pl, Covent Garden).
This is a chain of South African restaurants specializing in roast chicken with Portuguese influences and a spicy touch based on South African chili. It may seem a simple dish but the result could not be tastier.
The secret of its success is the pairing of the chicken for 24 hours in the peri-peri sauce. It gives it a unique and powerful flavor very characteristic of Nando's. You have to try it!
What should you eat?
The menu is very varied but has as a common axis the chicken with peri-peri sauce. There is everything from burgers, wraps or pitas to wings, breasts or whole chickens. Since the meat is marinated, it is already spicy, but you can add another dressing and even extra spice - they have many sauces to choose from!
If you are eating alone, I recommend the Chicken Butterfly breast while in the hamburger section you can't miss the Sunset or the Grilled Chicken burger. They are delicious! And if you are accompanied by people I advise you to order plates to share because they are quite abundant and come with a bit of everything, for example, the Family Platter (ideal for 4 or 6 people) or the Full Platter (perfect for 2 diners).
In addition, you can choose the accompaniments you want for the dishes (fries, garlic bread, spicy rice, corn, and a long etcetera). They also have vegan dishes and children's menus.
Where
66-68 Chandos Pl, Covent Garden, London WC2N 4HG
Hours
Monday to Sunday from 11:30 AM to 10 PM
9. The best Indian curry at The Eastern Eye Balti House
If during your trip to London you are looking for a place to taste authentic Indian food, then you have to go to Brick Lane. Probably the place with the most Indian restaurants in the city.
Which one to choose? The competition is enormous. Whether you are an expert in this type of gastronomy or a beginner, you will love the food at The Eastern Eye Balti House (63A Brick Lane). I've been there a couple of times and the food is very good at a very reasonable price.
Their dishes are quite a gastronomic experience where they mix the best of traditional and contemporary Indian cuisine with Bangladeshi dishes on their menu. In addition, the service is efficient and the atmosphere of the dining room is calm to enjoy eating. You leave there happy and with a full belly!
What should you order?
The curry from The Eastern Eye Balti House is considered the best on Brick Lane so you can't miss it on the table. My recommendation? The Chicken Tikka Biryani, prawn puree with curry sauce, naan bread with garlic and samosas. Magnificent!
Another plus point of this Indian restaurant is the attentive service of the waiters with the customers. At the end of our dinner, we were treated to free shots. It is a place to go to every time you're in town.
Where
63A Brick Lane, London E1 6QL
Hours
Monday to Sunday 12 PM to 12 AM
10. Vapiano, an ode to Italy's cuisine
Italian food is always a hit wherever you go - even in London! Vapiano has many establishments spread around the city where they prepare with much love and at the moment some of the specialties that have made the Italian gastronomy famous all over the world.
I was in the place near Tower Bridge (2 Potters Field), a very spacious, nice place where you can see the cooks preparing the dishes. A friend recommended it to me and I must say that it was a good choice.
The day I went there were not many people so I was able to get a table right away. Also, the system for ordering food is quite fast and the waiters are very nice and explained to us how it worked.
It turns out that when you enter, they give you a card so that the orders you place in the kitchen in each section of the restaurant are loaded onto it. Then they give you a pager to pick up the order when it is ready and enjoy it in the dining room. Finally, before you leave, you pay at the cash register. It's that simple!
What should you try?
The menu at Vapiano is heaven for fans of Italian food. It focuses especially on pizzas, salads and pasta although they also have the typical antipasti section to whet your appetite while they prepare the rest of the order.
I ordered a Caprese insalata and a plate of pomodoro e mozzarella pasta which I loved. Everything was delicious, the portions were plentiful and at a very affordable price, which in a city as expensive as London is always appreciated. I would repeat without hesitation!
Where
2 Potters Field, London, SE1 2SG
Hours
Sunday to Thursday 12 PM to 10 PM
Friday and Saturday from 12 PM to 10:30 PM
Frequently asked questions
What is London's most typical food?

Typical British food include Fish and Chips, the infamous British Breakfast and a number of pies and mash.

What's so special about London's food tours?

On the gourmet side, London's cuisine has grown world famous for its multi-cultural aspect, as such many food tours will take you through to experience a different form of cuisine. Likewise, some of the world's best curries can be found in the UK, despite originating from India, and a good guide can really help you discern the good from the bad.

What happens during a pub tour?

There are actually two ways to experience pubs en mass: Pub Tours and Pub Crawls. Pub Tours are more mature affair discussing the historical value of the visited pubs and their beers, while Pub Crawls are tailored to younger travellers looking to party and meet new people.