London Eye Prices: discounts, offers, how to get cheap tickets...
If you want to ride London's most famous Ferris wheel but don't know how much the tickets cost, keep reading because I'll tell you about it in this post.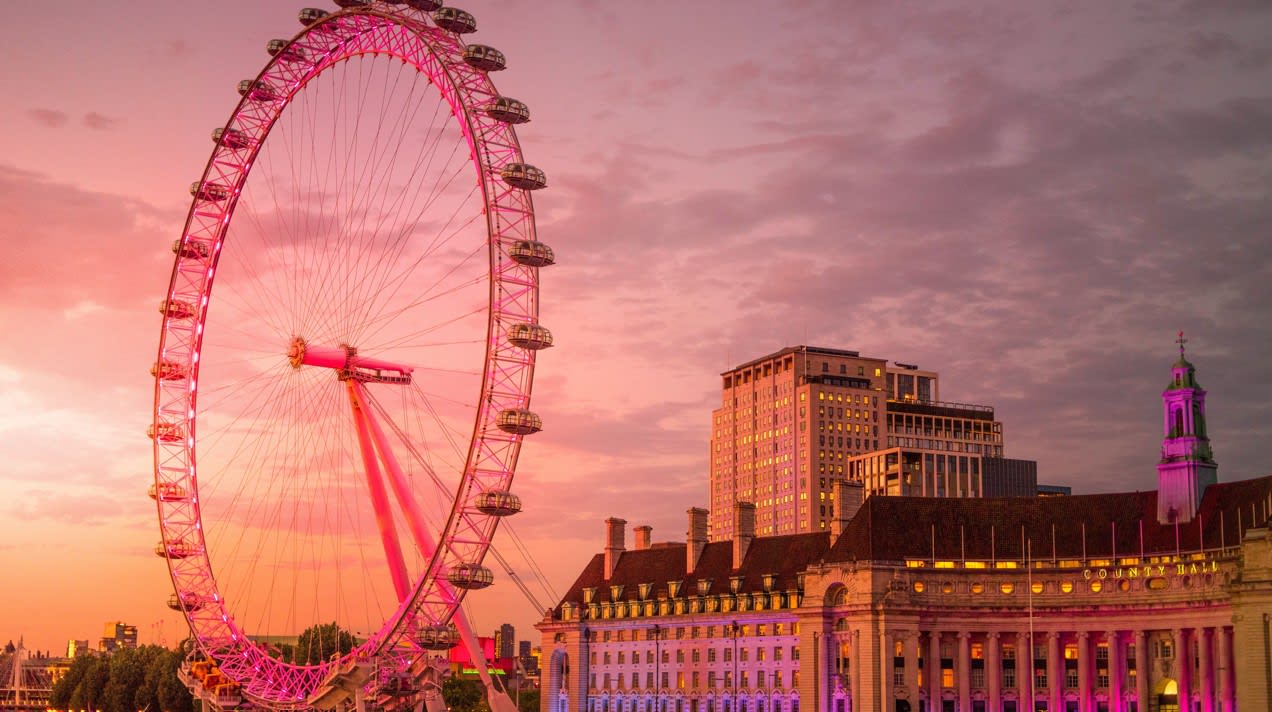 Are you sure that buying tickets for the London Eye is one of the first things you have to do during your trip to the British capital? At 135 meters high, the views of London from the Ferris wheel are amazing!
Find out in this post what is the price of tickets to the London Eye and get ready to live one of the coolest experiences of your trip.
How much do tickets to the London Eye cost?
There are several options to access the mythical London Ferris wheel depending on the time and money you want to spend:
The single ticket for the London Eye, which starts at

$ 43

, is the cheapest. Of course, you will have to wait in line for access. I recommend you to buy your ticket online and in advance.
The fast-track ticket for the London Eye, From

$ 61

€, is ideal if you have a flexible budget and value your time. You can book a time to access the Ferris wheel and, thus, better organize your trip. This option is also very interesting for families with children, as you will enter the cabin faster and it is a detail to take into account so that the kids do not get tired or impatient.
Save on your visit and combine the London Eye with other experiences
Since the London Eye is one of the main attractions in London, there are tickets that combine the ride with another experience, so you can save a little money.
Westminster Tour and London Eye
If for example you plan to see Westminster Abbey, Buckingham Palace, Big Ben and Trafalgar Square, you can take the opportunity to purchase a pack that includes the tour of Westminster and tickets for the London Eye.
With this experience, which lasts 4 hours, you will have the opportunity to visit some of the most emblematic points of the British capital with a professional guide and enjoy wonderful views. In addition, you will be able to witness the changing of the Royal Guard.
London Eye, Big Bus sightseeing bus and Thames River Cruise
On the Hellotickets website you also have an offer that includes three highly demanded experiences: tickets for London Eye, the pass for the Big Bus and a cruise on the Thames, an ideal way to explore the city by land, by air and from the heights.
You can admire some monuments or points of great interest such as Big Ben, St. James Park, Trafalgar Square, Hyde Park, Notting Hill and Piccadilly Circus, among others. And you will not miss any detail because the experience includes audio guide with recorded commentary.
Regarding the bus tour, you can make two routes, one of about 1 hour and 20 minutes, or the most complete of 2 hours and 30 minutes.
London Tour and London Eye
And the most complete option and my favorite, in which you will have the chance to know everything essential of this wonderful city: the tour of London and tickets for the London Eye. An experience of no more and no less than 10 hours, in which you will be accompanied by a professional guide.
You will know the most important monuments such as St. Paul's Cathedral, Buckingham Palace or the Tower of London, you will walk around the city and, of course, you will also enjoy the wonderful panoramic views of the Ferris wheel.
Comparative table of combined ticket prices
Offer: London Eye Tickets, Big Bus Tour and Thames River Cruise
From

$ 77

Free time
London Eye, Big Bus and Thames River Cruise
Audio guide
No guide
Westminster Tour Including London Eye Tickets
From

$ 96

4 hours
Walking tour of Westminster, Buckingham Palace, Big Ben, Trafalgar Square and tickets to the London Eye
With guide
London Top Sights Tour Including London Eye Tickets
From

$ 195

10 hours
Complete tour of London with entrance tickets to St. Paul's Cathedral, Tower of London and London Eye and boat trip.
With guide
How much budget do I need for the London Eye plus premium tickets?
In case you want to treat yourself on your visit to the London Eye or surprise your partner with a romantic moment, you can get a premium ticket, on the London Eye website, to contemplate the spectacular views of the city skyline from the heights. Take a look at the options!
On the one hand, Champagne Experience where you will enjoy the stunning London cityscape while sipping a delicious glass of Pommery Brut Royal champagne. It is an unforgettable experience!
On the other hand, the Private Cabin, an ideal option if you want to surprise your partner with a very original romantic plan in London. You can book a London Eye cabin exclusively for you and whoever you want. An ideal plan for Valentine's Day or for a proposal of marriage, because the night views of London from the London Eye for a romantic date are a marvel.
Are there any discounts to get on the London Eye? How can I save?
Visitors to the London Eye can take advantage of reduced ticket prices for certain age groups such as children between 3 and 15 years old.
For example, from £33 you can get a standard children's ticket to the Ferris wheel while from £42 you can buy a children's skip the line ticket. At the London Eye itself you can get these tickets from 35 € and from 46 €, respectively.
On the other hand, some groups that also apply discounts and can save with your visit to the London Eye are students with an NUS or ISIC card, groups of more than 7 people (15%) and more than 10 (20%) or families with at least one adult and two children (13%).
Can I go on the London Eye with a tourist card? How much does it cost?
That's right! If you are planning to spend several days in London and you are thinking of buying a tourist card, a visit to the London Eye is included with both the London Pass and the London Explorer Pass.
Buying one of these tourist passes is a good idea if you are going to be in London for at least 4 days and you want to do a lot of activities during your stay in London. Thanks to them you will not only save money over the price of the tickets for each attraction separately, but you will also save time as they allow a quicker access to them.
To learn more about these tourist passes, I recommend you read the post The best tourist card in London where each one is analyzed in detail so you can choose the one that suits you best.
How much does it cost to get to the London Eye?
The London Eye is located in the heart of London, so it won't cost you anything to get there if you go for a walk for example in the area of Big Ben and the Palace of Westminster.
However, if you prefer to go there by public transport you can also do it because it is located in a very well connected area. In my opinion, the subway is the fastest way to get there (the nearest station is Waterloo) and the price of a single ticket costs from 6 € depending on the area where you move.
Since the price of public transport is a bit high in London, if you want to save money on your trips around the city I advise you to get the Oyster Card (rechargeable card that lowers the price of the single ticket) or the Travelcard (a card for unlimited use for a period of time). If you are going to be moving around a lot, you also have the option to book a seat on the London sightseeing bus.