10 things to do in London in November
Do you have original plans to do in London in November? Take note of these ideas with which you will have a great time.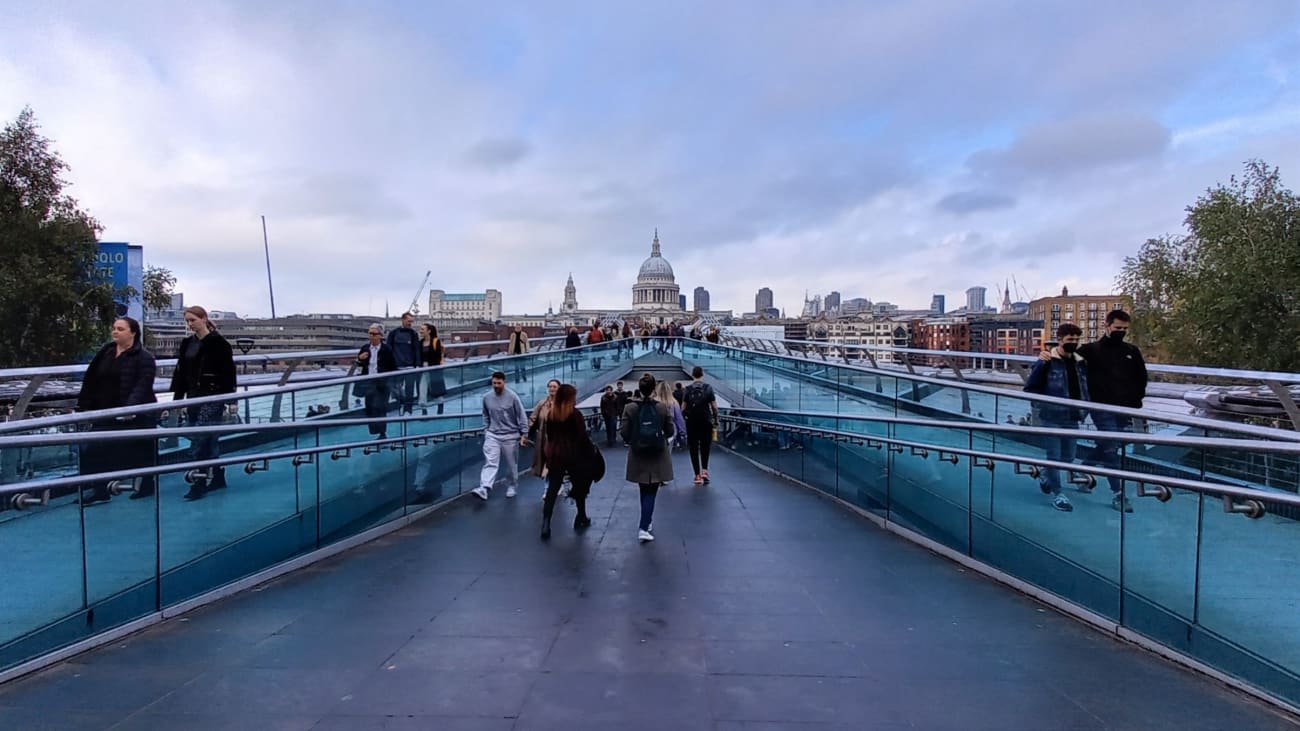 In November, the nights get longer and the days get colder. It's a great time for more indoor cultural activities, but whenever possible take advantage of the sunny days to enjoy the great outdoors. Want to know what November has to offer in London? Read on!
1. Celebrate 'Thanksgiving' in London
If you have never had the opportunity to celebrate 'Thanksgiving' before , maybe your trip to London is a good time to get carried away and put this centuries-old American custom into practice on British soil.
It's celebrated there too, and in style! Many restaurants in the city are decorated with typical autumn decorations and prepare succulent menus with roast turkey and pumpkin pie as the absolute protagonists.
The gastronomic offer in London is very wide, both in terms of flavors and prices. If you feel like celebrating 'Thanksgiving' during your trip to London in November and feast, check out the following posts for ideas on where to eat:
2. Visit London Photo Show
If you are enthusiastic about photography and during your vacations in London in November you feel like going out of the usual circuit of museums in London, I advise you to visit the London Photo Show (from November 11 to 14) where photographers from all over the world meet to share and sell their work as well as participate in interesting workshops and talks about the sector.
Visiting the London Photo Show will surely discover new photographic styles and a trip to London is an excellent opportunity to unleash your creativity. It is a city where there is always something curious to see beyond the typical tourist attractions. Charming places that will make a difference in your photographs.
So, if you are passionate about photography, make the most of your hobby with a guided photographic tour of London, which will show you the most interesting and unknown side of the British capital. You will be accompanied by a local guide who will help you to portray the city not with the eyes of a tourist but with those of a Londoner and will also give you some photographic tips for you to get a dazzling souvenir album.
3. Be amazed by the cars at Regent Street Motor Show
Strolling through central London in November you may stumble across the Regent Street Motor Show at the beginning of the month, one of the biggest free car shows in the country.
Whether you're passionate about motors or not, it's always a joy to be able to walk down Regent Street without traffic and, let's face it, the vehicles on show are a blast - you won't be able to stop taking photos of them!
There are some eye-catching century-old pieces, almost as much as the friendly drivers in period costume who accompany them. But they are not the only ones; the Regent Street Motor Show also exhibits the latest models of sports cars and motorcycles.
If you are a fan of the motor world, you may be interested in taking a tour of London in a classic car like the mini Cooper. On this 4-hour private tour you are taken around the main attractions of the city while a professional guide tells you the history of each of the monuments.
4. Attend Bonfire Night
Around November 5 is celebrated in London the "Bonfire Night', a festival commemorating the night in which the Catholic revolutionary Guy Fawkes participated in the Gunpowder Plot of 1605 to try to kill King James I, who was opposed to give some religious tolerance to Catholics in the kingdom.
During the event, bonfires are usually lit to burn dolls representing Fawkes while the sky is filled with colorful fireworks. A spectacle that will certainly impress you if you have never seen it before.
Some of the places where you can go to see the bonfire night are Wimbledon Park, Morden Park or Battersea Park, among others. There will also be musical events, family activities and plenty of food and drink for a great time.
5. Experience the passion for soccer in London
Since England invented soccer, this sport has given great joy to the whole world. But here it is lived with a special passion and is one of the most exciting spectacles you can attend in London in November.
There are several London teams playing in the Premier League (Chelsea, Arsenal, Tottenham, West Ham and Crystal Palace) so you have plenty of possibilities to attend a good soccer match during your stay in London.
But if you can not schedule a match in your agenda there are other possibilities to vibrate with English soccer and its history and that is visiting the museums of some of the stadiums of these teams as Chelsea FC Stadium Tour & - Museum, Emirates Stadium Tour and Museum, Tottenham Hotspur Stadium or Wembley Stadium.
The Dare Skywalk experience at Tottenham Hotspur stadium
Tottenham's stadium also features a chance to climb to the top of the stadium and crown the golden cockerel, the club's emblem. With this The Dare Skywalk climbing experience provided with full safety equipment, you will be able to stand 50 meters high and see the impressive stadium from the top, as well as the spectacular 360-degree panorama of the city of London.
6. Take a stroll through the first Christmas markets
Almost a month before the arrival of Christmas, London is decked out with all kinds of lights, decorations and markets to awaken the Christmas spirit among Londoners and tourists. And boy, does it succeed!
The city looks beautiful in November. At the beginning of the month many of the Christmas decorations are lit (Regent Street, Covent Garden, Carnaby Street or Marylebone Village) and several Christmas markets are placed that give an endearing and special atmosphere to the landscape of the British capital.
If you want to treat yourself to a unique souvenir and taste a lot of Christmas delicacies accompanied by some mulled wine, do not miss the Christmas markets of The South Bank's Christmas Market, Winter Wonderland, Christmas by the River, Leicester Square, Selfridges Christmas Market or Kingston Christmas Market, among others. You will enjoy like a child!
7. Enjoy the best jazz music at EFG London Jazz Festival
If you are interested in the history and culture surrounding jazz, your visit to London in November is a good opportunity to attend the EFG London Jazz Festival, an event that since 1970 brings together emerging talents and artists of international stature to make the public enjoy the best music of the genre live in an electrifying evening.
I recommend you take a look at the festival website to check the artists performing each year and the dates of the concerts. Hurry to book your tickets because they sell out in less time than a rooster can crow!
8. Get your boots on at Taste of London festival
If you are one of those travelers who love to try new culinary delights, during your trip to London in November you should note in your agenda the Taste of London food festival, a multi-day event in Regent's Park where several of the most famous chefs in the city meet.
To access the festival you need to pay an entrance fee but it is worth it because you will have the opportunity to enjoy a lot of new gourmet proposals from popular restaurants such as Cin Cin, Toastie Toastie, Anju or Country Fire Chicken to name a few examples.
In addition, you can attend wine tastings and workshops to learn how to prepare some dishes and even listen to music played by a DJ in the VIP Lounge of the Taste of London.
And if you still feel like enjoying the best British food, I recommend you to join a gastronomic tour through the streets of London. Great!
9. Discover the Diwali festival in London
London is a cosmopolitan city where a multitude of cultures from all corners of the planet coexist. During the month of November takes place the festival of lights or Diwali, the most important festival of the year in India that the Hindu community also celebrates in the British capital.
A time to celebrate the triumph of good over evil and light over darkness. During the five days of Diwali, a multitude of clay lamps are lit to symbolize the light that protects each family from darkness and a large number of activities are also organized to celebrate this date so prominent in the calendar.
If your trip to London in November coincides with Diwali, do not hesitate and come to this unique religious festival through the best Indian food, Bollywood classics or the fireworks show in Byron Park in Harrow.
10. Experience a magical night with music and candlelight
Surely you have scheduled a lot of activities to do during the day on your trip to London but the night is also a good time to go out to enjoy and have fun.
How about going to a live music concert by candlelight? It is a very romantic experience, especially if you are visiting London as a couple.
Throughout the month of November there are many concerts featuring some of the best composers in history. Take note of some of the best!
What is the temperature in November in London?
If you are thinking of traveling to London in November, don't hesitate, because autumn is a great time to visit the city even though the temperatures are starting to drop. The thermometers are around 12ºC maximum and 7ºC minimum.
During this month, the days and nights are cool although occasionally a sunny day dawns with pleasant temperatures. On the other hand, after the summer, rain begins to appear and clouds settle in the sky. There are fewer daylight hours, which can affect outdoor activities.
In the month of November, morning fog is also common, but as the hours pass it dissipates. Keep this in mind if you plan to see certain attractions such as the London Eye or The Shard in the morning.
What is the tourist flow and prices in November?
November is a good time to visit London but depending on the fortnight, both the number of tourists and prices may vary because the Christmas period is approaching and during this month begin to put up Christmas lights, ice rinks and Christmas markets that will enliven the atmosphere during this season.
Thus, in the first half of November the number of tourists is lower which means that the main tourist attractions in the city are less crowded and there are fewer queues to access. In addition, prices are somewhat cheaper compared to Christmas.
However, things change during the second half of November. As the Christmas period approaches , more and more travelers decide to head to London, taking advantage of the fact that the city is already decked out with the typical winter decorations and the streets and stores look spectacular.
This means a slight increase in the prices of flights and accommodation as well as queues to enter the various sites of interest in the British capital. Take this into account when you go to organize your getaway!
What to pack for your trip to London in November?
During the month of November, the weather is generally cold. Although a sunny day may dawn, winter is just around the corner and at this point in autumn the days and nights are cool. To combat the cold temperatures, it's best to pack several layers of warm clothing in your suitcase.
This way you can put on and take off clothes depending on whether you are indoors or outdoors, where the temperature is changeable. This is the easiest and most comfortable way to dress in London at this time of year. Also bring some gloves or a hat to wear when the days get colder.
November represents the last days of autumn. Skies may become cloudy more often and some showers may occur. Humidity increases, so you may also want to pack a raincoat and an umbrella.