Marrakech in June: best things to do in the city (activities, events, itineraries)
June is a month to enjoy Marrakech. The first fortnight, when temperatures are not yet high, is ideal for your trip and in the second you can not miss some of the plans of the summer season.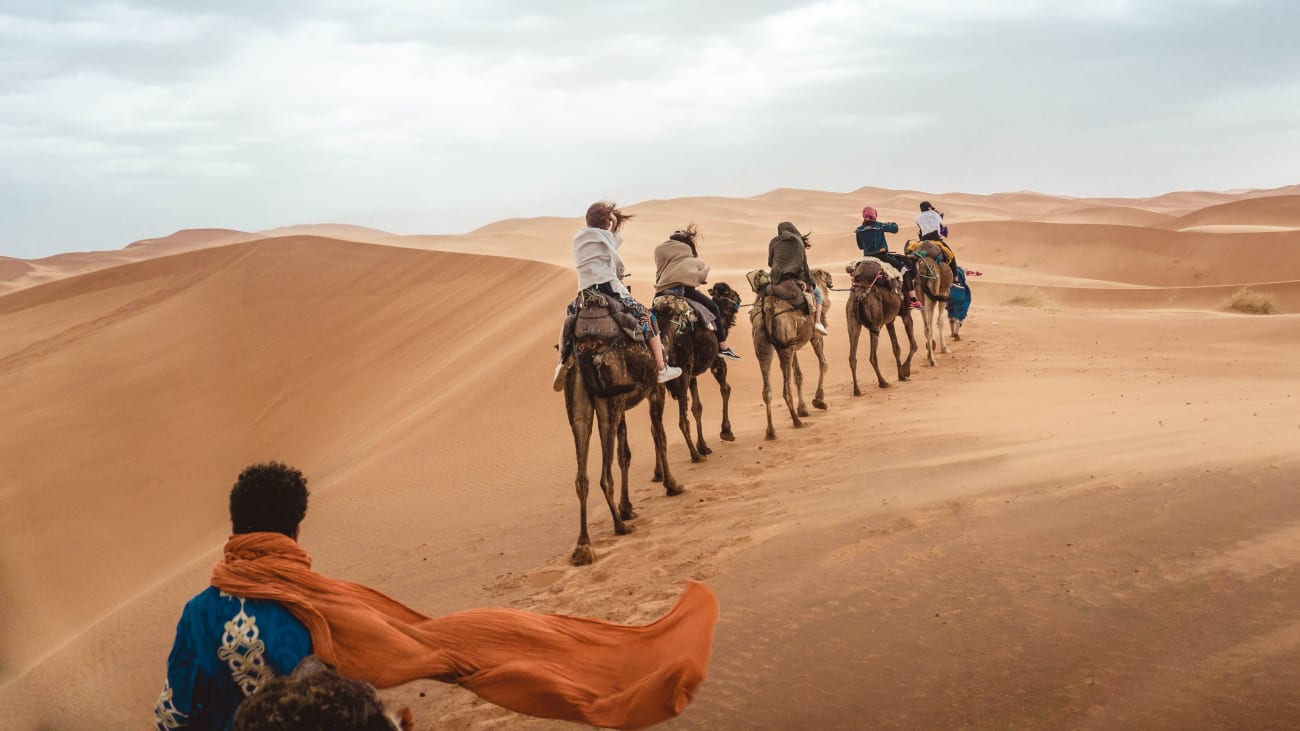 With the arrival of summer, the thermometer in Marrakech begins to register higher temperatures in the month of June with an average throughout the day between 25 and 35 ° C which decreases at night between 15 and 20 ° C.
Even so, it is a very pleasant month to visit its various monuments and gardens, as it is not as hot as in July and August, and there are many hours of sunshine, so you can make the most of your days. In addition, it is not high season and you will find cheaper prices than in other months of the year and, on the other hand, there is some particular meeting of this month as is the case of Marrakech du Rire.
If you are looking for more information about the city that is not specific to the month of June, do not hesitate to visit the post what to see and do in Marrakech.
1. Laugh out loud with Marrakech Du Rire
If you go to Marrakech in June, keep in mind that in this month takes place the Marrakech Du Rire Festival, an event that has been going on for more than a decade and is so popular that it is broadcast on television.
Parades, carnivals, galas and various shows are some of the proposals of this acclaimed event, in which comedy and humor are the main protagonists and whose spectators will spend great and funny moments.
Marrakech Du Rire welcomes, every year, promising young and great artists, both national and international, who have something in common besides their talent, they will make you laugh. Do not hesitate to come, you won't regret it!
Located in... different parts of Marrakech
2. Enjoy the Gnaoua Music Festival of Essaouira
If you go to Marrakech in the month of June you can not miss the Gnaoua Music Festival of Essaouira. In fact, whatever time of the year you go to Marrakech, it is always advisable to make an excursion to Essaouira, as it is one of the most beautiful cities in Morocco. But if, in addition, your trip coincides with the last week of June, you have a double reason to go.
The festival has been held since 1998 with the aim of promoting Gnaoua music and promoting certain values such as the union of cultures and peace. In fact, the festival is an exponent of musical crossbreeding and the use of various instruments typical of Gnaoua music such as drums (ganga), crotales (qraqeb), the three-stringed drum (guembri) and the lute is common.
An event that has an important international presence and which each year brings together musicians of different styles such as reggae, jazz, pop and rock and has a public attendance of around four hundred thousand people. Moreover, admission is free, an essential event!
Do not hesitate to read the post excursions to Essaouira from Marrakech and how to go from Marrakech to Essaouira to prepare your trip.
It is located in... Essaouira, 180 kilometers from Marrakech.
3. Stroll through the Majorelle Garden
One of the best plans you can make in June is a visit to the Majorelle Garden. It is a very special date because at the end of spring the garden is in all its splendor and the pond softens the temperatures and makes it a very pleasant place to visit. An oasis in the middle of the city of Marrakech. And is that the garden hides more than 300 plant species from around the world. Highlights include palm trees, cacti, roses, bougainvillea, bamboo, and ponds with lotus flowers and water lilies.
The precursor of this garden was the French painter Jacque Majorelle, who in 1922 bought an estate with palm trees. Later, he created an art deco villa and created a botanical garden that hid an important number of species. As a passionate nature lover, Majorelle brought back specimens from all his travels. The painter had an accident and in the following years the garden was very neglected, but later, in the eighties, the businessman and fashion designer Yves Saint Laurent acquired the estate and doubled the number of species. Today it is one of the most visited places in the city.
The Majorelle Garden, whose price is from 12 €, is open from 11 am to 17:00 pm. In this enclosure is also the Museum of Berber Art. I recommend that if you go buy your ticket online and book your visit time.
It is located at... Rue Yves St Laurent, (40090), Marrakech.
4. Walk through the Jardin Secret
Le Jardin Secret is located in the heart of Marrakech and is also an ideal plan for the month of June, as you can escape the bustle of the city as well as the heat while enjoying a pleasant and exotic walk. Like the other green spaces of the city, at this time the plants and flowers will be in all their splendor.
Le Jardin Secret opened its doors in 2016 although it dates back to the Saadian dynasty more than 400 years ago and houses almost a hundred species. It is divided into two parts, on the one hand, an exotic garden and, on the other hand, an Islamic garden.
Le Jardin Secret is open from 9:30 a.m. to 7:30 p. m. and is priced from 7€.
It is located at... Rue Mouassine 121 (40030). Medina of Marrakech
5. Escape the hustle and bustle with a walk in the palm grove of Marrakech
Another ideal plan for the month of June is a tour of the Palmeral, an enclave that houses around 100,000 palm trees planted in the Almoravid dynasty and is located northeast of the city. It is considered a luxury area and is home to several luxury hotels and golf courses.
It is common to tour the Palm Grove of Marrakech by camel, horseback or you can also enjoy a route on a quad bike. A pleasant and ideal way to escape from the bustle of the city in the month of June and make a plan with the whole family. In addition, you can make the occasional break while you take the opportunity to drink a green tea.
And if this experience is not enough for you, you can opt for a camel ride in other parts of Marrakech.
It is located at... Route de Fès, (40000). Marrakech
6. Take an excursion to Anima Garden
Another great option is to take a trip to Anima Garden or Andre Heller Garden. Its shady paths and large number of flowers and plants make it a magical place to visit in June. It also has several art installations.
This garden of almost two hectares was created by the artist André Heller, one of the most internationally recognized multimedia artists, and is an ideal way to escape from the hustle and bustle of the big city. You can also take advantage of the visit to enjoy a delicious cake and tea or a tasty menu with traditional dishes made from local products.
Anima Garden is open every day from 9 a.m. to 6 p.m. and the entrance fee starts at €3. In addition, there is a free shuttle service from Thursday to Sunday to reach the site easily, as it is located about 30 kilometers from the city center.
It is located at... Douar Sbiti Ourika, Route d'Ourika (40000). Marrakech
7. Take a dip at the Plage Rouge complex
Another ideal plan for one of the hottest days of your visit to Marrakech in June, is to take a dip in the Rouge Beach resort, located just over 15 kilometers from the medina, has a pool of more than two thousand square kilometers in which there are Balinese beds and loungers to enjoy a relaxing day.
In addition, during your visit you can enjoy a cocktail, listen to live music or enjoy a tasty dinner.
This tourist complex is inaugurated in April, although in June with the arrival of the heat is the month in which it begins to have more public reception. The price of access is from 14 €.
It is located at... Route de Casablanca (40000). Marrakech
8. Take a night stroll in the Yamaa el-Fna square
Regardless of the time of year you visit Marrakech, the Jamaa el-Fna square is a place you should not miss. It is located in the Medina of Marrakech, the historic area of Marrakech. And specifically, from the month of June I recommend that you make your visit at night, as the walk is much more pleasant for the temperature. In addition, the square is filled with food stalls where you can dine while enjoying an impromptu show.
Moreover, the square is surrounded by several restaurants and bars so you can also relax while having a drink and contemplate the life of the place. I leave you the posts Moroccan food and the best restaurants in Marrakech to know all the details of the local cuisine.
It is located in... Avenue Jamaa El Fna (40000). Marrakech
9. Discover the Saadian tombs without crowds
One of the most visited monuments of Marrakech are the Saadian tombs. They have a small size so the capacity is limited. Therefore, June is an ideal month to see them, as there are not as many tourists as in other months of the year and you will not have to queue as much.
The Saadid dynasty reigned between 1524 and 1659 and the Saadid tombs, which were discovered and opened to the public in the early twentieth century, date back to that time. There is a main mausoleum in which lies the Sultan Ahmad al-Mansur and his family.
The entrance fee starts at 6,50€ and the opening hours are from 9 am. - 12 h. and from 14:30 - 18 h. approximately.
It is located in... Rue de La Kasbah (40000). Marrakech
10. Take an excursion to the desert of Marrakech, an unforgettable experience
If you are up for a desert excursion, you have several options. You can go to the Merzouga Desert, the Zagora Desert or the Agafay Desert and all are perfect options for the month of June *before the scorching heat of July and August arrives.
Specifically, the Agafay Desert is about 40 kilometers away, the Zagora Desert is just over 350 kilometers away and the Merzouga Desert is about 550 kilometers away and all three are unforgettable visits.
Do not hesitate to visit the posts on how to get to the desert from Marrakech or what are the best excursions to the desert of Marrakech, as well as the best activities in the desert of Marrakech to have all the information about this experience. Also note that you can even spend a night in the desert of Marrakech.
It is located in... Sahara Desert.
Marrakech temperature in June
As a prelude to summer, temperatures in Marrakech in June begin to be high, but nothing to do with the central months of the summer season in which walking becomes almost impossible in the central hours of the day. In June you will be able to enjoy, in general, all kinds of activities, since the average temperature is between 20 and 35ºC approximately and it is not usual to register precipitations.
Marrakech's tourist crowds in June
The number of tourists in Marrakech during the month of June is low. Nothing to do with the month of August which has a large number of visitors despite the heat or the months of April, May and October that coincide with the high season. Thus, it is an ideal month to visit as you will not have to wait in long queues at the various attractions and you can go sightseeing with greater peace of mind.
It is very important that before your visit you have all the information about safety in Marrakech and how to move around Marrakech.
Festivities in June in Marrakech
The calendar of festivities in Marrakech in general and Morocco in particular is quite particular as in all destinations. Even so, Marrakech does not have any specific festivity coinciding with the month of June. However, in this month is celebrated Marrakech Du Rire, a festival that has a great reception and is even broadcast on television due to its popularity.
Marrakech prices in June
Morocco is an ideal destination to go in June as far as prices are concerned, as it does not coincide with the high season months so prices both in travel and accommodation and food are cheaper than at other times of the year. Even so, in general terms, it is a cheap trip. The most expensive may be the airfare and accommodation and it will depend on the time of the year you visit.
On the other hand, feel free to visit the posts Marrakech in one day, Marrakech in two days, Marrakech in three days, Marrakech in four days, Marrakech in five days and Marrakech in seven days and create your own itinerary depending on your days of stay.
What to pack to visit Marrakech in June
If you are going to visit Marrakech in June you have to take into account that temperatures will be high so it is advisable to wear light clothes, linen or cotton, ideal for higher temperatures. In addition, it is advisable to bring a hat or cap to cover your head and a scarf or foulard to cover your shoulders in case you enter a mosque or similar.
On the other hand, you have to keep in mind that Morocco is a Muslim country and it is recommended not to go with excessively low-cut clothes, strapless or short in the case of women in order to avoid uncomfortable looks. Even so, and despite being an Islamic country, it is one of the most westernized countries, so they are not as strict about dress as in other places.
When to visit Marrakech
If you are still not clear about the best time to visit Marrakech do not hesitate to read the post when to travel to Marrakech or if you are looking for information about other specific months, read the articles corresponding to Januaryin Marrakech, February in Marrakech, March in Marrakech, April in Marrakech, May in Marrakech, July in Marrakech, August in Marrakech, September in Marrakech, October in Marrakech, November in Marrakech and December in Marrakech. On the other hand, if your doubt is about whether it is better to go in one season or another, you can read the posts Marrakech in summer or Marrakech in winter.