Safety in Marrakech
Is Marrakech a safe city? Yes, it is! But as everywhere you have to take certain precautions. With a little common sense and these tips you will surely enjoy your trip to the fullest.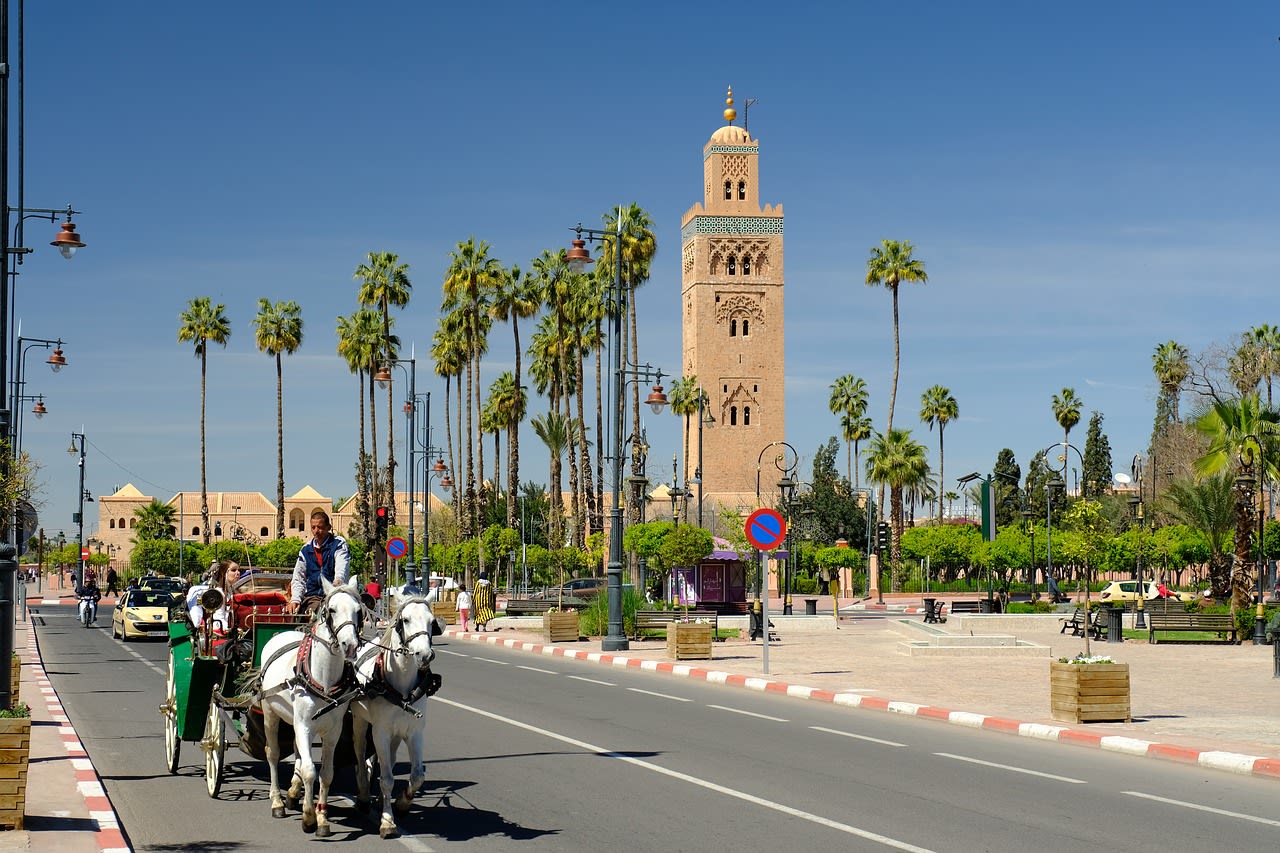 When we are organizing a trip to a new destination, the question of whether that place is safe enough to make a getaway is often on our minds.
In the case of Marrakech, it is one of the most touristic cities in Morocco where there is a lot to see and do in Marrakech. It is, therefore, one of the safest because the country cares about taking care of one of its main economic sectors.
However, as in all places, when traveling it is important to use common sense to avoid situations that involve certain risks and follow some tips that will help you enjoy this experience more relaxed.
1. Register in the Traveler's Registry of the Ministry of Foreign Affairs
Whenever you travel abroad, it is advisable to inform the Ministry of Foreign Affairs of your personal and travel information in advance so that the Spanish authorities can try to locate you in case of emergency, need or catastrophe in the country of destination through the consulates and embassies, as well as inform your close circle of your whereabouts.
Registering in the Travelers Registry of the Ministry of Foreign Affairs is free and voluntary. You can do it online or by filling out a form to be sent by fax to the General Consulate of Morocco or to the Spanish Embassy in its absence. It is a very simple procedure and can get you out of trouble if necessary!
2. In Marrakech there are many policemen but you will not always recognize them
As I said, Marrakech is one of the most touristic cities in Morocco along with others like Casablanca, Fez, Essaouira or Rabat, the capital.
In order to protect one of the most important economic sectors for the country, the police will be very present in the streets to ensure the safety of all. Even if you do not recognize them because they are incognito, there are also plainclothes policemen scattered around the city to protect you and that no problem occurs.
In any case, if there is any incident during the trip where you need their assistance you can contact the police in Marrakech.
3. Citizens also contribute to the climate of security
Marrakechis are very aware of the importance of tourism for the city so they will do everything possible to make you feel comfortable during your stay and help you if you need it.
In fact, if you were to suffer any theft or robbery they will try to find the person responsible so that you are not left with a bad experience of your trip and that the tourism business continues to grow.
In any case, to avoid such situations it is important that you take care of your belongings at all times so as not to lose them or have them taken away and do not carry documents or valuables during the sightseeing tours of Marrakech so as not to attract attention.
4. Beware of scams!
Moroccan hospitality is well known but as everywhere in the world, in the city you might also run into people who try to take advantage of the naivety and ignorance of tourists. Especially around the tourist areas such as the Medina.
There are those who have a real talent for mischief, so be careful not to fall into their traps! Here are some of the most common scams so you can avoid them.
Do not tell strangers what your hotel is or where you are going: If you are a little disoriented in the Medina area and someone is interested in your accommodation or your plans in the city, be a little wary and do not inform them because they may offer to accompany you and act as a guide to then claim a tip.
Beware of closed monuments: When you go to visit tourist attractions in Marrakech make sure you know their opening hours. It may happen that they try to confuse you saying that day is closed and instead go to another site that person will guide you and try to charge you whatever he wants.
Ignore anyone who wants to show you 'original places': Maybe someone will approach you to suggest that you accompany them to a beautiful area of Marrakech where you can take some amazing pictures. The best thing to do is not to pay too much attention to him because he will probably end up taking you to a mediocre place but he will want to charge you a good tip for the idea.
5. Avoid fake tour guides
The streets in the center of Marrakech are very convoluted, some have no name and it is common that visitors do not easily identify certain sites of interest. That is why one of the most common scams that usually occur is that some strangers are offered to tourists to serve as guides although they are not professionals.
The best thing to do is to reject this proposal and if you need help to get to a tourist attraction ask the police, other tourists and workers of the stores in the area. It usually happens that some young people offer to help you and as soon as you tell them where you want to go they insist and insist to take you there with the intention of charging you whatever they want for the 'trip'.
To avoid getting involved in compromising and unpleasant situations, it is best to take a guided tour of Marrakech with a professional local guide who will show you the most emblematic sites in absolute safety.
6. Keep an eye on the meter
In the most touristic areas and the airport there are some illegal cabs in Marrakech. They are not metered so if you do not master the art of bargaining to reach an agreement on the price before leaving it is better not to take it.
It may also happen that at some point in the trip you meet a cab driver 'eagle' who tries to get extra money at the expense of tourists. Either by pretending to be clueless and not turning on the meter and then charging you whatever he wants for the ride or by taking a longer route to increase the price.
So, when you have to use a cab to move around the city, remember to tell the driver to turn on the meter and you will avoid this kind of situations.
Anyway, if you want to avoid hassles when moving around Marrakech and go more relaxed (especially when arriving and leaving) my advice is to book in advance your transfer from Marrakech airport to the hotel and vice versa. It is the most comfortable, fast and safe option!
7. Watch out for traffic!
Although in general terms Marrakech is a safe place, sometimes walking through the streets of the Medina can be an adventure. Its narrow streets are full of bicycles, motorcycles and even animal-drawn carts.
Marrakechis are used to deal with the city traffic every day but in the case of a tourist going there for the first time, I recommend that you always pay attention to what is going on around you when you are walking around and take certain precautions as you would do in your own country to avoid having an accident.
8. Be wary of bargain price tours
If while in Marrakech you are offered an excursion at a price that is too cheap compared to what it would normally cost, hesitate because it is probably a scam and they will end up inflating the price on the other hand to get your money.
My advice is to always book online and in advance of your travel date all the excursions from Marrakech you want to do in reliable websites such as Hellotickets that allow you to explore the city and its surroundings economically and above all safely.
9. Don't eat everything you see
Having the opportunity to enjoy the gastronomy of other latitudes is one of the coolest things about traveling! If you love to eat, there is no doubt that in Marrakech you will have a great time because Moroccan food is delicious and they have a tremendous variety of dishes.
One of the most fun plans you can do in the city is to go out and try its cuisine, either in the restaurants of Marrakech or in the street markets, but if you choose to go for the adventure with the latter option, be careful with what you eat.
To avoid suffering from food poisoning make sure that the food is in good condition and always drink bottled water because tap water is sometimes not treated properly and not being used to it could make you sick.
Likewise, avoid ice water and uncooked fruits and vegetables - it would be a shame if gluttony ruined your vacation!
10. Stroll through the Medina better during the day
At night, the Medina of Marrakech loses the charm it has during the morning as there are hardly any people and many places are closed, so there is not much to do. During the day it is much more entertaining and dynamic!
In addition, the street grid of the city center is narrow and winding so it is easy to get lost as a tourist. Even more so when it gets dark and the street lighting is low or even non-existent, so that lighting the way with the flashlight of your cell phone becomes indispensable.
Another reason not to go through the Medina late at night is because at that time there are fewer police in the area, which may encourage thieves to make the rounds being tourists easy prey.
11. Stay away from the animals in Jamaa El Fna Square
In this famous square in Marrakech, some people gather to show tourists their monkeys and cobras to take a souvenir photo with them.
I do not recommend you to do it because there is no control over these animals, they can spread diseases and even attack if they feel nervous and threatened. Do not take unnecessary risks!
In addition, some of these creatures often live in distressing situations of captivity and exploitation. Participating in this business does not do these animals any good, so it is best to stay away from them.