Essaouira Day Trips from Marrakech
Why a day trip away from the hustle and bustle of Marrakech to visit this seaside village is a great idea: all the traveler tips you need for this awesome experience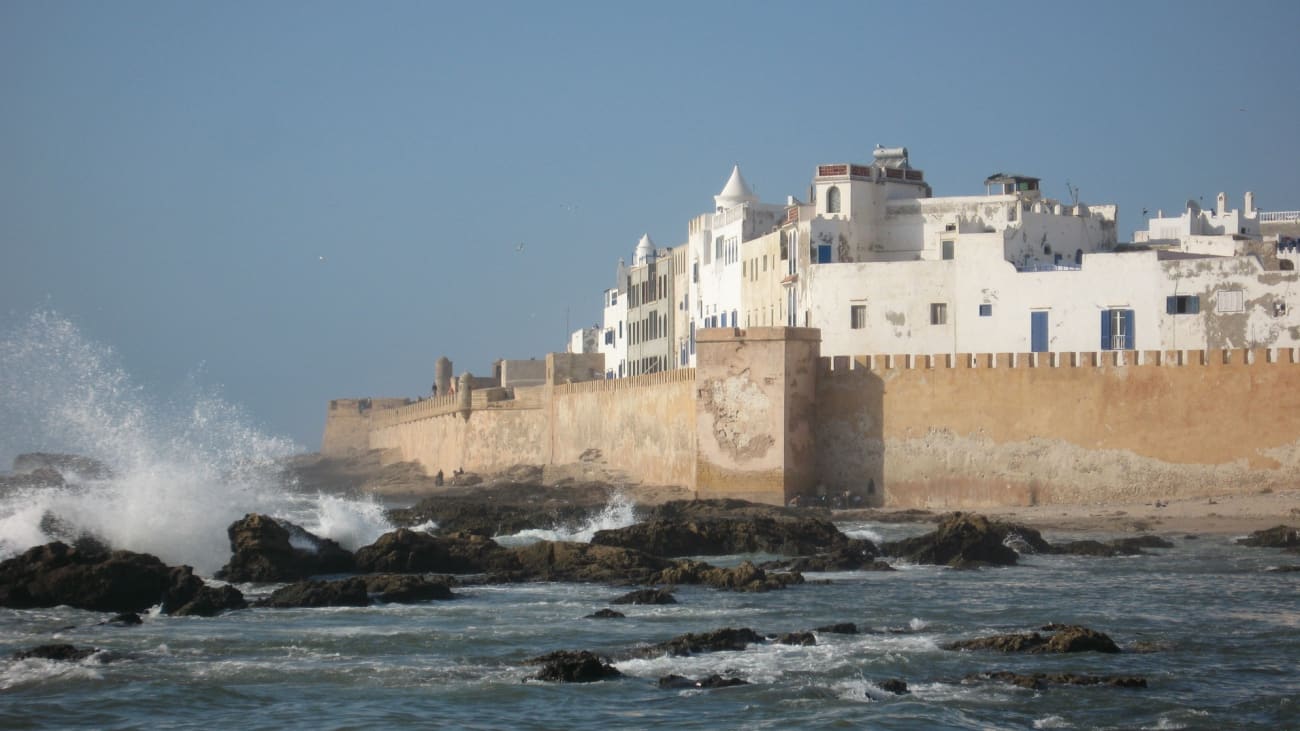 Marrakech is a charm for the traveler, but its chaos can be overwhelming. Luckily, there's a way to escape the hustle and bustle of the city: that respite is on the Atlantic coast and is called Essaouira. Known as "The Pearl of the Atlantic", visiting this fishing town is ideal to round out your trip.
1. The best excursions to Essaouria from Marrakech
Strolling around Essaouira is like taking a vacation from the hustle and bustle of the capital, as well as an exquisite opportunity to taste its fish or seafood at very cheap prices. You can visit Essaouira in a comfortable and complete way with a round trip from Marrakech. For this, you have mainly two options:
2. Day trip to Essaouira
Essaouira is only three hours from Marrakech by road. This distance, coupled with the size of this fishing town, makes it possible to get to know the area well with a round trip in one day. I recommend this excursion of a day to Essaouira as well as picking you up and dropping you off at your hotel, you will make several stops along the way to see points of interest. Once you arrive in Essaouira, you will have time to see the city at your leisure.
The price of this tour is quite cheap and during the tour, you will be accompanied by a specialized guide; the tour is of course done in English (remember to choose your language when booking). The transportation is by air-conditioned minivan, something that is very appreciated in this country and that will allow you to forget about discomfort and logistics.
The departure from Marrakech will be early morning, so you will have to get up early that day; the return will be late in the afternoon, so that day you better not make many other plans apart from this excursion except maybe a dinner in a restaurant near your hotel in Marrakech.
Itinerary
Before arriving in Essaouira you will make some stops. Although these may change depending on the date on which the excursion takes place, when I did it they were:
Ounagha: a very small village where you will see goats climbing trees to reach what for them is a delicacy, argan nuts. This food is what makes goat meat in this region one of the best in Morocco.
Marjana Cooperative: is a handicraft cooperative founded by women. At this stop, they will show you how the members of this cooperative manually weave garments on large looms or something even more interesting, how they dye the wool in bright colors.
Tilila Cooperative: is dedicated to the production of argan oil and in addition to learning the properties of this cosmetic product, you can buy it at an economical price and with the guarantee that it is handmade and not industrial.
3. Day trip to Essaouira in small groups
If you prefer to do this excursion to Essaouira in a smaller group, for a minimal difference in price, you also have the option available. The tour, timetables, and hotel pick-up will remain the same, the advantage is that you will share the trip with fewer people.
4. What to see in Essaouira in a day
If you leave early in the morning, you will arrive in Essaouira at noon. You will have plenty of time to visit the city at your own pace, so the first thing I recommend is that you take a stroll through the center to recognize the area.
If you go on an organized tour the guide will tell you without problem what are the tourist spots you should visit, but remember that on this type of excursion you will go on your own and the guide will not accompany you during the time you are in Essaouira, but you will meet him again at the time of return at the meeting point. The main points of interest to visit Essaouira in one day are:
The streets of the Medina
Thanks to them, the town of Essaouira was declared Heritage of Humanity. White and blue tiny houses make you go back in time as you stroll through the city center and get lost in its narrow streets quietly and without stress. Although in Essaouira they are used to tourists, they will not pressure you to buy as in Marrakech, which I'm sure will be a relief.
Mulay el Hassan Square
It is the heart of Essaouira. In this square, the streets converge on one side and the wall and the sea on the other. It is an ideal place to take a break and sit down for a coffee or tea on one of its terraces. It will also be a key location during your tour of the city.
The Skala de la Ville Wall
In front of the square, you will find the city wall (a Berber construction of the eighteenth century), and walk it is the obligatory walk in Essaouira. You will be interested to know that this wall was one of the scenes of the famous series Game of Thrones, and you will surely find some reference during your walk along it.
What you will also find if you are attentive is a hole in the wall from which you can see the island of Mogador. Get your camera ready and get in line to immortalize these views. Finally, if you are a fan of shopping and handicrafts, at the bottom of this wall you will find several stores to browse and, if you're lucky, find some treasures different from those in the souk of Marrakech.
The port
Essaouira is known for being a city of fishermen, so passing by the city's port is a must. In addition to some beautiful views by the sea, what you will enjoy here is a fabulous fish and seafood lunch at a very affordable price. Lunchtime in Morocco is between two and three in the afternoon approximately, but it is possible that some of these restaurants, accustomed to tourists, will serve you out of hours especially if it is a weekend.
The beach
If you feel like taking a dip, strolling along the sand, or watching the sunset from the rocks, the beach of Essaouira will be waiting for you. It has a cool water temperature all year round, something that in summer can be a relief if you're trying to flee from the sweltering heat that Morocco gets to do.
5. Eating in Essaouira
Eating in this fishing town deserves a separate mention. The fish and seafood served in the port delights all visitors, especially for its value for money. For about 10 or 12 dollars you can eat fish of excellent quality and for about 20 dollars you get an absolute feast. Don't pass this up!
Your tour guide or any of the locals you talk to can recommend places, but you can sit at ease in any restaurant in the port as the quality and prices are similar in all of them.
Forget about a la carte; here everything is cooked on the grill. Choosing a dish in the restaurants of the port will be easy; they usually have the catch of the day on display and the price is paid by weight. If they try to charge you more than they should, just say no and go to the next stall, it will work like a charm.
6. When to go to Essaouira
Weather
The climate in Essaouira allows you to visit at any time of the year. August is the hottest month with an average of 82 Fº and January is the coldest month with 50 Fº.
Anyway, I advise you, especially in the summer, not to go too much by the thermometer because, due to the humidity, the wind chill will be much higher than the thermometer. As for the rains, from December to March you will find more rainy days, but the rest of the year rain is practically not seen in Essaouira.
Tourist inflow
In terms of tourist influx, the best time to visit Essaouira will depend a bit on your travel plans. The city, in general terms, is not usually crowded, but usually receives more tourists in the months of spring which is the high season for travel to Morocco or in the autumn months as in Essaouira is very windy and this is the best time for surfing and similar sports.
7. Tips for your visit to Essaouira
If you have already been to Marrakech you will know that when packing your suitcase to travel to Morocco certain rules should be observed in terms of clothing. The ideal is not to wear anything transparent or too tight, but here, as in Marrakech, they are used to tourists, so it is not necessary to cover yourself, although you should dress with some moderation if you want to avoid uncomfortable situations.
What to bring on the excursion
For this particular excursion, I recommend comfortable shoes (although you are not going to walk long stretches; it is more for comfort during the trip), light clothing and, if you go in winter, a sleeve in case it gets cold in the late afternoon. If you go in an air-conditioned vehicle, take something to cover yourself during the trip.
It wouldn't be a bad idea (I certainly regretted not doing it) to pack something to eat and drink during the trip because, even if you count on arriving back in Marrakech within an hour, unforeseen events may arise and on the way back you won't have any stop where you can have something to eat.
Learn about the local culture
If you bring a guide during the excursion to Essaouira, do not hesitate to ask him, not only about the history and the corners of the place but also about places to buy handicrafts, places to eat according to your tastes or less known corners of the city to take nice pictures.
As for the latter, think twice before photographing locals without asking permission; some may get annoyed or the artisans may think you are copying their work. If you politely ask them by showing them your camera if you can take a picture of them they will either give you permission themselves or back off if they don't want to leave.
Shopping in Essaouira
As for shopping, be aware that at many of the stops along the Marrakech-Essaouira route you will encounter local artisans. Some of them will probably urge you to shop a little more discreetly than in Marrakech, but don't let yourself be carried away by the impulse.
Moroccans are used to dealing and bargaining with tourists so they will always start from a higher price than what they are actually willing to sell you the particular piece for. What you should buy in Essaouira for quality and price is the argan oil, but if the prices they give you are similar to European prices, discard them.
Ana's Traveller Tip

Beware of "unofficial cabs" in Marrakech that approach you to take you to places like Essaouira. In addition to not being professional drivers, they may not comply with safety measures.
8. How to get to Essaouira on your own
The easiest option to get to Essaouira from Marrakech is to do it with an organized tour; besides the price is very affordable, private transport allows you to save on logistics and waiting time (something that in a country like Morocco can be an important plus). However, there are also other transportation alternatives from Marrakech:
Bus
It leaves from the bus station of Marrakech and there are several companies (highlighting the CTM) that take you there in two and a half hours of travel. The round-trip ticket will cost you about 70 dirhams (8 dollars). If you are taking the bus, remember three things: get to the station early on the way out, don't arrive too late on the way back from Essaouira, and be patient if, instead of keeping to the timetable, the buses simply leave when they are full.
Hire a cab
In Marrakech, it is common negotiate with some cab drivers a price per day and during the day the cab is at your disposal to go wherever you want. It can be an option if you want to visit more places besides Essaouira, but it will not be cheap (although you can always negotiate the price) and it will not be the most comfortable since most cabs in Morocco are not exactly luxury and driving is not the safest in general terms.
9. If you liked the excursion to Essaouira, you will also like...
If the experience of going to Essaouira from Marrakech calls to you, you are in luck, the location of the capital of Morocco has many other points to make excursions during your visit. This is the case of excursions to spend the night in the desert, excursions to other villages in the region, or excursions to see natural passages. You can read more about what to visit while traveling in Marrakech in this article about Camel Rides and Tickets and this one about Day Trips and Excursions from Marrakech.
Frequently asked questions
What can I see at Essaouira?

At this charming seaside town, you can visit the famous Ramparts, the defensive walls on the coastline of Essaouira, sip champagne at the popular II Mare bar, enjoy the annual World Music Festival if you happen to visit on June, discover an argan oil cooperative and try all sorts of water sports.

Is one day enough to visit Essaouira?

A day trip will be enough to cover most of the landmarks of the city, but you would be missing the great atmosphere that the city has at night. If you can, stay for a couple days and one night.

What are the best souvenirs I can find at Essaouira?

Argan oil is the superstar product of Essaouira, and you can find the best at Rue 33 Majorelle. Babouche slippers are also a classic souvenir that you can browse at the slipper souk. Also, leather bags make up for a perfect gift to bring back home.