Marrakech in February: best things to do (activities, events, itineraries)
Think you already have your whole trip to Marrakech in February planned? Wait until you read my recommendations of the activities you can't miss during this month, from art festivals to nature shows.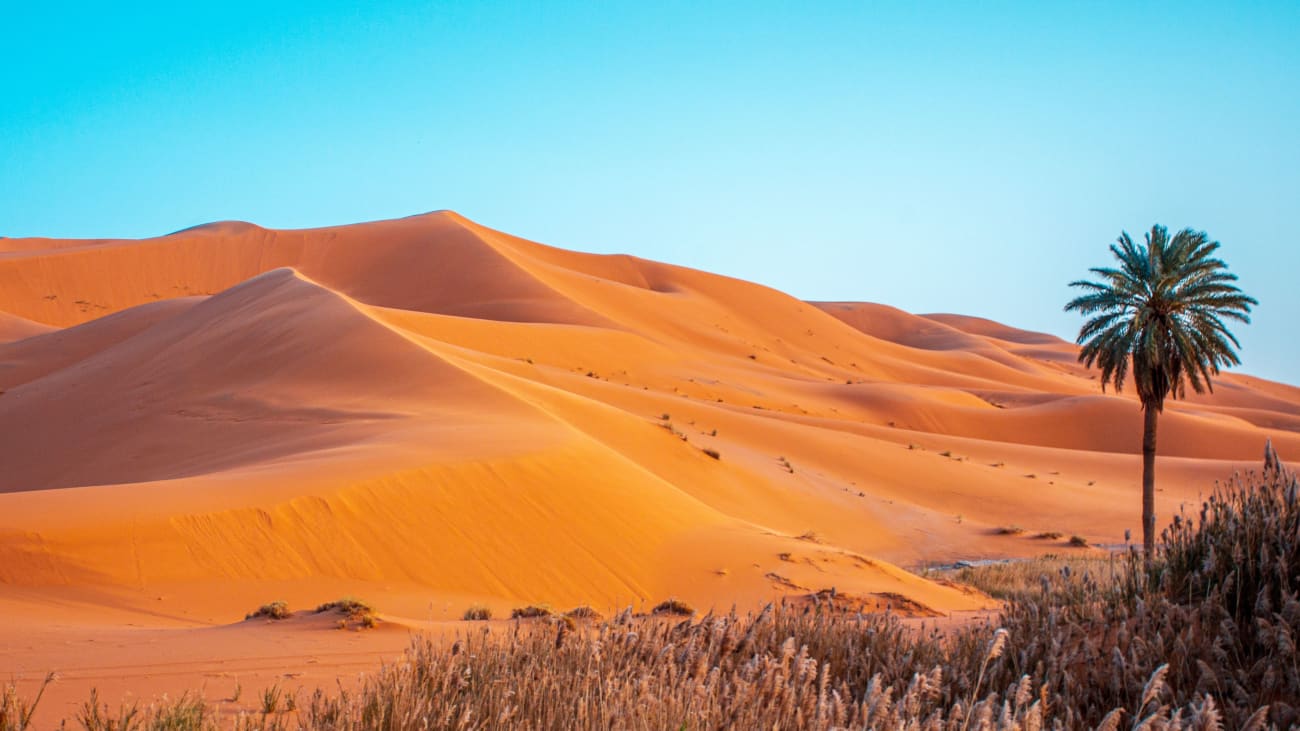 I have no doubt that you have almost completed the list of things to see and do on your trip to Marrakech, but if you travel in February you have to know that there are activities and events that this month are enjoyed more than ever, such as a cultural festival or even a trip to the snow to discover a landscape that perhaps you did not think possible in Africa.
In addition, February is a very quiet month in Marrakech, as it is low season and the crowds that the city usually has the rest of the year will not be a problem during your trip. So, you can enjoy the activities that I propose and without being too hot, since the winter climate in Morocco is like a spring.
1. Marvel at the almond blossoms in the Koutoubia Mosque Gardens
If you have ever seen a landscape of almond blossoms, you know how magical it is. If you haven't yet witnessed this natural phenomenon, Marrakech is a great place to do so, especially in February, when the almond trees are in bloom.
Although there are almond trees in many of the gardens scattered around the city, I recommend that if you go to Marrakech in February you go to the Gardens of the Koutoubia Mosque. There you can sit in the evening to observe the beautiful colors that bloom in the almond trees and also to get intoxicated by the sweet smell they give off.
Of course, this haven of peace is the perfect finishing touch to your visit to the Koutoubia Mosque, which is free of charge. You will be amazed by its minaret, which stands out above the surrounding buildings, imposing and beautiful for the pinkish hue given by the sandstone, the material with which it was built. The perfect combination for the almond blossoms!
2. Witness the interculturality of the Marrakech Biennale
If there is one thing that makes Marrakech stand out, it is its interculturality. Its history, marked by the French presence during the time of the protectorate, and its tourist attraction have turned Marrakech (and Morocco in general) into a place where cultures come together. Undoubtedly, an exciting spectacle that, although it is experienced every day in the streets of Marrakech, deserved a festival: the Marrakech Biennial.
Focused on the avant-garde of different arts (cinema, literature, architecture, performance...), this trilingual festival (in Arabic, French and English) is held at the end of February and serves as a nexus of union and presentation for different artists and cultures.
If you like art and enjoy admiring the coexistence and respect between cultures, you have to come to the Marrakech Biennial during your trip in February. The conversations that are established between artists, the exhibitions and the events that take place (such as performances or readings) enrich everyone who attends.
In addition, there are several facilities and museums that host this festival, so it will also serve as an excuse to visit places like the Comptoir des Mines gallery, the contemporary art center par excellence in Marrakech.
3. Enjoy a tasty orange juice at its optimum ripening time
If there is something that you have to try during your stay in Marrakech is orange juice. It won't be too difficult to find it, you'll see; in the medina of Marrakech, among its intricate streets, you will find the Jemaa el Fna Square. Bustling at night, during the day it still has a lot of atmosphere, but it is the best time to try one of the natural orange juices, fruit that in February will be at its best ripeness.
But the taste of a well-ripened orange is not the only secret that explains the rich sweetness of the juices. Do you want me to tell you about it or would you rather try to discover it when you taste it? Well, in Marrakech they make such a rich juice because they mix orange juice with mandarin juice, which is much sweeter.
Once you are in Jemaa el Fna Square, I recommend you to stroll for a long time through the medina, discovering its souks and, perhaps, shopping at one of the stalls, tasting the spices they sell there or simply absorbing all you can of the culture so typical of the traditional markets.
I know they can be overwhelming, with so much movement and bargaining, so I recommend you to go on an organized tour of Marrakech, so that your guide is the one who shows you the best stalls of fabrics, spices or aljafería while you know the city in depth.
4. Live an adventure and ride a quad in the desert
It is clear that the desert of Marrakech is there all year round and there are many activities that await you in the desert of Marrakech, but February is a great month to enjoy it at a mild temperature and with less chance of a sandstorm, much more common during Marrakech in summer.
If you have never been to a desert, you will be surprised how high the dunes can get (up to 200 meters) and how complicated it can be to walk between them. My advice is to book a quad tour. I can assure you that it is an incredible experience to know every last corner of the desert and live an adventure that raises your adrenaline as you climb the mountains of sand.
Being a single day trip to the desert, you won't experience the cold at night. Yes, although I also thought that it was very hot in the desert, that is partially true, because at night, at any time of the year, the temperature in the desert drops so much that sleeping can be complicated. In February this cold is even colder, so I recommend you to enjoy the desert and its dunes during the day.
5. Warm up with a traditional bath in a hammam
In general, the average temperature in February in Marrakech is about 15ºC, although you can always check the weather forecast before traveling. Despite the mild temperatures that will allow you to walk around the city even in short sleeves, it is possible that one day it will be cooler than expected. If that day comes and you want to escape the February cold, why not relax in a hammam? These Arab baths will warm you up and leave you feeling like a cloud.
The hammams are public baths that are part of the culture and tradition of Marrakech, so you can not leave the city without visiting one. Between its pools of hot and cold water and steam baths, you can relax and recover the energy lost during your visit to the city. My advice is to close your eyes, listen to the music playing in the background and spend a long time worrying only about your well-being.
If you allow me one last tip, go to a traditional hammam and take the opportunity to have a snack in the form of teas and pastries, something very common, as these baths also act as a social and meeting center.
6. Enjoy the snow in the Atlas
Do not think that everything in Marrakech is desert, sand and sun, because as soon as you see the Atlas Mountains you will be surprised. The reality is that the imperial city extends at the foot of this mountain range that acts as a division between the Mediterranean Sea and the Sahara. February is the best month to see the mountain range with a blanket of snow, clashing directly with the image we have of the African continent.
The Atlas, in its Moroccan part, is divided into Middle Atlas (maximum height of 3356 meters), High Atlas (with the Toubkal peak and its 4167 meters) and the Little Atlas or Anti-Atlas, whose highest peak, with 2712 meters, is the Amalun Mansur. Generally, in February the High and Middle Atlas are snowy, leaving a beautiful landscape to enjoy for sure.
If you are an experienced hiker, maybe you dare to start a route to the top of Mount Toubkal, the great peak of the mountain range. Of course, no matter how much knowledge of mountaineering you have, it is best that you go with a guide and well equipped, because covered with snow, although beautiful, is a somewhat complicated route because of the altitude it reaches (over 4000 meters).
If what you want is to see how the snow covers the mountains but without going into it, nothing like doing it from the heights aboard a hot air balloon. The experience will be incredible and you will keep the precious memory of having seen Marrakech from the heights and bordered by the snow-capped Atlas.
7. Live your own movie on the scenery of Marrakech
Marrakech is a tourist destination for many reasons, but one of them is that, crossing the High Atlas Mountains, you get to Ait Ben Haddou, a fortified city declared a World Heritage Site by UNESCO and has been the scene of many Hollywood movies, as well as the Game of Thrones series. There are many tourists who come to see it, being one of the excursions that can be done from Marrakech, so February is a perfect month to do it: much less crowds and more tranquility to visit it at your own pace.
Like all cities with history, Ait Ben Haddou is more enjoyable if you go with a specialized guide. Taking advantage that it is February and that there is less demand, it will be like having a private tour of this Kasbah, the name given to these urban fortifications so typical of Berber settlements.
8. Escape the cold February evenings in the Majorelle Garden
Although temperatures in February are warm, without being suffocating, it may be that one day in February while you are in Marrakech the cold becomes noticeable, in that case, I suggest you visit the Majorelle Garden, which houses plant species from five continents and, what interests you most, a microclimate where you will not spend neither cold nor heat. The entrance fee is approximately 9€, but I warn you that it is well worth it. I'll tell you why.
Designed by the painter Jacques Majorelle, this garden is like a painting in which different shades combine to create a calm, quiet and beautiful space on the edge of theMarrakech Palm Grove. However, if you are going to visit it will be thanks to Yves Saint Laurent, as the famous designer rediscovered and saved the garden from demolition after Majorelle's death.
Like you, many birds find in this garden a perfect place to rest and protect themselves in the days of February when the temperature drops in Marrakech.
What can not miss in my suitcase to go to Marrakech in February
Although the final list of what to pack depends on the activities you are going to do in Marrakech, my recommendation is that, despite the mild temperatures that will be in the city during the day, do not forget some warm clothes for the evenings, when it usually cools down. My advice? A jacket or a fleece that takes up little space and is lightweight.
Marrakech's climate is generally arid and temperatures in February range from 8°C to 20°C with a 14% chance of rain, so there's no need to pack an umbrella or raincoat.
If you are going to include a visit to a hammam, the most traditional and typical public baths of Marrakech, remember to bring bathing clothes and a towel.
Is there a lot of tourism in Marrakech in February?
As in Marrakech in January, the number of tourists visiting Marrakech in February is lower than usual. This means that prices are also a bit cheaper, perfect if you want to stay in a Riad (the traditional Moroccan villas), get cheap flights and enjoy Marrakech without long queues and crowds. In short, a real luxury.
Just because there are less people does not mean that you have to pay less attention to your safety in Marrakech, so keep alert to possible tourist scams or unreliable excursions.