How to go from Marrakech to Essaouira
Getting to the charming corner of Morocco known as Essaouira is really easy. If you want to know in detail the transportation options available from Marrakech. Below I give you all the details so you can choose the most convenient one.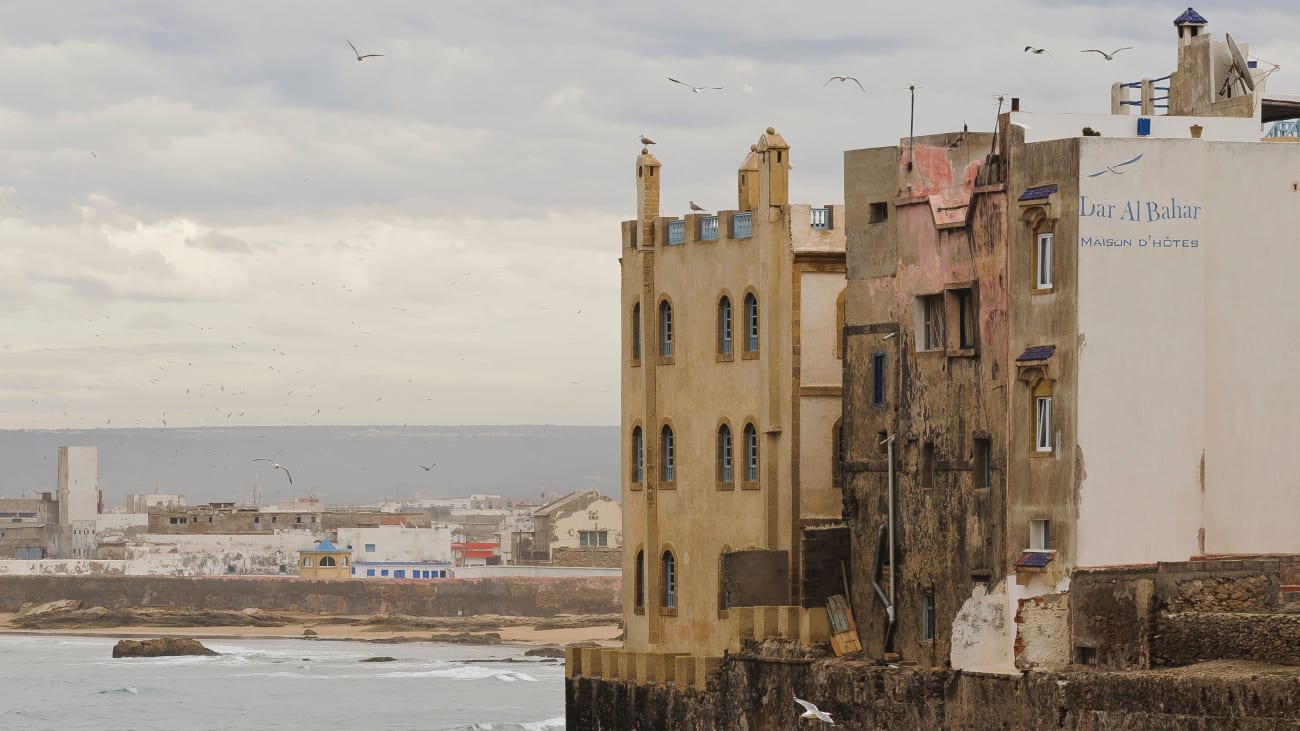 The city of Essaouira or Mogador is located on the west coast of Morocco 168 km from Marrakech. This small city has gained importance for being an alternative escape to Marrakech and for serving as a setting for the realization of some episodes of the famous television series Game of Thrones.
The best option to visit Essaouira: An organized tour from Marrakech
If you only have one day to visit Essaouira from Marrakech, the easiest alternative is with an organized tour. Nowadays excursions can be booked very easily on the internet which means that when you arrive in Morocco most of your trip is planned and you avoid running out of space in the excursions or places you most want to visit.
The excursions organized from Marrakech start early in the morning with an exclusive transport that picks up tourists directly at their hotel. On the way there is usually a stop at some of the main sights to see in Marrakech, such as stopping to see the Moroccan goats that climb trees in search of argan oil. Then you embark to the city of Essaouira with all its delights and you will be back at your hotel by dinner time.
Although there is much to see and do in Essaouira, it is perfectly possible to see and enjoy the city on a day trip. In this time you can explore the old townof Essaouira, the fishermen's port, the jewelry quarter and its beautiful and quiet beaches.
A guided excursion to Essaouira can easily be combined with other adventures such as a day trip to Essaouira with surfing lessons included or a day trip to Essaouira with gastronomic tour and quad biking.
Recommended if... You want to discover the beauty of this destination in a hassle-free and totally relaxed day trip.
Price: The excursions from Marrakech to Essaouira are really affordable, with a cost of about 30€ for group excursions and up to almost 100€ for private excursions.
Duration of the trip: Essaouira is relatively close to Marrakech, the trip including stops usually takes a maximum of 2.5 hours. This means that you will be in the city at 10 am and have the whole day to explore as much as you want.
The most flexible option: travel by private car
The car rental business in Marrakech is a usual practice and in high demand; consequently it will be very simple to find alternatives of cars to rent in Marrakech at quite affordable prices. Although it is an alternative that can be economical, the truth is that I do not consider it viable for everyone and here I express my reasons:
If this is the firsttime you visit Morocco you should keep in mind that driving on Moroccan streets is a totally different experience than driving in Spain. The streets are much more congested and traffic in general can be quite chaotic, especially in the center of Marrakech.
Another important consideration is the language issue, officers and service personnel operating in Morocco will not know how to communicate in Spanish.
Finally, once you arrive in Essaouira a car is not necessary and it can even be a hassle to find a suitable place to park it. You may have to pay extra to park it in a safe place.
Recommended yes... Renting a car to visit Essaouira is a highly recommended option if you have visited Morocco before and have some notion of how to get around, have a Moroccan native or an immigrant based in Morocco as a travel companion who can serve as an interpreter in important conversations or you plan to make excursions through several Moroccan cities.
Price: Renting a car in Marrakech is really cheap starting at rates as low as 8€ per day for simple and small vehicles (perfect for 2 or 3 people); up to 25€ for larger vehicles. As an additional cost you will have to consider tolls, fuel and possible parking fees.
Travel time: The trip from Marrakech to Essaouira will take you an average time of 2 hours by car. I recommend you to take advantage of the freedom provided by this means of transport to make stops at places of interest such as goat trees. In the middle of your route Marrakech - Essaouira you will find goats climbing trees looking for argan oil from their seeds. Do not forget to take pictures!
The most economical option: Travel by bus.
From the bus station in Marrakech a bus leaves approximately every hour to Essaouira. Whenever you want to travel by bus from Marrakech I recommend using two companies whose links I share below. Both companies have an exceptional service and comfortable transportation in optimal conditions.
Getting to the bus station in Marrakech is very easy, as it is located right next to the train station. If you go to Essaouira on a day trip you can walk from the old town of Marrakesh tothe bus station on an exploratory trip that will take about 40 minutes. Another option is to take a cab to the terminal, these usually charge an average of 5€ for a similar journey.
Try to arrive at the station 20 to 30 minutes before the scheduled departure of your bus, this way you will have time to buy your ticket, if you haven't already done so, and you will be sure to get space during rush hour.
Once you arrive at your destination in Essaouira immediately purchase your return ticket. The end of the day is a peak time of high demand which causes seats to sell out very quickly. This way you will avoid major inconveniences on your return trip and once you have finished exploring the city, you will only have to worry about arriving at the station with enough time to not miss your bus.
If you decide to visit Essaouira by bus, be aware that it is unlikely to find employees who speak English.
Recommended if... You have visited Morocco before and feel ready to embark on an adventure on your own. You will need to find ways to communicate
with the locals who, unlike the guides and hotel staff, are unlikely to speak Spanish. Although you will always have the option of communicating in French or English.
Price: The cost of a ticket with the transport company CTM is approximately 5€ and you can purchase tickets directly on their website or at the bus station a while before boarding. Take into consideration peak times at the beginning or end of the day.
Travel time: A trip from Marrakech to Essaouira will take approximately 3 hours. This time does not include stops along the way and you should consider as additional waiting time at the bus terminal.
The least recommended option: Travelling by Taxi from Marrakech
Another alternative to travel from Marrakech to Essaouira is to hire the services of a cab company. This type of transportation is highly used inside the Big Red City and can be a really comfortable alternative of transportation although less favorable due to its price.
It will be relatively easy to find a cab driver who speaks Spanish, English and French in the vicinity of the hotels. If not, you always have the alternative of asking the hotel staff to help you arrange suitable transportation.
A useful tip if you travel to Marrakec to negotiate: Try to agree on the fare with the driver before getting into the car. You can use this time to practice your bargaining skills. If you make the mistake of starting the trip without determining the final price, the driver will feel entitled to demand the amount he wants, which can lead to a very uncomfortable situation.
Recommended if... You want to make a private and personalized trip that involves the pick up and return to your hotel in Marrakech.
Price: Here it will depend a lot on the deal you get with the driver of the vehicle, however I recommend you to budget an amount between 120 € to 200 € approximately.
Duration of the trip: A cab ride from Marrakech to Essaouira is relatively short with an estimated duration of 2.5 hours in total.
What is special about Essaouira?
Marrakech is one of the most effervescent, intriguing and chaotic cities I have ever visited; Essaouira on the other hand is one of the most calm and relaxing places on the planet. Tinged with an alternative atmosphere both its architecture and its beautiful beaches, its pleasant climate and buildings seem to have stopped in time so that a walk through its streets becomes a magical and even nostalgic experience.
Essaouira was declared a UNESCO World Heritage Site in 2001. It is an extremely popular tourist destination for its many riads (Moroccan accommodation stays that include overnight stay and morning breakfast). The city is also known for its attractive handicraft industry, particularly its inlaid woodwork.
Whether you visit the pearl of the Atlantic on a private tour, in your own car or by bus, I am sure you will have a great time!
If you hire an excursion
Besides the convenience and comfort in terms of transportation, the main advantage of hiring a tour to Essaouira is the staff that accompanies you. The guides of these excursions are experts in their area so they will be able to show you the most attractive tourist spots.
Depending on the excursion company you hire, a guided tour to Essaouira may include all or several of the following activities
Stop to meet the association of Berber women producers of argan oil.
Stop to see the curious goats that climb the trees looking for oil.
Visit to the Moulay El Hassa Square.
Visit to the traditional souks
Visit the old Medina
Eat a delicious fish. In the souk or near the main square of Essaouira.
Visit the beach of Essaouira
Take pictures with the camels on the beach.
Options for surfing, kite surfing, kayaking
If you go on your own
Being on your own terms you have the advantage of including as many activities as time permits. Use the list shared above for inspiration and try to leave early from Marrakech to make the most of the day.
Interesting historical facts about Essaouira
Archaeological records found so far suggest that Essaouira has been inhabited since prehistoric times.
In the 1st century BC. The Berber government known as Juba II created a purple dye in Essaouira. This dye would be exported to Rome and used to dye the colored border of the senatorial robes of the empire. At that time a small amount of purple dye from Essaouira was worth more than gold.
The fortresses that make up the medina of Essaouira were built by Portuguese conquerors in 1505.
Modern Essaouira was recovered in 1760 thanks to the work of King Mohamed III His goal was to build a city that would function as the main seaport of Morocco. To achieve this goal he hired engineers and builders from various backgrounds; he encouraged the inhabitants of his kingdom to move to Essaouira, hoping to bring life to the city.