How to get around Marrakech
Are you traveling to Marrakech for the first time and don't know what means of transportation you can use to get around the city? I'll tell you about it below!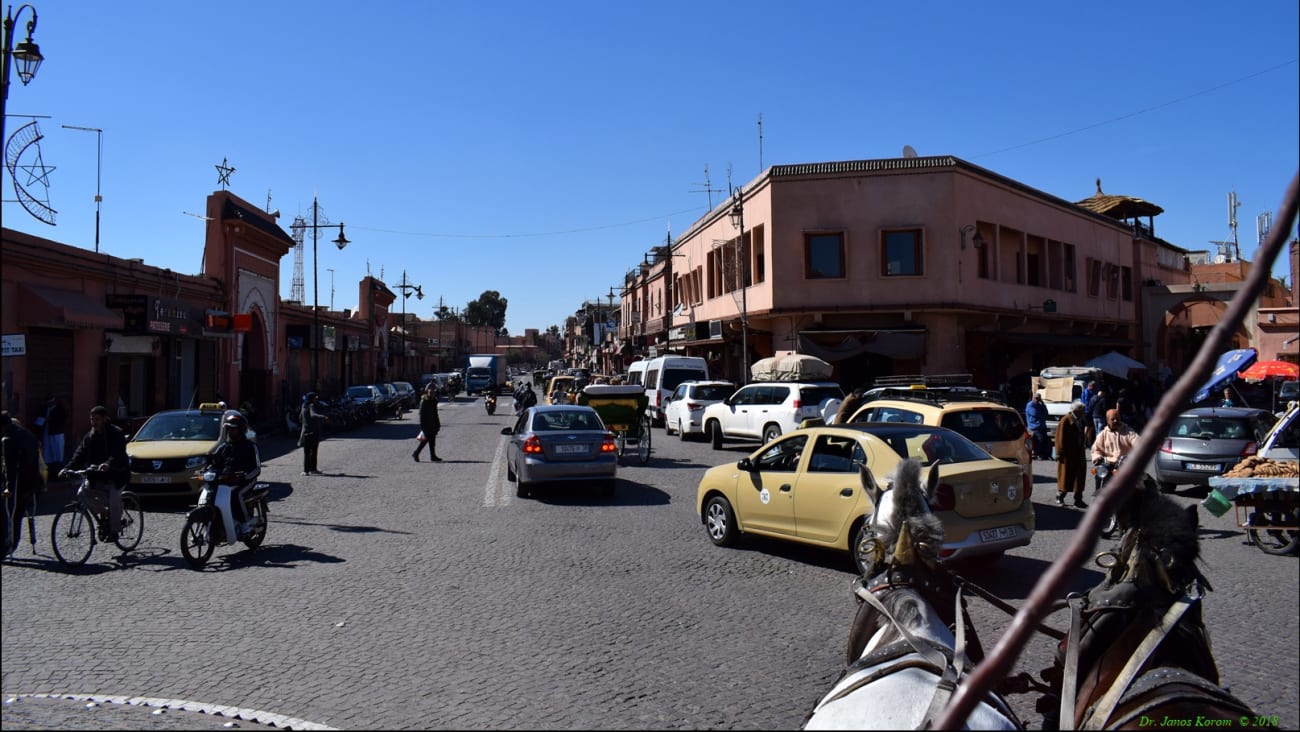 Marrakech is not a large city, so it is not difficult for a tourist to learn to manage to move through its streets. In addition, it has several means of transport that connect quite well the different parts of the city: bus, cab, carriages, private transfers...
In this post we review all the transportation options at your fingertips so you can learn how to get around while enjoying all the things to see and do in Marrakech. Let's get started!
1. On foot
The best way to get around Marrakech, especially if you want to see the Medina, is to take a long walk through its winding, narrow, ancient streets and charming squares.
There is no other way! And is that inside the Medina is not allowed traffic circulation. Only bicycles, carts and motorcycles can move through it and they drive at high speed, so you should be careful when you go sightseeing in the center because they could collide with you.
When you go to visit the Medina of Marrakech, remember to follow a few small rules of the road to make the most of the ride.
Always keep to the right
Give way to two-wheeled vehicles.
Whenever you hear someone exclaiming balak (be careful) in the background, it is best to move to the side and give way to them.
Exploring the Medina of Marrakech on foot is a marvel. Part of its charm lies precisely in getting lost in its maze of streets. If you were to tour the Medina in a vehicle, the experience would lose its magic.
Entering the Medina on foot is like taking an exciting journey back in time to the origins of the city, where there are always surprising and fascinating little treasures to see such as the souks, riads or mosques that you will find along the way.
2. Private transfer
If you are visiting Marrakech for the first time, another way to get around the city is to book a private transfer between the airport and your accommodation to take you to your destination in a comfortable, fast and safe way.
After flying for several hours you are probably tired and the last thing you want is to have to walk up and down the Menara airport, carrying your luggage, looking for a free cab to take you to your hotel and with whose driver you will probably have to haggle for a while the cost of the ride before getting into the vehicle.
Cut the hassle and simplify things! Private transfers are a great option that I recommend you try. Hiring this service, a professional driver will pick you up at your arrival at Menara airport, will help you with your luggage and will take you to the door of your hotel without delay. With a fixed price and knowing in advance what it will cost you. No surprises, no eternal haggling.
Another advantage of the transfers to move around Marrakech is that you will travel in modern vehicles equipped with all the comforts and you will make a quiet trip accompanied by a driver who knows Marrakech perfectly and with whom you can understand in Spanish, French or English to ask for any recommendation. Something fantastic because in Morocco the predominant language is Arabic and so there will be no language barrier.
3. The cab
Cab is another of the best ways to move around Marrakech. You will find them circulating in the street, in the most touristic areas or at the airport. Compared to the service offered in some European cities, the one in Marrakech is more economical.
There are two kinds of cabs in the city. Both have the same light brown color but differ in size, type of car and the route they can take.
Petit cab: The small ones are used to move only inside Marrakech. They have a taximeter although some drivers may forget to turn it on so you will have to request it before starting.
Grand Taxi: The big ones are used to travel outside the city connecting them with others or with some places of interest in the outskirts such as the Palm Grove of Marrakech or the Majorelle garden. They are not metered so you will have to haggle the price of the ride with the driver and come to an agreement.
In Marrakech you can also find some unofficial cabs that perform the service of travel from the airport. You will recognize them because they do not have a taximeter or official identification plate.
Itis not the most advisable option because it may not have the corresponding guarantees and is not safe but if you decide to use it, remember to negotiate before starting the price to avoid problems.
4. By city bus
Compared to the aforementioned options, the bus is not the most popular way to move around Marrakech among tourists (although it is a cheap option) as the journey is not very comfortable for several reasons.
For example, urban vehicles are not very modern and are often crowded, something that combined with the heat of the city does not make it a very comfortable transport. In addition, except for the stops at the most touristy places, others are not so well identified, making it easy to get lost in the city if you do not know it well.
There are about 30 bus lines in Marrakech and most of them are located around the Jamaa el-Fna Square. As an orientation, line 1 goes to the Gueliz district from the Kasbah, lines 8 and 10 operate between Jamaa el Fna and the train station and line 12 operates between the Jardin Majorelle and the Bab Doukkala bus station.
As for bus schedules for getting around Marrakech, they start running around 6 AM and end at 10 PM. The frequency of most routes is 15 or 20 minutes.
5. By tourist bus
A very fun way to get around Marrakech is to take the tourist bus, as it allows you to explore the highlights of the city in a very short time doing any of the two routes that exist (Historical Tour and Palm Grove Tour) while you travel comfortably seated.
In addition, unlike city buses where you buy a ticket to make a single journey, the tourist bus is governed by the Hop-on Hop-off system where you pay for days of use and you can get on and off as many times as you want at the stops along the route. It is very practical because if it is the first time you visit Marrakech you can get to know it at your own pace designing your own route to your liking.
Both routes of the tourist bus have a duration of about 1 hour and start at the Tourist Office stop.
The schedule of operation is as follows:
Historical Tour: 9 AM to 7 PM (winter) and 8:30 PM (summer).
Palm Grove Tour: From 10 AM to 5 PM (winter and summer).
6. By horse carriage
In front of the big hotels in Marrakech and in Foucauld Square, next to Jamaa el Fna Square, you will find some nice green horse-drawn carriages that you can ride in for a ride through the city center if you feel like discovering the city in a romantic way.
You can do several circuits. For example, the circuit around the ramparts usually lasts about 90 minutes and the one around the Palmeral about 3 hours. These carriages do not have a taximeter so you will have to bargain with the driver the price depending on the route and the duration of the trip.
Many tourists choose this option to move around Marrakech in an original way so if you want to get to ride one at a good price, I recommend you avoid rush hours (8 AM, 12 PM, 5:30 PM and 7:30 PM).
7. By bike, motorcycle or car
Another option to get around Marrakech is to rent a vehicle to drive on your own.
In the case of a car or motorcycle, to drive in Morocco you will need to have an international driving license for the period of validity of the license. However, this period cannot be longer than one year.
It is a good option if you travel to Marrakech as a couple or in a group because you can split the transportation costs and overall it is more economical. In addition, renting a vehicle you will have more freedom to explore the city and other parts of the country visiting landscapes and charming villages.
To see which rental agency suits you best, I recommend using a website where you can compare options such as Rentalcars.com or Auto Europe.
As for bicycles, they are the best option along with motorcycles if you want to visit areas such as the Medina and the Kasbah without getting too tired walking.
You can rent bikes in stores in the city such as Atlas Sport or Pikala Bikes. And to rent motorcycles you can consult the web Rentalmotorbike.com or Riderly.