11 Tips for visiting Marrakech
Marrakech is one of the most amazing cities in Morocco, take note of these tips to enjoy your trip more and better!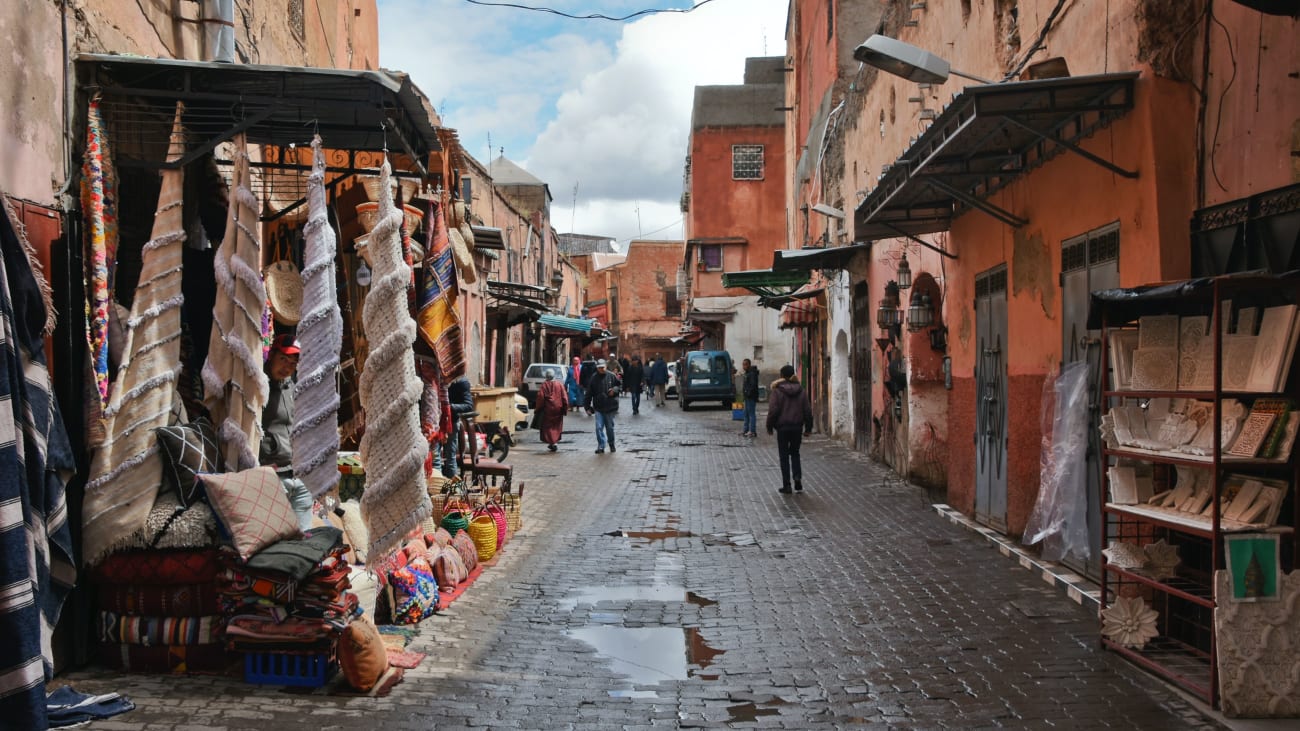 Are you thinking about visiting Marrakech? If this is the first time you visit Morocco, you may have some doubts about this destination. To help you organize the ideal getaway and make the most of every moment, in this post you will find 11 tips for visiting Marrakech. Let's go there!
1. Travel to Marrakech in spring and autumn better than in summer
The best time to travel to Marrakech is spring and autumn. The days are sunny and the temperatures, although warm, are pleasant. The weather is not sweltering, so you can do a lot of outdoor activities and get the most out of your experience in Morocco.
Unless you are resistant to heat waves, I advise you to avoid the summer months if you want to visit Marrakech, as the thermometers can easily shoot up to 40ºC and the atmosphere becomes too stifling to go out for sightseeing tours in Marrakech or for an excursion to the Agafay desert.
However, if you decide to visit the desert from Marrakech, I advise you to hire an organized tour. You will travel more comfortable and quiet, you will know all the secrets and charms of the area and, above all, you will be much safer.
2. Take out a medical insurance to go to Marrakech
Marrakech is a safe city with an acceptable health system, although sometimes it may not be enough, since it does not have the quality of the health system that you can find for example in European countries, so in a difficult situation you could find many obstacles that you can avoid by hiring health insurance for travel to Marrakech from home.
In case you need a complex medical treatment you will have to go to private clinics, where prices can be very high if unfortunately you suffer a mishap during your stay in the city and you do not have medical coverage during your vacation.
However, before you start looking for travel health insurance I advise you to check if the contract clauses of your bank cards include some insurance that you can benefit from in your getaway to pay for this trip with them.
3. Register in the Travelers' Registry of the Ministry of Foreign Affairs
If you are traveling to Marrakech it is advisable to register in the Travelers Registry of the Ministry of Foreign Affairs giving your personal details and those of your trip so that in case of emergency or need, the Spanish authorities can try to locate you there.
This procedure is free and also voluntary but, if you are looking for security when traveling abroad, this small gesture can be of great importance in case you are in an emergency situation, need assistance during your vacation and to communicate your whereabouts to your close circle.
To register you can do it online or by filling out a form that you will have to send by fax to the General Consulate of Morocco or, failing that, to the Spanish Embassy.
4. Dress modestly in public
When packing your suitcase you should not lose sight of the fact that Morocco is a conservative country with deep-rooted Muslim customs. For women it is advisable to choose loose-fitting clothes that cover the shoulders and legs. It is not advisable to choose revealing or tight-fitting clothing, as it could offend susceptibilities and attract unwanted attention, leading to unexpected situations.
As for the veil, it is not mandatory but it is advisable to carry a light scarf in your bag in case you need to cover your hair at some point during a visit to a mosque, for example.
Otherwise, considering the hot climate of Marrakech, I recommend packing in your luggage cotton clothes that are cool and light, comfortable shoes to walk up and down the city as well as sunglasses and a hat to protect you from the intense sunlight.
5. Getting around Marrakech by transfer and on foot
To move around Marrakech you have different means of transport but the bus and cab are the most used. However, if it is the first time you go to the city, I recommend booking a transfer between the airport and your accommodation to take you to your destination quickly, comfortably and safely.
Buses in Marrakech are often crowded and with the heat of the city, you may not find it a very comfortable ride if you are loaded with luggage. As for the cab, it is the most used transport but sometimes some drivers forget to turn on the meter and then determine the real cost of the race is not easy. In that sense, transfers simplify things a lot and that is why for tourists is a highly recommended option.
To move around the Medina of Marrakech you will have to walk because the streets are so narrow and old that except for bicycles, motorcycles and some cars, there is no room for any other means of transport. So remember to wear comfortable shoes because you will walk a lot!
6. Enjoy the delicious local cuisine with an eye on what you eat
Marrakech is a great place to eat. During your stay you can try delicious dishes of traditional Moroccan cuisine with Western influences, especially French gastronomy. Moroccan food is very spicy and if you are not used to it, you will surely enjoy trying new dishes and broadening your culinary horizons.
Take advantage of your trip to Marrakech to make a small gastronomic tour of the restaurants of Marrakech and discover new flavors and aromas. However, if you feel like eating where the locals do, you have to go to the stalls of the Jamaa el Fna market at night, the prices are very cheap and you can eat very curious things!
However, if you dare to try street food in Marrakech keep your eyes open and make sure that what you are going to take is in good condition so you do not get food poisoning.
7. Know the holidays to go to Marrakech
As with other cities of Muslim culture such as Dubai, Istanbul or Cairo, when planning a trip to these destinations it is always a good idea to check when their holidays take place.
Many of the holidays in Morocco are determined according to the lunar calendar and this makes it a bit difficult to find out the exact date on which celebrations such as the Muslim New Year, Ramadan or Eid al-Adha (the Feast of the Lamb) fall, as they vary from year to year.
During these dates you are likely to find the city too quiet and with hardly any movement and perhaps as a tourist you may prefer to wait for another time to see its livelier and more vibrant side. Searching the internet you can see some estimates to make it easier for you to organize your trip to Marrakech.
8. Be respectful during Ramadan
If your visit to Marrakech coincides with Ramadan, this is a good time to immerse yourself in Islamic culture and learn more about its customs.
Ramadan is the holiest month in the Islamic calendar. During this time of year, Muslims celebrate the time when Allah revealed the Quran to the Prophet Muhammad and families pray and fast from sunrise to sunset.
In Morocco it is celebrated in a strict way and the country stops to adapt to the schedules of this holiday, so it is common for stores to close during the day but at night the streets are full of people and joy. Seeing Marrakech at this time of the year has a special charm, but as a tourist you have to get used to the idea that things are different from the rest of the year. For the duration of the fasting time, try not to eat and drink in public. It is considered a gesture of courtesy and respect.
9. Learn how to bargain in the souks
In the souks and stores of Marrakech there are very curious things to take as souvenirs: sweets, cosmetics, handicrafts, leather goods ... but if you want to buy you will have to learn to haggle. It's part of the culture and the Marrakechis love it!
Do not accept the first price they propose or you will spoil the party. One trick to closing a good deal is to haggle first on the price of a product you are not very interested in and pretend that the price the seller gives you is too high and you are not interested. When he sees you leaving and suggests another price, ask him for the product you really want. Chances are that he will give you another more reasonable price after seeing that he almost lost you a customer.
Take the opportunity to practice some Arabic words and don't be in a hurry to finish the bargaining as soon as possible - add a little salt and pepper! It's like an art that you learn over time and it will be a very interesting cultural experience.
10. Be friendly with the street vendors
In the tourist areas of Marrakech you are likely to encounter very insistent vendors who try their best to get you to buy something from them. They don't give up at the first refusal!
Even if it is the 20th time you refuse a vendor's offer on your route, don't lose your patience or respond rudely.
Answer a simple "no, thank you" with a smile and be on your way. After all, they are trying to make a living and earn a little money.
11. Be respectful when taking pictures on the street
As tourists sometimes when traveling we are curious about what is different and experience a culture shock that leads us to take pictures of anything that surprises us.
When taking pictures of the urban landscape, be careful who you take pictures of. In Morocco, it is forbidden to take pictures of law enforcement officers and other people may feel uncomfortable being in the spotlight of tourists' lenses.
If you want to take a picture of someone , ask permission first to avoid problems. Being respectful of others is also a way to travel responsibly.