How to Get to The Edge NYC
Getting around New York is not always an easy task, especially when you don't want to miss anything. If you are planning a visit to The Edge, you should know that it is very well located and connected to the rest of the city. Here's how to get there.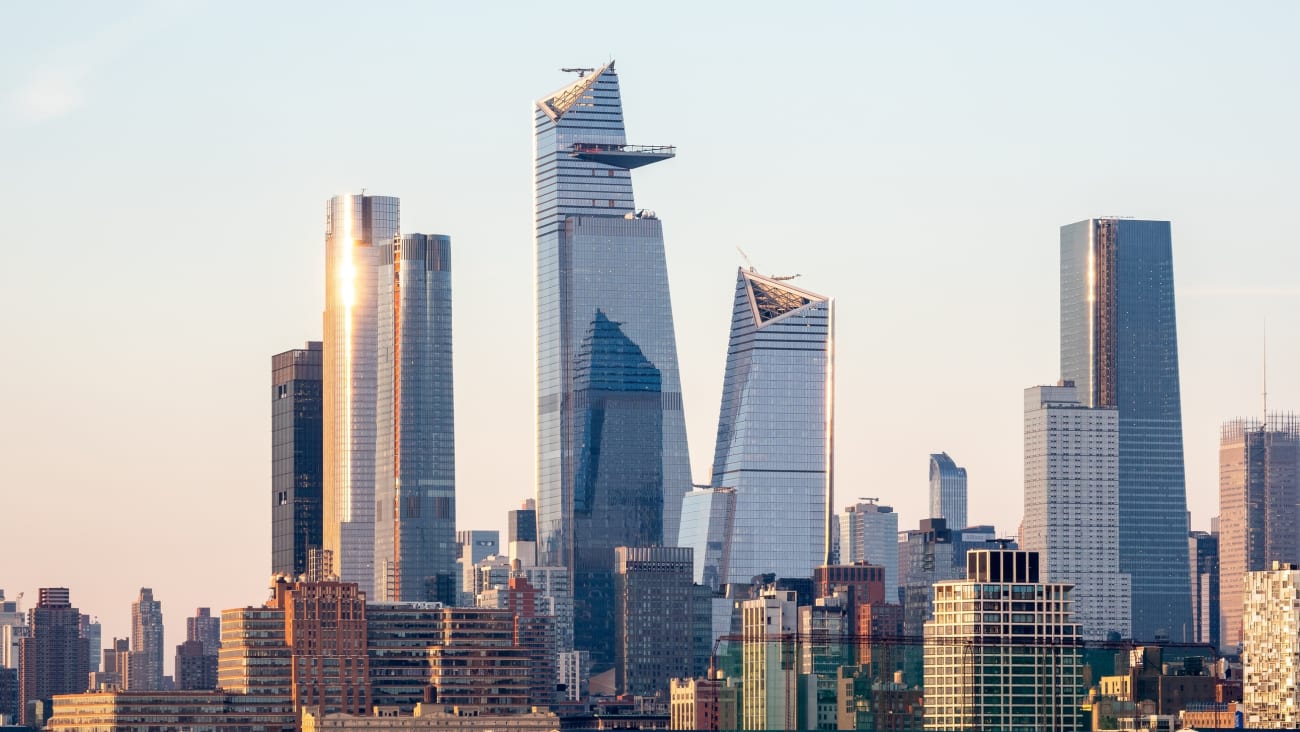 The Edge Observatory, one of the must-sees of the New York skyline, is located at the 30 Hudson Yards building on the west side of Manhattan along the Hudson River. The main entrance is on the corner of 10th Avenue and 33rd Street.
There are many ways to get there depending on your location, itinerary, budget and your desire to experience New York City!
1. Choose the subway if you want to get to The Edge viewpoint faster
Line 7 (purple color) of the New York subway MTA, goes from Queens to Hudson Yards and stops at 34th Street. So it is ideal if you are sightseeing or staying downtown, because it will take you straight to The Edge.
In Manhattan and before reaching the Hudson Yards neighborhood, this line has stops (among others) at:
Grand Central Station (42 St)
5th Avenue
Times Square (42nd St)
Subway fare
The single subway ticket costs about 2,60 € (3 USD) and is purchased directly at the station. You can also buy the MetroCard, a rechargeable card valid for use on both metro and buses. It can be purchased for 0.90 € (1 USD) at any station, tourist offices and general stores.
Remember to check the New York Subway Guide before you start your journey, so you can have in mind all the schedules and information you need to get around the city.
2. Walk to the Edge from midtown Manhattan: the good, beautiful and inexpensive option
If you are going to be in Midtown, the best way to get to the Edge is undoubtedly walking. 34th Street, if you are coming from Times Square, is full of stores that can make the tour very entertaining.
And if you are coming from the West Village, you can walk along the High Line, another excellent option, which has many attractions. You can appreciate street art, relax with the scenery, eat delicious food at the Chelsea Market and enjoy a little green before immersing yourself in the most modernist skyline of the island of Manhattan and its skyscrapers.
New York is a city that vibrates with diversity, leisure, energy and where you will always have something to see. Whether you have a lot or little time, I recommend you to get lost in its streets and experience it on foot. To see it from the sky, you already have the observation decks!
3. Hop on the bus to get to the Edge, a convenient way to continue enjoying the views
It is true that the New York subway is not characterized by its comfort and many times, it can be overwhelming. Therefore, an excellent means of transportation you can opt for is the bus.
To get to The Edge, the lines you should keep in mind are: M34-SBS, M12, and M11. All of them have stops very close to the observatory and you will be able to enjoy the tour while you continue to know the city in depth (and rest between walks).
The price of the single bus ticket is the same as the metro ticket, 2,60 € approximately. You can pay in cash on the bus itself, but keep in mind that only coins are accepted. And if you plan to make several trips, I advise you to buy the MetroCard. A combined subway and bus card, rechargeable and perhaps the most practical option to move around Manhattan by public transport.
4. Train or Ferry, options for those staying outside Manhattan
For those with a more complex commute, there are also options. Penn Station is nearby between 32nd and 33rd Streets and 7th and 8th Avenues.
It is served by Amtrak, LIRR, New Jersey Transit and PATH trains. And in just a 15-minute walk, you'll reach The Edge. And if you're crossing from the other side of the river, the Midtown Ferry Terminal is located at 39th Street and West Side Highway. It's not a bad idea to start your day by crossing the Hudson to get to your destination!
Both (train and ferry), have a price similar to the subway and bus that is around 2,60 € (3 USD) for a single ticket.
5. Uber, Lyft or cab, if you want to go door-to-door to The Edge
You can take Uber, Lyft, or cab if you want to comfortably get door-to-door to the observatory. However, city traffic and traffic jams can play tricks on you and complicate your arrival at Hudson Yards.
So I recommend that you think carefully, especially if it is not a short trip, where you can control any unforeseen events. Anyway, I give you an idea of prices, according to different routes, so that you can take it into account if it is the option that suits you best.
Approximate Uber/Lyft prices and rides to the Edge from:
Times Square: between 13 € and 17 € | 13 min.
Central Park: between 17 € and 25 € | 20 min.
Empire State Building: about 20 € | 15 min.
Grand Central Station: about 25 € | 20 min.
Harlem: between 30 € and 35 € | 30 min.
Soho: about 28 € | 20 min.
New York Taxi Prices
There is no shortage of cabs in the Big Apple. You will find them all the time and everywhere and they are not excessively expensive. However, as soon as it starts to rain, finding a taxi can become an odyssey! Anyway, just so you have a price reference if you want to use this means of transportation for your visit to The Edge.
The average price for a ride in Manhattan is around 8,60 € (about 10 USD).
Standard rates:
Flag down: 2.20 €.
Price per kilometer: 1,35 € approx.
Waiting time: 26 €
City taxes: 0,40 €.
Night supplement (20:00 to 06:00 hours): 0,40 €.
Rush hour supplement (16:00 to 20:00 hours): 0,90 €.
6. What about by bike, can I get to the Edge observatory?
Absolutely! Hudson River Park has one of the best bike paths along the West Side Highway from both the north and south. The nearest CitiBike station is at 34th Street and 11th Avenue.
Biking around the Big Apple is another great plan and a slightly faster but no less fun way to get to your destination, it's just a matter of being encouraged!
There are several ways to rent bikes in New York, but the most convenient is undoubtedly Citi Bike. It is a public bike sharing system and the most used for short trips without having to worry about where to leave the bike and its safety.
Rates for bike rentals in New York
While New York residents can get special membership rates, commuters, too, can use it. The prices are:
Single ride: 3 € (3.50 USD)
Day pass: 13 € (15 USD)
To start using them, you can download the APP, or do it through the automatic service terminals, available at the bike stations.
If you are over 16 years old, a credit card is enough to rent your bike. Please note that you will be charged a deposit of about 85 € (100 USD), which will be refunded two days after your pass expires.
Importantly, each ride cannot last more than 30 minutes. Otherwise, you will be charged €3.50 for each additional 15 minutes.