10 things to do in London at Christmas
Christmas is what lights up the world in winter, brings places to life with twinkling lights, and London is no exception to this Christmas magic!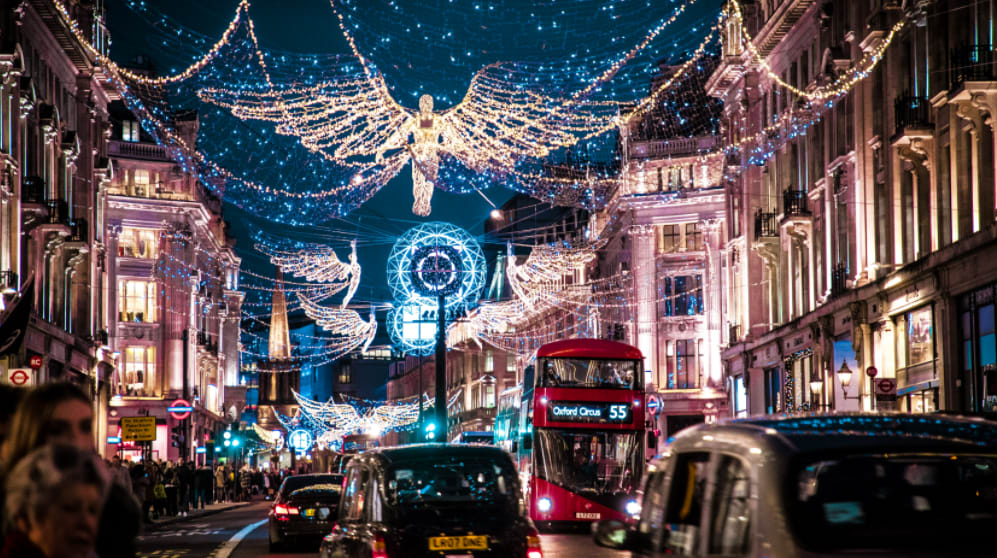 With a variety of festivals, ice rinks and traditional markets, you'll see that everything is in place for the Christmas spirit to shine and be appreciated from every corner of the city.
Want to know what are the best things to do in London at Christmas? Look no further!
1. Ice skating at the Natural History Museum next to its imposing Christmas tree
There's no shortage of ice skating rinks in London, but the most beautiful place to pirouette around Christmas is at the Natural History Museum's ice rink.
Not to be outdone by the beautiful views of the historic building, you'll find a huge 30-foot-tall Christmas tree in the middle, with cafes serving hot chocolate and multiple Christmas cakes.
Plus, if you're not a fan of gliding back and forth on the ice, there's an observation deck that provides a view of everything going on around it. It's open from 10 a.m. to 9 p.m. daily until January.
Address: Cromwell Rd, South Kensington, London SW7 5BD
2. Celebrate in Hyde Park at the Winter Wonderland Christmas party
Since 2007, this classic Christmas event receives more than two million visitors a year. Not only is it one of the best parks in London, but it also offers one of the best Christmas activities. Don't know what to do in London at this time of the year? Head to Hyde Park.
From mid-November to early January the park hosts festive markets, over 100 rides, a giant Ferris wheel, live shows including figure skating, a circus, live music, as well as numerous bars and restaurants. This means you can tailor your experience to your Christmas budget.
If you want a fun place to drink, try the Winter Wonderland bar, where everything is made of ice, including the chairs, tables and cocktail glasses.
And at Bavarian Hall, you can dance live until your heart's content to the beats of DJs all day and night! Admission to the park is free.
3. Go for a coffee at Elan Café while enjoying their Christmas design
The Elan cafes located in London are one of the most Christmas themed cafes in London. It has a very peculiar Christmas design, lights in every corner of the space and a very relaxing and pleasant music to listen to. Its wreaths of pink balls, its bright fern branches and its walls of pink flowers definitely make it one of the best places for Christmas atmosphere in London!
And if that wasn't enough, all the cafes overlook the stunning pink Christmas tree at St Pancras International Station. This special "tree of hope" casts a magical pink glow over St Pancras. It is decorated with 1,200 meters of festive ribbon printed with quotes of love and hope from team members to celebrate the commitment, compassion and selflessness shown by their staff.
You can visit the station and enjoy Elan's menu options; yes, their coffees are among the most popular in London, so don't forget to order your cup of coffee.
Address: St Pancras International, Unit 32-33, Euston Road St. Pancras Station, London N1C 4QP
4. Stroll through kew gardens and say hello to Santa and his elves
London's Kew Gardens is one of the most impressive green spaces in the city. Located just 30 minutes from the center by public transport, this beautiful botanical garden contains among other things the Kew Palace and one of the most extensive botanical collections in the world. An unforgettable adventure for the whole family!
Best for the occasion, Kew Gardens offers an impressive array of light and sound displays to admire as you walk along the Christmas trail. Along this two-kilometer trail, you'll find about a million lights twinkling on tree branches and a glittering tunnel of bells. There are mini donuts and marshmallows to munch on along the way, as well as cakes, roasted chestnuts and hot chocolate.
Aside from the lights, there are also vintage fairground rides and, of course, Santa and his elves! Visit the website for prices and to book tickets.
Address: Richmond TW9 3AF
5. Eat at 34 Mayfair
Home to one of the most spectacular Christmas installations ever seen, 34 Mayfair is one of the quirkiest places to eat in LondonSeriously, this is no exaggeration.
In the run up to Christmas, the restaurant has 14,000 decorations, including 8,400 glittering baubles covering every inch of the walls and ceilings!
This steak and grill restaurant's Christmas menu includes Japanese Wagyu steak, white truffle, Italian pizzas and Peking duck with pancakes. They also do weekend brunches and private dinners. Also, if the art of food is something you appreciate, I recommend booking a food tour of the city of London.
Address: 34 Grosvenor Square, S Audley St, London W1K 2HD
6. Explore the Winter Market at the Southbank Centre
As the days grow shorter and the outdoors turns frosty, the Southbank Centre Winter Market transforms into a seasonal wonderland of sorts, bringing some warmth to the cold, wintry nights.
It's the place to go to find mulled wine, cinnamon treats and handmade gifts. Take a stroll through the market and check out the pretty view illuminated by fairy lights. Most of the stalls are open until 10 p.m., so there's plenty of time for a hot drink and a bite to eat after a long day.
Address: Belvedere Rd, London SE1 8XX
7. Watch a Christmas movie at the Luna Drive-in Winter Cinema
There's nothing better for a winter's evening than watching a Christmas classic! So **why not do it from your car?**This fair offers outdoor cinema in various areas of England. The best thing is that the Christmas cinema-related plans vary in location and features, so I recommend you visit the Luna Drivein website for more information. All the movies shown at this time of the year have a Christmas feel to them such as Home Alone, Love Actually, and other classics that are not to be missed.
8. Listen to Christmas Carols in Trafalgar Square
Listen to Christmas songs all over London with carols in Trafalgar Square. Over forty caroling groups sing for an hour in the run up to Christmas to raise money for charities, especially in December in London.
Be sure to wrap up warm and head to the impressive Christmas tree in the middle of the square for a glimpse - it's the perfect place to hear the beautiful sound of Christmas! Each year a giant Christmas tree is gifted from the city of Oslo to London, a tradition in place since 1947 as a way to recognize England's courageous role during World War II.
The tree is usually around 25 meters (82 feet) tall and is dressed with hundreds of illuminated light bulbs.So why not have a hot chocolate and snuggle like penguins around the tree while the carols play? There are often food and drink stalls dotted around the square.
Address: Trafalgar Square, London WC2N 5DN
9. Go and see a Christmas show
London in winter is known for its creative scene. For this, I think London's West End, you won't be disappointed! Some common and annual favorite shows held at the London Coliseum include:
A Christmas Carol: The story of Ebenezer Scrooge 's life from the past, present and future.
The Nutcracker: Tells the story of a little girl who received an enchanted nutcracker as a gift).
The Snowman: A story of a snowman who comes to life.
Regardless of whether you go to London in one day or visit London for seven days, if you stop by the West End, chances are you'll see a Christmas show among the musicals you can see in London.
The pantomimes of the West End
That's right, you can't miss a Christmas panto in London either! Pantomimes have a long theatrical history in Western culture dating back to 16th century Comedy. It is said to have been developed by John Rich, known as the "father of pantomime", because he was the first to realize the potential of Comedy characters.
Today pantomimes are based on popular fairy tales or folk legends such as Cinderella, Aladdin and Snow White.
10. Take a stroll through the streets of London's most Christmas themed streets
With an impressive array of light displays, London arguably has some of the best installations Britain has to offer this festive season. From London' s finest landmarks to London's most secret spots, everything looks Christmas style.
One of the best things to do in London at Christmas is to simply gawk at the Christmas lights that permeate the high streets!
Oxford Street
One of the best streets to find stunning bursts of glitter. For many Londoners, these are the most famous lights in London. This long street showcases over 1700 fixtures to view, not to mention it's a great place to do some Christmas shopping.
Regent Street
Another street to visit is Regent Street. It hosts a star-studded lighting event every Christmas. The street is traffic-free at night and nearby stores also hold interesting events, so it's worth keeping an eye out for the details this famous street has to offer.
Bond Street
Bond Street, London's upscale shopping district, is also known for its legendary peacock-inspired Christmas lights. You may be wondering why they chose a peacock theme?
Well, these twinkling lights are inspired by Bond Street's vibrant past. In the late 18th century young men would visit the area in overly flamboyant attire. They soon became the first models or "peacocks" of their time, and to then end up inspiring the beautiful peacock lights we see on Christmas days Interesting, isn't it?
The extravagant designer store windows are worth a look too! It is estimated that there are more than 250,000 individual lights connected to each other - a blast!