10 things to do in London in June
Traveling to London in the sixth month of the year is a very good idea as the days are longer, temperatures are around 20ºC and there are plenty of things to do, are you going to miss it?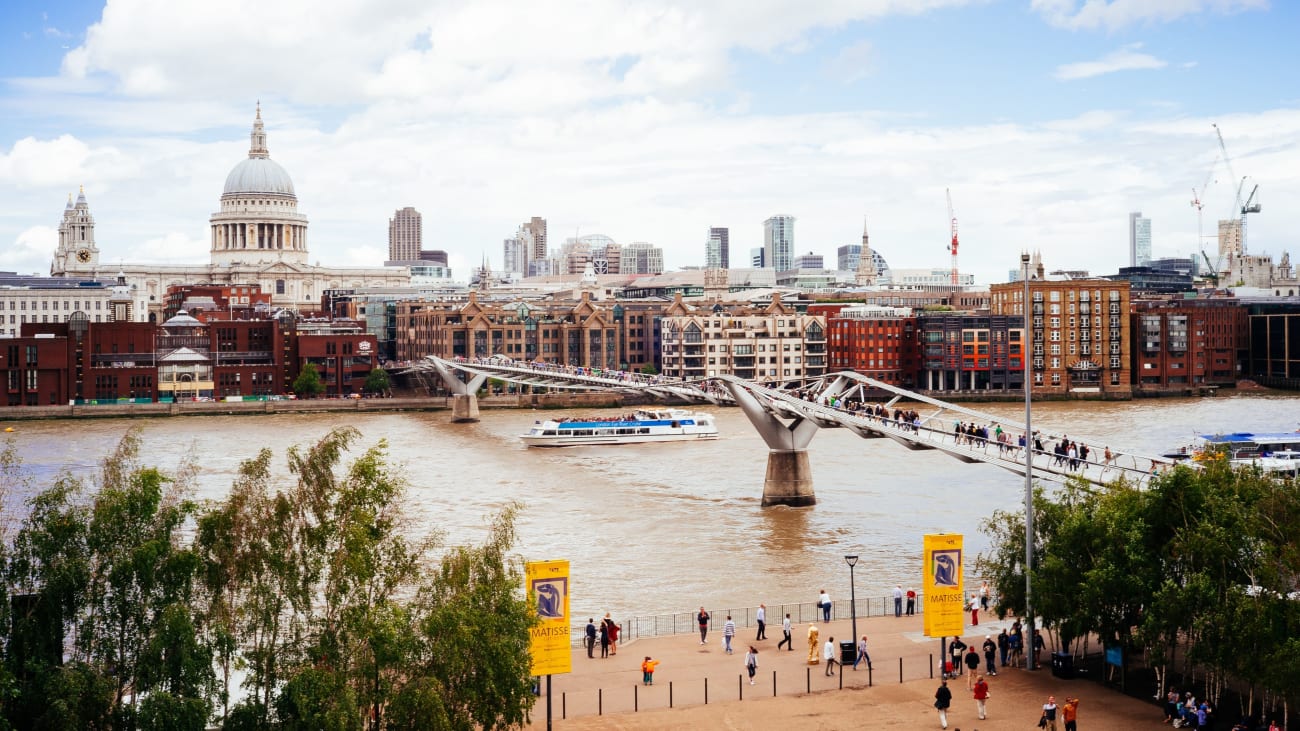 With the arrival of summer, Londoners try to take advantage of the good weather by organizing multiple events ranging from gastronomic to social and cultural events. There are countless activities awaiting you in London that will make your trip out of the ordinary and make you enjoy your experience to the fullest, feeling like a local.
Want to know what I'm talking about? Here is the list of the best things to do in June in the British capital.
1. Delight your senses at the Taste of London Food Festival
If knowing the gastronomy of the place you are visiting is something indispensable for you, I recommend you to book a gastronomic tour of London. Another option that you have to take into account is that the second week of June, (Wednesday to Sunday), an extraordinary gastronomic event is held in the famous Regent's Park in London.
40 of the best restaurants in London participate, an essential event for lovers of gourmet food in which each guest restaurant will bring at least three dishes so they can be tasted at a price suitable for all budgets. Some of the participating restaurants are:
Anju.
Leong's Legend.
Cin Cin.
Heritage.
Genevieve Taylor, Bristol Fire School.
And if you still want more, there will also be activities beyond food including DJ's and live music, Masterclass on wine tasting or cocktails or a Bombay Saphire Gin Bar among many others. Are you still thinking about it? If you want more information here is the official website of Taste of London where you can also purchase your tickets for the event.
2. Celebrate the Queen's birthday in Trooping the Colour
As every year, on the second Saturday of June, the Queen' s birthday is celebrated in London with this spectacular military parade that has been held for over 200 years. An ideal time to book a visit to Buckingham Palace. This impressive event in which the Monarch herself parades, also involves almost 2,000 people between soldiers, officers and musicians and about 200 horses.
Trooping the Colour starts at Buckingham Palace from where they will head to Horse Guards Parade, where the main event will take place, although I recommend you find somewhere to watch it on The Mall street.
I encourage you to watch this video of the Trooping the Colour parade of 2016 to get an idea of the deployment of the event!
3. Take part in the World Naked Bike Ride
Only for the most daring! This unique event takes place on the second Saturday in June and consists of a naked bike ride through the English capital as a protest against the car culture, against the deterioration of the environment, to raise awareness of the vulnerability of cyclists on the roads and also as a celebration of nudism and bodily freedom.
The ride starts from various locations including Tower Hill, Croydon, Key Bridge, Regents Park, Clapham Junction and Deptford, all coinciding at Westminster Bridge and culminating in Hyde Park.
Also, if the proposal catches your attention, but modesty prevents you from participating, body painting is allowed for the more timid! A fun plan coupled with the fight for a good cause, I have not convinced you yet? Then watch this video of their latest edition and you'll be sure to join in.
4. Come and smell the roses in Queen Mary's garden
The romantic setting of Queen Mary's Garden in Regents Park is a visual spectacle. This beautiful garden, famous for housing the largest collection of roses in London, is worth visiting on any possible occasion, but the first two weeks of June are the best to do so, as this is when the roses bloom and a dreamy atmosphere is created.
If you like photography you can not miss Queen Mary's Garden, its beautiful design and the colors of the flowers will make your photos will not go unnoticed. In addition, another ideal plan is to book your ticket for Kew Gardens, the Royal Botanic Gardens of Kew that has nothing more and nothing less than 120 hectares of surface.
5. Go see an outdoor movie
The fine June weather means that Londoners and visitors alike are doing their best to spend their hours outside, taking advantage of the sunshine and pleasant temperatures. One such activity that can be done outdoors during the afternoons or evenings is going to a summer cinema. There are several places where you could enjoy a good Hollywood classic in this way, but I recommend two:
Bussey Building Rooftop Film Club
Located in Peckham, the cinema is on the rooftop of a building, which means that apart from the temperature and the movie, you can enjoy incredible views. This place where you can breathe a young atmosphere, you can watch movies several days a week but I also recommend you to go there if you feel like having a drink because this rooftop is worth it. Here I leave you the official website of the site so you can check the movies and schedules to make this great plan.
Time Out Movies on the River
This is another very good option to watch a movie outdoors, the difference is that this time the scenery will be the deck of a cruise ship on the Thames River, so the views will also be great. The best of all this is that not only will you be able to watch the movie, but you will also enjoy a walk along the river, two for one! If you want more information just click here.
And speaking of Hollywood and big blockbusters, keep in mind that in London you can book a tour of James Bond movie locations.
6. Enjoy the Open Garden Squares Weekend
London has a large number of green spaces and gardens that are normally closed to the public, but for two days a year in June they are open for everyone to enjoy.
More than 100 gardens participate in this event, including hospital gardens, school gardens and even cemeteries, some with a majestic appearance and others in decline, neglected, but all worthy of being seen on these special days. In addition, tickets cost approximately £8 and with the money raised, the London Gardens Trust will continue to invest in the maintenance of these gardens to protect them.
Some of the gardens that can be visited are:
10 Downing Street (British Prime Minister's House).
Royal College of Physicians Medicinal Garden.
Crossrail Place Roof Garden.
Tate Modern Community Garden.
49 Bankside Garden (Near the Globe Theatre).
And remember that, as I said, you can also book your ticket for the Royal Botanic Gardens at Kew.
7. Be amazed by the London Symphony Orchestra in an outdoor concert
Are you a classical music lover? This plan is for you! Every summer, the wonderful London Symphony Orchestra offers a free outdoor concert in Trafalgar Square. This not-to-be-missed event usually takes place at the end of June.
The famous London orchestra is considered one of the five best in Europe and the concert will feature works by Tchaikovsky, Dvořák or Massenet among other illustrious composers. A treat for the ears that you cannot miss!
Another ideal plan where music also comes into play is to book a Thames cruise with dinner and music.
8. Indulge yourself with a vintage treat at the Peckham Salvage Yard
Around the end of June takes place the Peckham Salvage Yard, the largest open-air vintage market in South London. Located in Copeland Park, this market is a great opportunity if you like shopping or if you are a lover of antiques, as you can find all kinds of objects, from twentieth-century furniture, to ceramic items through recovered French ornaments, textiles and even electrical items from the atomic era among many others.
In addition, there will be stalls where you can enjoy the best London coffee while you take a break from your morning of shopping.
More information:
Hours: 11 a.m. - 18 h.
Free admission.
9. Go to a concert at Hampton Court Palace Festival
Londoners like to take advantage of the good weather with the arrival of summer and what better plan than an outdoor music festival? The Hampton Court Festival offers its visitors a dose of good music.
The festival usually takes place at the beginning of the month in the impressive Henry VIII Palace, where you can also enjoy its majestic gardens, as you can bring your own food and have a picnic before the concerts.
However, if you prefer, there will also be food stalls and bars inside the venue where you can try refreshing drinks and fill your stomach with delicious street food. Check the exact date of the next edition.
10. Attend one of the biggest Pride parades ever!
The last Saturday of June takes place the celebration of the London Gay Pride, one of the largest and most emblematic parades in Europe. It involves more than thirty thousand people and on other occasions has had more than a million spectators.
The main stage is located in Trafalgar Square, where a party will be held, which of course will feature DJ's from around the world and where you can enjoy the most festive atmosphere.
Although many streets and buildings will be decorated with the rainbow flag for the occasion, most of the places of atmosphere are in the neighborhoods of Soho and Vauxhall, where you will find a variety of gay friendly bars, nightclubs or galleries where you can enjoy the best atmosphere after the great display of floats and color. In addition, if you have been left wanting more, on Sunday a macro-picnic is organized in Vauxhall.
London weather in June
Once you know what you are going to do on your trip to London, another thing to keep in mind is the weather in the city during this month of the year. Generally, the temperatures are pleasant, since being a cold country, in summer it is usually an ideal temperature and rainfall is not as frequent as the previous months.
The daily maximum temperatures usually range between 22ºC and 27ºC, and the minimum will be around 14ºC.
On the other hand, another advantage that summer has are the hours of sunshine that offers us, and is that dawn comes before 5 am and the sun usually sets around 21 h., so we will enjoy more than 16 hours of light a day in this month of the year, which will allow you to make the most of your trip.
What to pack in your suitcase for London
As the temperatures are relatively high in this month of the year, I recommend you to bring cool and light clothes. Cotton T-shirts or thin shirts are the best option for the top and underneath, it is best to wear shorts or long pants that do not give much heat. Even so, when the sun goes down it may get cooler, so it would be ideal to wear a summer sweatshirt or a thin cardigan so that the drop in temperatures does not catch you unawares.
As for footwear, taking into account that you are going to walk a lot and do a lot of sightseeing, it is best to wear comfortable and breathable shoes, so that sore feet are not an impediment to your trip. It is important that you also equip yourself with sunglasses, do not forget the sunscreen and carry a small umbrella in the suitcase in case it rains one day.
Alternative plans for rainy days
Although the weather is generally good at this time of year, it is likely to end up raining some day, so I bring you a series of plans so you do not stay blank if one day this problem arises.
Go inside a museum. The Natural History Museum, the British Museum, the Science Museum or even the Sherlock Holmes Museum will be a good way to make the most of your trip and take shelter. Here is an article on the best museums in London for you to choose your ideal visit.
Visit the Aquarium This is a perfect plan if it rains and also if we travel with children. Its different areas and the number of species it houses will ensure that entertainment is guaranteed for hours. It is open every day and the entrance fee is around 27 pounds.
Visit Westmister Abbey: This great church in the center of London is another essential visit on the trip. It is an emblematic place for the British Crown, as it is a traditional place for coronations and burials of the Royal House. Note that it is not open for tourists on Sundays.
Spend a morning shopping at Harrods. This famous department store houses authentic wonders within its walls. A visual spectacle for those who like shopping and those who do not. The Diana of Wales Memorial, the toy floor or the Egyptian Hall are, without a doubt, another must-see.
Go up to contemplate the views from the London Eye: This tourist attraction has become one of the most emblematic of the city, as it offers visitors the most impressive views of London and what better place to take shelter from the rain than in the cabin of one of the most famous Ferris wheels in the world.
Climb inside Tower Bridge: The visit to the interior of this famous construction is to discover how the drawbridge system worked in the past and today, in addition to pointing out the importance of this bridge in the current history of London.
Enjoy a musical. The offer of musicals in London is very extensive and is undoubtedly one of the biggest attractions of the city. Among the most famous West-End musicals are Mamma Mia, Les Miserables and The Lion King, but there are many more to choose from and seeing a musical is an experience not to be missed.
Have a drink at Covent Garden Market. This spectacular market offers a wide variety of bars where you can stop for refreshments and snacks, as well as numerous shows and concerts.
Getting around London
The public transport network in the British capital is one of the best in Europe, so getting around the city is not difficult. There are several methods to move around like the mythical London cabs or the famous red double-decker buses, which become a great option if you have to make a not very extensive route because, otherwise, it is common to take longer than expected as a result of traffic.
For this reason, another very good option is to take the London Underground to move comfortably and efficiently, especially if the distances are long.
This guide is your perfect complement to make the best plans and enjoy London in June, have a good trip!