10 Things to Do in New York in June
With the arrival of summer, New York becomes an ideal place to spend time outdoors. Art, music, sports, gastronomy... Discover everything you can do in New York in June!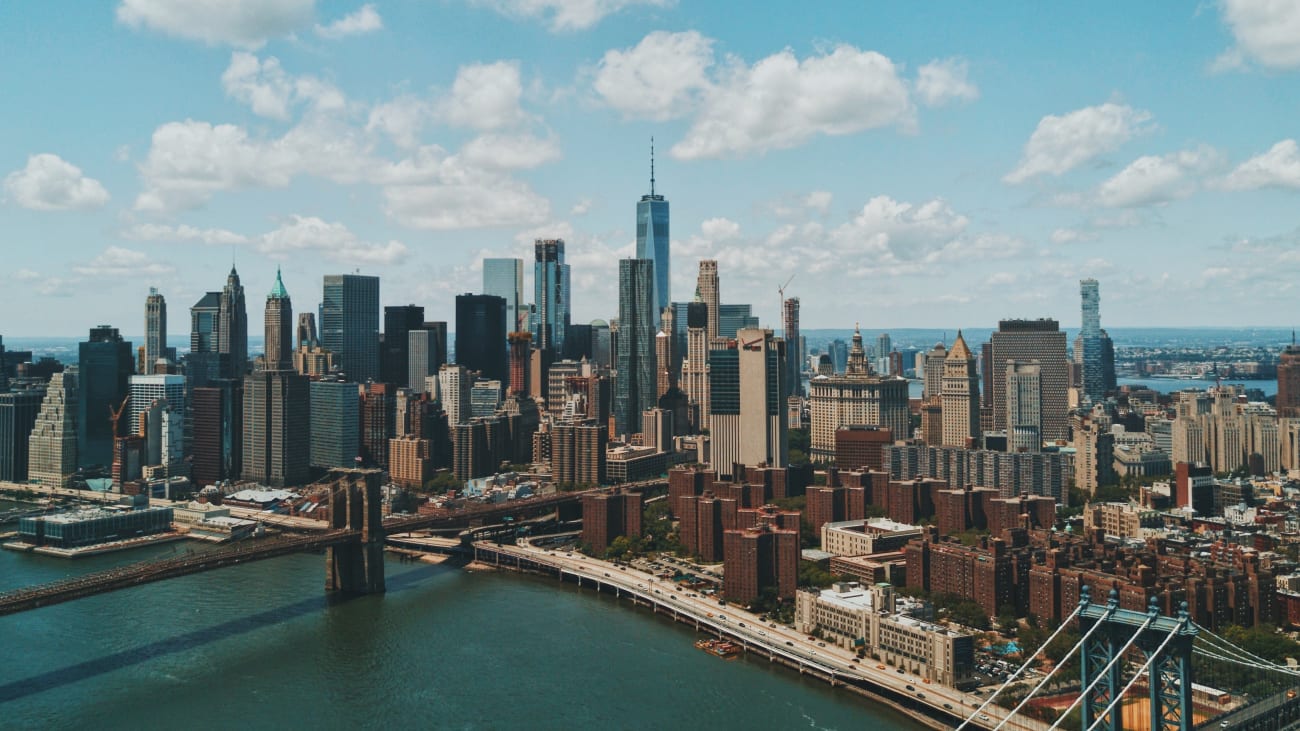 Winter is also wonderful in New York, but New Yorkers are known for making the most of the good weather. Therefore, there are many things to do in New York in June, as it is the month in which summer begins.
In addition, many tourists also decide to go to the city at this time. Are you part of this group? Then be sure to know what events are held and which ones you have the opportunity to attend. Below, I will tell you about them in detail.
1. Get to know the best restaurants in NY at the Taste of Times Square
Would you like to do gastronomic tourism in New York? In that case, I have a perfect activity for you if you are going in June to New York. The Taste of Times Square is one of the city's most popular food festivals every year.
One of the goals of the food festival is to showcase what makes each restaurant special. When they taste their dishes, diners feel more confident and are more likely to prefer a business.
There are many surprises at the festival, the main one being that live music is presented to make the atmosphere more enjoyable for attendees. The Taste of Times Square has a website with information on the dates it will be held.
Participating Restaurants
The best restaurants in Times Square offer their special menus at fixed and affordable prices for citizens and tourists. Participating businesses include the following:
Barbetta.
Becco.
Le Rivage.
Sake Bar Hagi.
Toloache.
2. Enter a museum for free with the Museum Mile Festival
Did you know that a section of NY's Fifth Avenue is known as Museum Mile? Exactly it's the area from 104th Street to 82nd Street, and some of New York 's most famous museums are located here.
In addition to museum tours, the Museum Mile Festival features outdoor activities from food to live music. This festival is one of the most anticipated by New Yorkers so if you visit the city when it takes place, you should not miss it. Every year it is held in June and, although the date varies, it is usually held on a Tuesday.
The schedule in which it is possible to start visiting the participating museums is from 6 pm. Undoubtedly, this is a great opportunity to attend the most famous museums in the city. The festival deserves to be among the best things to do in New York in June.
Participating museums
There are 9 museums participating in the Museum Mile Festival and they are the following:
Cooper - Hewitt National Design Museum.
Museum of the City of New York.
El Museo del Barrio.
Museum for African Art.
National Academy Museum and School of Fine Arts.
Neue Galerie New York.
Solomon R. Guggenheim Museum.
The Jewish Museum.
3. See creative costumes at the Mermaid Parade
The beginning of summer is a special occasion for many people and in NY they celebrate it in different ways. One of them is with the Mermaid Parade in which thousands of people participate. Is there a dress code? Yes! Those who want to participate must dress as mermaids, no matter if they are women or men.
Most of the costumes you see at this event are handmade. So exciting is the parade that they spend time making their own costumes, so you are sure to see several with incredible appearances.
In case you prefer another costume, there are other accepted options: sailors, cuttlefish, pirates and others related to the sea.
How can I attend the Mermaid Parade?
The Parade takes place on the day of the summer solstice. What can you do if you want to attend? In case you are visiting the Big Apple in June, find out when the solstice is and determine if it coincides with the days you will be in the city.
This Parade is held in Coney Island, a peninsula located in the south of NY, exactly in Brooklyn. Having a great beach makes it the perfect setting for a mermaid themed event. Something additional I would like to add is that Coney Island is a great place to visit, it is full of attractions.
4. Take part in one of the most colorful parades during Gay Pride Week
Gay Pride Week begins in the last days of June and many New Yorkers are used to make a big celebration. The parade is attended by an average of 500,000 people each year, including tourists who are in the city.
Many buildings are decorated to show their support for the community and the street is full of color. The Pride Parade runs for miles and, when it ends, attendees make quite a celebration.
In addition to the Pride Parade, many other activities take place in New York during Gay Pride Week. On the NYC Pride website you can learn about them and see the dates.
5. Enjoy the music at the SummerStage Festival in Central Park
Among the best things to do in Central Park is this diverse music festival that starts in June at Rumsey Playfield at 72nd Street and Fifth Avenue. This place is perfect if you want to see musical events, dance and even recitals.
Many of the performances are free, and this is one of the reasons why it is one of the most anticipated festivals. Different genres of music are presented, from electronic to classical music. Also, while you enjoy the show you can eat at the stalls nearby.
6. Outdoor movies with the film festival in Bryant Park
So far we've seen several events happening in NY during June and there are still more to come (I was serious when I said that New Yorkers are very active in the summer). Another activity unique to the sixth month of the year is the film festival in Bryant Park.
People take advantage of the summer and have a fun time outdoors. Be sure to bring your food and drinks and don't forget a blanket or a portable chair to watch the movie in comfort.
And if you're still hungry for more, I recommend checking out the best film and series locations in New York.
Film Festival Schedule
The films start around 8 pm, sometimes at 9 pm. Bryant Park is only 5 minutes away from the famous Times Square if you make the walking tour.
Do you want to get a good spot to enjoy the show to the fullest? If so, I recommend arriving between 5pm and 6pm. While the movie starts you can stroll around and discover other attractions inside the park.
The Film Festival is held every Monday in June and their website publishes which movies will be shown.
7. Show Hispanic Pride at the Puerto Rican National Day Parade
Many Puerto Ricans live in NY and are very proud of their origin and culture. That is why, in honor of these millions of citizens, the Puerto Rican National Day Parade has been created, which takes place on the second Sunday of June. It begins at 11 a.m. and may culminate at 5 p.m. or a little later.
Fifth Avenue welcomes Puerto Ricans and others who want to join this great event. People of all nationalities attend, it is a great opportunity to show Hispanic pride. Expect Puerto Rican costumes, music, fun and more.
Millions of people attend the parade and many more watch it at home on television. Many celebrities of Puerto Rican origin attend the parade, such as Ricky Martin, Marc Anthony, Jennifer Lopez, among others.
8. Experience the excitement of the NBA Playoffs
Between April and June the NBA Finals are played, so if you are a basketball fan and you are lucky enough to have one of the two New York teams qualified, one of the best plans you can make is to buy tickets for one (or more) of the playoff games. However, I recommend that you do so well in advance because tickets literally fly.
In fact, the closer you get to game day, the more expensive the tickets will be. The average price of NBA tickets is around 150 €, although they can be purchased from 50 € for less interesting games and with seats far from the court. I leave you all the information in this post on How to buy NBA tickets in New York and preciost.
The playoffs are played to the best of seven games, and in them the only 2 teams that have been victorious after the regular season and playoffs, so if the New York Knicks or the Brooklyn Nets have managed to qualify, you can not miss the opportunity to see an NBA game live in New York in June.
Information of interest
Where: Madison Square Garden or the Barcleys Center.
When: in the month of June. Dates vary, but are usually planned in advance.
Price: from 50 €, although it varies depending on the game and the seat you choose.
9. Opera in the park for those who prefer classical music
Unlike the other music festivals that take place in New York in June, Opera in the Park doesn't have a set venue. The performance of classical music, blues, jazz and more can be enjoyed in Bryant Park, Central Park or other locations.
This event begins in mid-June but there is no set date; it changes every year. To see the performances you can bring your drinks and food, and have a good time that contributes to the good experience of your vacation.
And if you are a music lover but not into the classical style, I recommend you to check out the best places to hear music in Harlem.
10. Attend free Shakespeare plays in the park
One of the most anticipated activities in New York in June is Shakespeare in the Park. This event features plays written by Shakespeare. Watching Romeo and Juliet or Hamlet under the night sky of The Big Apple is a unique experience.
One of the reasons this event is so well known is that tickets are free. The performances take place at the Delacorte Theater, which is located in Central Park, outdoors. Behind it is a pond and Belvedere Castle. This backdrop makes the performances wonderful.
When are the performances?
Performances begin in late May, run through June and end in early August. Those wishing to purchase tickets to the plays should look for them at the Delacorte Theater box office on the day of the performance. If you have a free morning during your vacation, get in line with the following in mind: although the box office opens at noon, everyone goes to the theater earlier in the day. The first weeks of June are a good time to go to Shakespeare in the Park. Being the first performances, there are not many attendees.
How to get to the Delacorte Theater?
You can take the B, C or 6 lines on the New York City subway. The 81st Street entrance is the closest to the theater. Other options are Fifth Avenue or 79th Street. If you are not yet familiar with this means of transportation, I invite you to read the New York subway guide.
New York weather in June
Now that I've told you about the events in NY in June, let's analyze other important points. The first is the weather in the city during that month. In general, the weather is pleasant, as summer is just beginning. The first few days alternate between hot and cold, with rainfall about 8 days a month.
At the beginning of June, the average temperature is 22 to 24°C, although in the early mornings it can drop to 15°C. As the days go by, the weather is more pleasant. As the days go by, the weather will warm up, making it ideal for outdoor activities. These are also favored by the fact that the sun rises before 6 a.m. and sets after 8 p.m.
To complete this point, here is a chart comparing the weather in New York in the different seasons:
Winter
December - March
Weather: Rain, humidity and snow
High 2ºC
Minimum -5ºC
Spring
March - June
Climate: Warm with some rainfall
High 26ºC
Low 5ºC
Summer
June - August
Climate: Hot and high humidity
Maximum 28ºC
Minimum 15ºC
Autumn
September - November
Climate: Cool and dry
Highest 24ºC
Minimum 5ºC
How many tourists NY receives in June
Every year, more than 50 million people from all over the world choose New York as their tourist destination. Summer (including June) is the most popular time for tourists to spend their vacation there, especially for those who can handle the heat very well.
Even though there are a lot of tourists, the city has the resources to accommodate them all. So you can be confident that you will find plenty of things to do.
Prices in New York in the summer
One of the most expensive periods in the Big Apple is the summer, especially in July and August. In June, prices have not yet all gone up, but you are likely to find some products, hotels and even flights with higher prices than in spring.
Prices that are common in summer start to drop at the end of September and increase again at Christmas. The latter is also a season when the city receives lots and lots of tourists.
Prepare your suitcase to go to New York in June!
Since it is summer, I recommend you to bring with you clothes that are characterized by being light, breathable and with light tones, as the latter are cooler. If you pack long pants in your suitcase, make sure they are made of thin fabrics.
Shorts, dresses and skirts are also valid. Other essential items for your trip to NY are the following:
Light and comfortable shoes: I recommend thick soles, thin soles are uncomfortable if you walk a lot.
Hat or cap, sunscreen and sunglasses.
Sweater or thin cardigan in case there is air conditioning where you enter. Also ideal for early June mornings.
Blanket to sit on in the park.
Summer can also bring rainy days, so it's a good idea to pack a few items of clothing in case it rains during your visit. Include in your suitcase an umbrella, a waterproof coat and footwear suitable for these weather conditions.
Alternative plans for rainy days in New York City
In case it rains, here are some alternative plans that are just as fun:
Visit a museum.
Enjoy The Big Apple in the rain, walk near your place of accommodation.
Visit historic buildings, one you will surely love to see is Grand Central Terminal or the New York Public Library.
Go to a cathedral or church and marvel at its design.
Times Square and Herald Square are both full of stores, so why not take advantage of New York's rainy days to store?
This guide will help you make the most of your visit to New York in June. Have a great trip!