The 11 Best NYC Christmas Trees
One of the most popular traditions in New York in winter is going to see the Christmas trees. Here are the most spectacular ones that you should not miss. Get your camera out!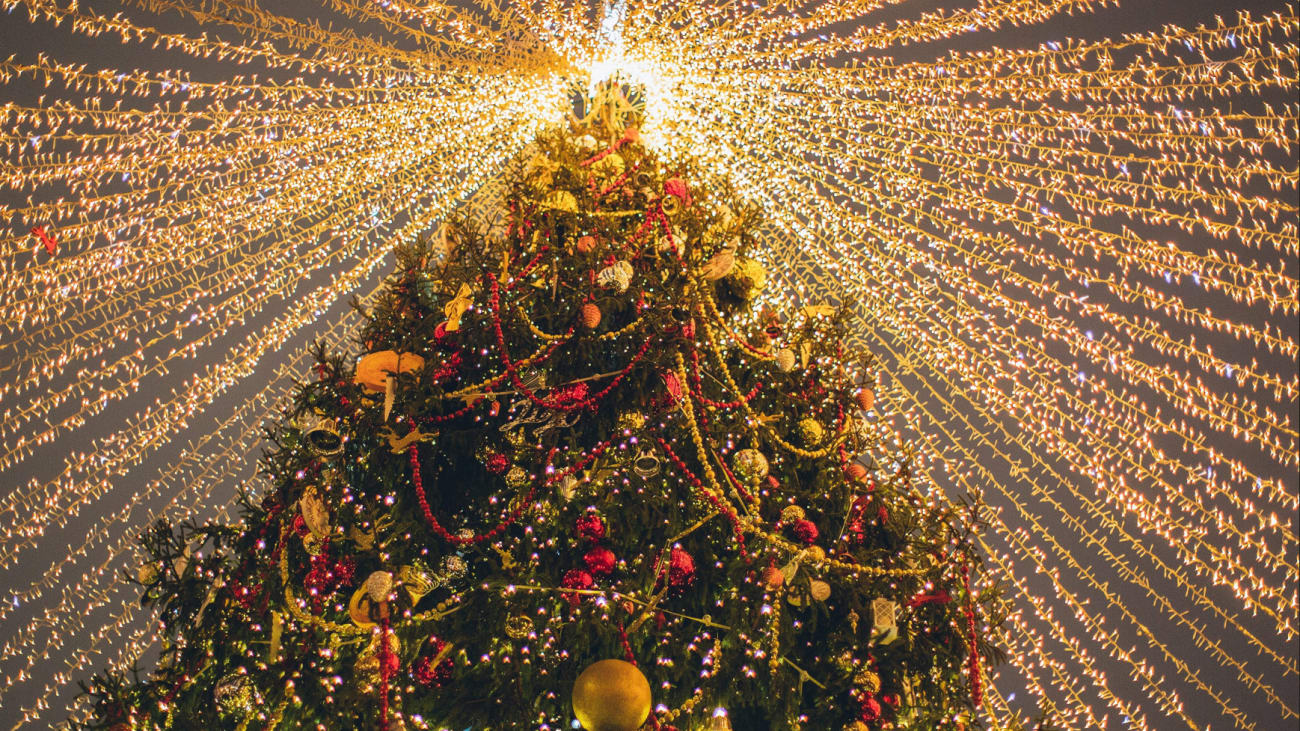 At Christmas in New York there are a thousand things to do: this season is celebrated in style with lights, trees, gifts, amazingly decorated shop windows... nothing is too much. And one of the most beautiful traditions is to go with your family, partner or friends to visit the main Christmas trees in the city.
If you are a Christmas lover, make a list of the most spectacular and historic fir trees that you can't miss in the city that never sleeps.
1. The Rockefeller Center Christmas Tree
The lighting of the Rockefeller Center Christmas tree is a custom that has been held since 1931 and marks the beginning of Christmas in New York. This 20-meter-tall tree has nothing more and nothing less than 50,000 LED bulbs and is crowned by a Swarovski star weighing more than 400 kilos. It is undoubtedly the most popular tree in the city.
This tree, whose choice is quite exhaustive as it can come from anywhere in the U.S., has to be at least half a century old.
If you have any doubts about the spectacularity of this event, think that it is broadcasted on national television, making it a very special moment for both New York citizens and tourists who choose this date to visit the city.
Also, since you are passing through this area, you should know that Rockefeller Center offers many things to see and do at Christmas, so without a doubt, it should be at the top of the list.
Where is it located... Rockefeller Center, in Midtown Manhattan.
2. Madison Square Park Christmas Tree
If you are wondering what is the first place where a Christmas tree was installed in the USA, the answer is Madison Square Park. In 1912, a Christmas tree was installed in this emblematic location and this tradition has been maintained to this day. Thus, the Madison Square Park Christmas tree is one of the most popular in the city.
Located in the heart of Manhattan, this park is one of the best parks in New York: it is a real Christmas oasis in the middle of the chaos of the city, so I recommend you to stop by and see it when you are on your way through the streets and avenues of Midtown.
Where is it located... 11 Madison Avenue, between 26th and 23rd Street.
3. American Museum of Natural History Christmas Tree
It is one of the most beautiful Christmas trees in New York City for the originality of its decoration, based on origami creations. In addition, the theme changes every year.
If you are passionate about culture, you can not miss the best museums in New York during Christmas, as they will also help you to shelter from the cold and low temperatures of New York in December.
To see this tree you will have to go to the New York Museum of Natural History, a must on your trip. Here is the post Natural History Museum of New York so you can go fully prepared for this visit.
Where is it located... Museum of Natural History, at 200 Central Park West.
4. Bryant Park Christmas Tree
The Bryant Park Christmas tree is another of the most popular trees in New York City with more than 30,000 lights and 3,500 Christmas balls. In addition, the environment in which it is located between skyscrapers makes it even more special.
And when you go to see this tree, I recommend that you take a walk through the park and take into account all the things you can see and do in Bryant Park.
Another great attraction of this park is its beautiful skating rink, where you can glide over the ice and travel to your childhood for a while. You'll feel like in a movie!
Where is it located... It is located around The Rink, Bryant Park's ice skating rink.
5. Wall Street Christmas Tree
Located next to the New York Stock Exchange building, this is one of the largest trees in the city and was the first to be electrically lit in the city. Previously, Christmas trees were lit with candles, but, as you can imagine, this was a very dangerous practice.
In addition, this part of Downtown Manhattan also has a lot to offer, so take advantage of your walk through the area to explore some of the most iconic sites, such as nearby Ground Zero, the 9/11 Memorial and Museum, and the One World Observatory.
Where to findit... 1, Wall Street.
Traveler's Tip

Be sure to visit the Christmas trees at the American Museum of Natural History, the Metropolitan Museum of Art, and the New York Public Library.
6. Christmas tree at the Metropolitan Museum of Art
The Christmas tree at the Metropolitan Museum of Art in New York (MET) is one of the most traditional, because in addition to having a traditional nativity scene at its base with more than 200 figures, angels and cherubs from the eighteenth century hang from the branches.
Where is it located... Metropolitan Museum of Art, located on Fifth Avenue.
7. The New York Public Libray (NYPL) Christmas Tree
Another beautiful Christmas tree in New York City is the one located in the hall of the New York Public Library, a classic building, which is worth entering on your visit to New York City. The environment in which this tree is located makes it even more special.
Where is it located... New York Public Library, located on 5th Avenue and 42nd Street.
8. Christmas tree at the Lotte New York Palace Hotel
Another very spectacular tree for its lighting and decoration is located on Madison Avenue, in the square at the entrance to the Lotte Hotel. Admission is free.
Where to findit... 455 Madison Avenue, between 51st and 52nd Street.
9. Central Park Floating Christmas Tree
And of course, Central Park also has its own Christmas tree. It is located in a lake located in the northwest of the park called Harlem Meer. This tree has a special feature: it is a floating tree. Yes, as you read, you can't miss it!
And since you are going to Central Park, I take the opportunity to leave you this post about what to see and what to do in Central Park in order to know other activities for your trip.
One of the things you can't miss there is skating on the huge ice rink that they set up in winter. With the trees (sometimes snowy) and the skyscrapers of the city in the background, it will become an unforgettable Christmas postcard.
Where is it located... Northwest of Central Park, at Harlem Beer Lake.
10. Radio City Music Hall Tree and the Rockettes
Another of the most curious trees in New York because of its placement is the one located in a famous concert venue in the city, Radio City Music Hall. This tree is strategically placed on the facade of the building.
And speaking of the Rockettes, you should know that this is one of the most demanded shows by New Yorkers themselves every Christmas. Don't miss out on tickets for the Rockettes Radio CIty Christmas Spectacular.
Where is it located... 1260 Sixth Avenue.
11. Christmas tree under the Washington Square Park Arch
Located under the Washington Square Arch, this is one of the most special trees of the New York Christmas. It is next to this tree where the carol concert is held on December 24th.
Where is it located... Washington Square.
---
Christmas tree lighting schedule
Christmas trees in New York City are lit in early December after Thanksgiving and remain lit until early January.
The hours in which they remain lit is usually very wide, from 6:00 am to 00:00 pm approximately, although it depends on each tree.
When is the best time to go out to see the trees and Christmas lights
Christmas trees are usually visited by a large number of people every day so I recommend that you go early or late in the day or on colder days to have the opportunity to get closer to the tree and be able to take pictures comfortably.
How's that Christmas spirit going? Do you still want to enjoy the magic this time of year in New York? If so do not hesitate to visit the post what to do and what to see at Christmas in New York where you will discover wonderful plans.
Other things to do at Christmas
Despite the low temperatures in New York in December, the lights and window displays will give you a warm and familiar atmosphere. And if not, just tell it to the neighbors of Dyker Heights in Brooklyn, where every year they decorate their homes and gardens with thousands of ornaments and lights that are worth seeing.