What to do in London at night: a handy guide to enjoy the city at the end of the day
From comedy, theater and music to a night on the town at the best clubs and bars, there are plenty of fun things to do in London at night.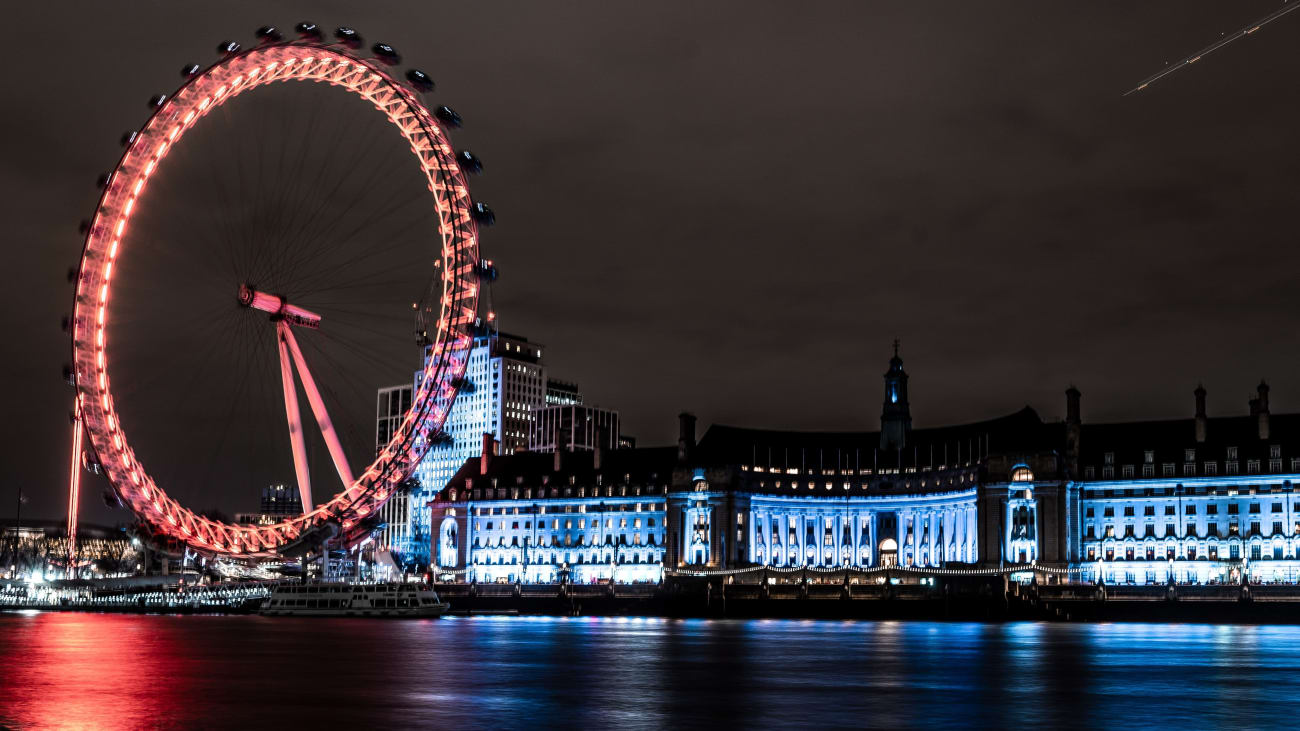 London is undoubtedly one of the biggest and busiest cities in the world. Energetic is the way to describe London at night. Activities are plentiful, so don't worry. As limited as your options may seem, there are actually always plenty of things to see and do in London.
Immerse yourself in the best of London's nightlife with world-class London theaters, views from the Hampstead Observatory, cool nights in Shoreditch and more .
1. Stroll through Harrods
Harrods is one of the most famous stores in the world and sells mainly luxury goods. I recommend you to start a night tour of London by taking a walk through Harrods, it will be fully illuminated.
The twinkling lights surrounding the building at dusk give it an undeniably magical atmosphere. Shopping at Harrods can be expensive if you splurge your money on luxury items; however, walking around each floor is enough to admire the incredible nighttime setting.
Two important things to know for your visit: the entrance to Harrods is free but you will have to go before 9:00 pm which is the closing time every day except Sundays when it closes at 6:00 pm.
2. Attend the Keys Ceremony
The Ceremony of the Keys is a 700 year old ceremony that is one of the things to see at the Tower of London. It takes place every night from 9:53 pm to 10:05 pm and consists of the handing over of keys by the head of the Tower Guard to the Tower Governor.
In the past, securing the tower was significant because it protected the monarch who resided there. Although this is no longer the case, the Crown Jewels and other valuables are still there, which makes the ceremony still have some meaning.
The event is free; however, due to its limited space and popularity, it is advisable to go early.
3. See the night sky from Hampstead Observatory
If the views from The Shard are not exciting enough for you, you should try the next level, the Hampstead Observatory. This is one of the few observatories in London that allow stargazing and night sky viewing.
Hampstead observatory is one of the most visible places to view space, including the moon, planets and other celestial objects. However, be aware that opening hours are very limited.
Hampstead Observatory is only open from mid-September to mid-April on Fridays and Saturdays from dusk to 10:00 pm. Being lucky enough to see almost every point of the city and the sky is an unforgettable experience.
4. Go to a museum at night
Many of London' s best museums and most famous galleries are open late on selected days, including the British Museum, the Science Museum, Tate Modern, the National Gallery and the London Transport Museum. Often busy during the day, these spaces are quieter at night, allowing you to take your time and explore every detail at your leisure.
Not only will you be able to browse their exhibitions, but also participate in workshops or listen to talks organized by the museum.
5. Attend a show at The Comedy Store
British humor is a genre of comedy based especially on satire and focusing a lot on people's lives and habits. Sarcasm and self-deprecation are two main themes used by British comedians.
Therefore, when you are in London, try to open your mind to this kind of classic humor if you have a good level of English that allows you to understand the show.
Located near Piccadilly Circus, The Comedy Store is the most famous of all British comedy clubs and has played a key role in the growth of British comedy. It has approximately 400 seats, enough to attract a crowd of tourists.
Programs at The Comedy Store cost between GBP 8 (EUR 9.52) and GBP 24 (EUR 28.56), depending on the program. There are also many other venues around London that offer comedy shows (many are even free), so you have no excuse not to go.
6. Take a scenic night bus tour
London' s stunning landmarks become even more magical when lit up at night.
There's no better way to enjoy their grandeur than to climb aboard an open-top double-decker bus! The bus will take you past various London landmarks without fear of getting lost. Try listening to the live guide as he entertains you with fascinating facts and fun stories.
The bus crosses Tower Bridge, passes the Tower of London, the Palace of Westminster and the London Eye. Be dazzled as you approach the vibrant Trafalgar Square and the west end of the city, Piccadilly Circus. And when you see that Big Ben, you'll know you're really in London!
London night tours on the London sightseeing bus are one of the best plans you can opt for; especially if a lot of walking is not something that appeals to you.
7. Ride the London Eye
Taking a ride (never better said) on the London Eye at night is an iconic London experience. The London Eye is nothing more than a giant Ferris wheel located on the south bank of the River Thames and is 135 meters above the ground. I recommend you to know the prices of the London Eye and the London Eye schedules to go up to this tourist attraction, as it is worth going up at least once.
Once at the top, the London Eye will allow you to enjoy the most emblematic places of the city.
8. Movie night
It's normal, I understand, after a busy day of sightseeing, sometimes you just want to sit back, relax your muscles and enjoy a good movie.
Scattered throughout London are Curzon cinemas. These feature comfortable seating and licensed bars, ideal for a relaxing evening with the family or a romantic evening with your partner. With their extravagant yet luxurious interiors, these cinemas are perfect for extra comfort on your trip.
9. Wine and dine on the Thames
Fancy cruising the River Thames with a glass of champagne in hand? Enjoy an evening cruise on the Thames, with a four-course meal, jazz and spectacular views.
See the world's most striking buildings, such as St. Paul's Cathedral, the Shard, Big Ben, the Tower of London and Tower Bridge - and all with extra sparkle!
10. Nightlife and music
If you're looking for a more party plan, London is full of funky nightclubs that are open until the wee hours of the morning, providing a variety of musical genres and experiences.
Head to Shoreditch if bars and nightclubs are your thing, or stop by Camden for live music venues like the Spiritual Bar or Electric Ballroom. If you're a music lover, wait for the London Moon to kick off your evening.
Does London have good nightlife?
London is one of the nightlife capitals of the world. If you have a night off after a long tour of London, you can't miss a night on the town.
I would recommend you to take a night bus tour to identify the most striking nightlife sites, so you can make more informed decisions and, above all, more in line with your tastes. London has everything and for everything!
Where to shop at night in London
Westfield London: Here you will discover luxury stores and an indefinite number of stores for all tastes and styles.
Westfield Stratford City: Here you will find one of the largest urban shopping centers in Europe.
Oxford Street in London: In this street you will find designer and high quality brand stores.
Duke of York Square: Here you will see famous brands and an unlimited variety of clothing items.
Is London safe at night?
In general, London is safe at all times, including at night. However, as with all major cities, there are areas or parts of the city that are safer than others.
In London, people like to walk around, even at night. This means that you will always see people wandering the streets and avenues regardless of the time of day.
Best neighborhood/district for a night out in London?
I think Shoreditch is the hippest and most hipster neighborhood in London. It has some of the best street art (such as graffiti) to accompany an evening in this neighborhood. Despite the noticeable big luxuries, much of the area still retains its original jovial and urban vibe.
The bars in Shoreditch have a unique atmosphere. I would definitely recommend bar hopping around the area to get a full experience of some of London's nightlife. Mind you, Shoreditch is the preferred stomping ground for most young people.
And if you want to know more about the neighborhoods of the British capital I recommend this article of London neighborhood by neighborhood so you do not miss anything during your trip.