The best museums in Amsterdam
Beyond its canals, tulips and windmills, Amsterdam has some of the most interesting museums in the world.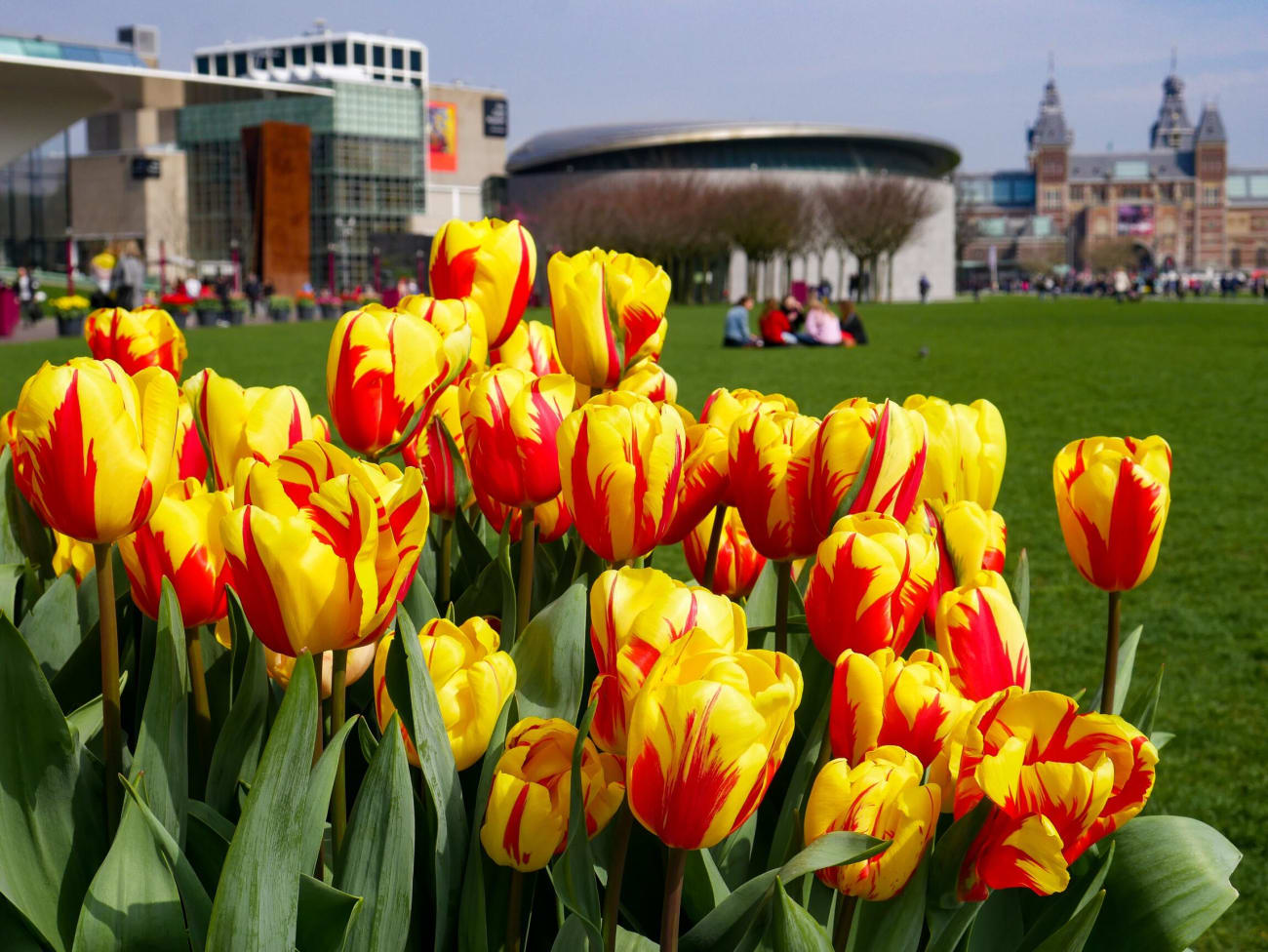 Feel like adding a cultural activity to your trip? Discover the 10 best museums in Amsterdam for a day full of art, history and lots of fun.
Van Gogh Museum
What would Van Gogh think if he discovered that in the capital of his country there is a museum dedicated to his work despite the fact that in his entire career he only sold one painting?
Perhaps he would not believe it since luck did not smile on him during his lifetime, but the truth is that today he is one of the most acclaimed artists by the public and the Van Gogh Museum is one of the most visited museums in Amsterdam.
Although several of his works are scattered around the world, the Van Gogh Museum has some of the most important such as "Peasants Eating Potatoes", "Sunflowers", "The Bedroom in Arles" or "The Yellow House", among others.
This museum has a collection of 1,450 works, including 500 drawings, 200 paintings and 750 written documents. In addition, it also has an exhibition of paintings of the nineteenth century, where you can appreciate the relationship that contemporary artists have with Van Gogh's work.
Why I like this museum
I find the Van Gogh Museum a fascinating place, since throughout its second floor we can learn the story of the painter told canvas by canvas.
His paintings are arranged chronologically through five periods according to the stages of Van Gogh's life, so you can see his artistic evolution from the country scenes of his beginnings to the troubled works of his last days.
I recommend a private guided tour of the Van Gogh Museum in Amsterdam to not miss any detail of the incredible work of the Dutch author.
Interesting details
Location: Paulus Potterstraat 7. Museumplein.
Admission: 19 € per person. Free for children under 18 years
How much time you need to see it: minimum 2 hours.
Recommended for... All art lovers. Van Gogh's style was never to everyone's liking but admiring here a good part of his work and relating it to the different stages of his life changes the vision that many have of him.
Rijksmuseum
Considered the best museum in Holland, the Rijksmuseum is one of the must-see art galleries for any traveler visiting the country, as it houses the most outstanding collection of paintings from the Dutch Golden Age in the world.
Located in the heart of Amsterdam, the Kingdom Museum houses not only canvases signed by Dutch artists as important as Rembrandt, Vermeer, Jan Steen or Frans Hals but also has an interesting repertoire of ancient objects of Dutch culture (prints, drawings, photographs ...) and other cultures such as Egyptian or Asian.
Why I like this museum
The Rijksmuseum is the largest museum in the Netherlands and one of Amsterdam's main tourist attractions, showing 800 years of Dutch history, from 1200 to the present day.
Within its walls is a piece of European history and art, revealing the cultural and political impact of the Dutch Golden Age on the continent through pieces that belonged to the wealthiest families of the time.
But beyond that period, the Rijksmuseum also preserves many objects of great historical value such as sculptures, weapons, jewelry and costumes belonging to past eras, so this museum is a place that I recommend to all lovers of ancient art because they will have a great time.
Details of interest
Location: Jan Luijkenstraat 1, Amsterdam.
Admission: 20 € per person. Children under 18 are free.
How much time you need to see it: at least 3 hours although it takes a day to visit it completely.
Recommended for... those who enjoy art in its pictorial and architectural side, as the majestic neo-Gothic building designed by Pierre Cuypers that houses the museum is a wonder that leaves no one indifferent.
Stedelijk Museum
If you like modern art, you can not miss the Stedelijk Museum during your stay in Amsterdam. Founded in 1874, this art gallery houses one of the main collections of this artistic current and focuses on movements such as Bauhaus, Pop-Art, De Stijl (The Style), Colorfield, Neo-Impressionism and Minimalism.
With more than 90.000 works to its credit spanning from the 19th to the 21st century, this is the most important museum of contemporary art and design in Amsterdam and one of the most prominent internationally.
As a curiosity, when the Museum of Modern Contemporary Art opened its doors it was not without controversy, as many people were not happy with its artistic choice. However, today the Stedelijk Museum has become one of the most entertaining and beloved museums for the Dutch.
Why I like this museum
On the one hand I like the Stedelijk Museum for its architecture, as it presents a strong contrast between the old neo-renaissance building and the futuristic building nicknamed "The Bathtub" that gives entrance to the museum through its front door. Even with other museums in the neighborhood as the Van Gogh Museum and the Rijksmuseum. It is quite striking.
On the other hand, for the art collections housed inside. There are very interesting pieces by Van Gogh, Matisse, Renoir, Newman, Picasso, Warhol, Jackson Pollock and Rauschenberg, among others.
In addition, the Museum of Modern Contemporary Art has a collection of objects representative of some current of modern art such as photographs, sculptures, drawings, prints or graphic design.
Details of interest
Location: Museumplein 10 1071 DJ Amsterdam
Ticket Price: Adult ticket costs 20 euros, student ticket costs 10 euros and children under 18 are free.
How much time you need to see it: 2 hours.
Recommended for... those who are interested in contemporary art in both its architectural and pictorial facets.
Madame Tussauds Amsterdam
Maybe Madame Tussauds Museum is not the first on your list of museums in Amsterdam that you had thought to visit, but I assure you that it will be one of the places where you will have the best time during your stay.
Madame Tussauds Amsterdam opened in 1972 in front of Dam Square but has more than twenty locations in Asia, Europe, America and Oceania, with the one in London and the one in New York being the two most famous.
If you travel with children or teenagers to the Dutch capital, this is one of the best museums in Amsterdam to visit as a family because they will have a great time exploring the different floors and with all the surprises that await them there.
Why I like this museum
Many people wonder if Madame Tussauds is worth it and as spectacular as they say and I can guarantee you that its fame is well deserved.
Not only because of how much its wax sculptures resemble the celebrities they represent, but also because you can interact with them in the different sets and take home a fantastic photo album of your visit as a souvenir.
The current collection of the Madame Tussauds Museum Amsterdam includes the figures of royalty and political figures (such as the kings of the Netherlands, Angela Merkel or Barack Obama) of actors and singers (Marilyn Monroe, Lady Gaga, Adele or Daniel Craig) as well as fictional characters such as Marvel superheroes.
Interesting details
Location: Dam 20, 1012 NP Amsterdam
Admission fee: 21.50 €
How much time you need to see it: 1.5 hours
Recommended for... family travelers, couples and friends. In this museum you will have a fun time and take hyper-realistic photos with the most famous people on the planet!
NEMO Science Museum
With the motto "Forbidden not to touch", the NEMO Science Museum in Amsterdam is the perfect place to visit with the family as it is focused on visitors, young and old, discovering how the world around them works with experiments and interactive exhibits.
Located very close to the Central Station, in a large greenish building in the shape of a ship, this five-story museum proves that learning about technology and science does not have to be a hassle.
Why I like this museum
What's more, in its rooms you can enjoy interactive exhibits about the human mind, magnetism, gravity and other everyday phenomena that we live with and that can surprise us, as well as do different scientific experiments in which you can participate.
The NEMO Science Museum is a space designed to experiment with science and make visitors feel like real researchers for a while. And I must say that it really succeeds. Children will have a fun day but adults will also be surprised with what they will see there.
Also, from the terrace of the museum there are sensational views of the historic center of Amsterdam, so be sure to visit it!
Interesting details
Location: Oosterdok 2.
Admission fee: Adults pay 17,50 €, children from 4 to 17 years old also pay 17,50 € and children under 4 years old get in for free.
How much time you need to see it: 2 hours
Recommended for... families who want to spend a different and fun time on their vacations in Amsterdam while playing and learning with science and technology.
Amsterdam Museum
Located in the center of the Dutch capital, this is the best place to learn about the history of Amsterdam and its importance in Europe.
A visit to the Amsterdam Museum will allow you to learn about how the city was born, its evolution during the Middle Ages, how it became in the 16th century the first world port and its subsequent transformation into the cosmopolitan city it is today.
Why I like this museum
I think it is a very interesting museum to learn about the roots of Amsterdam. Not only for its exhibitions, where through models, plans and drawings we are presented the history of the city in chronological order, but also because it shows the social aspects of the daily life of the Dutch, their folklore or religion.
In addition, the Amsterdam Museum is located in a former orphanage classicist style that itself is also worth a visit because it is considered a beautiful historical monument of the city.
Surprisingly, the theme of the museum and the structure of the building blend seamlessly to create an experience with a very complete historical perspective, so I recommend you to know it.
Details of interest
Location: Kalverstraat 92 1012 RM Amsterdam
Admission fee: 15 €
How long you need to see it: 1 hour and 30 minutes.
Recommended for... first-time travelers to Amsterdam who want to approach the history of the city from its origins to see it with different eyes during their vacation.
Modern Contemporary Museum Amsterdam (Moco)
The Moco or Modern Contemporary Museum is an avant-garde art center with a headquarters in the Villa Alsberg, in Musemplein, Amsterdam. It houses a collection of iconic works of art by modern authors that will make your visit a unique moment, because of the inspiring wide range.
Discover the works of great social impact of renowned artists such as Andy Warhol or Keith Haring although the most surprising collection is perhaps the contribution of this museum on the work of street artist Banksy.
Can you imagine being able to see the legendary murals "Girls with Balloon" or "Love is in the air"? In the permanent exhibition "Laugh Now" of this museum, which commemorates the anonymous graffiti artist with remains of his rescued works, it is possible.
Why I like this museum
If you like modern art, if you want to let art move you, you can't miss this museum that defies the norms and gives a voice to street artists as well as masters of contemporary art. Book your tickets in advance and skip the lines.
Details of interest
Location: Honthorststraat, 1071 DE.
Admission fee: 20 €.
How long you need to see it: 1 hour.
Recommended for: those who want to experience modern and street art. Enjoy the first Banksy collection in a museum and rediscover the work of other avant-garde artists who will not leave you indifferent.
Anne Frank House
The figure of Anne Frank has become an icon against totalitarianism and the unreasonableness of barbarism. Thanks to her famous diary, her story is known around the world and every year thousands of people visit the house where she took refuge with her family during World War II to escape Nazi persecution.
The recreation of the atmosphere of what was home to the Frank family for more than two years takes us back to a turbulent time. This museum in Amsterdam allows us to learn about the situation of the Jewish community in Europe in the 1940s through the innocent eyes of a little girl.
Why I like this museum
All those who have read "The Diary of Anne Frank" will want to know in first person the place where the events described in the story took place and those who have not yet done so can approach the moving story of this teenager who has touched millions of people around the world.
The visit to the Anne Frank House, the former office of his father's company that served as a hiding place, is very well planned and guided. You can perfectly observe each of the rooms of the house and put yourself in the shoes of the Frank family in those difficult times.
During the visit you will inevitably get a lump in your throat. Especially when contemplating the original notebooks of the girl's diary and perceiving that tremendous feeling of emptiness inside the building.
Anne's father and sole survivor of the family, Otto Frank, after leaving the concentration camp returned and decided not to rebuild the hiding place but to leave it empty to represent the emptiness he himself felt for the loss of his relatives.
In short, I recommend making this visit to the house-museum because it is to keep alive the memory of Anne Frank and pass on her legacy to future generations so that the horror they lived through will never be repeated.
Details of interest
Location: Prinsengracht 267.
Admission fee: Adults pay 14 ¤, children 10-17 years pay 7 ¤ and children 0-9 years pay 1 ¤.
How long you need to see it: 1 hour.
Recommended for: everyone who has ever heard of Anne Frank's moving story. Whether they have read her diary or not. A life lesson.
Rembrandt Museum
You do not always have the opportunity to visit the place where one of the great geniuses of painting lived, but in the center of Amsterdam still stands the Rembrandt House-Museum, a must for art lovers.
Entering this fully restored 17th century house is a super interesting experience. It will give you an insight into what the houses looked like back then and what the work and daily life was like for the artist, who bought it in 1639 when he had already achieved success.
Why I like this museum
It is a highly recommended visit because it tells the story of Rembrandt as a painter, businessman, collector and inhabitant of Amsterdam in the middle of the Dutch Golden Age.
If anything I liked is that those responsible for the museum did a thorough job recreating the original house with furniture, artwork and objects of that time based on an inventory that was made when Rembrandt was ruined by debts.
The visit to the Rembrandt Museum is an experience because you can walk through the different rooms that the artist lived in, such as the living room, the kitchen or the workshop (in my opinion the most important space of the house), where he painted several of his masterpieces. Stepping into this place is a blast!
But that's not all! Another reason why I recommend visiting this museum is because they organize daily workshops on the technique of engraving and how painting was worked in Rembrandt's time. It is very, very interesting.
Interesting details
Location: Jodenbeestraat 4.
Admission fee: Adults pay 15 euros, children from 6 to 17 years old pay 6 euros and children under 6 are free.
How much time you need to see it: 1 hour and 30 minutes.
Recommended for... those with a passion for Rembrandt. This is a good opportunity to approach the life and work of one of the most innovative painters of all time from his own home. A very unique experience that does not disappoint.
Resistance Museum
Not that this is one of Amsterdam's top museums, but history buffs will find this place an exciting tour through the history of the Netherlands during the Nazi occupation told interactively and through the personal stories of many Dutch people who worked and risked their lives to weaken the enemy during WWII.
Why I like this museum
The Resistance Museum provides the visitor with an enormous amount of information about one of the most recent episodes in the country's history. It is very well documented and decorated and I recommend you to visit it because it tells what happened in a very dynamic way through photos, letters, objects of the time and newspapers that will help you understand how the invasion and the subsequent resistance took place.
In addition, if you visit Amsterdam with your family and you want to go with children to the Resistance Museum, this institution has a special exhibition dedicated to them that tells the story of four little ones and their experiences during the war.
The visit is not boring at all and you can learn many things about one of the most turbulent chapters in the history of Europe.
Interesting details
Location: Plantage Kerklaan 61, Amsterdam.
Admission fee: Adults pay 12 ¤ while children from 7 to 17 years old pay 6,50 ¤. Children under 7 years old are free.
How much time you need to see it: 1 hour and a half
Recommended for... those who are passionate about history and especially about World War II. I recommend combining this visit with the Anne Frank House to get a more complete and detailed view of what happened to the Dutch during that period.
Amstelkring Museum
The Amstelkring Museum is one of the most striking and oldest museums in Amsterdam. It is striking because from the outside it has a normal appearance, that of a small house in the neighborhood, and nothing foreshadows what you find inside when you enter: a clandestine church!
But how is it possible that there were clandestine churches in the city? It turns out that after Luther's Reformation, Amsterdam became a Protestant city where it was not allowed to practice the Catholic faith in public.
That's when the first secret Catholic churches like the Amstelkring or the Begijnhof chapel emerged in commercial buildings that, in some ways, are reminiscent of the Roman Christian catacombs that spiritually assisted the Catholic population out of the public eye in times of cruel persecution.
Why I like this museum
It is truly amazing to see how well preserved this church-museum built 350 years ago is and how the interior of the building was adapted with galleries, openings and beams for religious worship without touching the architecture of the exterior facade. Nothing was to give any hint that a forbidden religion was practiced there or it could have serious consequences for the faithful.
The church of Our Lady of the Attic is reached via narrow, steep stairs. Together with its beautiful late Baroque altar, it is the most impressive part of the museum. Did you know that this church could hold more than 150 people?
The rest of the visit to the Amstelkring Museum takes place in the other rooms of the house. Thus, in addition to the church hidden in the attic, you will see other rooms such as the confessional, its kitchen and some other rooms where collections of Catholic heritage are exhibited.
This is one of the most surprising and interesting museums in Amsterdam that I recommend you to discover for the uniqueness of its construction and purpose. Its incredible history and good preservation is well worth a visit on your vacation, you will love it!
Interesting details
Location: Oudezijds Voorburgwal 38, 1012 GD Amsterdam
Admission fee: Adults pay 14 euros, children from 5 to 17 years old pay 7 euros and children under 5 years old get in free.
How long do you need to see it: 1 hour and 30 minutes
Recommended for... travelers who want to enter one of the few underground churches that today are preserved almost in its original state. It is truly a unique and special visit.
More museums and cultural experiences in Amsterdam
Amsterdam is a very lively city and has a wide cultural offer that makes this destination even more interesting. In addition to the great museums that are a must-see, there are many other recommended experiences that you can get to know for example on a second trip to the Dutch capital, which is well worth it. I summarize them below:
---
What other attractions to see in Amsterdam?
If it is the first time you travel to the Dutch capital and do not know where to start your visit, the museums of Amsterdam are a good choice but I recommend you also take inspiration from the article What to see and what to do in Amsterdam where you will discover its main tourist attractions.
In case you prefer to tour the city in the company of a guide who will show you all the secrets of Amsterdam, do not miss the post The best tours in Amsterdam. It is a very comfortable and enjoyable option to explore it.
Another of the most famous tourist attractions of the city is the Red Light District of Amsterdam, well known for its liberal lifestyle and its controversial origins. If you are interested in getting to know this peculiar place with a guide, check out the post Amsterdam Red Light District Tours to learn more.
Finally, if you haven't already done so, it's always a good time to hop on a canal cruise in the "Venice of the North" and relax while enjoying the nice urban views. Find out more about this experience at Amsterdam Canal Cruises.
Frequently asked questions
What day are the museums in Amsterdam closed?

Most museums and tourist attractions in Amsterdam are closed on Mondays. In addition, on weekends, museums are open later.

What is the best museum in Amsterdam?

Overall, the Rijksmuseum is considered to be the most interesting museum in Amsterdam. If you are a fan of photography, don't miss the Foam Museum. Visiting the Van Gogh Museum is always a good idea, as it houses some of the most iconic works of the Dutch painter.

Is it possible to take photos in the Van Gogh Museum?

Only in designated areas, such as the entrance hall and photocalls for selfies. No photos of the artwork and exhibits are allowed.