Bruges Day Trips from Amsterdam
Bruges is the fairytale city that will complete your trip to Amsterdam and you can get there and back in just one day!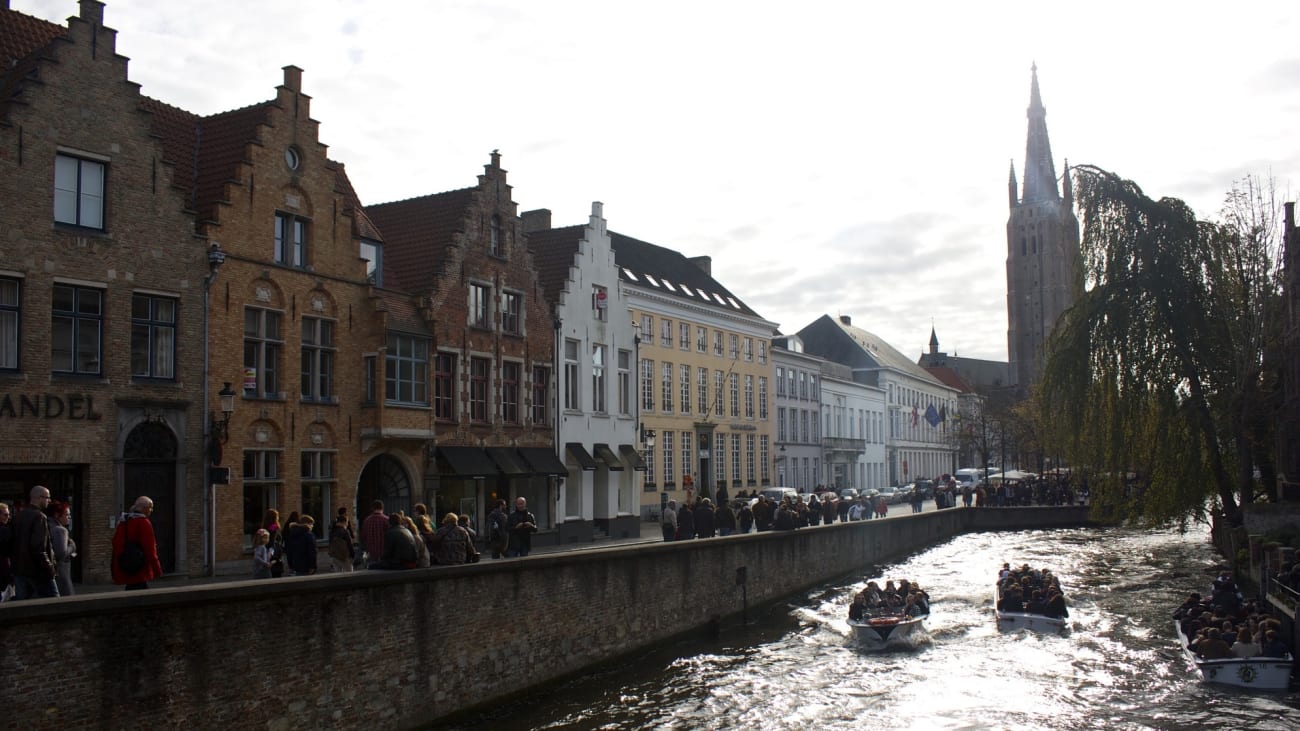 Jump on the map to discover the charming city of Bruges, in the neighboring country of Belgium. This small medieval city is located just 3 hours from Amsterdam and is perfect to visit in one day. I'll tell you the best option to visit Bruges from Amsterdam:
The best option
Discover the fairytale city of Bruges on this 1-day excursion.
Forget about planning and sign up for this tour in which you will have transportation from Amsterdam, a guide who will take you to the most important sites of Bruges and you will also have a tasting of the exquisite Belgian chocolate.
The best way to discover the magic of Bruges is to take this day trip from Amsterdam. This 12-hour tour organizes the entire journey to Bruges by bus so you don't have to worry about anything and includes an English-speaking guide.
You will have the best possible itinerary to not miss anything of this medieval city and you will also have a Belgian chocolate tasting in one of its famous chocolate shops. Irresistible, isn't it?
Recommended if... In addition to visiting Amsterdam you want to take advantage of your trip to explore the dreamy streets of this Belgian city just 260 km from the Dutch capital.
What will I see on this tour to Bruges from Amsterdam?
The city of Bruges is, without a doubt, a fairytale place. If you think you can only reach it from Brussels, you are wrong. This beautiful Belgian city is just as accessible from Amsterdam and this tour to Bruges from Amsterdam makes it easy, taking you there and back in the same day.
Bruges in the 21st century is a real journey into the past: although many of the structures you will see on your trip to Bruges have had to be renovated since 1900 due to the ravages of time and floods caused by the flooding of the Zwin River, this restoration was done following the neo-Gothic style prevailing at the time.
Here are some of the places you will see on the tour:
Craft markets in Grote Markt.
The main square of Bruges with its 85 meters high tower, the Belfort tower.
The idyllic Burg square, with the Town Hall
A mysterious lake of love, Minnewater
Tasting of the famous Belgianchocolate in a renowned chocolate shop
Pier with the surname "the flowers".
Itinerary
Among the wonders you will discover on this day trip to Bruges are: the Minnewater Lake or "Lake of Love", the Begijnhof and the incredible history of women it hides, the medieval houses of Stoofstraat and you can also taste the best artisan chocolate in the Chocolalino store.
Other tours to Bruges and the windmills of Zaanse Schans, Marken and Volendam
Want to make the most of your time near Amsterdam? Get to know the beautiful Belgian city of Bruges and add to that the more rural Holland. Everything you imagine when you think of Holland is what you are shown on this two-day bus tour to Bruges and the Dutch countryside. On this tour you will see the typical windmills, the production of its famous cheeses, bucolic landscapes and typical houses from the 15th century.
Bruges: There you will spend a day accompanied by a guide, visiting some of the most fascinating attractions of the Belgian city, such as the Church of the Holy Blood, one of its most important squares, the Burg square, its Kantcentrum Lace Center, which shows the history and importance of the renowned Bruges Lace School and the Groeningmuseum.
Zaanse Schans: On the next day and back to Amsterdam will be when you know your postcard fields. You will see authentic windmills in Zaanse Schans, a town nestled on the banks of the river Zaan and dotted with traditional houses of the fifteenth century.
Volendam: Volendam is one of the most beautiful fishing villages in the area thanks to its colorful houses, narrow streets and its beautiful harbor founded in the fourteenth century. There you will access its cheese factory to learn about the cheese-making tradition of the country and enjoy a demonstration of its special elaboration.
Marken: From Volendam you will take a cruise, the Volendam-Marken Express, to visit the picturesque peninsula of Marken, another small fishing village, this one surrounded by the waters of Lake IJsselmeer and connected only by a 10-kilometer dike. In Marken you will understand how the Dutch live below sea level, see a demonstration of how another Dutch icon, the clog, is created, and walk over beautiful bridges over small canals between wooden-fronted houses.
To learn more about these cities I leave you our post on How to visit Zaanse Schans and its windmills from Amsterdam.
---
Why is Bruges worth a visit?
Bruges is one of those places you have to visit at least once in your life. This Belgian city is a true delight for the senses. Bruges repeats the nickname "The Venice of the North" given to Amsterdam. It could not be otherwise, and the name itself gives us a clue of what it hides.
In Dutch 'brug' means bridge and this city is called with the plural of the term: 'bridges'. Like Amsterdam, this small town of 117,000 inhabitants lives and beats among numerous canals crossed by charming and numerous bridges, as well as cobblestone streets, beautiful squares and beautiful houses, some dating back more than six centuries.
A bit of history
It was these busy waterways that made Bruges, founded in the 11th century around a fortress, a hub of northern European trade until the 15th century, making it one of the most prosperous cities on the continent.
Today, the greatest treasure of Bruges is in its historic center, declared a World Heritage Site by Unesco in 2000, for being one of the best preserved medieval cities in the world. Welcoming more than 3 million tourists a year (it is the most visited Belgian city, even ahead of Brussels), Bruges is an unforgettable place on your trip to Amsterdam.
Where to eat in Bruges?
As the tours that I recommend do not include meals among their services, I want to recommend some places where you can enjoy in addition to satiate your appetite after so many hours of visit. And is that, despite what you might think, the gastronomy of Bruges goes beyond waffles, beer, mussels or chocolate. The 7 best places to eat in Bruges:
At Tattie's. The best sandwiches in town. 2. Café de Gilde. To taste typical Belgian dishes in this restaurant of home cooking. 3. Chez Albert. Sweeten your visit with the best waffles in Bruges. 4. Beers Yesterday's World. The best place to taste the famous Belgian beer. 5. Chez Vincent. Famous for its potatoes with sauce and burgers. 6. Soup, the healthiest option with delicious soups. 7. De Karmeliet, the best restaurant in Bruges, with 3 Michelin stars. Reservations in advance are necessary.
Typical Bruges dishes
You don't want to leave the Belgian country without trying some of its most typical dishes? Then prepare your stomach for delicious meals, but not exactly light, and do not miss the following list of succulent and tasty delicacies:
Flemish Carbonara. A veal stew with beer sauce that is Belgium's most emblematic dish. 2. Waterzooi. This typical Flanders stew with vegetables, fish or chicken is ideal for cold winter days. 3. Rabbit with cherry. Different and delicious, it is usually served with apple puree. 4. Knuckle with mustard, reflecting the Germanic influence in its gastronomy. 5. Mussels, they could not be missing. They prepare them in a multitude of ways, although the most typical ones are with celery and white wine. 6. Beer, of course. In Belgium it can be even cheaper than water. The most typical beer in Bruges is the Brugse Zot, but there are dozens of great varieties. 7. Leave some room to try their famous waffles!
Other interesting activities in Amsterdam
If you want to continue discovering the surroundings of Amsterdam, I recommend you to explore the excursions that can be done in one day from the city. I leave you a guide I have written with what are, for me, the best visits you can do in Holland: 5 Best Day Trips from Amsterdam.
If you prefer to make the most of the Dutch capital, I recommend you to rent a bike or sign up for one of the many guided tours. I tell you all about it here: 6 Best Amsterdam Tours.
And last but not least, the complementary activity that every beer lover should take into account: the Heineken Experience Tickets and Tours in Amsterdam.