Paris by Night: lighting, must-see sites, and tips
Paris at night is a totally different city and this version is well worth seeing. The illuminated Eiffel Tower, the bars, the atmosphere, the night tours... are an experience not to be missed.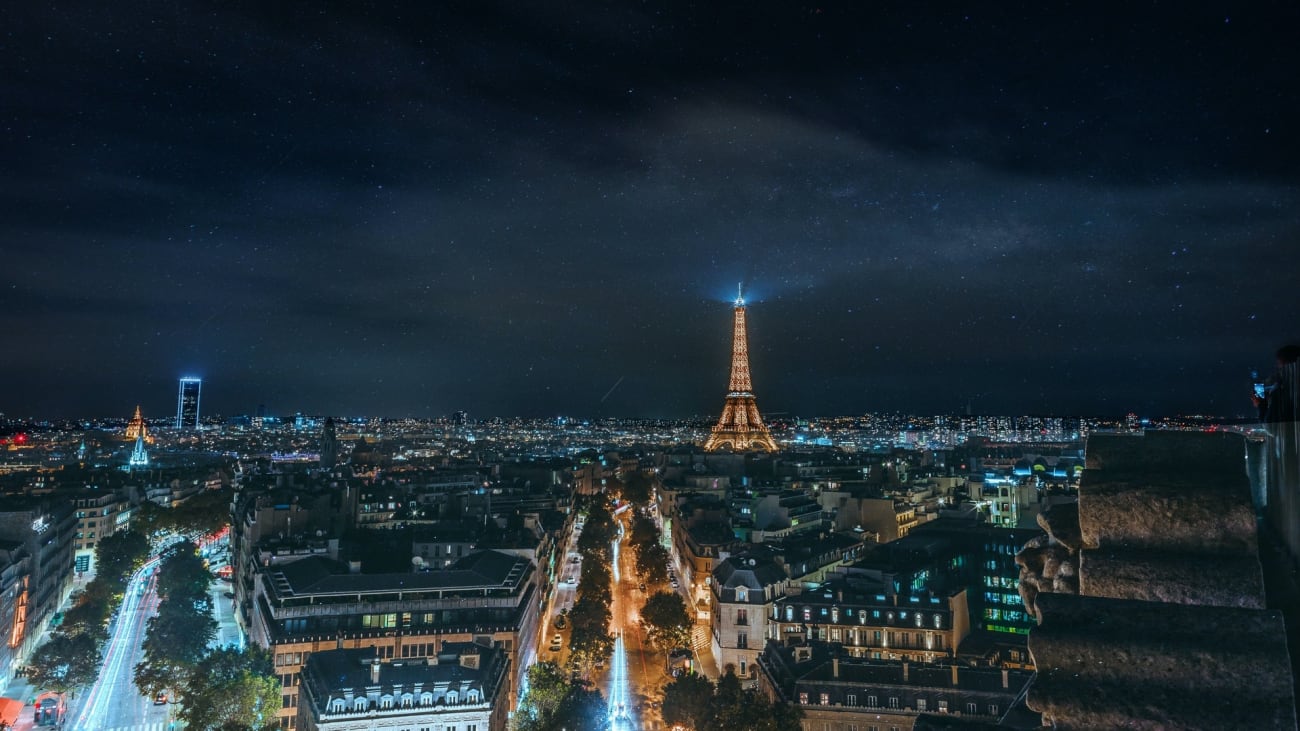 We often plan what we are going to do during the day in our travels but the night comes and sadly we give up our day. If you feel identified with this and your next adventure will be in Paris you are in luck, because here I leave you the definitive guide to make the most of every moment of your trip and not waste the nights in one of the cities that shines the most when the sun goes down, and that's why they call it the city of light!
1 A night cruise on the Seine to see Paris in lights
Taking a boat ride in Paris is always a good idea, but what better than doing it at night and seeing the city illuminated? Few things can compare to enjoy a nice walk watching the Eiffel Tower illuminated or monuments such as the spectacular Pont Alexandre III, one of the most beautiful in the French capital.
These cruises have a duration of between 40 minutes and an hour, but there are different options from which to choose "extras" such as a combined visit to the Eiffel Tower plus the ride on the cruise or a spectacular dinner on board the boat while enjoying the views that you can book on the button I leave you below:
2 Visit the Eiffel Tower by night
If in daylight the most emblematic monument of Paris surprises, at night it is a spectacle. This colossal tower, which was built in 1889, at night is illuminated with more than 300 bulbs can be seen in different ways, but you can not leave Paris without accessing it at night.
The night visit to the Eiffel Tower will allow you to watch the sunset from one of the strategic points of the city and you can also see many monuments such as the Sacre Coeur, Notre Dame Cathedral, the Trocadero Gardens or the Dome of the Invalides among many others, certainly an experience that will be worthwhile.
The last visit is at 22:30, but access depends on the season and holidays, so I recommend booking your ticket in advance to avoid surprises and make sure you can make this great plan.
Here is the link to learn about all the possibilities that existto climb the Eiffel Tower.
3 Attend a show at the iconic Moulin Rouge
Stage of cabarets and even of a famous movie, the Moulin Rouge is another must-see during your visit to Paris. Inaugurated in 1889 during the famous "Belle Époque", this site has been for many years a place of reference in social and even cultural and economic aspects in the capital of France.
Countless celebrities have graced its stages, from Liza Minelli to Frank Sinatra, and during the shows you can enjoy a large group of artists including jugglers, dancers, tightrope walkers and more than a thousand costumes!
The Moulin Rouge is located in the Montmartre district and is very easy to find, but here we leave you with this article on how to get to the Moulin Rouge so you don't get lost, and if you want to know more, here you have all the information about the Moulin Rouge show.
4 Night visit to the Louvre museum
The Louvre Museum is a jewel among French and European museums, so a visit is a must on your trip to Paris. However, although the opening hours of the Louvre Museum are usually from 9 am to 6 pm, there are two days a week when, when the rest of the museums and tourist activities close around 6 pm, this incredible museum opens its doors to anyone who wants to visit it until 21:45 pm.
Undoubtedly, the biggest advantage of this schedule is that there is a smaller influx of people so enjoy the best works of the Louvre Museum that this museum houses will be a much easier task than in any other schedule. In addition, contrary to what one tends to think, the artificial light to illuminate the artistic pieces does not detract any quality to the visit, since even in the daytime most rooms do not have natural lighting, so there will be no difference.
As the night visits end at 21:45, hopefully by that time you will have started to get the itch, if so and you have no idea where to go, here is a list of the best places to eat near the Louvre
5 Visit the Opéra Garnier
The building that inspired the famous play "The Phantom of the Opera" can not be left behind in your visits. During the tour of its interiors you can see the luxury and ostentatious decoration typical of the most stately buildings of the time, largely adorned with gold leaf and spectacular mosaics.
There are two ways to see the Opera inside, one is through a guided tour and the other is by attending the performance of a play. If you choose the first option, my recommendation is that you choose the last show of the afternoon, as the visit will probably be less crowded, you will enjoy the majestic building at night and you will have had the rest of the day to do other activities that are more worthwhile to do in the daylight.
If you prefer to see a live performance, you can purchase your tickets on the official website of the Opéra Garnier.
6. Enjoy a Jazz concert in the Latin Quarter
Paris is one of the European cities where most jazz is heard, so if you like this musical genre you are in luck. In the Quartier Latin (Latin Quarter of Paris), located in the south of the Ìle de la Cité, you will find plenty of places to enjoy music and a great atmosphere.
So if you like the idea of spending an incredible evening, with good live music in one of the neighborhoods with more personality of the French capital, here are some suggestions:
Le Petit Journal Saint Michel
Le Petit Journal Saint Michel is a cozy club located very close to the Luxembourg Gardens, transports the viewer to the 50's, a charming place where you can also enjoy dinner during the concert.
Le Caveau de la Huchette
Le Caveau de la Huchette is a classic among the jazz clubs in Paris. The atmosphere here is spectacular, there are many people who are encouraged to dance and audiences of all ages. Even so, you should keep in mind that as it is such a well-known place, apart from Parisians there will also be many tourists.
Le Caveau des Oubliettes
Le Caveau des Oubliettes is a small jazz bar and also a perfect place if you want to enjoy live music and best of all, you will have the opportunity to go on stage yourself to show your skills as an artist every Wednesday soul, Thursday jazz and Sunday blues.
Aux Trois Mailletz
Without a doubt, another trip back in time, the weather and the energy that Aux Trois Mailletz gives off is a sight to behold. It is open until the wee hours of the morning and you can also enjoy dinner while watching the show.
7 Go see a movie at the cinema
Parisians, in general, have a lot of film culture, and going to the movies not only entertains them, but they also learn a lot about art and culture.
It is true that ideally you should know the language to make the most of this experience, however, there are occasions when foreign films are shown in original version and in this way French would not be an impediment.
There are thousands of movie theaters where you can enjoy a good movie, however my recommendation is that you go to a classic cinema like La Filmothèque, very well known in Paris, where classic films are projected and also film festivals are held frequently. This place has two different theaters and is located in the Latin Quarter.
Even so, if what you want is to see the latest releases, you can go to one of the many cinemas in Paris with the latest proposals such as the UGC Cine Cité les Halles, the MK2 Beaubourg, the UGC Montparnasse or Le Grand Rex among many others.
8 Enjoy Parisian gastronomy
Paris is undoubtedly one of the gastronomic capitals of Europe, but also one of those places where, when it comes to eating, there is so much to choose from that we may end up making a mistake.
In my opinion, the best time to taste these meals is in the evening, as you can spend more time on it and you will enjoy the experience more, without rushing and without having to interrupt the sightseeing, so here I show you the French foods that you can not miss and the best places to eat in Paris.
Foie Gras
This delicacy is nothing more than duck or goose liver pate and is usually spread on a piece of bread or accompanying another dish. A star food in French gastronomy, with a strong and delicious flavor that you can not miss. One of the best places to eat foie gras in Paris is Le Comptoir de la Gastronomie.
Ratatouille
This French dish, also famous for the Disney movie with the same name, has according to the traditional recipe, tomato, onion, eggplant and zucchini, although sometimes cooks vary some of these ingredients or add others to give it their personal touch. It can also be eaten as a main dish or as a side dish with meat dishes. Ratatouille is a good vegetarian option, it is delicious and the best place to eat it is in the Montmartre district.
Fondues, raclettes and French cheeses
France is known for its great variety of cheeses and in Paris you can find cheese shops on almost every street corner. But if you are a fan of cheese you can't leave Paris without trying a fondue or a raclette, both are techniques in which cheese is melted to accompany other foods. If you are already salivating, I recommend the restaurant Le Chalet Savoyard where you will enjoy a whole show for your sense of taste.
Sweets and pastries
Although you may have heard wonders about French pastries, you won't realize how delicious they are until you actually try them. Macarons, croissants, crêpes, pain au chocolat, praline... Paris is a paradise for the sweet tooth and to enjoy these sweet treats I recommend the Café Pouchkine and the Mère de Famille, an incredible pastry shop with more than 200 years where you can choose from over 1200 sweets. And if you want to try the crêpes, here is a list of the best crêperies in Paris.
9 Take a night excursion by bus
Tourist buses are always a good idea, because in a journey of about half an hour you can see almost all the most important monuments of the city, and it is also a good way to rest your feet while you continue sightseeing.
Most of these excursions usually take place during the day, but there are cities like Paris that are well worth seeing illuminated. If it's not too cold, taking a night ride in a panoramic bus while enjoying the views of the city of light is a plan that surely will not disappoint you.
If you want more information, here you have everything you need to know about the best sightseeing buses in Paris to choose your best option.
10 Enjoy a night out in Paris
If you think of enjoying the night the first thing that comes to mind is a nightclub, so this plan could not be missing in our guide on what to do in Paris at night.
The truth is that being a big city there are many places from which you can choose to party. For example, Le Marais neighborhood is a very fashionable area lately and the Bastille area is also very popular among university students, although if you are looking for a more exclusive atmosphere, the Champs Elysees will be your place, although you should keep in mind that access to the sites is not so easy, as they do not let anyone in. In any case, here is my selection for you to see the best options:
La Féline
Alternative atmosphere and perfect for rockers. La Féline is located on Rue Victor Letalle 6, offers live concerts, DJ sessions and other shows every week.
Le Balajo
Ideal for Latin music lovers, as they dedicate each day to a different musical genre and also offer salsa and bachata classes. If you like to dance, Le Balajo may be your perfect plan. It is located at Rue de Lappe 9.
Le Duplex
This place is perfect for young people, since it is known for its university atmosphere and if the discotheque is not enough, the place also has a bowling alley and a restaurant. Le Duplex is located at Avenue Foch 2bis.
Le Carmen
It was inaugurated in 1875 and it is a place worth visiting if only to see it. It is located at 34 Rue Duperré and its spectacular decorations that evoke luxury and sensuality will transport you to another era. At Le Carmen you can enjoy small live concerts, DJ sessions and shows.