Where to Eat Near the Paris Louvre
They say that art is best enjoyed on a full stomach. And that's why, in and around the Louvre itself, we have many options to make eating an art form.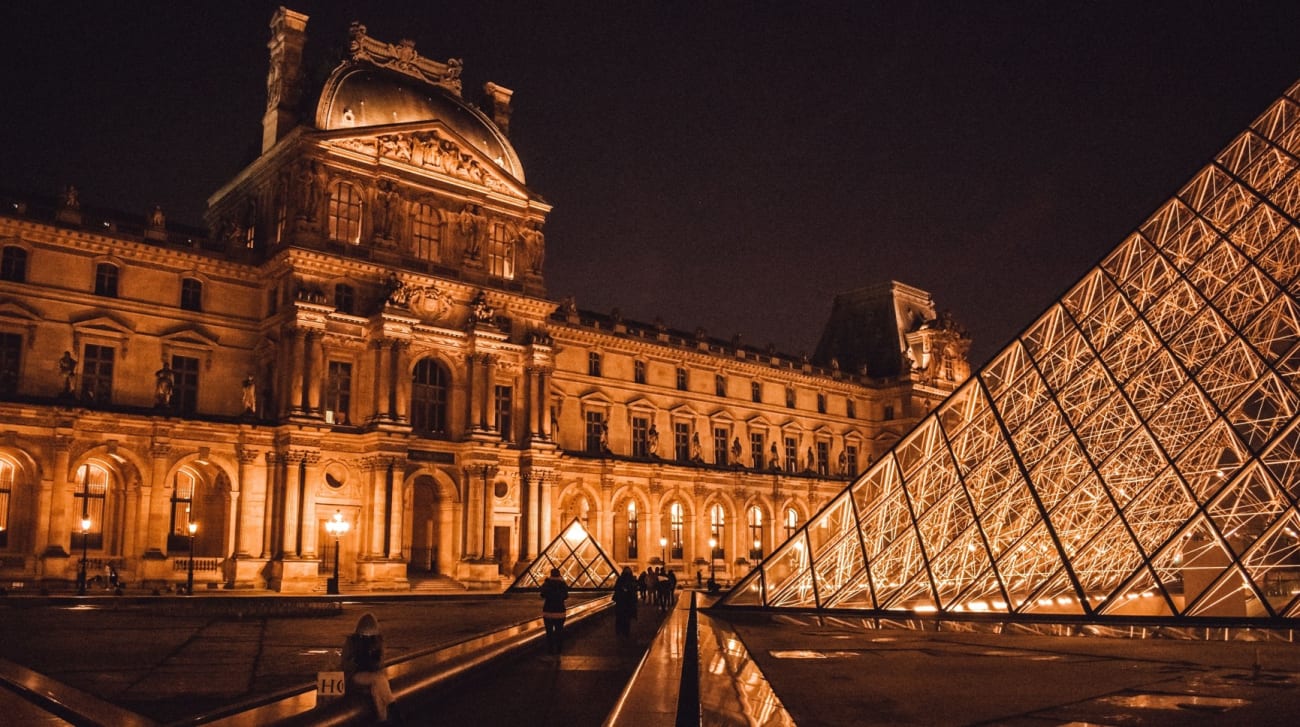 France has one of the most recognized and important gastronomies in the world for its variety, its products, classic recipes.... Of course, in its capital, the possibilities for tasting its dishes are endless, and it is always good to know what options we have for lunch or dinner.
Therefore, after booking your tickets for the Louvre Museum, I recommend you take a look at this list of restaurants and cafes. Also, keep in mind that inside the Louvre itself there are also several places for all stomachs and pockets. In this post I will tell you which are the best restaurants in and near the Louvre to end your visit with a good taste in your mouth. Bon appetit!
1. Don't miss a classic under the pyramid of the Louvre, Bistrot Benoit
We begin this tour of the restaurants located inside the museum. First, the Louvre's Bistrot Benoit is a version of the famous Parisian restaurant with the same name. It is located under the glass pyramid of the museum and is a good place to recharge your batteries after an intense day of art. The decoration is very neat and the food is of French tradition. A good choice if you want to taste the most typical dishes of Paris in a privileged place.
Where: Louvre Museum, floor -1.
Average price per person: 20-40 €.
Recommended dish: Snail dipper, poultry pâté cake with thyme.
Ideal for: Couples and small groups.
2. If you travel with your family, choose Goguette
Goguette is a very spacious and bright space perfect for a quick and good meal. The menu is composed of seasonal recipes and they also have several desserts and sweets. Although the dishes are the usual dishes such as salads, pastas or burgers, the product is very good and is an option to consider especially if you are traveling with your family. They have inexpensive menus if you visit Paris with children.
Where: Louvre Museum, floor -1.
Average price per person: 10-20 €.
Recommended dish: The menus give a choice between burgers, pasta or salmon and are a good value for money choice.
Ideal for: Families.
3. Enjoy a coffee surrounded by art at Café Mollien
If you don't want to leave the artistic atmosphere of the museum while eating, Café Mollien is your place. In fact, it is just a few steps from the room of La Gioconda, one of the best works of the Louvre. Its decoration and its terrace overlooking the pyramid and the Tuileries gardens are its main attractions.
Although do not expect a great variety in the menu. It is designed to take something quick like a salad or a sandwich and then a coffee or sweets to continue your visit to the museum.
Where: Floor 1 of the Louvre, Denon Wing.
Average price per person: 10-20 €.
Recommended dish: Sandwiches are a good option for a quick bite to eat and continue your visit. And a coffee on the terrace is not to be missed.
Ideal for: Families, couples and small groups.
4. If you are looking for a quick option, choose Denon and Richelieu Bar
If you are one of those who prefer to eat something quick to start or continue your visit to the Louvre, Denon and Richelieu Bar is your best option. The proposals they have are designed precisely for that, to eat something quick and continue your tour of the Louvre. Soft drinks, hot drinks, sandwiches, salads, snacks and some desserts make up their menu.
Where: Louvre Museum, floor -1, Denon wing.
Average price per person: 10 €.
Recommended dish: A sandwich and a drink for a quick and cheap meal.
Ideal for: All those who want to eat something quick.
5. Eat like Napoleon at Café Richelieu-Angelina
Located near the Napoleon III apartments or the sword of Charlemagne in the Louvre, Café Richelieu-Angelina is, next to the Mollien, the most beautiful cafe inside the museum. The views from its terrace are spectacular and you can even see the Eiffel Tower in the background. The menu is typical of a brunch with light dishes, desserts and sweets.
The hot chocolate or its famous Mont Blanc on its terrace are the star dishes. Bring your Louvre ticket with you as you will be asked for it at the entrance.
Where: Louvre Museum, 1st floor, Richelieu wing.
Average price per person: 15-20 €.
Recommended dish: Mont Blanc, a typical French dessert made with cream and chestnuts.
Ideal for: Couples, small groups.
6. Treat yourself to a luxurious treat at Café Marly
If you want to treat yourself to a luxurious meal, Café Marly is a Paris icon for its location. You can eat next to the sculptures in the Marly courtyard with a privileged view of the Louvre pyramid. Its cuisine is a fusion of French and international gastronomy and they also offer cocktails. The place is a luxury but so are the prices.
Where: Rue de Rivoli, opposite the Louvre pyramid.
Average price per person: 60 €.
Recommended dish: Salmon tartare or truffle ravioli, in addition to the cocktails.
Ideal for: Couples or groups of friends who want to live a luxury experience.
7. Enjoy a nice meal outdoors at Café des Marronniers
Leaving the Louvre, but without going too far we find the Café des Marronniers. It is in the Tuileries Garden in front of the museum and is a very cozy place to eat or just to have a coffee. Its menu is composed of typical Parisian dishes and good menu options during the week. If the weather is nice it is best to eat on the terrace.
Where: Jardin des Tuileries.
Average price per person: 20-30 €.
Recommended dish: Onion soup with emmental cheese.
Ideal for: Couples, families and groups.
8. Relax with a meal surrounded by nature at Terrasse de Pomone
After the hustle and bustle of visiting the Louvre with thousands of tourists, relaxing with a good meal surrounded by nature always feels good. The Pomone terrace is ideal for this. Next to a pond in the Jardin des Tuileries, they serve homemade dishes, savory tarts, crepes, salads, sweets and their frozen specialties.
Where: Jardin des Tuileries.
Average price per person: 10-20 €.
Recommended dish: Crepes and ice cream cakes.
Ideal for: Couples, families and groups.
9. Opt for a touch of modernity at Pavillon des Tuileries
The Pavillon des Tuileries is located in the heart of the Tuileries gardens and is another alternative to this park. Its menu is composed of the most requested dishes by tourists such as salads or burgers, but with a modern and personal touch of the restaurant. They also have a varied menu of drinks such as wines and cocktails, perfect to enjoy on the terrace.
Where: Jardin des Tuileries.
Average price per person: 20-30 €.
Recommended dish: The hamburgers have a different touch than usual.
Ideal for: Couples, families and groups.
10. If you're looking for a good product, go for Petit Plisson
Petit Plisson is a chain of restaurants in Paris specialized in market products. They have their own kiosk in the Tuileries gardens with a lot of their own recipes and good products that you can taste in their large terrace. They also offer many of their dishes to take away.
Where: Jardin des Tuileries.
Average price per person: 10-30 €.
Recommended dish: Fried chicken with butter milk.
Ideal for: Couples, families and groups.
Typical dishes of Paris
Among the hundreds of things to see and do in Paris, tasting the French and Parisian gastronomy is a must, as it is characterized by a great variety of dishes and products. Sweet lovers will especially enjoy it thanks to its pastry and bakery tradition. Practically in every street of Paris you will find a bakery or pastry shop where you can taste the typical croissants and a great variety of cakes and sweets.
French cheese is also a protagonist and the butchers also have good meats to enjoy accompanied by their sauce and of course a good French wine. This is a general overview, but what are the typical dishes of Paris? Well, here is a list with some of them:
Sopue a l'oignon: This is an onion soup fried with butter and accompanied by bread with the typical gruyere cheese.
Coq Au Vin: A traditional meat stew made with wine and vegetables.
Escargots: In some places in Spain eating snails may sound strange. But in Paris it is a typical dish and easily found. In France they prepare them with butter, garlic and parsley.
Ratatouille: It is a mixture of vegetables with onion, eggplant, tomato, zucchini and peppers seasoned with a little garlic, oregano and oil.
Petit Four: An assortment of pastries offered in all Parisian pastry shops and are a delicious dessert.
Croissants: We could not miss the star of France and the croissant in Paris is considered a dish in itself. They are served with a side dish and are delicious, cheap and quick to eat.
How much budget do you need to eat in Paris?
Paris has a certain reputation for being expensive and in a way it is. But when it comes to food the good thing is that we have plenty of options to suit all budgets. Being a big city with a lot of hustle and bustle it is common to see kiosks or street food stalls where you can eat sandwiches or croissants for around 8 € with a drink included.
In restaurants it always depends on the category of the restaurant. In a "normal" restaurant and on weekdays the menu is usually between 10 and 20 €. Of course, in most of them drinks are not included. Dinners are more expensive and prices are close to or exceed the barrier of 30 €. The good thing about Paris is that there are options to suit all budgets.
Lunch and dinner times in Paris
One of the things you should be most aware of in Paris are the restaurant and meal times. Since they follow a peculiar schedule if you travel from other countries. But first I leave you in this link with the schedules of the Louvre as the restaurants inside are governed by the same. Now if the meal times in Paris are:
Breakfast: Breakfast is where there are fewer problems, since the cafes open between 7 and 8 am and do not close until the afternoon.
Lunch: The schedule of restaurants and meals at noon is from 12:00 to 14:00 hours and many of them close kitchens at 14:00 or 14:30. It is always advisable to go before 1:30 pm.
Dinner: For dinner the schedule is more flexible than for lunch. The typical dinner hour is from 8 to 10 p.m., although restaurants open earlier and some do not close until midnight.
How tipping works at restaurants in Paris
In Paris restaurants and cafes the tip is already included in the bill itself and is added as a 15% surcharge as a service charge. Don't worry about it because the prices on the menu are the same as you will get on the bill at the end. It is not mandatory to leave an extra tip nor is it frowned upon not to do so, but you can always leave something at your own discretion if you liked the service.