Paris Louvre Museum Opening Hours
Would you like to visit the Louvre Museum during your trip to Paris? Before buying your tickets, take a look at their opening hours to better plan your visit.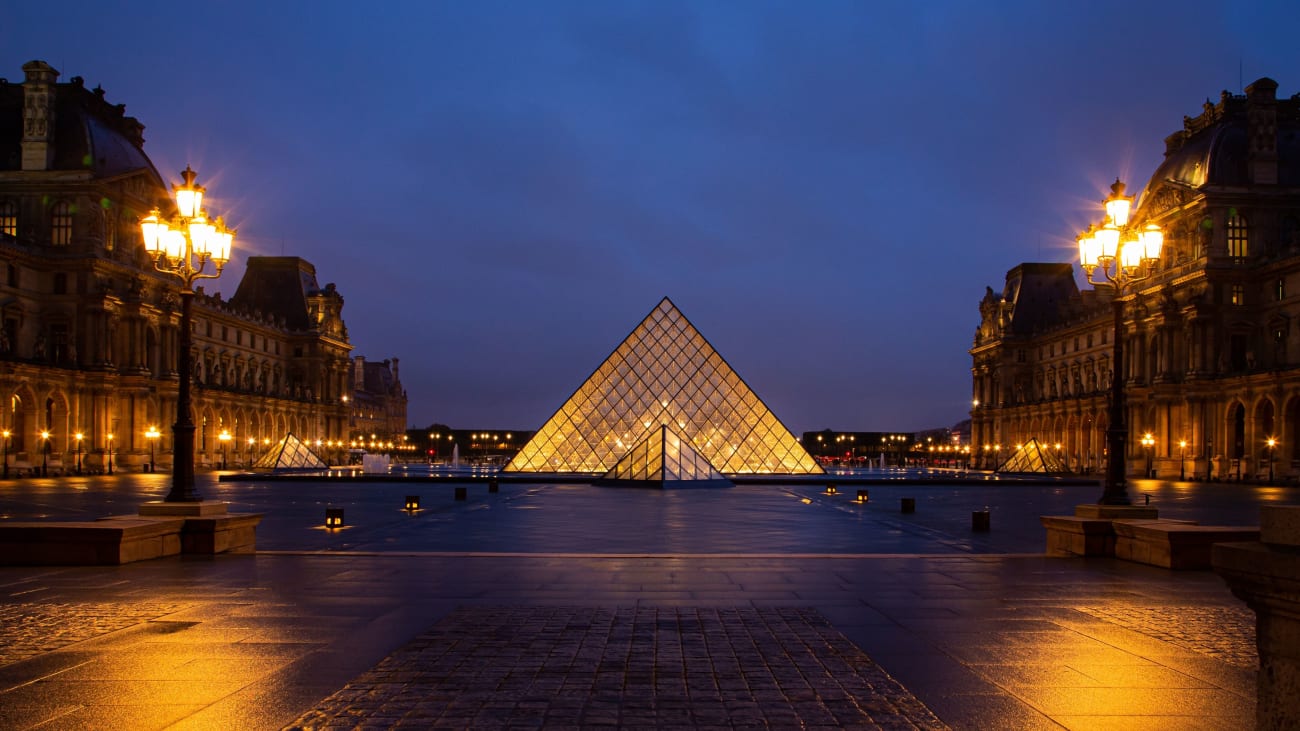 The Louvre Museum is one of the most important cultural institutions in the world and the most beloved museum in France. Within its walls it houses such famous works as Leonardo da Vinci's La Gioconda, Delacroix's Liberty Leading the People or the Venus de Milo, a relic from Ancient Greece.
Undoubtedly, the Louvre Museum is one of the must-see tourist attractions during your trip to Paris. But do you know its opening hours, the best time to visit it or how long it will take you to see it?
Don't worry, so you can organize this visit in detail(seeing how to get tickets or how to get to the Louvre) before I tell you all about the opening hours of the Louvre Museum in this post. Read on!
1. What are the opening hours of the Louvre Museum?
The Louvre Museum is open daily from 9 AM to 6 PM except Tuesday, when it is closed for restoration, maintenance and installation of new works in the different rooms of the building.
In addition, the Louvre Museum also opens its doors on special dates such as Christmas Eve (December 24) or New Year's Eve (December 31) but with a shorter schedule, from 9 AM to 5 PM.
At what time can I make my last visit to the Louvre Museum?
At the Louvre, the last admission of visitors takes place at 5 PM, that is, one hour before closing time.
However, if you want to get the most out of this cultural visit, my recommendation is that you do not go to the art gallery with so little time because the eviction of the rooms begins 30 minutes before closing and to get an overall idea of all the art that is housed within its walls, it is not worth accessing at that time because you will see practically nothing.
It is better to wait for another time when you have more free time to visit it calmly and thus you can make the most of the price you have paid for tickets to the Louvre Museum.
2. When does the Louvre Museum close?
The good thing about the Louvre Museum's opening hours is that it is open every day of the year including holidays except those falling on Tuesday (the only day this institution is closed), Christmas Day (December 25), New Year 's Day (January 1) and Workers' Day (May 1) so you have plenty of opportunities to plan your visit to one of the most important museums in the world.
Keep in mind the closing days of the Louvre Museum when you are preparing your trip to Paris if you plan to make cultural visits during your stay. In any case, if your vacation coincides with these days in December, January and May, do not worry, because Paris is a city full of life where there are always plenty of things to see and do.
3. How long does it take to visit the Louvre Museum?
In general, a standard visit to the Louvre Museum takes about 3 hours on average but depending on how passionate you are about art and archeology you may want to spend more time contemplating the Louvre's best paintings in detail.
In that case, when you have been inside for a while and need to clear your mind, you can take a break from this fascinating journey through the history of art by taking a break in one of the cafes or restaurants in the museum.
4. How long does it take to visit the Louvre Museum?
This is a question that is not easy to answer. The Louvre is a huge museum with more than 400 rooms where more than 35,000 works of art are exhibited, so it all depends on your interests and how long you want to spend looking at each collection.
However, to get an overall idea of its most outstanding collections you will need to be there for a minimum of 2 hours and 30 minutes.
Although it is an ambitious plan, my advice is not to go to the Louvre Museum with the intention of visiting all its spaces in a single day because it is an almost unmanageable task given its size.
I do not recommend it because you will go stressed from one room to another, barely noticing the works of art that you will have in front of you and with a great cultural binge that at the end of the day probably will not allow you to remember clearly everything you have seen. The Louvre Museum you have to enjoy it slowly and calmly! And if you need to or if you feel like it, you can always come back later to see what you missed.
5. I am short on time, can I visit the Louvre Museum?
Of course! In that case, I advise you to take an express tour of the Louvre Museum where a guide will show you the essential works of its collection while explaining what you are seeing.
This is one of the most recommended guided tours of the Louvre Museum for those travelers who do not have much time in Paris but do not want to leave without visiting the museum. It is the best option because in a guided tour you will learn a lot and the time is always worth twice as much.
6. When is the best time to visit the Louvre Museum?
Actually, any time is a good time to visit this impressive treasure of fine arts but it is true that at lunchtime there is usually less crowded. It is the ideal moment to enjoy if you do not like the crowds of tourists that occur around certain works of art such as "La Gioconda", for example.
The Louvre Museum is one of the most important tourist attractions in Paris like the Eiffel Tower or the Notre Dame Cathedral and, after all, in its surroundings there will always be large groups of people queuing to get in.
Especially on weekends and Mondays (the day when other museums in Paris are usually closed) during the summer months and Christmas, when it is high season in Paris.
So if it fits in with your schedule for the day, I advise you to stay for lunch near the Louvre and go in during the lunch hour when there are fewer visitors.
7. What about with children?
With children, it is much the same as with other visitors. The best time to go with them to the Louvre without the long lines of access to make a dent in them and get tired before entering is a weekday during lunchtime, when the crowds disperse to go for a snack and the kids will have more chances to see the works of art up close without hindrances around them. Which as a parent always gives you more peace of mind as you can keep track of your child at all times and not get lost in the crowds.
On the other hand, if you have just a couple of hours to see the Louvre Museum with your children, another option you can consider is to get up early with them to queue before the doors open and enter first thing in the morning. This will allow you to leave the museum when there is a larger crowd inside the museum around noon.
8. How long are the queues to enter the Louvre Museum?
If you decide to wait to buy tickets to the Louvre Museum once you are in the city you can find huge queues at the ticket office that can last between 40 minutes and 2 hours, depending on how busy the day you have chosen to make the visit. Add to that the security queue, which can add several more minutes of waiting time.
There is a way to avoid this or at least reduce queuing times and that is to buy your Louvre Museum tickets online instead of at the ticket office and choose the "no queue" option to gain access as quickly as possible. It's worth it!
9. What are the opening hours of the gift store?
The visit to the Louvre Museum is amazing but its souvenir store is no less. It has several scattered throughout the complex but the main one is the Boutique du Louvre located in the hallway of the Grand Louvre.
Its opening hours are from 10 AM to 6:30 PM, every day of the week except Tuesday when the museum is closed. It is also closed on December 25, January 1 and May 1.
The opening hours of the other Louvre Museum stores are as follows:
Salon Denon: 9:30 AM to 5:30 PM, every day except Tuesday. Denon Wing - First Floor - French Painting Section
Napoleon Stall: 9:30 AM to 5:30 PM, every day except Tuesday. Temporary exhibition hall.
Denon Post: 9:30 AM to 5:30 PM, daily except Tuesday. Mezzanine Denon wing, under the Pyramid.
10. Hours of tourist attractions near the Louvre Museum
The Louvre Museum is located in Place du Palais Royal. After visiting it, you may want to discover other tourist attractions in the surrounding area. To organize your visit in detail, take a look at their schedules.
Royal Palace of Paris: Open until May 18 from 8 AM to 7 PM / From May 19 to June 8 from 8 AM to 9 PM / From June 9 from 8 AM to 10:30 PM.
Musée d'Orsay: Open Tuesday, Wednesday, Friday and weekends from 9:30 AM to 6 PM. Thursday from 9:30 AM to 9:45 PM. Mondays closed.
Musée des Arts Décoratifs: Open Tuesday through Sunday from 11 AM to 6 PM. Closed on Mondays.