Paris Louvre with Children
Here are some tips before going to the Louvre with children. They are sure to help you!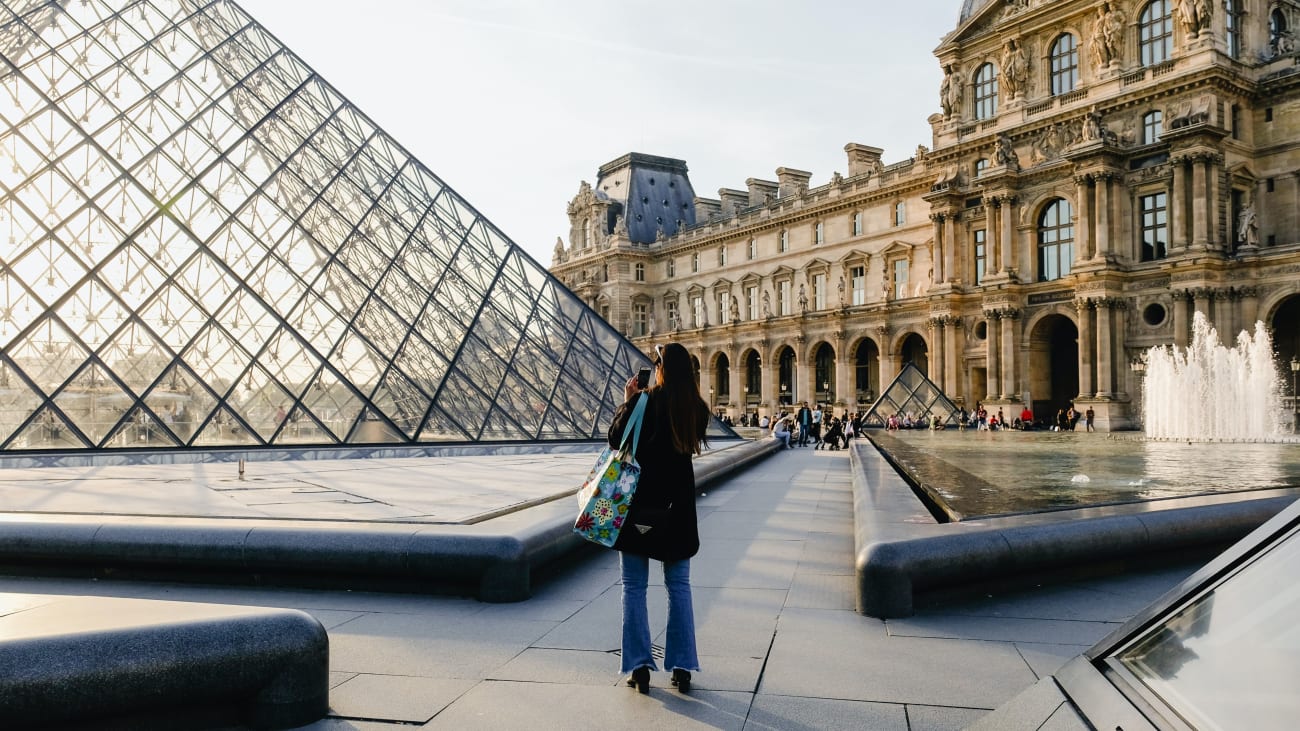 The Louvre in Paris is one of thelargest art museumsin the world, so large that it would be impossible to see the 380,000 pieces that the museum exhibits in a single day. However, going with children is a totally different adventure, because when the first signs of boredom appear on their part, everything can change.
That is why knowing some tips and advice can be useful for you to keep your visit with children as interesting as ever. By the way, if you check the prices of the Louvre museum, the first good news is that children get in for free.
1. A guided tour with children is better
While it is true that a guided tour of the Louvre is an advantage for anyone who wants to visit the museum, if you go with children it is even more interesting. This is because you can choose a specific guided tour for children, in which the guide himself will make it possible for the children to participate in the visit, better understand what each work symbolizes and what it means, while making you less aware of the children and more aware of the works or the exhibition in general.
Remember that there are guides who are experts in entertaining children on the visit since they have been guiding groups of different ages for many years. In addition, the guides know which works are most appealing to children and how to focus the explanations so that they are attentive and enjoy the visit. Not to mention that with a Louvre guide the visit will be shorter, but more intense**, just what children expect to hear!**
Another less expensive option is to have an audio guide for children, so they can listen to the explanations while they are looking at each particular work. This way you will also keep the children focused and they will feel more or less involved in the visit.
2. Eat before arriving at the Louvre with children
The Louvre requires quite a bit of walking. It is important to arrive with children who are well rested and well fed. Remember that it is forbidden to eat or bring food into the museum.
For lunch near the Louvre there are several breakfast places that offer a delicious breakfast of freshly squeezed orange juice, bread and delicious pastries. Also, inside the Louvre there is a shopping mall in case you need a snack.
If you have less time you can still take food from any cafe or bar that is open. In Paris eating in the streets or in the car is more normal than usual, as the city is very large and there are usually many traffic jams on the way. It is also important to arrive rested, an option to clear your head before arriving at the museum is to get on a tourist bus in Paris, these vehicles make two stops near the Louvre. Of course, the best way to control the stress factor is to arrive in good time and know how to get around Paris.
3. Make a bathroom stop before entering the Louvre
It is very important to stop at a restroom before continuing, especially after an important meal and/or drink. Remember that the Louvre is a huge museum and the exhibits sometimes last longer than expected. In addition, children, because of their age and metabolism, need to go more often than any other healthy adult.
It is true that the Louvre also has restrooms for the public; however, the fact that it is so large makes it very likely to get lost, especially when there are many visitors inside.
Plus, it's bound to be overwhelming for you to miss part of a guided tour, or an exhibition while you're distracted waiting or looking for where the restrooms are.
4. Baby strollers are welcome at the Louvre
Babies and the Louvre are not incompatible. Although it may sound exhausting to walk up and down with a stroller, you should know that the building is perfectly equipped and baby stroller friendly. While it is true that the building dates back to the 12th century, constant improvements have made the Louvre one of the best equipped museums in Paris in terms of reduced mobility.
Not only that, strollers are welcome throughout the museum, and you will rarely feel uncomfortable. There are elevators in the Louvre reserved precisely for families with babies.
What's more, when you arrive at the Pyramid, you will notice that there are separate lines for different types of tickets, and if you have a "reduced mobility" ticket, you can queue in a different line. Don't worry, if you go with time it is rare that you will have to wait longer than the rest. In addition, the elevators are glass and with a futuristic touch, sure to leave the kids speechless.
5. Give the kids a map of the Louvre
The best way to make children feel comfortable is to include them in the visit in a direct way and let them participate. One of the best ways is to give them a map, so they will begin to see the search for works as a kind of "scavenger hunt. "
You will see how excited they will be in the museum, looking for works on the map and following clues. Remember that children are not old enough or mature enough to appreciate a visit like the Louvre; however, you can make sure they have fun within limits and are motivated.
In addition, a map will also help you to better optimize your tour by making it shorter but more intense. Keep in mind that it is practically impossible to visit all the works in a single visit.
I recommend downloading the complete map, and if you have it printed, even better. Keep in mind that the museum has 5 floors, and the exhibition hall is divided into 8 sections! It is difficult not to get lost without a guide and a map.
6. Buy a book to serve as a guide in the Louvre
Knowing a bit of history about the works you want to see is extremely important to capture the attention of children and stimulate their interest. If there is one thing that all children agree on, it is that they love to listen to stories; therefore, getting informed beforehand will be crucial to keep that uncertainty alive, at least for the duration of the visit.
In the stores near the Louvre there are several places to buy books that will explain every part of the museum regardless of your favorite language. And all in order to simulate a guided tour.
I guess if you are attracted to the museum is because you already know what you want to see; however, if this is not your case you have nothing to worry about. A little reading a day before visiting the museum will be enough to appreciate a little better the works of this magnificent museum and, as a consequence, to be able to infect the children with that desire.
7. Take a shorter tour of the Louvre
When you go with children, even if you know the museum opening hours and you go with time, it is always important to optimize the tour as much as possible and, if possible, make it shorter. It is very common that when we pay for tickets to the museum, we want to get the most out of the visit and try to see as much as time allows. However, if you go with children, it is very important to take them into account.
Therefore, as a tip, in case you do not have a guided tour, try to see the most essential of the museum. For example, in the Sully Wing you can take the children to see the Mona Lisa; in the statue gallery you can focus the visit on the beautiful statue of Venus de Milo; and in the Denon Wing you can bring them closer to the sculpture of the Winged Victory of Samothrace.
Children usually enjoy the first few minutes in the museum, so take advantage of those minutes of attention to show them the most representative works of the Louvre, they will remember them for the rest of their lives.
8. Get ready for the paparazzi of Mona Lisa at the Louvre
Leonardo da Vinci's Mona Lisa is practically synonymous with the Louvre. This early 16th century Italian Renaissance painting has been on display at the Louvre since 1797. Visitors line up to see the Mona Lisa, protected by bulletproof glass and guarded by guards.
So if you go with children, try to avoid stopping too long in the Mona Lisa room during peak hours, as it is easy for children to get lost in the hustle and bustle. You inadvertently let go of your hand when your attention is elsewhere. And, believe me, searching through a room full of visitors is something I don't want you to do. Therefore, I do not recommend you to visit the Louvre with children on your trip to Paris in summer because of the high number of tourists you can find. By the way I advise you to visit this post for more generic tips on your trip to Paris.
In addition, there are always journalists and paparazzi photographing the expressions of admiration felt by tourists and visitors to this iconic painting estimated at almost 2 billion euros.
9. Inform children about the museum's policy
In a museum like the Louvre , there are several rules that regulate the smooth running of the site, there are multiple policies that if not respected one can be expelled directly. And , unfortunately, these policies apply to anyone , including children.
Therefore, before entering the museum it is advisable to remind children what prohibitions there are inside the museum, since, by nature, they tend to get carried away easily, and even more so if they are inside a place designed to attract attention. Among the prohibitions are:
Touching the works
Drinking
Eating
Running
Talking loudly
10. Give children a camera
Following the same line of letting children participate directly in the museum visit, one of the best ways is to give them a camera and let them document their visit to the museum.
Let the children take a camera and go around taking pictures of the works that interest them most, this simple fact will make them much more attentive and much less bored.
In addition, with that same gesture you will see what art interests them more and, therefore, be able to focus the visit so that they can feel heard and understood.
Of course, try to make it clear that you can not use the flash in the Louvre nor take pictures with a selfie stick, as both actions can damage the works and / or interfere with the operation of the museum.