Cheap tickets to Disneyland Paris
Spending a day or two at Disneyland will take you back to your childhood. Whether you go alone or with your family, visit and get the most out of the park with these tips to get the cheapest tickets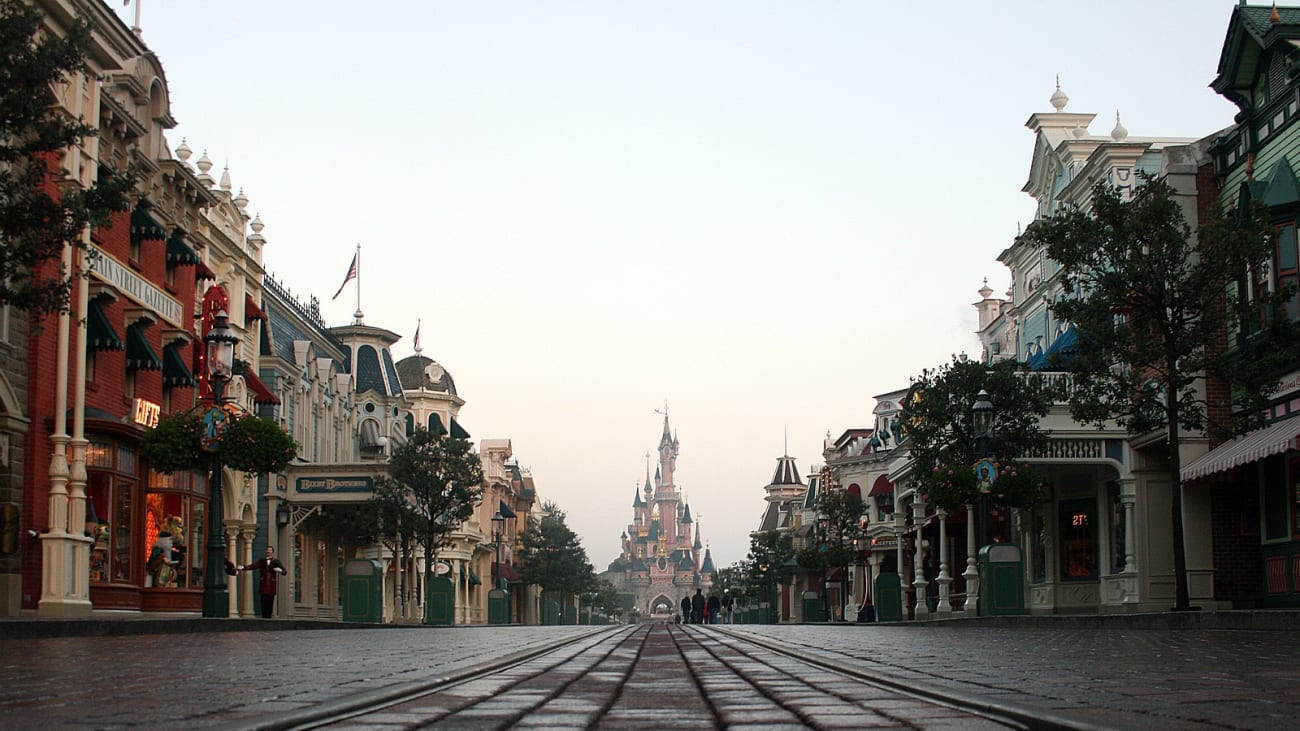 The amazing attention to detail, the attractions, and all you can learn about movies and special effects make Disneyland a unique visit for everyone, even if you don't go with children or even if Disney movies are not your favorite.
1. Types of tickets by price and how to get the cheapest ones
Before buying your ticket, you should know that there are two parks: the traditional park (Disneyland) and the Disney Studios park (Walt Disney Studios). They are next to each other and there are attractions in both of them.
My advice is to buy tickets in advance to get the best prices: you can also buy a one-day ticket, a combined ticket for two days (which is cheaper than if you buy both separately) and even take a package that includes transportation from Paris and is also cheaper than buying it separately. After making an exhaustive study of all the types of tickets that exist, these are the cheapest:
2. Save costs with a one- or two-day ticket for both parks
On my first visit, I thought that the Disney universe in Paris was reduced to the two parks; I was surprised to realize that Disneyland Paris is a whole complex that includes, apart from the parks, stores, hotels, nightclubs, restaurants, and squares.
Everything is taken care of with the same detail as the parks (after all, the whole universe of Disney parks is characterized precisely by the meticulousness and care behind each element). With your cheap ticket to Disneyland, you can explore it all, and it's worth a visit to gawk at the sheer magnitude of it all. Once there, you will see that there are even guided tours to visit every corner of this Resort.
Is it economically rewarding to buy a two-day ticket?
If you are going to stay two days, the most economical option is to take the 2-day ticket to Disneyland and dedicate a whole day to each park.
Is it realistic to see both parks in one day?
If you are only going to stay one day, in my opinion, the best thing to do is to see the main park and leave the second one for another visit, because if you try to see both on the same day you will miss many details.
3. The cheapest one day ticket with transportation from Paris
Regardless of which ticket option you choose, some services include transportation to the park. The resort is far from the center of Paris (in the Marne-la-Vallée area) and, although you can get there by RER trains (the cheapest option), you will save a lot of time with a Disneyland entrance with bus transportation included and you will arrive directly at the parks' gate.
4. Private transportation to and from Disneyland from Paris
After the ride, the lines to get out of Disney are impressive and much more to access the train. If in addition to including transportation to your tickets, you are considering the option of investing a little more but having more freedom of schedules and movement, I advise you to consider the option of buying your ticket to Disneyland and booking private transportation to and from Disneyland, you will greatly appreciate it.
Top tips to save money at Disneyland and get an equally amazing (but cheaper) experience
If you're looking forward to going to Disneyland but you're afraid that the visit will be out of your budget, don't worry. You already know that there are ways to get your tickets cheaper, but if I may, here's a little checklist you can follow to make sure your visit to the park is much cheaper while having a great time without worrying about your wallet:
The tickets: in advance and online, to get them cheaper
Souvenirs: you will be struck by the dozens of corners where you can get any kind of Disney souvenir in the park, but do not fall into the temptation of these "tourist traps": the vast majority of stuffed animals, mugs, T-shirts, etc., you can get them in stores outside the park or in the center of Paris and they will be cheaper.
Lodging: staying at the park overnight is often an unnecessary luxury. If you do not have the budget to stay in one of Disneyland's resorts, do not worry. There are areas around that are very well connected to the park and that will allow you to make the most of your time without spending the money that the park's hotels cost.
Low season, best prices: spring and summer are usually the busiest seasons in the park and therefore, tickets, accommodations, and even transportation may be a bit more expensive. If you have a choice, avoid high season (plus there will be fewer crowds inside!).
Avoid, if you can, weekends and holidays: throughout the year there are special dates (holidays, Christmas, long weekends, or even Saturdays and Sundays) where everything is more expensive (and also crowded). If you can, avoid it for a cheaper but also more relaxed experience.
Use public transportation to get to the park: it may not be the most comfortable, because there are rush hours when trains are more crowded, but it is certainly a good way to save on the day. However, if you are thinking of hiring private transportation, you already know that this option exists.
Save on meals: many of the park's restaurants have above-average prices. Therefore, choose well where to sit down to eat: check the menu before ordering and if you can, carry snacks in your backpack to save on snack costs. You'll be able to take a breather without paying extra.
6. Make the most of your time at Disneyland Park
With all the information on how to buy the cheapest tickets for Disneyland Paris, it's easy to get an idea of what you will find in a park that, again, is not only for children. Disney's strong point is not its attractions, even though Space Mountain is a pioneer among indoor roller coasters; neither are its shows, even though its rides are famous all over the world; not even the characters that interact with children.
In Disney parks, constant innovation and attention to detail are the strong points and it is something that can be perceived in everything; that is why adults, aware of it, enjoy the visit even more than children. What will you find there?
Main Street USA
Disneyland Park is the main park. It is presided by "Main Street USA": a "village" built around a main square from which to move around the park, full of stores all decorated differently and with a train stop at the entrance that takes you around the park.
Once you have toured Main Street (this is worth doing, do not mistake it for just a shopping area), you will have at your disposal the four main areas of the park with their respective attractions and shows, each with a different atmosphere.
Fantasyland
This is the most classic Disney area and the one with the largest number of attractions for children. Behind Sleeping Beauty's Castle, you will find the Beauty and the Beast mugs, Alice's Labyrinth, Peter Pan's Flight, Snow White, and Pinocchio's stories, Dumbo's Flight or the It's a Small World water carousel with characters from all continents.
Discoveryland
It is the area dedicated to the future and science fiction and therefore the one with the famous indoor roller coaster Space Mountain (it's a real blast). In it, you will also find the Star Wars flight simulator, Buzz Lightyear's saber game, Captain Nemo's ship, the Videopolis theater, or a car highway.
Frontierland
This area has a Wild West theme. You will find there the Big Thunder Montain, the haunted house, the Pocahontas village, or Woody's rodeo attraction.
Adventureland
Dedicated to the world of adventures, this area has large green areas such as the Robinson's hut or the Pirates' beach. The star attractions are the Pirates of the Caribbean (inspired by the movie) and the Indiana Jones roller coaster.
Ana's Traveller Tip

Once the nighttime parade is over, the lines for the train are endless. Leave the park a little early or hire private transportation to your hotel.
6. Explore Walt Disney Studios Park
For those curious about the world of movies and special effects, this park will be a paradise. It offers different shows (with several shows throughout the day) in which they tell you how Disney movies were made or which were the first special effects in the history of cinema. You can see a car action show, enter the Armageddon ship, ride the Aerosmith roller coaster or try the Tower of Terror free fall.
Also in this park, there are areas dedicated to Pixar movies such as Toy Story, Monsters SA, Finding Nemo (the turtles' air currents attraction is a must-see), or Ratatatouille. It is a smaller park than the main one, but it has nothing to envy in the number of attractions and shows. I strongly recommend you not to exclude it from your visit.
Ana's Traveller Tip

If you are going to see both parks in one day, remember that Walt Disney Studios closes at 7 pm, while Disneyland is open until 11 pm.
7. Organize your visit to Disney
Book in advance to get the cheapest tickets
There are huge lines at the park's ticket booths and a lot to see in a short time; save the hassle and go directly with a pre-purchased ticket. The best option to save time and money is to buy your Disneyland Paris tickets in advance: you will receive a voucher that you can exchange for your ticket at any of the automatic machines at the entrance of the park (there are many and you will not have to wait). You will enter the park directly through the turnstiles at the entrance without waiting in line at the ticket office.
Date and time of the tickets
Tickets are subject to a time of year, but not to a specific day. You can buy your tickets before your trip to Paris and, once there, decide which day you will use them depending on factors such as the weather. Also, if you buy your tickets in advance, you will be able to choose the type of ticket and compare prices, which will allow you to save money and get them cheaper.
Once you validate your ticket at the gate of either of the two parks you can access all day as many times as you want, but keep in mind that the studio park closes earlier than the main park (around 7 pm), whose opening lasts until after the night ride (approximately 11 pm). Closing time may vary depending on the time of year, but the opening time is always 9:30 am.
When to go
Disneyland Paris is open every day of the year (there may be exceptions that are announced on its website, but it is not common), but depending on the season in which you go you will find some special events or others. There are periods of the year dedicated to different Disney movies and special Christmas or Halloween celebrations.
When planning your visit to Disneyland Paris you have to keep in mind that it rains a lot in Paris, so it is a good idea to check the weather before your visit; you can visit the park when it rains, but you will not enjoy it as much. It is also advisable to avoid the hottest days, which also coincide with the high season (summer). As for days of the week, the same rule applies to other tourist sites: avoid weekends and holidays.
How to get there
The Disney parks are far from the center of Paris, but you can easily get there by the RER (Paris train network). Taking line A (red) is the last stop and is announced in all train stations; it will take you about 45 minutes from the center of Paris.
The real problem is usually getting back, as after the ride you may want to stay for dinner in some of the restaurants outside the park and, even if you don't, you will have to run so that the train doesn't close as trains don't run in the early morning in Paris.
I recommend you book a private shuttle to and from Disneyland in advance. This will help you avoid last-minute rush and crowds when entering the park in the morning.
Duration of the visit
The parks open at 9:30 am. Disney Studios closes at 7:00 pm and the main park closes around 11:00 pm once the closing parade is over. To see both parks well you need a minimum of two days as there are many attractions to ride, many shows to see and many details to enjoy.
It is not worth visiting in a hurry, but if you have no other choice and you are only going to stay one day, choose one of the two parks to enjoy it better (although if you have the ticket for two parks you will be able to go from one to the other without any problem).
Save on meals
The Disney Resort is prepared for you to eat in one of its many restaurants, all of them decorated with different themes. Although there are some restaurants with menus, most of the food you will find is fast food (pizza, hamburger, hot dogs) and you cannot bring food from outside the park.
Save on lodging
If Disneyland is one of your main destinations during your visit to Paris, I advise you to stay near the park for more comfort. The accommodations belonging to the Disney complex are real wonders, but they are also usually much more expensive. A good option to find the best value for money and save on your stay, is to look for accommodation in the Chessy area, much cheaper but equally close to the park and with good and quick communication with it.
Shows
When you enter the park you will be given the show program. Take a few minutes to decide which ones you want to see (if you have doubts about which one you might like the most you can ask any member of Customer Service) and organize your visit according to those schedules.
If you are going to see both parks, it is best to go first to the Studios park which usually has lower visitors in the morning and queue for the first passes of the shows held there.
Official app
With so much to see, organizing your visit to Disneyland Paris can be a bit chaotic. At the entrance, you'll be given a park map, but when you get to the attractions you'll see that many of them have different passes and sometimes long lines. The best trick: download the official Disneyland App where you will be able to see at all times how long the waiting time is for each attraction and where each one is. You'll get more out of your time.
Avoid queues
At the entrance of some attractions, you have a machine to get a fast pass for a certain time. These attractions are marked on the map. Organize your time and, before going to an attraction, get the "fast pass" for a nearby attraction so that, at the time of your visit, you can go directly to the queue.
Be careful, fast passes also "run out" and there is a certain time at which you will not be given any more and you will have to wait in the normal queue. Keep in mind this and also the distances between the different attractions to avoid spending the day running from one attraction to another.
Ana's Traveller Tip

Don't forget to download the park's official App to be able to control the waiting times at the attractions; you will save twice as much time.
8. If you are interested in going to Disney Park in Paris, you will also be interested in...
If your main reason for traveling to Paris is to go to Disneyland, don't miss out on seeing central Paris, even if it's on a day trip. If you don't, you will regret not having reserved at least one day for it and, although during this time you will not be able to appreciate Paris in all its magnitude, you will get an idea of the wonders that the city has to offer.
If you decide to go to Paris, a very cheap option for an overview can be to book the tourist bus that will take you all over the city. I leave you here an article about Hop on Hop off Bus Tours so you can organize your visit to perfection.
Whether you are traveling with children or not, taking a cruise on the Seine can also be a good option, as they will be more entertained while you all can relax enjoying the wonderful views. You have more information about Seine River Cruises in the guide, I have prepared about it.
And finally, to make the most of your visit to Paris, I recommend that you consider the option of purchasing the Paris Pass, a tourist card that gives you a "flat rate" to access the best attractions in the city. Here is the practical guide I have prepared on the Paris Pass.
Frequently asked questions
How many days do you need in Disneyland Paris?

Considering that Disneyland consists of two seperate parks, Disneyland Paris actually recommends three full days to experience the rides that the parks have to offer (2 days for Disneyland Park and 1 day for Walt Disney Studios Park).

Are there any seasonal and special events I should know about?

Disneyland's special and seasonal events vary throughout the year, many of them coinciding with Disney's latest cinematic endeavours. That being said, the Disneyland Paris Run Weekend, Electroland, Disneyland Paris Hop Hop Experience, Disney Loves Jazz, Halloween Part, Taste of Oktoberfest, Fiesta Latina and Magical Pride, are all yearly events that you can attend.

How big is Disneyland Paris, and is it far from the city center?

Disneyland Paris consists of 19.5 km² (12.12 mi²) of park land, and lies around 45 km (28 mi) east of Paris centre. There are a few ways to get there, you can hire a car and drive there yourself, take public transport from Nation Station or board one of the Disneyland Shuttle busses that make their rounds between Gare du Nord and Disneyland Paris.