Best Things to Do in Disneyland Paris
The most famous theme park in the world has endless attractions and shows to enjoy, so many that it can become overwhelming. To avoid this, what better than to know in advance what to see and do in Disneyland Paris.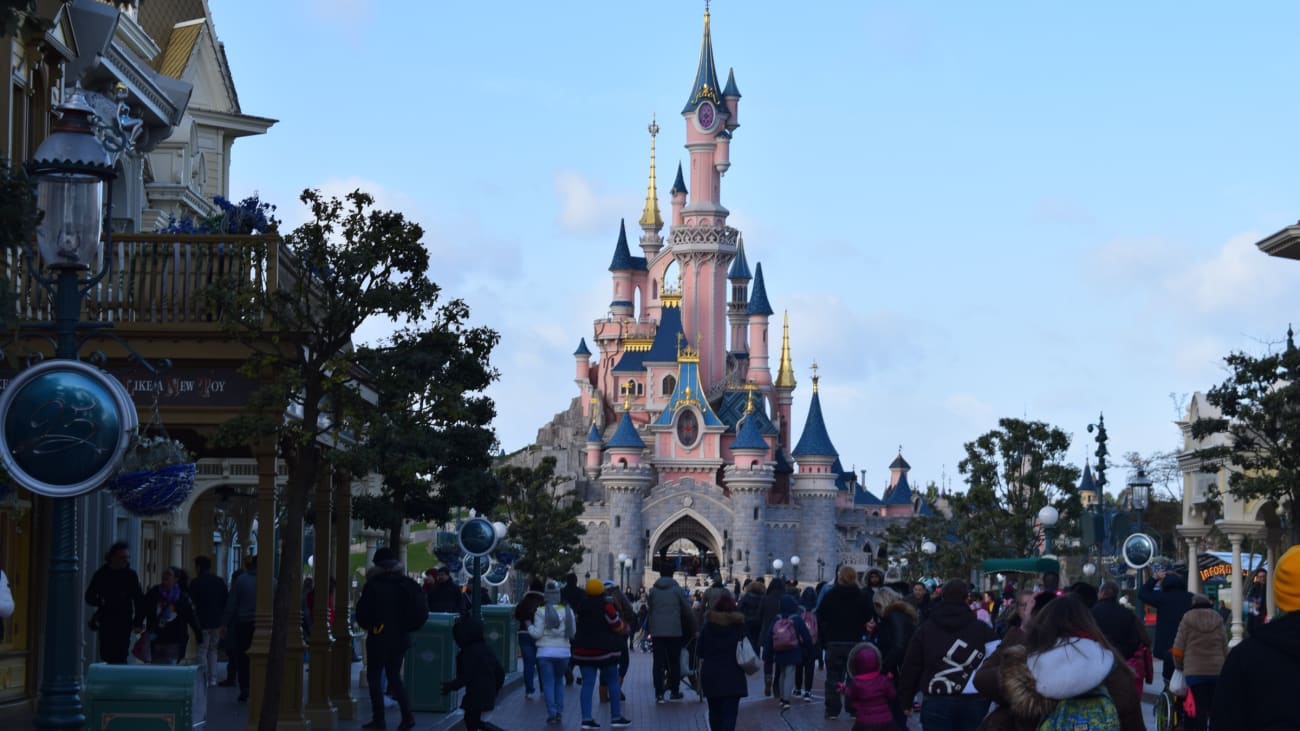 Disneyland Paris is the most visited theme park in Europe and, if not the most, one of the most famous in the world. The home of Mickey Mouse and all his friends is located 32 kilometers from Paris and occupies an area of 22 square kilometers. And Disneyland is composed of only one park... if not two. Plus a leisure area and restaurants. It can almost be considered as a city in itself.
The first park and the best known is Disneyland Park. It is the one that brings together most of the attractions and the main symbol of Disney, Sleeping Beauty's castle. Walt Disney Studios is the other park, based on the world of cinema and television and all the characters born in its animation studios. Finally, there is an area reserved for nightlife called Disney Village.
What can you see and do if you buy tickets for Disneyland Paris? Read on and find out in this "virtual tour".
1. Stroll along with Disney characters at Main Street USA
Main Street USA is the first of the 5 areas that make up Disneyland and the one that welcomes us to the park. A wide avenue inspired by the city of birth of Walt Disney, Marceline in Missouri, full of stores and restaurants. At the end of it and presiding over the park we find the Sleeping Beauty castle. The symbol of Disney.
It is common to see some of the most famous characters like Mickey, Pluto or Donald strolling through the streets and ready to take pictures with everyone who asks.
Main attractions in Main Street USA:
Disneyland Railroad Main Street Station A real steam train that we can take to go around the park or to approach other areas of it.
Main Street Vehicles A classic horse-drawn streetcar and classic cars that travel the streets of Main Street.
Discovery Arcade A small museum that houses models of inventions from the early twentieth century, original posters drawn by Disney artists in its early days and many more curiosities.
2. Travel to another galaxy at Discoveryland
After touring Main Street Avenue, we can start by discovering Discoveryland. This Disney themed area offers us a trip to another galaxy through the world of Star Wars, or by the hand of Buzz Lightyear or even dive into Captain Nemo's submarine. If we are looking for space adventures and hyperspace speed this is the right area.
Main attractions in Discoveryland:
Buzz Lightyear Laser Blast: The Toy Story astronaut takes us on a two-person spaceship equipped with laser guns to defend us from the threats along the ride.
HyperSpace Mountain The fastest roller coaster in the park simulates the experience of riding a Star Wars fighter and traveling at the speed of hyperspace.
Les Mystérs du Nautilus: A recreation of Captain Nautilus' submarine that plunges us into the depths where a surprise awaits us.
3. Feel like a Disney prince or princess in Fantasyland
We leave space travel behind to enter the world of fantasy, dragons and Disney princes and princesses. Fantasyland makes adults relive their childhood and children live the most authentic Disney experience. Sleeping Beauty, Snow White, Alice in Wonderland and Peter Pan are some of the characters that live in this area of the theme park.
Main attractions in Fantasyland:
Sleeping Beauty Castle: Disney's most famous attraction is this castle where a dragon guards the sleeping princess on top of this impressive castle.
Lancelot's Carousel The classic merry-go-round but with 86 horses of all sizes and decorations.
Alice's Curious Labyrinth We can get lost in the labyrinth of Alice in Wonderland while the water of its fountains jumps over our heads as we find the exit.
4. For the more adventurous: Adventureland
If you want to feel like the pirates of the Caribbean or Indiana Jones in one of his adventures, in Disney we find the land of Adventureland. An area where we are transported to the deserts of Africa, passing through the jungle and reaching the Caribbean. This area has a magnificent setting with pirate ships, caves, trees with houses on their tops, hanging bridges and many more things to discover.
Main attractions in Adventureland:
Indiana Jones and the Temple of Peril Join Indiana Jones on one of his raids to a temple in this roller coaster only suitable for the bravest.
Pirates of the Caribbean A journey through the Caribbean full of treasures and pirates that you will do in a boat on the water.
Aladin's Enchanted Passage A haven of tranquility among so much adventure. This beautiful passage tells the story of Aladin and Jazmin with three-dimensional pictures and their famous songs in the background.
5. Travel to the Wild West in Frontierland
The Wild West also fits into Disney's worlds. Frontierland offers a trip through the typical American western full of cowboys and Indians and towns with saloons and haunted houses. We will also have the opportunity to travel around a lake aboard an authentic steamboat. A real experience for lovers of the old west.
Main attractions in Frontierland:
Phantom Manor A haunted mansion inhabited by ghosts that fully immerses us thanks to some very successful effects and holograms.
Big Thunder Mountain A wooden roller coaster that goes through a gold mine with a vertiginous and long ride.
Thunder Mesa Riverboat Landing: A boat ride on the lake that travels through Frontierland as the Mississippi steamboats once did.
6. We go inside the Disney Studios. Front Lot
We changed parks and entered Walt Disney Studios. Front Lot is the welcome area to this park that consists of 4 different areas. In this area decorated as if it were a film set, we anticipate what we are going to see in the whole park and it starts to immerse us in the world of cinema and television.
Main attractions in Front Lot:
Disney Studio 1 It does the same function of Main Street in Disneyland Park as a welcome street to the park. It recreates a Hollywood promenade with stores and restaurants and a very cinephile atmosphere.
Place des Fréres Lumire: This square is named after the Lumiere brothers, who invented the cinema and who are also of French origin. It gives access to Disney Studios and is crowned by a statue of Mickey Mouse in the movie "Fantasia".
7. A look at the other side of the screen. Production Courtyard.
The translation of this area is The Production Yard. An area that unveils to its visitors the secrets and the work behind the famous Disney movies. The Disney Channel studios in France are here and are 100% operational. In its attractions we live the magic of cinema in a unique and unrepeatable way.
Main attractions in Production Courtyard:
The Twilight Zone Tower of Terror A huge tower that hosts a terrifying experience backed by the great Hollywood media.
Studio Tram Tour: Beheind the magic: A train ride through a movie studio with all kinds of sets and special effects. The attraction culminates in a sequence called "Catastrophe Canyon" and is a first-person special effects showcase.
Marvel: Super Heroes United: Fans of Iron Man, Spiderman or Captain America will especially enjoy this show with Marvel characters and spectacular special effects.
8. The action goes beyond the screen in the Back Lot
In Back Lot there are three attractions, or rather 2 shows and 1 attraction, in which the action is the protagonist. If you have dreamed of living a car chase with explosions or surviving the apocalypse, this area will fulfill your fantasies.
Main attractions in Back Lot:
Moteurs Action: This show is starred by car and motorcycle piloting specialists who will delight the audience with chases, jumps and explosions on two and four wheels.
Armageddon: Special Effects: A special effects show in which you experience Armageddon aboard a spaceship.
9. The home of cartoons: Toon Studio
Toon Studio is dedicated to animation. In addition to enjoying our favorite Disney and Pixar characters, we can discover the work behind movies like Toy Story, Frozen or Cars among many others. Its attractions and shows give us the opportunity to see what are the secrets and skills of Disney animators.
Mickey and the Wizard: This show is a must on your visit to Disneyland. Through the eyes of Mickey Mouse and a magician and accompanied by an animation to the height gives us a journey through some of the most legendary scenes in the history of Disney.
Art of Disney Animation: In a building in the shape of the wizard's hat worn by Mickey Mouse in the movie "Fantasia" there is a small museum that hides great gems such as some original drawings by Walt Disney.
Toy Story Playland: A small area within this area dedicated to the Toy Story movies that makes us feel like toys thanks to a very successful setting.
10. To eat and rest after a fantastic day: Disney Village
When the Disney Park closes its doors for the night, the fun doesn't stop. There is another area called Disney Village with more than 20,000 square meters where there are restaurants, live music, a multiplex cinema and themed stores open until late at night. The ideal place to dine and stroll and enjoy in an area that also has its own attractions.
Top attractions in Disney Village:
Panoramagique: A large hot air balloon that offers spectacular views of the entire Disney complex. It can hold up to 30 people and operates from 9:00 a.m. to 11:00 p.m., depending on weather conditions.
Buffalo Bill's Wild West Show: A show that mixes the figure of Mickey Mouse with the old west while you can enjoy a good wild west style dinner.
Quick tips to enjoy your visit to Disney
Enjoying Disneyland attractions and Disney shows is not always easy. Queues, lots of people and a very big park can make that if we are not prepared we do not enjoy the experience as much as we should. Here I share with you a series of tips for visiting Disney parks that, from my own experience, may be very useful for you:
Plan your tour ahead of time. It is in your best interest not to waste time deciding which direction to take if you want to see everything Disney has to offer. To do this, get a map, there are hundreds on the Internet, and choose the route you are going to take.
Disneyland Paris has its own App that you can download on your smartphone for free and that contains all the information you need such as a map of the park, show times, restaurants, etc.
Bring comfortable shoes and clothes for the whole day plus something warm. Even in summer at Disneyland Paris it is easy to get dark in the park and it can get chilly.
Disneyland Paris is huge and can last several days. But if you want to make the most of it I advise you to go early in the morning even before it opens its doors and do not leave until closing time, especially if you are only going to Disneyland Paris for one day.