How to Get from Paris to Disneyland: all options
Are you in Paris and want to take advantage of your stay to visit Disneyland? How exciting! Below, I share with you all the travel options available so you can choose the one that best suits your requirements.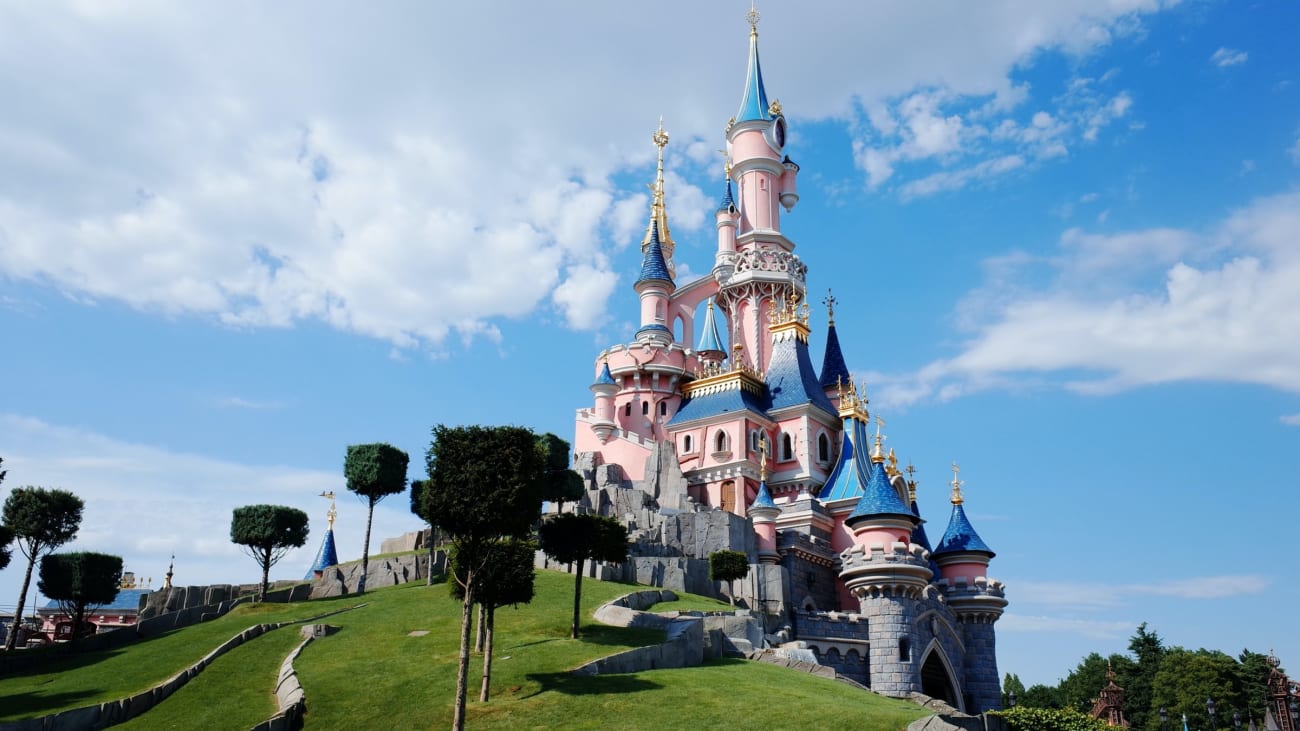 To travel from Disneyland to Paris you will find several transportation options, some, as always, more convenient than others depending on your particular situation: Disney tours, private vehicle, public transportation, cab, we explore it all here!
Disneyland Paris is the name given to the tourist complex of the Disney company located in the suburbs of Paris in a French commune called Chessy; it is located at a distance of approximately 40 kilometers from the center. Due to its proximity to the big city, it is one of the favorite excursions that can be made from Paris for Parisians, as well as for tourists who come to visit the city of light.
1. The best way to get to Disneyland: an organized transfer from Paris
The easiest way to carry out this adventure is to hire a tour with transfer from Paris to your final destination in Disneyland. The reason is simple: this type of excursion avoids all the problems associated with the planning and logistics of a trip; your only responsibility will be to be at the meeting point at the previously agreed upon time.
As you will see below, many of these operators offer travel packages that include the entrance ticket to the parks, saving us one more task. But undoubtedly, the best part is that the price difference is not as much as you might expect and for many it will be worth paying a little extra for the hassle you can avoid.
However, from my perspective the biggest advantage is the sense of community. You get on a bus with like-minded people, full of energy and looking forward to a fun day out. The general atmosphere is quite nice so don't be surprised if you end up making new friends. Finally, I highly recommend this alternative especially for those traveling to Paris with children.
There are several types of excursions to Disneyland from Paris, although the most popular ones could be classified in two different categories.
Tours with 1 or 2 day park access ticket
Among the facilities included in this type of tour are: round trip transportation from Paris to Disneyland, skip the line entrance ticket for the number of parks and days previously selected and a host during the trip who generally speaks Spanish.
In general, the buses are comfortable, spacious and well equipped. These excursions are very popular with travelers visiting Paris, so they leave every day from the capital to Disneyland and it is very easy to find several alternative companies.
The tours make a morning route through the meeting points, at 09:00 they start the trip to Disneyland and by 10:00 you will be at the Magic World.
They usually offer several meeting points scattered throughout Paris, some of which may include popular and easily accessible monuments such as: the Eiffel Tower on the left side of the Seine or Gare du Nord, Châtelet or the Garnier Opera House on the right side of the Seine. You should be attentive to the details and schedules of the tour and make sure to be at the pick-up point at the agreed times.
Price: This tour starts at 125 € including entrance to Disneyland. Take into consideration that Disney entrance tickets increase in price depending on the number of days and parks you visit.
Recommended if... You are enjoying a fun vacation in Paris and you are looking for a one or two day trip to Disneyland; you don't want to organize many details but just sit back and enjoy the adventure.
Tours that include only round-trip transportation from Paris to Disneyland
This type of excursion offers the pick up from Paris to your final destination at Disneyland attractions and also the return trip at the end of the day. It includes private and safe transportation, a guide able to communicate in English, Spanish and French, who will be at your disposal both on the outward and return trip. Feel free to ask him any questions you may have, such as places to eat or attractions to visit.
Departure from Paris usually includes a route with several stops at easily accessible points in the capital. Arrival at the park is usually before 10:00 am. The return time will also be previously scheduled and is always at the end of the day.
Price: You can find this type of excursion from 38 € with round trip included.
Recommended if... You already have your tickets to visit Disneyland; you have the Magic Pass or you intend to visit Disney for several days and buy a package of economic tickets.
2. The cheapest option: RER A from Paris
My second favorite option among the transportation alternatives to go to Disneyland Paris is to take the RER A urban train. Paris urban transportation is one of the best in the world so you can be assured of a punctual and smooth ride.
For accurate information on departure and arrival times you can visit the official website. Historically, the last train back to Paris from Disneyland leaves around midnight. Keep in mind this important detail as during the summer Disneyland is open extended hours until 01:00 hours so if you wait until closing time you may miss your transportation.
Urban trains run all day long, at intervals of approximately 15 minutes. From the center of Paris you can take the RER A at five different major stations:
Charles de Gaulle Etoile, located at the Arc de Triomphe.
Auber, located in the vicinity of Galeries Lafayette.
Chatelet Les Halles, in the 1st arrondissement of Paris.
Gare de Lyon, described as the largest train station in Paris, located in the 12th arrondissement.
Nation metro station, located opposite Place Nation in the 11th arrondissement.
The return trip to Paris is usually a lot of fun. Being a widely used and inexpensive method of transportation it is full of tourists and locals displaying colorful Mickey Mouse ears and a general rather pleasant vibe.
Price: A one-way ile-de-France ticket from central Paris to Disneyland costs at least €7.60; multiply that by two and your travel budget for transportation will be less than €20.
Travel time: The RER A train moves at a high speed, however the journey including stops usually takes between 40 to 45 minutes in total.
Recommended if... you are looking for the cheapest possible travel option. Also if you will be traveling to Disneyland for several days, 4 or 5 and you are looking for an alternative that allows you to save on budget.
3. The most convenient option: Renting a car
To reach the resort by car from Paris, take the A4 highway and then Exit 14 named Disney Parks and Bailly-Romainvilliers.
Although it requires more organization on your part, renting a car or using your own car to go to Disneyland is a completely possible alternative that hundreds of people use frequently. If you are in Paris with your own car you already have half the game won, but if you are interested in renting some kind of transportation, the Parisian capital offers hundreds of alternatives most of which you can budget and book completely online. Here are a few of the alternatives:
The major drawback of this option is the additional expenses youwill have to consider in your budget, such as fuel costs and the visitor parking fee at Disneyland. The rate is around $25 for motorcycles, $30 for small cars and $45 for caravans. However, if you have the Magic Pass at Disneyland**, parking is free**.
If you go to the park several days in a row you will be spending a lot of money on fuel and parking at the resort.
Price: From 10 € per day, however this price will increase depending on the type of vehicle you choose and the rental company. Also consider parking and fuel costs.
Travel time: This is the fastest option you can find. From the center of Paris by car it will only take you about 30 minutes to get to the resort.
Recommended if... You want total flexibility to arrive and leave at your own time from Disneyland, it is also an alternative if you want to stay at Disney Village after the parks close at night.
4. The least convenient option: Taking a cab to Disneyland from Paris
If you want to travel to Disneyland in a comfortable, safe transport, if you do not want to drive and plan a route but you do not want to share transport with other people, the cab is the best option for you. In the French capital it is very easy to find cab companies that offer first class service, with very friendly staff and drivers able to communicate with you efficiently in English.
Here is an indicative list of Parisian cab companies. Additionally, don't forget that companies like UBER work perfectly well in Paris, although it will be more complex to provide an alternative in English.
The main advantage of this option is that you can request a direct pick-up at your hotel and schedule a second return trip when you return to the city. The companies have a virtual platform which allows you to request the service from your computer or cell phone.
However, from my perspective, the biggest drawback is the budget it demands; however, it is important to remember that such personalized services require an investment.
Price: Although it will depend a lot on the company you hire, you should be prepared to pay an average of 100 € per trip.
Duration of the trip: As it is a non-stop trip by car, you will be able to make the trip in just 30 minutes.
Recommended if... You can't or don't want to drive in the city of Paris and at the same time you don't want to share transport with other people.