How to Visit the Jewish Quarter NYC
Take a tour of New York's Jewish Quarter in Williamsburg: it will give you a more complete view of the city and its contrasts.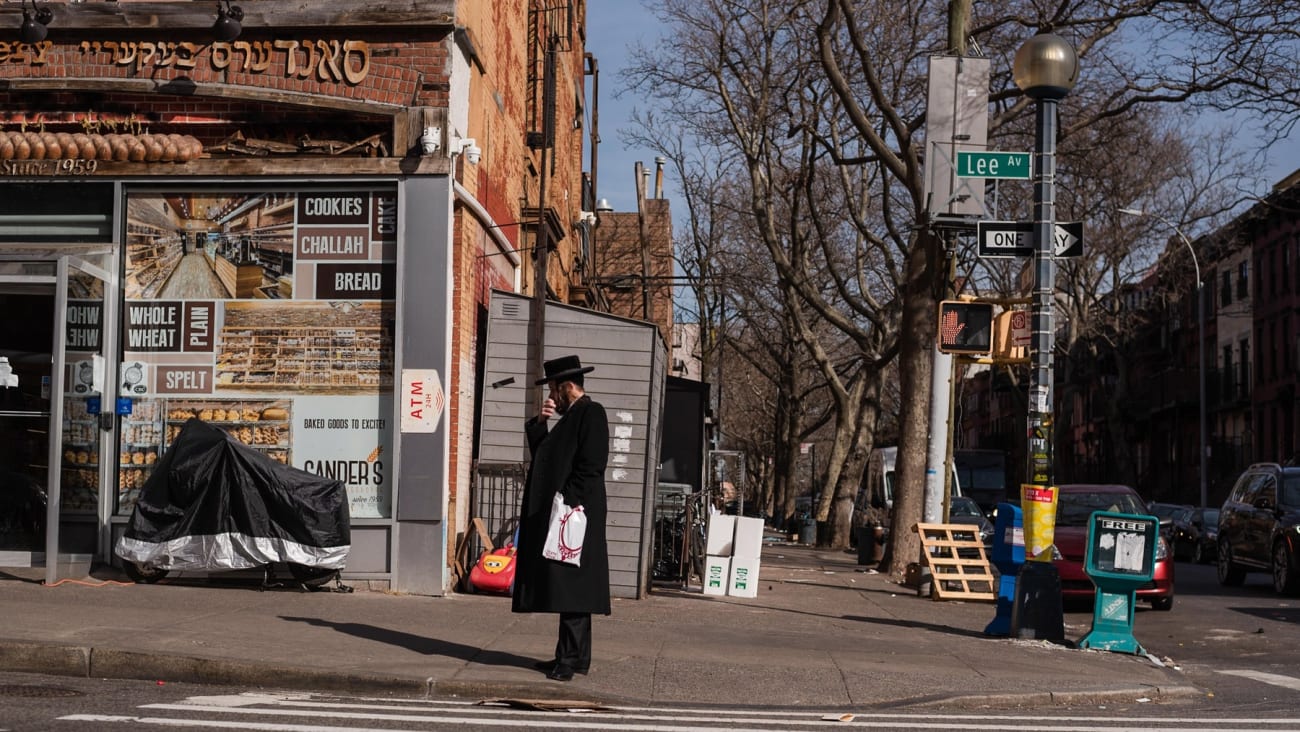 I don't know if you've had the opportunity to watch "Unorthodox" (if not, I recommend it), a Netflix series set precisely in this Jewish community, in which one of its members escapes to Berlin fleeing the strict rules of her community.
We have already said on numerous occasions that New York is much more than Manhattan, and this area is a great proof of that. In the heart of Brooklyn, south of Williamsburg, you'll find a neighborhood worth exploring.
A must-have option
Get into the Jewish Quarter New York City
You will get to know all the nooks and crannies and wander through this popular neighborhood with an expert guide who will give you all sorts of details about the history and daily life.
With this two-hour tour of Williamsburg in Brooklyn, you'll learn all about the history of New York's Jewish Quarter. In addition, strolling with an expert guide you will know all its corners, such as the East River State Park, the flea markets where you can find all kinds of antiques and second-hand objects. And, of course, you will also learn about the importance of beer at the Brooklyn Brewery.
Recommended if... You want to be aware of the historical importance of this New York City neighborhood and immerse yourself in the Jewish community.
What to see on a tour of New York's Jewish Quarter
The best way to discover the Jewish Quarter is with one of the best tours in New York, the one that takes you to see Williamsburg. With this guided walking tour of about two hours, you will get to know the highlights of this unique place for its culture and history.
On your tour you will stroll across the Williamsburg Bridge or stumble upon the flea markets, where antiques and second-hand goods are sold and where you can mingle with the locals. Undoubtedly, this neighborhood is a 'must' to learn more about the customs and cultural and social diversity that exists in this country.
Where is the Jewish Quarter and how to get there?
If you go on your own, my advice is to take advantage of the visit to the most touristic part of Williamsburg and then discover the Jewish Quarter. Get off at the Bedford Ave stop (L line) and walk to the Jewish Quarter, it will take you less than 30 minutes and you will be amazed by the contrast between blocks!
If you take the subway directly here, you can get off at Marcy Avenue (J, M, Z lines), Broadway (G line) or Hewes Street (J and M lines). Check out the New York subway guide here to get the most out of New York's subway life.
What will I find in the Jewish Quarter?
Compared to other areas of the neighborhood where street art, flirty shops and designer residences abound, the streets of South Williamsburg are austere and the buildings are simple, with weathered facades and most of them with bars on the windows.
In this area, much of the community lives on the poverty line. In many households, the men are engaged in Torah study, and have not received enough secular education to qualify for skilled jobs that would allow them access to more earnings. Therefore, women are the only source of income in these families that may have many children.
Is the Jewish Quarter safe?
Yes, very. In fact, one thing that surprised me is that, unlike other poor neighborhoods in New York, the crime rate in this one is low. Everyone in the community knows each other and helps each other, so you can walk around and explore on your own without any problems.
How to visit the Jewish Quarter on your own
My main recommendation is that you take a leisurely stroll through the streets, noticing the local stores, temples, customs... During the walk through South Williamsburg you will see that its restaurants and stores have signs in Hebrew as well as the typical yellow school buses. If you can, I recommend you to go into a kosher store and buy some candy or bread.
But if there is something that I recommend 100% is that before visiting the area, you should be well informed about their customs, in order to understand their way of life. I'll tell you everything you need to know before you get there.
What the Jewish community of Williamsburg is like
The Orthodox Jewish community of Williamsburg is the largest in the U.S. Its inhabitants are Hasidic Jews (a branch within Orthodox Judaism) who came to the country from Hungary fleeing World War II and are characterized by firmly following the Halacha, that is, the compilation of the main Jewish laws.
In a cosmopolitan city like New York, where the cultural mix is constant, the hermeticism of this Orthodox Jewish community is striking, since they practically do not mix with others. In fact, in the neighborhood of South Williamsburg they have absolutely everything: stores, banks, temples, schools, doctors... as to make life without the need to go out. It is like a city within a city.
What are the families of the Orthodox Jewish community like?
Unlike the modern world in which most human beings move, the Jewish community in Brooklyn is very attached to its customs, so the roles that each member of the family plays are very well defined.
In general, marriages are almost always arranged between the rabbi and the family of each spouse, who are usually quite young. In the families, the introduction of the boys is arranged and according to the characteristics of each one, the rabbi writes down the name of the family member who could connect with the name of another one.
The attire
Once married, women must shave their heads, as they cannot show their hair in public. That is why, during the walk in South Williamsburg you will see them wearing a scarf (tichel) or a wig to go out in the street. Their clothing is very simple according to the modesty expected of them: dark clothes, long skirts, stockings, flat shoes and no accessories.
As for the men, they must wear a white shirt with a jacket and black pants. As an accessory they wear a hat, which can be of different kinds:
The kippah: ritual beret with a sacred meaning that reminds that nothing is higher than God.
The wide-brimmed black felthat as a sign of respect to God.
The Shtreimel: a fox fur and velvet hat worn by married men during Shabbat and other Jewish festivities.
Under the hat the men wear the peiot, long ringlets on each side of the head according to the Torah. In this way, according to one of the mitvahs, they differentiated themselves from the idolaters who shaved their sides. As for the beard that usually accompanies the peiot, it is allowed to grow to show that the Jews are tied to a spiritual life and not to aesthetics or to the outside world.
Roles in the home
For most of the time, men devote themselves to prayer and Torah study although there are some who work as tradesmen. In most cases, however, it is the women who are responsible for working as teachers or sales clerks to maintain the household, as well as raising the children, of which there are usually many since they do not use contraception.
Children
The birth rate in Brooklyn's Jewish neighborhood is very prolific. Each family has an average of six children. Most of the homes are located south of Division Avenue, but stroll down any of the streets in the South Williamsburg neighborhood and you'll find yards and gardens where you'll see strollers parked and children playing. You will only see fathers with their sons on Saturday, when they go together to pray at synagogue.
Despite their young age, children also have standards to live up to in the community:
Circumcision: This is performed on boys eight days after birth.
Naming ceremony: This ceremony symbolizes the official entrance of girls into the Hasidic community.
On the other hand, it is customary that until the age of three, children of orthodox Jewish families do not cut their hair. This ceremony is called upsherin and marks the passage to another stage of life where one ceases to be a baby and becomes a child with a certain degree of independence.
Isabel's Traveller Tip

Go to Sander's Bakery at 159 Lee Avenue! They have a great variety of fresh produce at great prices. The cupcakes are my favorite. Yummy!
What is it like to visit the Jewish Quarter in New York on a Saturday?
Unlike Christians and Sunday, the holy day for Jews is the Sabbath. A solemn day of rest when stores are closed, no work is allowed, and no other activities such as cooking, washing, driving or even writing are allowed.
That is why Fridays are a very busy day in the community because they have to leave everything ready so that on Saturday they don't have to do anything but read sacred texts, sing and spend the day between family and synagogue.
Being a holiday, if your visit to Brooklyn coincides with Saturday you can see in person how this special day is lived in South Williamsburg. You will see men and women on the streets wearing their best clothes to synagogue. In addition, the streets and parks are usually full of children playing. However, you will not have the opportunity to enter their stores as they will remain closed.
Eruv, the invisible thread
As I was saying, during the Sabbath Jews are not allowed to do a lot of things that involve work or physical effort so as not to contravene Jewish law.
For this reason, the community came up with an ingenious solution called eruv or free zone. It is a demarcation built with transparent wire with the intention of establishing a perimeter where you can do certain activities such as pushing a baby stroller or a wheelchair without breaking the law.
In fact, just started Lee Avenue, if you look closely you can see a thread that surrounds several areas of the neighborhood creating this safe space. It should be in perfect condition with no breaks in all the streets it runs through. In case it is not, on Friday morning a maintenance crew fixes it together with the supervision of a rabbi so that on Friday afternoon, when Shabbat begins, everything is ready. And you may not believe it, but there are about 20 miles of eruv in Manhattan.
Travel responsibly
Visitors don't pay too much attention and are used to seeing them pass through the neighborhood, but it's a good idea to be considerate on your tour of South Williamsburg. The streets of Brooklyn's Jewish Quarter are not just a mere decoration for tourists.
Even if their clothing, hairstyles or any other detail catches your attention, try not to make them feel uncomfortable and don't stare at them with curiosity. Be respectful when taking pictures because they don't like to be the constant focus of the cameras.
Social norms
During the visit to South Williamsburg I remember the culture shock was great. It is surprising to see children and women walking on one side and men walking on the other in groups separated by different approaches.
In addition, the men never look directly into the eyes of the women as it would be a way of being incited to sin. They usually walk with their eyes glued to the ground. In fact, you will notice that when tourists pass through the neighborhood, the neighbors ignore them. It's not often that people from the Williamsburg Jewish community interact with others outside the neighborhood.
Other tips for visiting
Visiting the Jewish Quarter is one of the plans you have to include in your trip to New York. If you feel like touring Brooklyn with a guided tour you should know that there are some tours of New York in Spanish that go through this area, with the advantage that you can ask the guide all the questions and ask for all the recommendations you need. The New York contrasts tour, for example, runs through the city from north to south and ends the tour in Brooklyn.
It's a great way to explore the cultural contrasts of the city, putting them in a historical context that will help you understand how dozens of cultures coexist in this great city.