81 Fun Things to Do in Las Vegas
People come to Las Vegas to have a good time: to gamble, get married and enjoy the nightlife. But how does a getaway to the Grand Canyon sound?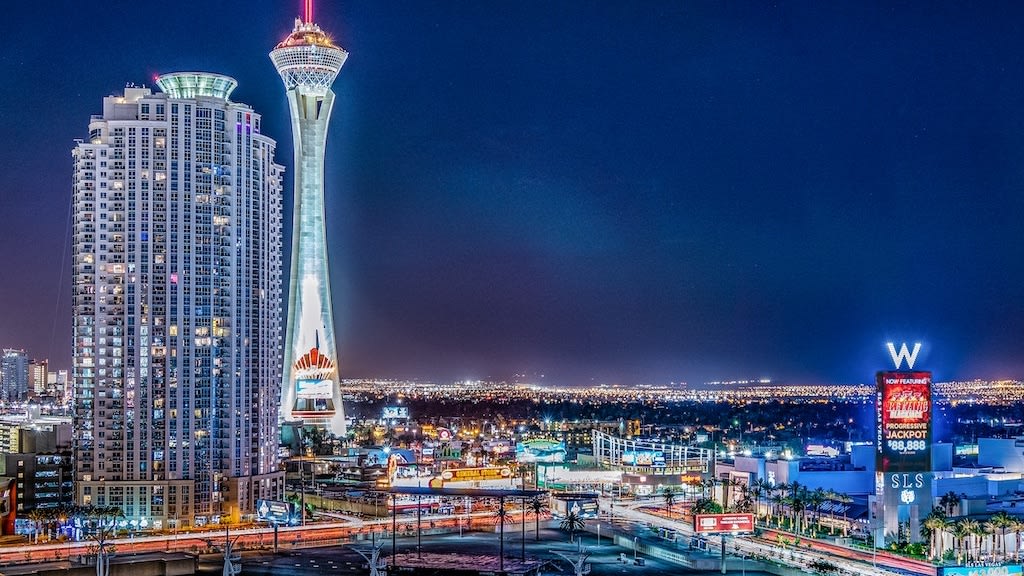 When we think of Las Vegas, the first things that come to mind are its neon lights, casinos, neon signs and nightly shows. Also its picturesque chapels where more than 120,000 weddings are celebrated annually. But the main city of the state of Nevada is much more. Do you want to know everything you can see in Las Vegas and its surroundings?
You can also see incredible shows, go shopping or even visit very interesting museums. The main city of the state of Nevada offers plans for all tastes and ages. Don't you think so? Keep on reading.
1. Tour the Las Vegas Strip
It is the main artery of the city where the casinos and the most famous hotels of Las Vegas are located. As you walk along it, you will see that the atmosphere on this 6-kilometer long boulevard is vibrant both day and night. Its main attractions are the colorful neon lights and giant screens, the crowded casinos, the imposing hotels and fascinating shows.
One of the best things to do in Las Vegas at night is to visit the Las Vegas Strip, when the sunlight gives way to the glow of the illuminated signs that decorate this street. A stroll along the Strip will take you to its famous hotels and its amazing ambiance and architecture, being the Bellagio Fountains or the Mirage Volcano two examples that attract hundreds of people.
Also, here is located one of the most frequented shopping malls in Las Vegas: the Fashion Show Mall, which is full of stores and restaurants, where you can enjoy some of the gastronomic tours of Las Vegas.
2. Climb to the observation deck of the Strat Tower
At 350 meters high, the Strat Tower is the tallest building in Las Vegas and the state of Nevada. Spectacular views await you at its highest point. If you want to take amazing pictures, I recommend going up at dusk, when the lights and signs of the city are turned on.
In the tower you can also have a quiet drink in its bars and restaurants. Or, if you like thrills, ride one of the attractions at the top. They will make you fly over the sky of Las Vegas.
3. Take a trip to the Grand Canyon of Colorado
Visiting the Grand Canyon is an experience you must include in your trip to Las Vegas. It is divided into three parts: North Rim and South Rim (managed by the National Park Service with wonderful views) and West Rim (the area most visited by Las Vegas tourists, which is managed by the Hualapai Indian Tribe).
The West Rim area is home to a favorite visitor attraction, the Skywalk. A horseshoe-shaped glass-floored platform suspended on a cliff more than 1,200 meters above the Colorado River, the experience is highly recommended if you are not afraid of heights! And if you have vertigo, an occasion like this is the best way to overcome it and enjoy a unique landscape that you will never forget.
4. Fly over the Grand Canyon of Colorado
The Grand Canyon is one of the most breathtaking landscapes in the world and, therefore, one of the must-do tours in Las Vegas. Every year around 5 million people visit this natural monument located in northern Arizona either by air by helicopter or by car
Declared a World Heritage Site by Unesco, it is a steep gorge carved by the Colorado River for more than 2 billion years. With amazing dimensions of 446 kilometers long and a maximum height of the gorge of 1,500 meters, you are only aware of the proportions of the place when you look out from one of the viewpoints of the Grand Canyon and are captivated by the beauty and immensity of the place.
5. Get Married in Las Vegas
It is very common to see the bride and groom heading by limousine to the wedding venue or along the Las Vegas Strip and Fremont Street posing happily for their photo shoot. Every year thousands of couples take advantage of their trip to the United States to seal their love and walk down the aisle in one of the picturesque chapels that are scattered throughout the city.
What encourages many couples to get married in Las Vegas is that it's a little crazy to take home a souvenir but also that, unlike other places, they don't have to invest a lot of time in wedding planning and paperwork. Having a wedding in Las Vegas is fast, easy and fun and can be done overnight.
Las Vegas offers the bride and groom original options to say 'I do': from romantic traditional chapel weddings with Elvis as master of ceremonies to themed weddings that have an extravagant touch to make this day even more special and memorable.
6. Immerse yourself in the nightlife of Las Vegas
If there is one thing that identifies Las Vegas, it is its incredible atmosphere when night falls. Some of its discotheques and nightclubs are among the best in the country. Here you can expect spectacular rooms, the best DJ's, good atmosphere and party until the body endures.
If you have the energy and desire to have fun, I recommend a short tour of several trendy clubs. Of course, the ideal is to be well accompanied. Do not want to waste time? Opt for a guided tour, it will take you to the best clubs and you won't have to wait in line at the entrance.
7. Enjoy with Cirque du Soleil
Did you know that Cirque du Soleil has a permanent home in Las Vegas? In the city you can enjoy some of their most incredible shows. But if there's one special one, it's KÀ. It's an action-packed adventure of martial arts and acrobatics, pyrotechnics and multimedia projections that will take your breath away.
You'll be immersed in the story of two little ones forcibly separated by evil archers. Their struggle to be reunited again is the storyline of a careful and impressive show that captures young and old alike. It's a great plan to enjoy with the whole family.
8. Visit the Mafia Museum
The former Las Vegas courthouse houses a museum that will not leave you indifferent. Its interior offers a journey through the history of organized crime. Here you will learn who were the most dangerous gangsters and the terrible events they were involved in.
Have you ever heard of the St. Valentine's Day Massacre? The museum preserves the wall where Al Capone's henchmen executed seven members of a rival family in cold blood. You will also see an electric chair, weapons, personal objects, photographs and tools used by the FBI in its fight against the Mafia.
9. Experience the thrill of an NHL game
Ice hockey arouses true passions. If you want to immerse yourself in the atmosphere of the national league, don't miss a game of the Vegas Golden Knights. They are one of the NHL's great teams, so the excitement is more than guaranteed.
Watching them in action on the rink is a real spectacle. You'll get tons of adrenaline while watching the players' expertise and maybe even the occasional clash between them. If you like sports, you already know, you have a date with the Vegas Golden Knights.
10. Unravel the mysteries of Area 51
For fans of conspiracy theories and extraterrestrial life, a visit to Area 51 is a must. This top-secret military base is still shrouded in mystery. If you've seen The X-Files, you're sure to feel like one of the main characters as you approach it.
Although the base is inaccessible, you can follow the Extraterrestrial Highway, the scene of countless UFO sightings. You will see the famous black mailbox and you can leave a message in it. And, of course, you must stop at the cinematic Little Ale Inn Motel. A complete and very disturbing experience!
11. Take a picture on the Welcome Las Vegas sign
The irrefutable proof that you have been in Las Vegas is to take a picture with its famous welcome sign. It is located to the south on Las Vegas Boulevard and has a curious story behind it. If you want to have your picture taken you will have to wait in line a bit, but having it in your Las Vegas travel album is worth it.
Las Vegas has many corners that you can miss among so much "eye candy", so I recommend you to take a guided tour to make sure you don't miss anything. Here are what for me are the best tours and excursions from Las Vegas.
12. Stroll down Fremont Street
Another of the places to see in Las Vegas is Fremont Street, the historic heart and old part of the city that was founded in the early 20th century. Today it is the second most important street in the city behind the Las Vegas Strip, but in the past it was home to the most famous casinos and hotels.
In this street is held the Fremont Street Experience show, one of the most fascinating of Las Vegas to combine sound, lights and music to perfection. It was created to revitalize tourism in the old part of the city. In addition, in this place you can jump 34 meters high on a zip line to have a different view of this famous street.
13. Get up close to the Hoover Dam and Lake Mead
Considered one of the greatest engineering achievements of the 20th century, the Hoover Dam is a colossal structure located on the Colorado River that created Lake Mead, the largest man-made lake in the United States with an area of 640 square kilometers.
Today, the Hoover Dam supplies electricity to Nevada, Arizona and Southern California and is visited by more than one million people each year. Visiting it next to Lake Mead is one of the best things to do in Las Vegas.
On the one hand, you can visit the Hoover Dam with a guided tour inside to learn how it works and then access the viewpoints to enjoy spectacular views, undoubtedly one of the best views of Las Vegas. On the other hand, at Lake Mead it is possible to do outdoor activities such as renting a boat, riding a jet ski, scuba diving or horseback riding.
14. Climb the Eiffel Tower
You're not in Paris, obviously, but you can climb the Eiffel Tower. The one in Las Vegas is an almost exact replica of the original, although it is half the size. From its observation deck, located 140 meters above the ground, you'll have wonderful views of the Strip and the entire city.
There is something that does not differ from its big sister: it is one of the most romantic places in the city. If you want to propose to your partner, do it on its observation deck, he/she won't be able to refuse you! And if you dare to go a step further, you just have to look for a chapel to say "I do".
15. Take a gastronomic tour
A different way to get to know Las Vegas is through its flavors and aromas. This is a city where you will find the most varied restaurants. What is not to be missed? The shrimp cocktail, burgers, tacos or combinations as surprising as waffles with fried chicken.
Savor all these dishes and learn why they are part of the gastronomy of Las Vegas will allow you to delve into the unique history of this city. It's a good plan for food lovers, but also for those who love curiosities.
16. Be amazed by the magic of David Copperfield
How did he do it? Where's the trick? I'm sure you've asked yourself this question while watching David Copperfield on TV. Well, you'll find it even more incredible to see him in action and live. This famous magician performs permanently at the MGM Grand Hotel.
The show, which combines magic, illusionism and theater, will leave you speechless. With a little luck, you may even be the person chosen to participate in a trick. Will you be able to explain it? Probably not, but you will have become the protagonist of an unforgettable moment.
17. Discover the beauty of Antelope Canyon and Horseshoe Bend
Do you want to live an absolutely fascinating experience? Antelope Canyon is one of the most photogenic places on the planet. Its gorges of sinuous shapes and almost impossible colors make it an almost fantasy-like space, and you won't be able to stop taking pictures!
And if we are talking about photogenic, the Horseshoe Bend is not far behind. This impressive meander of the Colorado River is another of the magical corners that you can discover near Las Vegas. The view from the overlook is spectacular, especially with the sunset lights.
18. Drive a supercar
On the streets of the city you will see sports and luxury cars. But if you are not satisfied with just watching them, but also want to try them, you are in Las Vegas and here everything is possible! At the Motor Speedway you can get behind the wheel of the car of your dreams and really feel what speed is all about.
Do you prefer a Ferrari? Is your dream to drive a Lamborghini? Choose yours, forget about the odometer and drive around the circuit as if you were a racing driver. It will be an amazing experience!
19. Don't miss the Shark Reef Aquarium
Las Vegas is not a city for adults only. There are also many plans to enjoy with the family. Visiting the Shark Reef Aquarium is one of the most amazing. This spectacular aquarium is home to more than a hundred sharks, as well as giant rays, turtles and countless other marine species.
Its main tank is one of the largest in the United States and has two underwater tunnels that make you feel almost like you're at the bottom of the sea. Where is it located? At the Mandalay Bay Hotel.
20. Walk through the stages of Car Madness
Attention car lovers! If you're a fan of the Counts Kustoms show, visiting the actual filming locations will make you feel almost like one of the stars of the show. And not only will you see them, but you can also take the tour aboard a spectacular vehicle.
In addition, you have the opportunity to visit the Shelbi American Museum and the Nostalgia Street Rods. They are two magnificent collections of historic cars that will make you have a great time. And not only for the grown-ups, for the little ones it is also an unforgettable experience.
21. Paddle to the Emerald Cave
The offer of activities in Las Vegas does not stop on land. The Colorado River is a real treasure and if you follow its waters by kayak you can discover wonderful places like the Emerald Cave. It is a magical place that will make you forget any preconceived idea you had of these lands.
It is a little more than six kilometers long through calm waters. And I assure you that any effort is worth it. The reflection of the sun's rays on the water makes the environment a green color that will hypnotize you.
22. Climb one of the largest waterwheels in the world
The Las Vegas High Roller is one of the most iconic images of the city. With its 168 meters high, it is one of the highest panoramic Ferris wheels in the world, reason enough for you to climb on it. From one of its 28 cabins you will enjoy a beautiful view of the city, especially if you do it at night.
Each ride lasts half an hour, which is the time it takes for the Ferris wheel to make a complete turn. And when you get off, don't resist a walk around The Linq. This is the lively entertainment, shopping and dining area where the High Roller is located.
23. Tour Las Vegas by Segway
The Strip alone is more than four miles long. And it's not the only thing to see in the city. If you don't have much time to enjoy it, or you just don't feel like walking, the segway is the best way to move around freely and discover all the secrets of Las Vegas.
With a segway you can reach hidden corners that you can not access in other types of vehicles. In addition, you can stop to enjoy the magic of the city and those buildings and attractions that make it inimitable. If it is with a guide, much better.
24. Discover the dark side of Las Vegas
Las Vegas also has a mysterious and dark past. Its streets and buildings have been the scene of tragic events and silent witnesses of criminal acts. If you are attracted to mysteries, be sure to immerse yourself in this other side of the city.
A hidden side in which there is no shortage of ghosts. In fact, it is said that the spirit of Elvis wanders through Las Vegas. There are those who claim to have seen him in the vicinity of the Westgate Hotel, where he stayed for a long time. And there are also countless places where paranormal events have been recorded. Do you dare to visit them?
25. Glide through the dunes with a dune buggy
Feel like doing something really fun? I propose you to get away just a little bit from the Strip and ride through the desert dunes surrounding the city. You will pilot a small all-terrain vehicle and you will be able to do some jumps and even pirouettes. You'll need some skill and caution, but you'll have a great time.
This is one of those plans that are especially enjoyable with friends: who is capable of jumping the most dunes? Are you the fastest or the most cautious? Not only will you be able to release doses and doses of adrenaline, but you will also enjoy incredible views.
26. Discover the real heart of Las Vegas
The image of Las Vegas is that of a modern, vibrant and lively city, but what do you know about its beginnings? Strolling through its historic district , you will discover when the first casinos were built, why it is known as "Sin City" or why there are so many chapels.
In the heart of Las Vegas you will also discover places like the psychedelic Fremont Street or some of the oldest casinos in the city. Not to mention the Downtown Container Park, a unique shopping mall built in part with recycled containers.
27. Take a trip to Hollywood
Another plan I suggest is to visit the world capital of cinema located in Los Angeles. From Las Vegas there are several ways to get there, from taking a day trip with everything well planned, to taking a flight or renting a car on your own.
What is clear is that taking advantage of your trip to Las Vegas and visiting the Dolby Theater, where the Oscars are held, the Walk of Fame or the glamorous neighborhood of Beverly Hills, will be unforgettable and not only for movie buffs.
28. Discover the Valley of Fire
Located less than 95 kilometers northeast of Las Vegas is a red sandstone landscape in the Mojave Desert that looks like something from another planet: the Valley of Fire. It is Nevada's oldest and largest state park and gets its name from the colorful hue of its rock formations, which were sand dunes that fossilized 150 million years ago.
The Valley of Fire is one of the most photogenic sites in the state and is a popular place for locals to hike, camp or picnic. As a tourist it is one of the best places to see in Las Vegas. The most advisable thing to do is to go to the Visitor Center to receive all the information about the places to visit. In addition, you can visit its small museum where you can learn more about the history, ecology and geology of the place.
29. Take your first steps as an airplane pilot
Thrill seekers, this is for you! If you want to emulate Tom Cruise in Top Gun, Las Vegas gives you the opportunity to do it. You can climb into an aerobatic plane to experience first-hand the thrill of aerial combat or perform impossible pirouettes in the air.
The best part? You can even take the controls of the aircraft. Under the supervision of the pilot who accompanies you, of course. The experience will thrill you, but don't forget to admire the scenery of Las Vegas and its surroundings: from the air it is spectacular.
30. Discover Red Rock Canyon
If you like hiking, one of the places to see in Las Vegas given its proximity to the city is the Red Rock Canyon, a natural park in the Mojave Desert where you can see reddish rock formations with landscapes similar to those of the Valley of Fire.
Red Rock Canyon has a number of hiking trails of varying levels of difficulty. At the Visitor Center they will inform you of those that bring you closer to the most interesting sites such as the Calico Hills sandstone hills, the petroglyphs in Willow Springs or the Spring Mountain State Park ranch.
In the tour you can contemplate the unique reddish landscape adorned with a unique flora where the Mojave Yucca and Joshua Tree stand out. Also one of the most famous faults on the planet: Keystone Thrust Fault. In addition, Red Rock Canyon is home to coyotes, snakes, burros, scorpions, spiders and even endangered species such as the desert tortoise. Not only walking, you can also discover it by scooter.
31. Enjoy a Broadway-style show
Chorus girls, sequins, boas, a big band and wonderful choreographies, do you feel like being transported to Broadway to enjoy a wonderful musical? LAS VEGAS! The Show is more than just a show: it tells the story of how the city has become what it is today, this incredible place where fun reigns supreme.
On stage you will enjoy great singers, dancers and actors that will make you vibrate while you travel through an important part of the city's history. A history in which names like Elvis, Tom Jones or The Rar Pack shine with their own light.
32. Take a night helicopter ride
From the ground the image of Las Vegas is incredible, imagine what it looks like from the air and at night, when it shines in all its splendor. No, don't imagine it, see it! A bird's eye view of the illuminated signs and neon lights is one of the best experiences you can take away from the city.
Fly over the fountains of the Bellagio hotel, the pyramid of the Luxor or the Eiffel Tower of the Paris Las Vegas Casino. Follow the route of the Strip until you reach Downtown, the true heart and origin of the city, and discover wonderful corners. You will enjoy every second of the trip.
33. Go hiking in Zion National Park
For outdoor sports enthusiasts, Las Vegas may seem like an unusual destination. However, the possibilities in the surrounding area are endless. Zion National Park is a spectacular hiking area. You will enjoy its gorges and ravines, forests, waterfalls and the unique colorful rock formations.
Nearby is Bryce Canyon. It is another of those incredible places that you can only find in the United States. Its rocky spires and chimneys will leave you speechless. And its color at sunrise and sunset is unforgettable.
34. Play with a huge bulldozer
Can you imagine what it's like to drive a bulldozer? Would you be able to move tons of earth with a bulldozer? If you are one of those who as a child played at building dams or mountains of earth, now you can do it in a big way. And what's more, it's a very entertaining and de-stressing activity!
For a long time you will be able to manage your own construction site with real machinery. And, in case you are wondering, you don't need to know how to drive these impressive vehicles. With the explanations of a professional and a little bit of expertise you will be able to master them without any problems.
35. Immerse yourself in Las Vegas pop culture
Las Vegas is synonymous with gambling, fun and sin. But it is also synonymous with art. To admire the best of American popular culture, just take a leisurely stroll through its streets. Look first at the magnificent murals you'll find along the way. And do not miss the illuminated signs because they are also artistic expressions.
Time to pay attention to the buildings. You will see how the city has evolved through its architecture, from those first hotels and casinos to such amazing and sometimes almost impossible constructions.
36. Visit the lions at Lion Habitat Ranch
If there's one place you probably wouldn't expect to find in Las Vegas, it's an enclosure whose goal is the preservation of wildlife, but not native wildlife, but African wildlife. Lion Habitat Ranch is home to dozens of lions. They are its only inhabitants, along with a friendly giraffe.
Touring the facilities allows you to learn how they behave in a herd, how they communicate and what their life is like in their natural environment. It is always an educational and fun visit for the little ones. Seeing the kings of the jungle up close and in a group is something they will not easily forget.
37. Discover the Seven Magic Mountains
If you feel like contemplating a unique work of art, don't miss this creation by Swiss artist Ugo Rondinone. There are seven huge towers made of stone blocks that are stacked on top of each other in a seemingly precarious balance. Painted in striking colors, the towers stand out in the desert landscape of Nevada.
The Seven Magic Mountains are an incredible backdrop for those photos you brag so much about on your social media. They are also a good starting point to discover two other great works of nature, the Grand Canyon, and engineering, the Hoover Dam.
38. Become a cowboy for a day
In Las Vegas you can take a trip back in time to the Wild West that has inspired so many movies. Put on your riding boots, put on your hat and get ready to enjoy a pleasant horseback ride through an authentic ranch.
It's a different way to get to know the surroundings of Las Vegas, to get away from the hustle and bustle for a few hours and also to get to know a part of the history of this land. If you have not ridden a horse before, this is the best opportunity to do it and enjoy like never before.
39. Enjoy the show of The Mentalist
Think no one can read your mind? Mentalist Gerry McCambridge will make you doubt it. His is one of the most amazing and entertaining shows in Las Vegas. A show that combines magic, humor and, of course, mental powers.
McCambridge is a true showman capable of revealing facts about people he doesn't know by going inside their minds. And all of this spiced with a trick or two. How does he do it? It will probably be a question that will stay with you for a long time and to which you will not be able to find an explanation.
40. Tour the Mojave Desert on a quad bike
Fancy an adventure on wheels? The Mojave Desert is one of the most unique natural spaces surrounding Las Vegas. There are many ways to discover it, but one of the most fun is to do it on a quad designed to fly over this inhospitable territory.
You will live an exciting adventure as you ride over bumps and rocks on the road or jump over them. Not only will you have fun, you will also discover the beauty and natural wealth of a place that gathers in its interior no less than four national parks.
41. Practice free fall
In Las Vegas anything is possible, even flying. Where? In a wind tunnel. You will feel all the thrill of a free fall from the heights without hardly separating from the ground. If you have never dared to practice skydiving, but you want to experience its sensations, this activity is for you.
The best part? You don't need to be in perfect physical shape or train hard. Anyone can fly in a wind tunnel, even the little ones. With the instructor's explanations and in a controlled environment, you only have to worry about one thing: enjoy!
42. Remember Michael Jackson
His songs remain in the minds of millions of music lovers. If you are one of them, watching a live performance by a great Michael Jackson impersonator will be unforgettable. You will enjoy a tour of his greatest hits and his unmistakable choreography.
The tribute to Michael Jackson is one of the most nostalgic shows on the Las Vegas bill. And not just the headliner, all the accompanying scenery is impressive. Even if you don't particularly like MJ, you'll enjoy every second of it.
43. Get up close and personal with your favorite superheroes at Marvel Agents Station
Captain America, Iron Man, Thor or the Avengers. They are all Marvel superheroes and fans of this fantastic universe have a date in Las Vegas. Marvel Avengers STATION is an interactive exhibition that will make you feel like one of them.
Here you will see up close the shield of Captain America, the uniforms of the Avengers and some of their accessories. But, above all, you will live a spectacular immersive experience thanks to augmented reality. If you've ever dreamed of being a superhero, this will be your chance.
44. Have fun at a private party at night
If you're traveling in a group or looking to plan a special celebration, there's nothing like the city's nightlife scene. But when it comes to not only partying, but partying in style, you have to plan ahead. One suggestion: a private bus to keep the fun going as you move from one venue to another.
This is a perfect plan for large groups, as you will be together at all times and the fun will not stop at any time. Besides, you know what they say: what happens in Vegas stays in Vegas.
45. Enjoy a variety show
Las Vegas is all about entertainment. It is synonymous with magic, music, circus and comedy. There are plenty of different shows in town, but would you be able to choose? If in doubt, you can start with one that offers a little bit of everything, for example, The Ultimate Variety Show.
This is a perfect show for the whole family because it mixes magic, acrobatics, humor, optical illusions and balancing acts, which is why they say it's like seeing seven shows in one!
46. Visit the Titanic exhibition
Who doesn't remember the movie Titanic, or at least doesn't know about the tragic voyage of this ocean liner. In Las Vegas you can travel back in time to learn what the ship was like and the circumstances of its sinking, as well as some of the stories of the passengers on that maiden voyage.
The exhibition displays more than 250 original objects recovered from the ship, including parts of the hull, porcelain and luggage. You can also see replicas of the cabins and its lavish staircase. Even if you know the story and have seen it in the movies, you can't help but get chills.
47. Tour around Las Vegas by bike
When the heat is not stifling, a good plan is to bike around Las Vegas. The landscapes are spectacular and you will not only see spectacular rock formations, but also rock engravings and a variety of fauna and flora that will surprise you.
The closest is the Red Rock Canyon, located just 25 kilometers from the city. There you can enjoy not only the walk, but also beautiful views from its different viewpoints. And you don't need to be in good shape, with an electric bike you can do the tour without any problems. Are you up for it?
48. Practice extreme driving in Hidden Valley
If thrills are your thing, the Nevada desert is perfect for you. Rugged terrain, rocky areas, dunes and ravines make it an ideal place to get behind the wheel of an RZR, a vehicle designed to run even on the roughest surfaces.
What do you need to enjoy this experience? Some cold-bloodedness, driving skills, a lot of fun and an area with the right conditions, such as Hidden Valley. For the rest, don't worry, the vehicles are perfectly prepared and safe.
49. Have fun at Nathan Burton's magic show
Magic envelops the city of Las Vegas, but you can experience it firsthand. If you want to enjoy incredible magic tricks, illusionism, dances and humor, lots of humor, the Nathan Burton show is a good plan for an afternoon in Las Vegas.
It is also an ideal plan to have a great time with your family. It is an interactive and almost frenetic show that engages from the first moment.
50. Relax with a couple's massage
Imagine a cabin with soft ambient music, the aroma of essential oils, hot stones on your skin and expert hands relaxing your muscles. Yes, we are in Las Vegas, because here there is also time to relax with a good massage.
If you visit the city with your better half, there is nothing like a couple's massage, in a private room for both of you. In addition, you can choose between different types of therapeutic or relaxing massages. They are perfect to recover and continue enjoying Las Vegas or to share a romantic moment.
51. Attend a Rod Stewart concert
Full of energy, with an unmistakable voice and more than 200 million records sold, Rod Stewart is one of the greatest musicians of recent times. His 50-year career is a long time in the making and you can witness his special celebration in a fantastic show in which he recalls his greatest hits.
Rod Stewart: The Hits will make you remember the pop and rock history of the last decades. If you are a fan of the singer, you will enjoy it like never before. But even if you're not, his strength and vitality will sweep you away and you won't be able to stop moving.
52. Discover Las Vegas on a night bus
If you want to enjoy the magic of the night in Las Vegas, but you don't feel like walking, don't worry, there are spectacular alternatives. A perfect plan for everyone, young and old, is to tour the Strip on a bus. Of course, not just any bus.
There are panoramic buses, with an open top. They will allow you to contemplate from a privileged point of view the illumination of the hotels and casinos of the most famous avenue of Las Vegas. And without getting tired! If you are not going to spend much time in the city, it is a good plan to contemplate its most spectacular side.
53. Kayak the Colorado River
The waters of the Colorado River are ideal for such a fun and relaxing activity as kayaking. It is a different way to discover landscapes that are at times breathtaking. Aboard a kayak you will cross the unique Black Canyon and reach places that will leave you speechless, such as the Emerald Cave.
But don't just look at the scenery. Look up and have some patience. With a little luck, you may be able to admire the flight of a bald eagle or see weasels, otters and bighorn sheep up close.
54. Test your aim at a shooting range
Do you dare to shoot western guns or sniper rifles? If you already practice shooting, getting your hands on a special weapon will release adrenaline to the max. And, if you haven't used a gun before, learning with one of those you've seen in movies will add extra excitement to the experience.
And not only can you choose from dozens of different weapons. You'll also practice at a very special outdoor shooting range in the mountains of Las Vegas. Of course, under the watchful eye of professionals.
55. Take a hot air balloon ride
Soaring through the air in a balloon is an unforgettable experience, it gives an indescribable feeling of freedom and tranquility. But to do it calmly flying over the spectacular landscapes of the Nevada desert makes it even more exciting.
The flights take place early in the morning or near sunset. It is then when the light makes the territory dresses in very special colors. If you have not tried it, a balloon ride is an adventure that you will love, much more in a city surrounded by landscapes almost from another planet, such as Las Vegas.
56. Learn to pole dance
Sensual, exciting and expressive, that's pole dancing and what better place to get started in it than in the city of sin. If you have not danced before, do not worry, with a few simple movements it is possible to perform colorful choreographies.
Learning pole dancing is a perfect activity for a girls' getaway. With just one class you can surprise your partner with a very suggestive private dance. And, with or without a partner, it is a discipline that helps to gain flexibility and self-confidence.
57. Remember the Beatles
Always unforgettable, the Beatles also have their own space in Las Vegas. They played here in 1964, on that first tour of the United States that made the country surrender at their feet. If you like the music of the Liverpool band, you can take a nostalgic trip to Beatleshow.
You will hear all the group's greatest hits live. If you were not able to see Ringo, John, Paul and George live, this is the closest you will get to that experience. Undoubtedly, an unforgettable show.
58. Participate in an escape room
Test your skills as a detective and your wit. Follow the clues and solve the odd enigma. This is the only way to escape from that mysterious situation that traps you or that scenario in which you are locked. If you want to have a fun time, a scape room is a great plan.
In addition, in Las Vegas you can choose very different themes, from the Gold Rush to art thefts or prison escapes. It is a very entertaining activity for groups because remember: in complicated situations the key is teamwork.
59. Have fun in the Comedy Club
In a city like Las Vegas there is always room for humor. But for the good kind of humor, the kind that makes you not only smile, but also laugh non-stop. Some of the best stand-up comedians in the country come together at Las Vegas Live Comedy Club, a show where you'll have a great time from the first second.
If you need a break and forget for a moment the hectic atmosphere of Las Vegas, a few laughs will be the best remedy to de-stress.
60. Try axe throwing
You may be an experienced dart thrower, but would you dare to test your aim with axes? Will you be able to hit the bullseye? This is one of those activities with which you will not only have a super fun time, but it will also help you to relieve tension.
You can even compete with your friends to see who is more skillful or closer to the target. Besides, you only have to worry about aiming well, the technique is the least important thing, although there will always be experienced staff to explain you how to throw safely.
61. Go around the world without leaving Las Vegas
Want to admire the Eiffel Tower, the Empire State Building, a spectacular pyramid or a medieval castle without traveling thousands of miles? Las Vegas is your city. Here you will find replicas of some of the most beautiful monuments and corners of the planet.
If you have the spirit of a globetrotter but little time, do not hesitate, organize a small tour of the most famous hotels in Las Vegas. The Bellagio, the Luxor, the Venetian, the Caesars Palace or the New York New York will allow you to take that trip around the world you dream of.
62. Go shopping at North Premium Outlets
If you can't resist a good bargain, if you love shopping, North Premium Outlets is the place to be. This open-air mall is home to more than 180 stores from top luxury brands.
Here you will find clothing and accessories from brands such as Prada, Versace, Polo Ralph Laurent or Dolce & Gabana. The best part? With discounts of up to 65%. If you need to renew your closet, nothing like doing it in Las Vegas.
63. Behold the spectacle of the Bellagio fountain
It's one of the most incredible shows you'll see in Las Vegas and it's free! Hundreds of cannons make the water dance to the rhythm of songs of different styles, from opera to pop. And all of this is accompanied by an evocative and marvelous play of lights.
Do not miss this wonderful ballet that you can only enjoy in Las Vegas. In addition, there are plenty of passes throughout the day, so you have to see the Bellagio fountains in action yes or yes. What's more, you won't be satisfied with just one pass and you'll want to come back for more.
64. Visit the Neon Museum
Can you imagine Las Vegas without its characteristic neon lights and neon signs? I'm sure you can't. Once you have taken a night stroll to contemplate them, I advise you to take another walk, but for the history of this particular illumination.
In the Neon Museum you can see more than 200 old signs that over the decades have been replaced by more modern ones. Some are part of the essence of the city, such as those of Caesars Palace or The Stardust. It is a very curious museum, perfect for taking spectacular photos!
65. Visit a gold mine
The fever also reached the surroundings of what is now Las Vegas. In El Dorado Canyon you can take a trip back to the 19th century and visit an authentic gold mine. You can almost feel the frenetic activity of this mining area in its heyday. But you will also learn about the harsh living conditions in the mine and how the gold prospectors worked.
A ghost town, stories of outlaws who took refuge in this area and movie sets will complete an unforgettable visit. For the little ones, this trip to the Wild West is a little history lesson that will surprise them.
66. Take a cruise on Lake Mead
Want to sail on the largest man-made lake in the United States? You can if you're in Las Vegas. Lake Mead is a huge reservoir just a stone's throw from the city. Taking a cruise on a steamboat is a great way to get to know it and enjoy the scenery - and the kids will love it!
You can still enjoy many other super-fun plans at the lake, such as hiking the surrounding area, fishing, diving or kayaking. It's a perfect place for a day full of family adventures.
67. Visit the car museum
Las Vegas is luxury, it's glamour, it's glitz. And there's no better way to show it all off than in a magnificent car. At the Hollywood Cars Museum & Liberace Garagevas you can admire authentic jewels of automotive history.
There are about a hundred cars gathered here, some of which may even ring a bell. Probably because you have seen them in the movies, in James Bond, Fast & Furious or Batman films. If you like the motor world, make time to visit this museum, you will surely love it.
68. Visit Hell on Earth in the Valley of Death
July 10, 1913. The thermometer reaches 56.7 degrees in Death Valley. Although there is some dispute about it, this is considered to be the hottest and driest place on the planet. Interestingly, during the coldest nights of the year the thermometer can be below freezing.
Nevertheless, Death Valley is a place of breathtaking beauty that is worth seeing. Keep in mind that it is the largest national park in the country, so the advice is to go to Furnace Creek, the visitor center, and organize the tour from there.
69. Gamble in a casino
Las Vegas is synonymous with gambling, so you're in the perfect place to see if your luck is smiling on you. The offer, as you can imagine, is huge. You can immerse yourself in the incredible atmosphere of Caesars Palace or go crazy with the slots at Aria.
But you don't have to gamble. You can also have a good time contemplating the gaming tables in any of them, it's quite a show. And if you like poker, go to the Bellagio, where you will see great players in action.
70. Participate in a pool party
Las Vegas is hot, very hot. But that doesn't stop the party atmosphere from being alive 24 hours a day. So what could be better than a pool party? Many hotels organize these events. If you visit the city with friends, you will have a great time.
But there are also alternatives to enjoy a good family dip, beyond the hotel pool. At a water park like Wet 'n' Wild you can have a super fun and refreshing day!
71. Visit the National Atomic Testing Museum
For years, the Nevada desert was the site of nuclear weapons testing. Nearly a thousand atomic experiments were conducted there. This museum recalls that era with one purpose: to raise awareness of the danger posed by these weapons and the serious impact they have.
Photographs, videos, artifacts of all kinds and documentation are exhibited in this unique museum. Its exhibits will not only take you back to the Cold War, but above all, they will make you reflect on the future of humanity.
72. Relax at the Springs Preserve
If the frenetic atmosphere of Las Vegas begins to overwhelm you or you need to breathe a little calm, visit this space. Located very close to the Strip, it is an oasis in every sense. The presence of water made the first settlers of the area and later the settlers settled here.
Today it not only represents part of the history of Las Vegas, the Springs Preserve is a place to relax and also to learn. Gardens, museums, and a myriad of fun and educational activities make it a very entertaining and relaxing place to spend time with the family!
73. Watch a volcanic eruption
If at the Bellagio it is water that is the protagonist of its most famous show, at the Mirage it is fire. The volcano that decorates its front patio erupts every day. You will see how it launches huge jets and fireballs into the air, while a fantastic soundtrack plays in the background.
As with the Bellagio fountains, it is a spectacle not to be missed. It's breathtaking, there are several shows every day and yes, it 's also free. Can you ask for more?
74. Eat your fill at Heart Attack
A visit to Las Vegas is sure to work up an appetite. To refuel, one of the most curious restaurants is Heart Attack Grill. One of its burgers made it into the Guinness Book of World Records. The reason? Its more than 9,000 calories.
But don't worry, there are slightly "lighter" burgers on the menu so that your heart doesn't suffer so much. Of course, even if you order the smallest one, you will have to forget about your diet completely. Repeat? In this case, impossible.
75. Tour the Arts District
This is one of the most unique neighborhoods in Las Vegas. What used to be an industrial zone has been transformed into an area where the protagonists are now the most varied artistic manifestations. Here you will find art galleries, antique and craft stores and, of course, also places where you can recharge your batteries.
The Arts District also organizes interesting events, such as the First Friday Art Walk. Every first Friday of the month, the district turns into a party where you can enjoy the work of artists exhibiting their work, music and, above all, a good atmosphere.
76. Go shopping at Container Park
In Las Vegas there are malls for all tastes and pockets. But if there is one special one, it is Container Park. As you can imagine from its name, it was built with shipping containers. That's not the only special thing about it, there's also a fire-breathing mantis sculpture and a dome that serves as a projection screen and lights up at night.
There's more: a children's playground, karaoke nights, yoga classes and, of course, a good variety of stores and eateries. It is, after all, a shopping mall.
77. Take a gondola ride
If you've ever wanted to see Venice, you don't have to travel to Italy, you can do it in Las Vegas. It is not the city of canals, but the recreation of the Venetian comes very close. You can admire the Rialto Bridge, the Campanile and even St. Mark's Square.
And don't forget that you are in one of the most spectacular hotels in Las Vegas, so you can also take a gondola ride through idyllic canals. Traveling as a couple? Then you know where to propose or make an unforgettable proposal.
78. Picnic at Centennial Hills Park
In Las Vegas there are also urban parks to enjoy with the family and get away from the hustle and bustle of the big city. Centennial Hills Park is a small treasure where it is possible to spend a very pleasant time outdoors and without the sound of the city disturbing the calm.
It is perfect to go with children. Here there are picnic areas, soccer and beach volleyball courts, water playgrounds for the little ones, themed trails and even an amphitheater to enjoy all kinds of events. If you are looking for a quiet plan, this park is ideal.
79. Look for the clock in the casinos
I propose a little game: when you enter a casino in Las Vegas, in any of them, don't just look at the tables or the slot machines, look for a clock. Will you find it hidden in a corner, maybe on a bar or a table? This search will allow you to notice surprising details.
Time will surely fly by as you try to overcome the challenge. But it will be difficult, if not impossible, for you to succeed. In casinos there are no clocks, and no windows. So it is much easier to immerse yourself in the game. You already know one more curiosity of Las Vegas.
80. Take home the sweetest souvenir of Las Vegas
Attention to those with a sweet tooth. The M&M's World store in Las Vegas will be much more than an irresistible temptation because here you can create your own M&M's. Just choose from a whole menu of colors and messages to have your personalized candy. Just choose from a variety of colors and messages to get your own personalized candy.
If you're looking for a different Las Vegas souvenir or a gift for a loved one, this is a good place to find it - but don't eat it right away! Of course, if you're traveling with kids, this is a must stop. And a curiosity: this was the first store opened by the brand.
81. Take advantage of the Go Las Vegas Explorer Pass
Las Vegas has many interesting attractions. Did you know that you can access many of them with great discounts? With your Go Las Vegas Explorer Pass you can visit 3 or 5 more attractions paying up to 65% less.
Plus, you won't have to wait in line to visit the chosen attractions. So you will not only save money, but also time.