Las Vegas Counts Kustoms Tour
Are you passionate about cars and TV shows? Then you must be familiar with the famous Counts Kustoms ("Crazy about Cars") show on the History Channel. If you are spending a few days in Las Vegas, you should know that you have the opportunity to go see them on some exciting themed tours.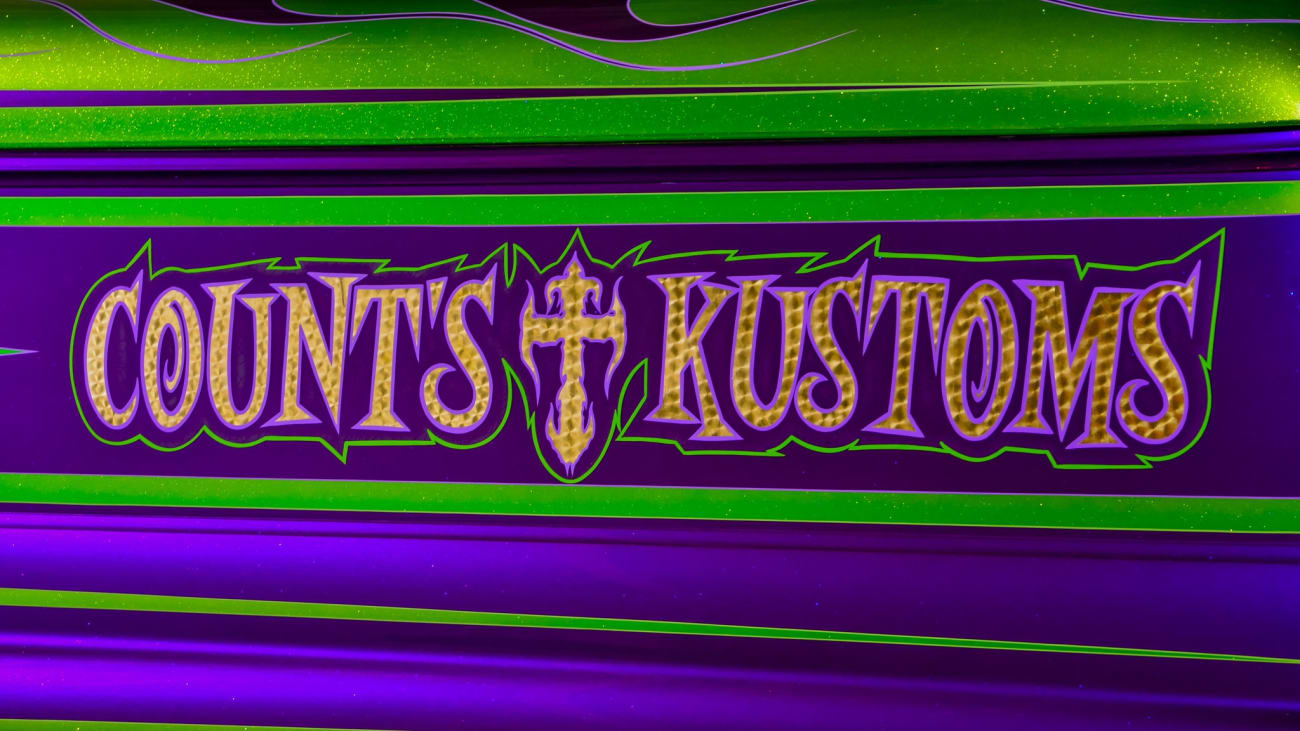 The famous TV show Counts Kustoms, known in Spanish as "Locos por los coches", was a huge hit when it premiered in 2012 and since then thousands of people have become passionate about the world of motors and vintage cars. So much so, that in the city of Las Vegas, official tours have been enabled so you can go to see the real scenarios of the program.
Las Vegas is full of plans to do but, if what you like is driving and workshops, I assure you that you will love this type of activities. That's why I'm going to tell you everything you need to know about Counts Kustoms tickets, the type of show and some frequently asked questions. You'll have a great time!
The best option
Reserve your ticket for the true Counts Kustoms experience in Las Vegas.
You will be able to get into one of the show's legendary cars and tour the workshops and filming areas, as well as enjoy a fun lunch.
Do you know "Crazy about cars''? If so, and you want to experience first-hand the entertaining world of motorsports, Las Vegas has the perfect plan for you. Tour the most emblematic places of the show with an official Counts Kustoms tour aboard one of their legendary cars.
Also, if you book your ticket in advance, you can choose the option with food and go to discover the Vamp'd Rock Bar and Grill, the restaurant run by Danny Koker himself.
Recommended if you are a car enthusiast and want to live a unique experience in Las Vegas with one of the most famous restaurateurs.
How to get the tickets to go to Counts Kustoms
If you want to secure your tickets to go and see everything that surrounds Counts Kustoms you should know that the way to do it is through the Internet, booking it a few weeks in advance and paying online to have your place when you go on a trip to Las Vegas.
Danny 'Count' Koker has known how to do it wonderfully in Las Vegas with the success of his show and that is why he has created an official website where you can directly book tickets to go see them and enjoy a tour of all the iconic television places.
Even so, if you are thinking of buying tickets, you should know that there are also different tourism websites that offer them in some kind of thematic pack or with discounts.
What is recommended is that you book them in advance because, although there are usually daily passes from Monday to Friday, it is a very popular activity and they are usually sold out quickly.
How much do tickets to Counts Kustoms cost?
There are different types of activities to do within the world of Counts Kustoms and that is why each one has a different price. Basically, one of the tours is free, and that is the one that only covers the facilities and Danny's collection.
However, within the other two types of activities, the price varies between the half-day tour and the evening tour with dinner. Approximately, the entrance fee is usually priced as follows:
Types of tickets and activities inside Counts Kustoms
Before booking your tickets, it's worth checking out what type of activity you want to do at Counts Kustoms. Although the main thing is to be able to ride in one of the iconic restored cars and see the scenery of this popular show, since they opened their doors to visitors, they have created different types of activities.
Although there are tour buses in Las Vegas that take you around the most emblematic areas of the city, this activity is sure to be your favorite if you are a fan.
From a simple visit to the headquarters, to a night tour with dinner included. There's room for Danny Koker and more in Las Vegas.
Free basic tour
If what you want is simply to see with your own eyes the mythical repair shop that became so famous on the show, you should know that throughout the year the place is open to the public and offers a free tour where you can not only see the facilities, but access the entire collection of cars, relics and even helicopters that Koker has been collecting.
Counts Kustoms Scenery Driving Tour
For those who want a more complete experience, Las Vegas offers some fantastic tours that will take you around all the key locations of Counts Kustoms. You'll be able to go not only to the official Counts Kustoms workshop, but also to see The Shelby American and Nostalgia Street Rods collection - all while riding in one of the cars that Koker himself has designed and customized!
Counts Kustoms VIP Night Tour
If you want to go one step further and live a unique experience, this type of tour is designed for real fans. You'll be able to get into one of Danny's own cars and take a tour through the old part of Las Vegas to get inside Danny's Personal Showroom with an incredible collection of cars. But if that wasn't enough, this evening activity ends at Danny Koker's own bar/restaurant, where you can dine and celebrate in the same atmosphere as the stars of the show.
Counts Kustoms Schedule
The Counts Kustoms facility is open every day of the year from 10 am until 4 pm. So, if you want to go sightseeing or take the free tour, it will suit you on any of the days you are visiting Las Vegas.
However, the tours do not have the same availability. The most popular tour, the one that takes you on a half-day tour of the main stages, is only available Monday through Friday on a single daily pass that starts at 9 am and lasts about 3 hours.
The night tour is only available one day a week, on Tuesdays, and also has a single daily pass that starts at 4 pm and lasts 4 hours, so by the time it ends, it will be dark and it will be time for dinner.
How to get to Counts Kustoms
The truth is that this iconic place is quite well located, halfway between the great attractions of the Strip Avenue and the Downtown area. Specifically, Counts Kustoms is located at 2714 S Highland Dr, near the Circus Circus casino.
To get there you have several options. If you have rented a car for your vacation in Las Vegas, the easiest way is to drive to the entrance of Presidio Street and park in the parking lot at the entrance.
If you move by public transport, it is best to get off at the bus stop199 No Bridge after Sammy Davis Jr and walk about 15 minutes.
However, if you don't want to take the walk just to get to the site, you should know that the two paid tours have included in the price the pick-up at the hotel or, if not, at a meeting point.
Can I go to Counts Kustoms with children?
Of course, if you come to Las Vegas with children they are invited to this kind of activity. Even Danny Koker himself says that this is a plan to do with the family and share with the little ones the love for the engine and all its history and antiques.
It is a safe and suitable activity for the whole family and that, in addition, the little ones will enjoy being able to get into such a special car and see real works of art of all shapes and colors. One of them even in the shape of a hot dog!
Perhaps the only activity that would not be highly recommended is if you choose the Tuesday night tour mode, as the activity ends in a bar and in the U.S. they are very strict with the law, so they will look askance at people under 21.
What level of English do I need to participate in Counts Kustoms activities?
It is true that in Las Vegas almost the only language you will hear is English, despite the strong Latino influence in the area. Consequently, the official tour will also be in English. However, this should not be an impediment.
All these types of activities are designed for tourists who come from abroad and, most of the time, do not speak the language.
This is why the tours are designed to be enjoyed without having to interact too much. The fun part of this experience is being able to get into one of the original cars and see the different exhibits and scenery. This, without a doubt, is a universal language.
However, it doesn't hurt to go to Las Vegas with some knowledge of the language. Not so much for Counts Kustoms, but to be able to enjoy the best shows in the city andmake the most of it in a more enriching way.
Is there an official souvenir store at Counts Kustoms?
If you are a real fan of the show "Locos por los coches" you can't go home without taking some souvenirs or gifts from the official store. Inside the facilities you can find a store with all kinds of Counts Kustoms merchandising for you to choose the one you like the most.
Also, if you participate in the tours, either the day or night tour, they will give you a discount voucher so you can buy a souvenir with a small discount. You can choose from t-shirts, caps, glasses, posters and much more.
Is it worth the experience?
Las Vegas is a city that leaves no one indifferent. It has hundreds of activities, all spectacular and eye-catching and, of course, is the scene of great TV shows like "Crazy about cars".
That is why, if you have come to spend 4 days or more in Las Vegas and you have always liked the show and the world of cars and repairs, you have plenty of time to enjoy this experience that will certainly be worth it.
The city has many faces and many ways to see it. You can make several tours of the city but none of them will be similar and, in this aspect, the tour proposed by Counts Kustoms is unique and designed especially for all fans to feel part for a few hours of the program that swept the History Channel years ago.
Frequently asked questions about attending Counts Kustoms
Beyond general questions such as ticket prices, schedules and types of activities, it is logical that if you are thinking about living this kind of experience, you may have some doubts.
On the official website you can find a section dedicated to Frequently Asked Questions but, even so, I am going to leave you a summary of the most recurrent ones to save you time.
Is it possible to take videos and photos during the visit?
Yes, you can take as many photos and videos as you want during the tour except inside the Count 's Kustoms car collection museum. This is prohibited.
Is this activity wheelchair accessible?
All the places visited on the tours are wheelchair accessible. However, the car that will take you from one place to another is not wheelchair accessible. Even so, if you have the opportunity to get into the car, they will keep the wheelchair in the trunk so that you can participate.
Can the tour be customized?
All tours offered by Counts Kustms have a closed route and the driver will not be able to deviate from the route.
Are there any discounts on tickets for children or senior citizens?
Unfortunately, tickets are always general admission, so everyone who is going to participate, regardless of age, will have to pay tickets ranging from 80€ to 100€.
You've seen it, Danny 'Count' Koker is waiting for you with open arms if you pass through Las Vegas. The noise of the engines and the show cars are ready so don't think twice and come and live the full TV experience.