National Parks Day Trips from Las Vegas
Built in the middle of the desert, Las Vegas is surrounded by a number of national parks that you can visit with a round-trip day trip.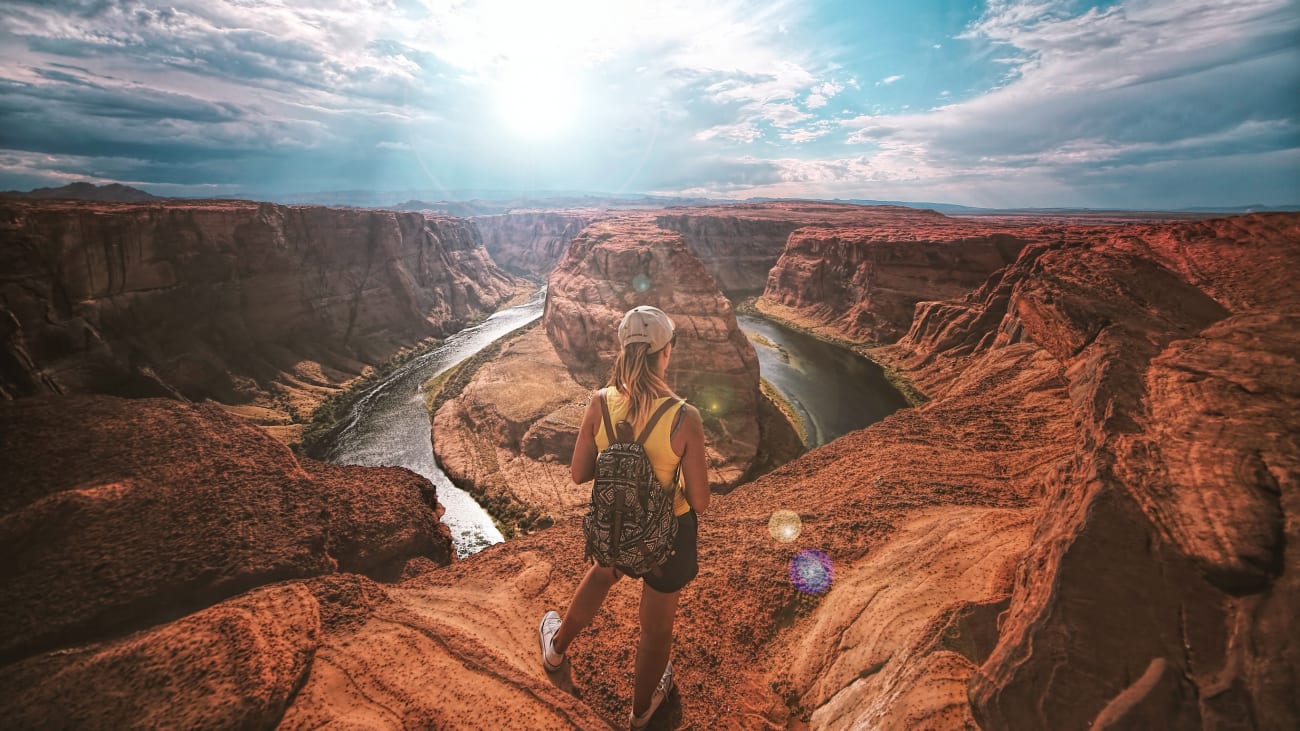 If you are passionate about photography and want to get to know the natural environment of the western United States during a trip to Las Vegas, a must-do on your vacation is an exclusion to the surrounding National Parks, where you will discover some of the most photogenic landscapes in the country.
1. Grand Canyon Excursions
Considered one of the 7 natural wonders of the world, the Grand Canyon National Park is one of the most striking landscapes in the United States and a spectacle in itself.
The beauty and majesty of the Grand Canyon, its sheer cliffs and brilliant palette of colors make this place one of the must-do excursions to do in Las Vegas. So, what are the best options for a visit?
Grand Canyon South Bus Tour
If you are a road trip enthusiast, then I recommend booking a tour south of the Grand Canyon from Las Vegas. The trip is long, lasting around 14 hours, but it is very well organized. Along the way you will see an incredible variety of jaw-dropping scenery and have the option to visit Mather Point and Bright Angel Point, two iconic points because of the views they offer.
However, to make it more bearable, the tours are conducted in luxury bus and usually have all the amenities such as on-board bathroom, padded seats, panoramic windows to enjoy the views and air conditioning.
In addition, this tour offers lunch, snacks, bottled water and a professional guide who will accompany you throughout the tour. If you are on a tight budget during your trip to Las Vegas to visit the Grand Canyon, this is your best option. You can go to the Grand Canyon for less than 90 euros!
2. Grand Canyon and Hoover Dam Tour
One of the most fun plans you can do to explore the Arizona wilderness is a Grand Canyon and Hoover Dam tour.
During the tour you will get to see such wonders as Hoover Dam, Joshua Trees, the Grand Canyon West Rim and the Colorado River, as well as get in touch with the wilder side of nature. It will also put you in touch with the wild side of nature.
The activity lasts about 12 hours in total and you will always be accompanied by a professional guide. You will travel comfortably in an air-conditioned bus and you will have lunch and breakfast included, so you won't have to worry about anything.
You can also choose to include other activities such as helicopter flights, visit the Grand Canyon Skywalk or take a pontoon ride on the river. You won't regret not partying in Las Vegas the night before to get up early and take this tour.
Other Hoover Dam tours:
3. Black Canyon of the Gunnison National Park Tour
On this 3-hour kayak tour to the Black Canyon, you will explore the impressive gorge and appreciate the best views of the Colorado River. You will always be accompanied by a professional guide who will tell you about the different curiosities of the local fauna and flora.
You will travel at all times in an air-conditioned vehicle door to door and you will also visit places like the Emerald Cave or Willow Beach that are located on the banks of the river.
4. Red Rock Canyon Motorcycle Tour
If you are one of those who love to organize outings to nature another of the Natural Parks that I recommend you to see on a trip to Las Vegas because of its proximity is Red Rock Canyon.
It is a beautiful place in the Mojave Desert where you can see reddish rock formations with landscapes similar to those in the Valley of Fire but adorned with a unique flora which include the Joshua Tree and Mojave Yucca.
In this motorcycle tour through the Red Rock Canyon you can enjoy the magnificent nature of the west only about 25 kilometers from Las Vegas. You will always be accompanied by a professional guide along the 21 kilometers of paved route.
The price of the activity includes the scooter tour, safety helmet, expert guide, water and entrance fees to the Red Rock Canyon National Conservation Area.
5. Antelope Canyon and Horseshoe Curve Tour
Experience one of the icons of the American Southwest on this 15-hour tour to Antelope Canyon. You will travel more than 400 kilometers from Las Vegas with your group and an expert guide, until you reach the wonderful Horseshoe Bend and Lake Powell.
Then you can enjoy a delicious lunch before heading to Antelope Canyon, one of the emblems of the American Southwest, located in Page (Arizona).
There you can be one of the privileged ones to see and photograph the geological formations that have been eroded over time and today make up one of the most famous places in the world.
6. Zion National Park and Bryce Canyon Tour
Travel from Las Vegas to two of the most important national parks in the area: Zion National Park and Bryce Canyon.
The tour to the park and canyon includes transportation, lunch and the constant company of an expert guide throughout the trip.
Once you are picked up at your hotel, your first stop will be Bryce Canyon National Park in southwestern Utah. A landscape characterized by geological structures in reddish and orange tones, product of erosion and frost.
Then you will make a stop at Bryce Canyon, on the way continue the route to Zion National Park. Once there you will be able to walk and contemplate the cliffs that have 24 kilometers long and about 800 meters deep.
7. Valley of Fire Hiking Tour
Just an hour's drive from Las Vegas is this natural park, famous for its red rocks and trails.
On this hiking tour to the Valley of Fire you will travel comfortably in an air-conditioned vehicle from your hotel to this wonderful lunar landscape, accompanied at all times by a professional guide.
You will be able to choose between different routes and hiking times:
Easy: 4 hours
Moderate: between 4.5 and 5 hours.
Difficult: between 5 and a half and 6 hours. This last option is only recommended for experienced hikers.
Depending on the route you choose, you will see different formations and pass through different points of the landscape such as Fire Wave, Mouse's Tank or Elephant Rock.
The route ends with a delicious snack to rest and recover energy after the hike and before returning to your accommodation in Las Vegas.
8. Other tours from Las Vegas
The state of Arizona is one of the most famous for its natural attractions, parks and spectacular geological formations. Therefore, the variety of activities you can do in the region is very varied. Here are some other options in case you are interested in exploring further.
Grand Canyon Helicopter Tour
Contemplate from a helicopter this abrupt gorge carved by the Colorado River for more than 2,000 million years is a very special experience that you will not forget. The thrill of seeing an amazing landscape at your feet is joined by the sensation of floating in the air at hundreds of miles per hour.
If vertigo is not an impediment for you and you are also passionate about photography, then I recommend that you take a helicopter tour of the Grand Canyon because it is a must-do excursion from Las Vegas that you will love and in which you will take some of the best pictures of your trip.
For those who have not flown in a helicopter before, riding in one may cause some trepidation but there is nothing to worry about as these Grand Canyon helicopter tours are completely safe. You will fly in modern aircraft accompanied by a professional pilot who will show you the most beautiful sites that have made this National Park famous.
Nevada Desert Excursion
The Mojave Desert is a tremendously large desert that surrounds the city of Las Vegas and covers part of the states of Nevada, Arizona, Utah and California. It is home to Death Valley, a National Park whose name alone gives an idea of how arid and inhospitable it is.
There are those who decide to make the legendary route between Las Vegas and Los Angeles by road but if you are a little scared to stay here stranded with the car (it is the driest area of the United States and the heat is suffocating), you can always make a simpler plan but just as fun as for example a buggy tour of the Nevada desert.
Rolling Stone even defined this excursion as the "best near-death experience in Las Vegas", so how can you not do it? Buckle up and get ready for a thrilling and unforgettable experience full of speed and adrenaline in the dunes of the Nevada desert.
---
What are the best national parks to visit from Las Vegas?
Given the proximity of Las Vegas to many natural monuments, many travelers take advantage of their visit to the city to visit places like the Grand Canyon National Park, Valley of Fire, Red Rock Canyon, Zion National Park, Death Valley, Bryce Canyon National Park or Yosemite National Park, among others.
How much does it cost to tour the national parks near Las Vegas?
Depending on the type of tour you choose, the price range is very varied and varies from 80 euros to approximately 400 euros.
How long do tours to the national parks from Las Vegas usually take?
As with the prices, the length of the tours also varies depending on the type of tour. It can range from about 3 hours for the shortest tour to 15 hours for the longest.
How to book a tour from Las Vegas?
In Hellotickets you can book online your place as well as compare routes, duration and prices to choose the one that best suits your budget, tastes or needs.
Can I go on my own to the national parks from Las Vegas?
That's right, during your stay in Las Vegas you can rent a car to visit the National Parks near the city on your own but if you don't know the routes and you don't speak the language, my advice is to go easy and book an organized tour for your convenience.
You won't have to worry about getting to the National Park, planning what attractions to see or getting tickets, or stopping for lunch along the way - simplify it all to amplify the fun!