National Parks Day Trips from Las Vegas
Standing in the middle of the desert, Las Vegas is surrounded by a number of National Parks that you can visit on an amazing day trip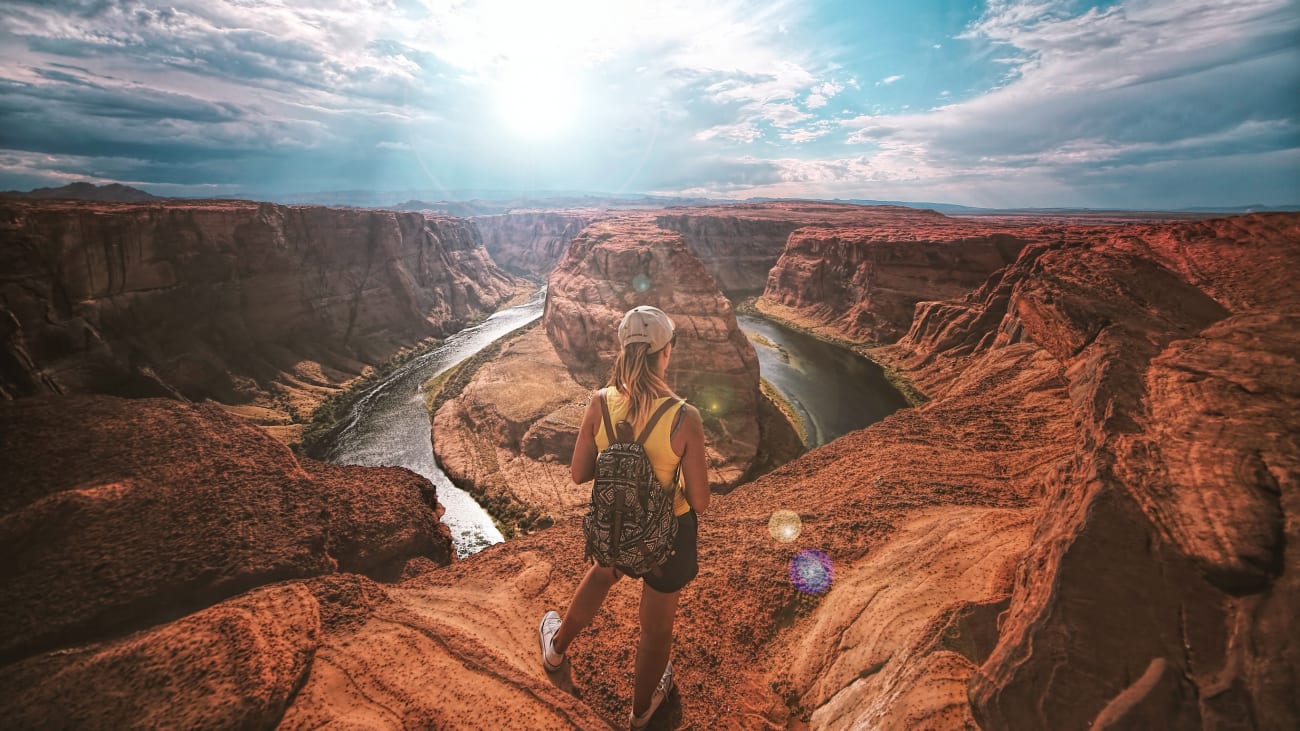 If you are passionate about photography and want to explore the jaw-dropping environments of the western part of the country during a trip to Las Vegas, an essential plan to do on your vacation is a tour of one of its National Parks where you will discover some of the most photogenic landscapes in the United States.
1. Grand Canyon Tours from Las Vegas
Considered one of the 7 natural wonders of the world, the Grand Canyon National Park is one of the most stunning landscapes in the United States and a spectacle in itself.
The beauty and majesty of the Grand Canyon, its impressive cliffs, and its brilliant palette of colors make this place one of the must-do excursions to do in Las Vegas. Now, what are the best options to visit it?
Helicopter Tours
Contemplating from a helicopter this abrupt gorge excavated by the Colorado River for more than 2 billion years is a very special experience that you will not forget. The thrill of seeing an amazing landscape at your feet is joined by the sensation of floating in the air at hundreds of miles per hour.
If vertigo is not an impediment for you and you are also passionate about photography, then I recommend that you take a Grand Canyon Helicopter Tour because it is a must-do excursion from Las Vegas that you will love and where you will take some of the best pictures of your trip.
For those who have not flown in a helicopter before, riding in one may cause some trepidation but there is nothing to worry about as these Grand Canyon helicopter tours are completely safe. You will fly in a modern aircraft accompanied by a professional pilot who will show you the most beautiful sites that have made this National Park famous.
Bus Tours
If you are a road trip enthusiast, then I recommend that you choose a bus tour from Las Vegas to visit the Grand Canyon. The trip is long but it is very well organized and along the way you will get to see an incredible variety of landscapes that will blow your mind. If you like photography, it is worth spending so many hours on the road because you will see the most diverse sites that you will want to immortalize.
However, to make it more bearable, the bus tours to the Grand Canyon usually have all the amenities such as a bathroom on board, padded seats, panoramic windows to enjoy the views and air conditioning, which is especially appreciated on the return trip to Las Vegas to rest after a long day visiting this National Park.
The bus has another advantage and that is that the price is cheaper than a helicopter flight. If you are on a tight budget during your trip to Las Vegas to visit the Grand Canyon, this is your best option, you can go to the Grand Canyon for less than a hundred bucks!
2. Colorado River Excursions
If during your stay in Las Vegas you want to get out of the city to breathe some fresh air and explore the unique nature of the state of Arizona, one of the most fun plans you can make is a thrilling excursion to the Colorado River.
The Colorado River is one of the great natural tourist attractions of the United States and touring it by boat is an adventure that everyone should experience at least once in a lifetime. Not only will you have the opportunity to contemplate and explore spectacular landscapes that will leave you in awe, but it will also put you in contact with the wildest side of nature through sport.
There are trips to the Colorado River for hiking, rafting, swimming, biking... If you do not know which one to choose, I recommend a kayak tour on the Colorado River to Emerald Cave, a shallow water grotto that gets its name from the beautiful green hue that gives rise to a unique and fascinating atmosphere when the sunlight hits the water.
In addition, on the way to Emerald Cave, you will make several breaks where you can take some breathtaking pictures of the landscape and wildlife. Believe me, you won't regret not going out in Las Vegas the night before to get up early and hike the Colorado River - you'll see some amazing scenery that will be stuck in your mind for years!
3. Antelope Canyon & Horseshoe Bend Tours
Another excursion not to be missed on a trip to the western United States is a visit to Antelope Canyon and Horseshoe Bend, two natural monuments close to each other in the state of Arizona whose unique beauty has made them internationally famous.
In fact, these are two of the most photographed landscapes in the country, which attract photographers from all corners of the world for the uniqueness of their forms.
As they are located within a Navajo Indian reservation, the best way to visit two such popular sites is to book in advance an organized tour from Las Vegas. Some tours visit in a single day and in small groups for a more intimate experience in which to enjoy magnificent views without crowds.
During these tours, you will usually see Antelope Canyon (a sacred site for the Navajo tribe, where you can admire the dunes and canyon created by the action of water and wind), Horseshoe Bend (the horseshoe-shaped meander of the Colorado River that you have seen in countless postcards) or Lake Powell (the second largest artificial lake in the country famous for the contrast offered by its deep blue waters with the reddish mountains that surround it).
To visit both tourist attractions in the desert is advisable to wear comfortable shoes and have a good physical condition as you will walk quite a lot from one place to another, although you will see that the effort is rewarded by contemplating such beautiful views.
4. Nevada desert tours
The Mojave Desert is a tremendously large desert that surrounds the city of Las Vegas and encompasses parts of the states of Nevada, Arizona, Utah, and California. In it is located the Death Valley, a National Park whose name alone gives an idea of how arid and inhospitable it is.
A place like this seems to be made for travelers who like strong emotions. Some decide to make the legendary route between Las Vegas and Los Angeles by road but if you are a little scared to stay here stranded with the car (it is the driest area of the United States and the heat is suffocating), you can always make a simpler plan but just as much fun as a buggy tour of the Nevada desert.
Rolling Stone magazine even defined this excursion as the "best near-death experience in Las Vegas", so how can you miss it? Buckle up and get ready for a thrilling and unforgettable experience full of speed and adrenaline in the dunes of the Nevada desert.
5. Red Rock Canyon Tours
If you are one of those who love to organize nature outings to enjoy the views while hiking, another of the Natural Parks that I recommend you to see on a trip to Las Vegas given its proximity is Red Rock Canyon.
This is a beautiful place in the Mojave Desert where you can see reddish rock formations with landscapes similar to those in the Valley of Fire but adorned with a unique flora which include the Joshua Tree and Mojave Yucca.
Red Rock Canyon is located only 30 minutes west of Las Vegas so it is an excellent plan to do if you want to escape for a while from the casinos and theaters and spend a day outdoors.
This park has several hiking trails with different levels of difficulty. If you go to the Visitor Center, they will be able to inform you about the ones that lead to the most iconic places such as the petroglyphs in Willow Springs, the Calico Hills sandstone hills, or the Spring Mountain State Park ranch, once owned by millionaire Howard Hughes, among others.
Most people usually do a route of this type to stretch their legs and take some nice pictures in Red Rock Canyon but if you are looking for a unique experience in Las Vegas, I suggest other types of excursions that you will always remember such as a sunset horseback ride in Red Rock Canyon with a real cowboy who will show you the most beautiful corners of the park and the wildlife that inhabits it before preparing a campfire to prepare a tasty barbecue.
---
What are the best national parks to visit from Las Vegas?
Given Las Vegas' proximity to numerous natural landmarks, many travelers take advantage of their visit to the city to visit sites such as Grand Canyon National Park, Valley of Fire, Red Rock Canyon, Zion National Park, Death Valley, Bryce Canyon National Park, or Yosemite National Park, among others.
How much does it cost to tour the national parks near Las Vegas?
Depending on the type of tour you choose, the price range is very varied and ranges from $ 93 to $ 470 approximately.
How long do national park tours from Las Vegas usually last?
As with the prices, the duration of the tours also varies depending on the type of tour. It can range from about 3 hours for the shortest to 15 hours for the longest.
How to book a tour from Las Vegas?
At Hellotickets you can book your ticket online as well as compare routes, duration, and prices to choose the one that best suits your budget, tastes, or needs.
Can I go on my own to the national parks from Las Vegas?
That's right, during your stay in Las Vegas you can rent a car to visit on your own the National Parks near the city but if you don't know the routes and you don't speak the language, my advice is that you don't get complicated and book an organized tour for your comfort.
You won't have to worry about getting to the National Park, planning the sights to see or getting tickets, or stopping for lunch along the way —make your life easy and your trip amazing!
Frequently asked questions
What's the closest National Park to Las Vegas?

There are some National Parks within driving distance to Las Vegas. The closest is Zion National Park in Utah, 3 hours away from the Las Vegas Strip. Other parks nearby to the city are Bryce Canyon National Park (5 hours) or the Grand Canyon (4.5 hours).

Can you drive through Red Rock Canyon?

Yes! You can drive through Red Rock Canyon either on a bike or by vehicle. Also, the Canyon has excellent hike routes for adventure lovers.

Is Death Valley safe?

It is, provided you follow some basic security guidelines such as drinking plenty of water while you are there, watching out for rodents as they can spread mortal diseases, not entering mine tunnels or shafts, and avoiding canyons during rain storms.