Best Las Vegas Shooting Range
If you are on vacation in the city, including shooting practice at specialized shooting ranges in your itinerary is easier than you might imagine.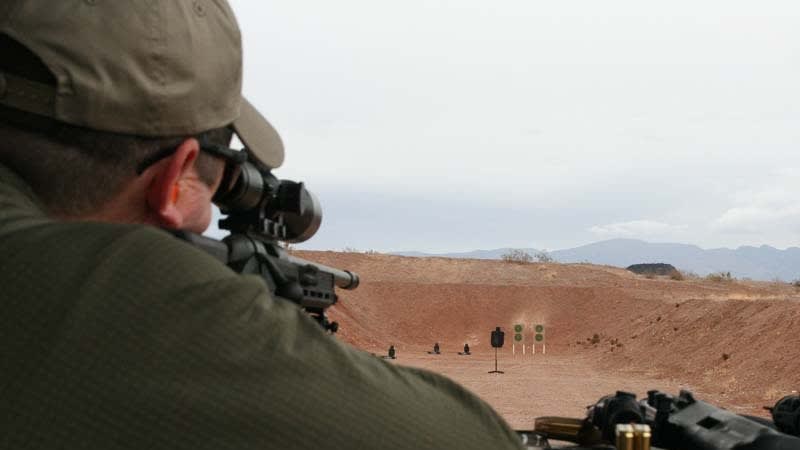 It's no secret that when it comes to leisure activities and entertainment, Las Vegas has a lot to offer travelers. One of the favorite activities for locals and foreigners alike are shooting range experiences.
What you may not know is that, in this playful city, alternatives abound and today I will explain in detail the most interesting and curious activities of this type that you can do on your next vacation.
But before we get into it, if you're looking for more activity ideas you might consider taking a kayaking tour, a trip to the National Parks or visiting the city's most notable museums such as the Mob Museum or the Natural History Museum.
1. Las Vegas indoor shooting range experience.
Indoor shooting ranges are extremely popular in major American cities and, therefore, also in Las Vegas. It's a simple, convenient and safe way to experience this in a controlled environment.
You will find many local companies that offer this type of experience to travelers; some include hotel pick-up and others require you to go directly to the meeting point.
Some details such as the duration of the experience and the number of guns to shoot depend on the company you choose, the packages available and your budget. It is ideal if you are going to the city for a few days, 2 days in Las Vegas or less, and you want to live the experience of shooting ranges without moving long distances
In most cases you do not need to have previous experience to participate, because in the place you will have the guidance of the staff in charge that will show you the necessary basic concepts.
Useful information
Price: This type of experience is available from 130€ per person.
Duration of the excursion: Depending on the company you hire, it can take from 30 minutes to an hour to complete the experience.
Recommended if... you are looking for a low budget and short duration experience as this adventure is very easy to combine with other activities in the city.
2. Outdoor shooting range experience in the desert.
If you've exhausted the typical Las Vegas adventure itinerary, which includes checking out their best casinos or attending the best shows at Planet Hollywood, this experience may be just what you need to take your vacation to the next level!
Although some aspects may vary depending on the company you hire, most of the companies that offer these adventures have various schedules with various groups that you can join. They usually have two groups in the morning and one group in the afternoon.
Round trip transportation from your hotel in Las Vegas to the outdoor shooting range in the desert is usually included.
On the other hand, certain aspects such as the inclusion or not of lunch or the incorporation of more firearms and more shooting time will increase the initial budget. The most basic experience usually includes a minimum of 2 or 3 different types of guns.
Useful information
Price: I recommend budgeting from 190€ for this type of experience.
Duration of the excursion: Although it varies depending on the company you hire, you should book 3 to 4 hours.
Recommended if... you are looking for a safe environment with trained staff to learn to shoot outdoors. Las Vegas shooting ranges are set up to offer visitors both of these features.
3. Women-only shooting range experience.
This is an experience focused on novice women who want to have a first safe approach to the world of guns.
In these scenarios the accompaniment of a specialist guide is usually better than a friend or family member, since the person will know how to properly communicate the instructions, detect errors and avoid bad practices in the handling of weapons.
Depending on the company you hire, transportation to the shooting range may or may not be included in the experience. Once there, you must follow the safety protocols and proceed with the experience under the guidance of an expert guide who will correct and guide your movements (and those of your group mates).
Although many companies in the city offer this type of service, my recommendation is to book in advance if you make a short trip, 3 days in Las Vegas or less. This way you secure your place in advance and have time to organize a varied itinerary.
Useful information
Price: From 120€ per participant.
Duration of the tour: From 30 minutes to 1 hour depending on the company you hire for the experience.
Recommended if... you are a woman or traveling with a woman whose experience with guns is between zero and very little. This product will provide you with the guidance of an instructor trained in training women. It is ideal if you are on vacation with girlfriends in the city.
4. Video game themed shooting range experience.
If you are a big fan ofwar games, such as Call of Duty, Counter-Strike or Medal of Honor, you can't miss the video game themed shooting range experience in the city of Las Vegas.
Most companies that organize this type of experience offer the traveler facilities such as: transfer to and from your hotel in Las Vegas to the shooting range.
In addition, you will be accompanied at all times by a professional instructor and all the necessary safety equipment to carry out the adventure without any mishap or accident. Just try to follow the instructions and keep the equipment on unless your instructor indicates otherwise.
Keep in mind that specific aspects such as the duration of the experience, the number of weapons to use and the type of weapons may vary greatly depending on the company you hire.
Useful information
Price: You will have to pay about 190€ per person.
Duration of the excursion: Depending on the company you hire, you will have to reserve 1 to 2 hours for the experience.
Recommended if... you are a fan of war games in general, this is an experience you will enjoy a lot. The same if you travel to the city with other friends or family members who enjoy this type of entertainment as much as you do.
5. Combined experience: outdoor shooting range with a desert ride
In the city of Las Vegas you will find many companies that offer combination tour options, one of the most interesting for travelers being those that combine the outdoor shooting range adventure with an off-road tour in Las Vegas to get the most out of your excursion.
The adventure begins with the transfer of the traveler from your location in the city to the desert to perform the two proposed activities. At each step of the adventure you will have an expert guide who will be able to provide you with the information you need.
Although it is an aspect that can vary a lot depending on the company you finally hire, generally the experiences of shooting ranges in the desert usually include the use of several firearms of different types.
I recommend reading in detail the description before making the payment. Usually the experiences that include a greater number of guns and more shooting time are also a little more expensive.
Useful information
Price: The price to pay for the experience is from 200€ and up.
Duration of the excursion: Approximately 5 hours, I recommend reserving at least half a day for this adventure.
Recommended if... your stay in the city includes several days, approximately 4 days in Las Vegas, you will have time to dedicate to this experience and make the most of two of the most fun activities to do during your vacation in this destination.
6. Combined experience: Hoover Dam tour with shooting range practice in the desert.
Combination experiences in Las Vegas are a great way to make the most of your time in Las Vegas and see more of the city in less time and on a smaller budget. You'll find many local tour operators offering, for example, combination tours to the Hoover Dam and the Grand Canyon.
Another example of a combination tour is such an excursion: an outdoor desert range practice with a boat tour to the Hoover Dam.
Please note that specific details of the experience may vary depending on the company you hire. Generally, these types of adventures usually start with hikers being picked up directly from their hotel in Las Vegas.
These tours are organized in small semi-private groups. In addition to round-trip transportation, most companies include lunch and snacks, complimentary drinks, free time to swim in the dam, and a knowledgeable guide at all times.
Useful information
Price: You will have to pay approximately 450€.
Duration of the excursion: It is a full day excursion, which usually takes about 6 or 7 hours to complete.
Recommended if... you have a Hoover Dam tour planned, this alternative allows you to combine both experiences, simplify your trip planning and save time during your visit to Las Vegas.
Tips for attending a shooting range
My wish is that your Las Vegas shooting range experience will be the most exciting and fun. Take into consideration the following tips to avoid unpleasant moments.
Always wear protective equipment.
You must wear protective equipment properly at all times, unless otherwise instructed by your accompanying instructor. Protective equipment includes eye goggles and hearing protection.
It is a common mistake for experienced gun users to remove the goggles when, for example, cleaning the gun, unaware that the goggles protect your eyes from possible chemical or dust residue.
Be aware of dress etiquette.
Many people often overlook the dress code at shooting ranges. Some of the rules include wearing closed-toe shoes that protect your feet from falling objects and allow you to walk comfortably.
Another recommendation that many overlook is that V-neck shirts are often a bad choice. When handling certain weapons, hot debris can fall out that could sting or cause irritation on sensitive skin.
Ask all the questions you want and don't feel embarrassed.
If you don't have much experience with guns, attending a shooting range experience is an excellent way to learn the correct use of these tools from an expert.
Consider the instructor as a good friend and feel free to ask any questions you may have, especially those related to safety.
Learn the basic protocols for handling firearms.
In the correct handling of firearms there are certain basic safety protocols that you should follow for safety reasons. These protocols include:
Treat the gun as if it is always loaded, even if you think you have verified that it is not. You may have heard of accidents or tragedies that happen when a bullet is left in the chamber and goes unnoticed.
Always keep your finger off the trigger unless it is time to fire.
Always point the gun in a safe direction: the firing line if you are in a covered room or the range if you are outdoors. Never point it in the direction of people.